(1) WEIMER IS BACK. The sff community rallied around and helped get Paul Weimer's Twitter account restored after trolls got it shut down. He tells the full background on his Patreon: "The Trolls and the Twitter Ban (PUBLIC)". Now Paul has a new honorific:
And Paul took a visual victory lap in a thread that starts here.
And yes, He's everywhere! He's everywhere!
(2) LAST DANGEROUS VISIONS. Two items of non-Patreon-locked news from Ellison executor J. Michael Straczynski —
Three authors who will have a new story in LDV have been named. The first one is —
As noted, several high-profile writers have stepped up to show support for TLDV by offering to contribute stories. The first was announced Monday exclusively to those on Patreon, and can now be conveyed here: the amazing NEIL GAIMAN!
And the other two —
Also: I'd like to announce another significant contemporary writer who has decided to lend his name to THE LAST DANGEROUS VISIONS by contributing a story: CORY DOCTOROW, who is known as not just an amazing writer but a pioneer in the realm of electronic rights and privacy and a scholar of the internet.

And of the original writers who contributed stories, "Rundown" by the highly regarded SF and fantasy writer John Morressy has been selected to be included in this volume.
Also, one unpublished writer will have a story accepted for LDV – the submission window will be open for one day on March 31:
…That announcement included word that a slot would be open for one previously unpublished writer, one new voice, to see their story included in the book alongside some of the most well-regarded writers working in the field of SF and Fantasy over the last 50 years.
Because it will take time for those interested to come up with something appropriate to TLDV, I wanted to get the word out now that submissions will be taken for only 24 hours on Wednesday, March 31st, and must be no longer than 3,500 words. The email address for submissions will be provided the day beforehand, along with a release form. All submitted stories remain the property of the writers responsible for them, and the one chosen for inclusion will be exclusive for just a two-year period, as with all the other stories in the planned volume.

Harlan believed passionately in helping to bring new voices into the field, and I share that conviction. I think if you have any success at all, you have a moral obligation to send down the elevator for the next person. With luck, this will bring a new voice into the world.
(3) HISTORICAL DICTIONARY OF SF MAKES SPLASH. In addition to File 770's "Historical Dictionary of Science Fiction Goes Live", a lot of sites are covering the HD/SF today:
The game gets played between writer and reader, for sure, but also among writers, and between all the writers and all the readers. Some words get used again and again, becoming a meta-canonical corpus as allusive as classical haiku. It's a game so complicated that it'd be nice to know the rules, maybe see the shape of the pieces. That's where a lexicographical mad scientist named Jesse Sheidlower comes in. His creation, the Historical Dictionary of Science Fiction came to life online this week—1,800 entries dating back to the beginning of the 20th century, with not only definitions but the earliest known uses, links to biographical information about the writers, and links to more than 1,600 scans of the original pages where the words appeared. It's a wormhole into not just one alternate universe but a lexicographic multiverse, where time-traveling canons overlap in unexpected ways with each other and with whatever universe the reader happens to be sitting in. Cool concepts from your favorite movies turn out to precede those movies by decades; science fiction gets things right before science. It's a trip, and it might just lead to some answers about what science fiction is and what it means. It'll definitely start—and finish—some arguments.

… Even without Ewoks, the result is generally both amazing and astonishing. In just a few minutes of reconnaissance, for example, I learned that the first person to pilot a jet car was not, as I hoped, Buckaroo Banzai, but in fact a character in Bryce Walton's 1946 short story "Prisoner of the Brain Mistress." I figured that Han Solo wasn't the first person to make the jump to "hyperspace," but I didn't expect the concept to first come up in 1928, in Kirk Meadowcroft's story "The Invisible Bubble" in the germinal pulp Amazing Stories. Nor did I expect big names like E. E. "Doc" Smith, Isaac Asimov, Samuel Delaney, Marion Zimmer Bradley, and David Brin to have also used the idea. And let's say you wanted to go back in time and kill the person who came up with the idea of the grandfather paradox. You'd have to assassinate Hugo Gernsback, arguably the coinventor of the modern iteration of the genre, before he published his essay "The Question of Time-Traveling" in Science Wonder Stories in 1929.

The fact that so many of these terms have examples of their use from a dozen different writers across decades of history proves that sometimes writers aren't neologizing so much as digging into the genre lexicon. Well, newish. "You leverage off of other people's work, but really you've activated decades of associations that other people might or might not be bringing," [Charles] Yu says. "That's something really rich about science fiction in general. There's this overlap, or this tangent point. This dictionary is kind of trying to be placed squarely in that region, the overlap."
There's no denying the profound influence that the Star Trek franchise has had on our shared popular culture. But it turns out that some of the best-known terms associated with the series—transporter, warp speed, and the famous Prime Directive—actually predate Star Trek: The Original Series by a decade or more. According to Jesse Sheidlower, a lexicographer and editor of the newly launched online Historical Dictionary of Science Fiction (HDSF), the first mention of those terms appeared in 1956, 1952, and 1940, respectively.
The entry for each word or phrase includes a brief definition followed by a timeline of its occurrences in literature, film, and criticism, with quotations. For instance, if you're a US Senator who wants to crow about how the cancellation of his book contract is "Orwellian," you might be interested to note that the word appeared in a 1949 edition of the St. Alban's Daily Messenger: "Almost all the Orwellian techniques of a future totalitarianism are found here." Or if you want to give your endless Zoom meetings some historical context, you can note that in the 1944 book Television, R.E. Lee predicted your current misery in his writing about the "videophone": "We shall undoubtedly see videophones replacing telephones in common usage."
(4) AWARD-WINNING MERMAID AUTHOR. The Mermaid of Black Conch, an SFF novel, won the 2020 Costa Book Award. The Guardian interviewed author Monique Roffey: "'I'm flabbergasted': Monique Roffey on women, whiteness and winning the Costa".
After two decades of splashing around in the shallows of success, Monique Roffey was taking no chances with The Mermaid of Black Conch. The novel, which won the Costa book of the year award on Tuesday, is written in a Creole English and uses a patchwork of forms, from poetry to journal entries and an omniscient narrator, and "employs magical realism to the max". Even its title was against it, she realised. "You're either going to read a novel about a mermaid or you aren't."

Any one of these, she says, would scare away most publishers….
(5) ANNUAL IN MEMORIAM LIST. Steven H Silver's 2020: In Memoriam article is now on-line at Amazing Stories.
(6) MEDIA BIRTHDAY.
January 27, 1980 — The Saga of a Star World started again when Galactica 1980 aired its very first episode on ABC. The tale picked up years after the events depicted in the original Battlestar Galactica with Commander Adama still in charge as the lead vessel of the Thirteen Colonies finally found way to Earth. It was created by Glen A. Larson, and starred Lorne Greene, Kent McCord, Barry Van Dyke and Richard Lynch. The series would last for ten episodes before it was cancelled due to extremely poor ratings.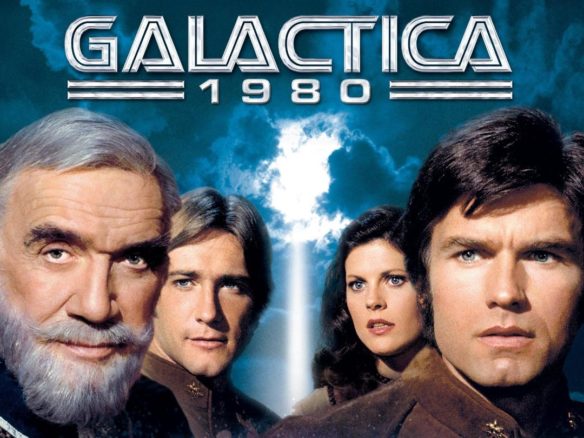 (7) TODAY'S BIRTHDAYS.
[Compiled by Cat Eldridge and John Hertz.]
Born January 27, 1756 – Wolfgang Mozart. When I've happened to be teaching on this day, I've handed out Mozartkugeln. Please consider you've received one virtually. Had WM, a good candidate for greatest composer ever, written only Don Giovanni and The Magic Flute, it would have been enough for us. The relations between WM and Salieri in the film Amadeus are (ahem) highly fictionalized. WM may be the best part of Hesse's novel Steppenwolf, but – I'd better stop. (Died 1791) [JH]
Born January 27, 1832 – Lewis Carroll. Another glorious – differently – illumination of this day. Had LC written only the two Alice books – and I must add The Hunting of the Snark – it would have been enough for us. What's that?? Do you suppose it might be a boo- [JH]
Born January 27, 1950 — Michaela Roessner, 71. She won the Astounding Award for Best New Writer for Walkabout Woman. Her The Stars Dispose duology is quite excellent. Though not genre, her two historical novels, The Stars Dispose and The Stars Compel, about Catherine de Medici are excellent. ISFDB lists two additional novels of genre status, Walkabout Women and Vanishing Point. None of her fiction is alas available digitally. (CE)
Born January 27, 1956 — Mimi Rogers, 65. Her best known known SFF role is Professor Maureen Robinson in the Lost in Space film which I did see in a theatre I just realized. She's also Mrs. Marie Kensington in Austin Powers: International Man of Mystery, and she's Orianna Volkes in the Penny Dreadful hitchhiker horror film. She's got one-offs in Tales from The Crypt, The X-Files, Where Are You Scooby Doo? and Ash v. Evil Dead. (CE)
Born January 27, 1957 — Frank Miller, 64. He's both an artist and writer so I'm not going to untangle which is which here. What's good by him? Oh I love The Dark Knight Returns, both the original comic series and the animated film, though the same not so true of Sin City where I prefer the original series much more. Hmmm… What else? His runs on Daredevil and Electra of course. That should do. What's your favorite? Do tell. (CE)
Born January 27, 1966 — Tamlyn Tomita, 55. I'm fairly sure I first saw her in a genre role on the Babylon 5 film The Gathering as Lt. Cmdr. Laurel Takashima. Or it might have been on The Burning Zone as Dr. Kimberly Shiroma. And she had a recurring late on Eureka in Kate Anderson, and Ishi Nakamura on Heroes. She's been in a number of SFF series in one-off roles including Highlander, Quantum Leap, The Sentinel, Seven Days, FreakyLinks, Stargate SG-1 and a recurring as late as Tamiko Watanabe in The Man in The High Castle. (CE)
Born January 27, 1970 — Irene Gallo, 51. Creative Director for Tor.com and Tor Books. She's won an amazing thirteen Chelsey Awards, and two World Fantasy Awards, for art director of Tor.com and for the Worlds Seen in Passing: Ten Years of Tor.com Short Fiction anthology. She also co-wrote Revolution: The Art of Jon Foster with Jon Foster and Cathy & Arnie Fenner. (CE)
(8) WHY WE CAN'T HAVE NICE GREEN THINGS. Ursula Vernon was briefly tempted by a catalog:
(9) SOMETHING IN THE INK. The Comics Journal reminds fans about "The Strange Case of D. Bruce Berry", a terrific artist who was once confined to a mental institution, and later in a 38-page rant entitled A Trip To Hell claimed Chicago fan Earl Kemp and science fiction editor and writer Harlan Ellison, wearing masks, had held him up at gunpoint on a Chicago street on Labor Day night, 1958. An extensive history of Berry's history in SF fandom, with tons of his fanzine and pro artwork.
Bruce Berry is best known as Jack Kirby's controversial inker, who took over from Mike Royer during Kirby's '70s run at DC. Perhaps Berry suffers in his close proximity to Royer, Kirby's most faithful and therefore considered by many, his best inker. Conventional wisdom is that Berry worked for decades as an advertising product/mechanical artist before Kirby brought him on board, thus beginning his comics career.

Truth be told, Berry was an often-published pulp and fanzine illustrator, science fiction author and novelist, dating back to the 1940s. He was also a brought to court for threatening others in the science fiction community and had been confined to a mental institution as a result.

…[In] the 1948 Fantasy Annual, published by Forrest J Ackerman, Berry was ranked 3rd in the list of Top Fan Artists.

…Advertising work having dried up in Chicago, Berry relocated to Southern California in the late 1960s. Richard Kyle helped set him up in an apartment and introduced him to professional cartoonists working in the area, which included Mike Royer. Royer had recently begun inking and lettering Jack Kirby's "Fourth World" series of comics for DC and soon afterward he employed Berry to ink backgrounds to help keep up with the voluminous flow of work. Berry took over the full inking and lettering chores with Kamandi #17 in 1974 and remained as Kirby's inker for most of the rest of his DC run. According to Berry, "Mike said to me, "You won't have any problems. Just follow the lines." Keep in mind I came out of the advertising business. When an art director tells you the way a thing should be done, it's the rule of the game. Mike said, "follow the lines," and that is exactly what I did." (10) Trying to remain faithful to Kirby's pencils as Royer had been, Berry approached the inks like a schematic, using mechanical pens and tools, which produced a static even line width (unlike Royer who employed brushes for a robust result.) The end result was that he broke Jack's pencils into shapes and patterns, an earmark of product illustration, to mixed effect. Oddly, none of these techniques are evidenced in Berry's own artwork.
(10) NAME OFF. "UC Berkeley removes Kroeber Hall name, noting Native Americans" reports the Los Angeles Times. Alfred Louis Kroeber was Ursula K. Le Guin's father.
A UC Berkeley campus building will be stripped of its name because of the legacy of its namesake, an anthropologist whose work included the "immoral and unethical" collection of Native American remains, the university announced Tuesday.

Kroeber Hall, named after Alfred Louis Kroeber, will be stripped of its name in a year's time and will temporarily be called the Anthropology and Art Practice Building.

The university's Building Name Review Committee announced the decision Tuesday after unanimously voting to remove the name last fall. Last year, the university renamed two other buildings over their namesakes' controversial legacies of promoting racist rhetoric and colonialist ideas…
(11) BONGING TOGETHER. John Scalzi pointed readers at this video in "I Was Gonna Complain About Something Today, But This Video of an Acapella Group Doing Windows Sounds is Much Nicer".
(12) THE HORROR. In "Pee -wee Park – The Full Horror Trailer" on YouTube, Pixel Riot asks what would happen if all the dinosaurs in Jurassic Park were replaced with Pee Wee Herman!
[Thanks to JJ, Martin Morse Wooster, Cora Buhlert, Andrew Porter, Cat Eldridge, Michael Toman, John Hertz, Mike Kennedy, and John King Tarpinian for some of these stories. Title credit goes to File 770 contributing editor of the day Andrew (not Werdna).]