Introduction: One of Star Trek's earliest journalist/historians, chronicler of many epics, and a frequent File 770 contributor, recalls an encounter with fantasy legend, Dave Cockrum.
By James H. Burns: The late Dave Cockrum was a comics virtuoso, contributing to such classic titles as Superman, Batman, Spider-Man and The Avengers. He also created his own series, both science fiction adventures, The Futurians, and Soulsearchers and Company.
The artist's greatest legacy may have been developing The New X-Men, in 1975, with Len Wein.  Revising the super hero team that had been originated by Stan Lee and Jack Kirby, Cockrum and Wein devised such characters as Storm, Nightcrawler and Colussus.
Dave also loved Star Trek.
An admiration, in fact, that may have had a greater influence on the world of (billion dollar) pop culture, than has been previously realized…
In February of 1976, Dave saw me at one of the original, classic Star Trek conventions, at New York's fabled Commodore Hotel. He must have seen me hanging out with one of the show's actors, because Dave — whom I had met only briefly, at a previous comics con — asked me if it would be possible for me to get a painting he had done, to Nichelle Nichols.
(Now, just for the sake of my own ridiculous ego, I have to point out that back then, I was only an early teen. I had begun writing professionally, not long before that, and more to the point — and a lot of confusion for folks, over the years — I looked like I was in my mid-twenties…)
Dave was far more famous already than almost anyone who was on that hospitality suite floor of the hotel. I pointed out to him that I'd be glad to help, but since I didn't really know Nichelle (at that point), all he'd really have to do was introduce himself to one of the folks running the convention, whom, I was sure, would be happy to introduce him, to the actress.
My memory's foggy here, but I think I brought Dave over to one of the convention organizers….
Crystal clear to me, even then, though, was what struck me as the remarkable modesty of this fellow, who didn't seem to begin to have an inkling that the folks running the convention would be thrilled that he was actually there, attending the event.
And I was also touched that this established professional loved something so much, that, really, just for the joy of creating it, he had taken the time to paint a huge, lovely canvas, of Star Trek's only continuing female lead.
What's also fascinating to consider is that when Cockrum, and Len Wein, relaunched the X-Men, many of the new lineup came from characters that Dave had been sketching/noodling with, for years…
If Cockrum loved Star Trek and Nichelle Nichols so much that he was moved to create a painting of her — I wonder how far the actress, and her portrayal of Lt. Uhura, could have been from his mind, as he doodled the delight that would one day become one of Marvel Comics', and later Hollywood's, first significant female super heroes?
The prototype for Storm was one of the characters that Dave had been drawing for ages.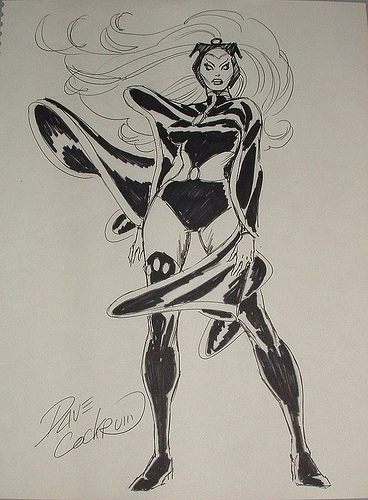 [An earlier version of this reminiscence appeared in Roy Thomas' Alter Ego magazine, from TwoMorrows, devoted to comics history!]