(1) CASTAWAY. BBC Radio 4's Desert Island Discs hosted "Neil Gaiman, writer" who shared the eight tracks, book and luxury item he would take with him if cast away to a desert island. Listen to the program at the link.
Or, let BBC Radio 4 blab it to you in a post: "Nine things we learned from Neil Gaiman's Desert Island Discs".
Neil Gaiman is a multi-award winning author whose work includes the novels Stardust, American Gods and The Graveyard Book and the comic book series The Sandman. His first novel, Good Omens, written with Terry Pratchett, was published in 1990, and Neil recently adapted it as a TV series starring David Tennant and Michael Sheen. He specialises in creating fantastic alternative realities which exist under the nose of the world as we know it. He recently told his 2.8 million Twitter followers that he wore his 'lucky Batman underpants' for his Desert Island Discs recording – and here are nine things we learned from the programme…
5. A furious child inspired his first book for younger readers

Neil published The Day I Swapped My Dad for Two Goldfish in 1997.

"The idea, like most of my children's books, was stolen from one of my children," explains Neil. "In this case from my son, Mike, and he would have been four, maybe five years old. I'd said something to him that he didn't like, like possibly suggesting to him that it was actually his bedtime."

"And he looked up at me with a fury that only a small boy can generate, a special kind of fury and he just said, 'I wish I didn't have a dad'. He said, 'I wish I had….' And then he paused because he hadn't thought that through and, and then he said, 'I wish I had goldfish!' And he stomped off while I just thought 'That is brilliant!'"
(2) HISTORICAL DOCUMENTS, DISCON 1. Andrew Porter received this postcard after reserving his room for Discon, the 1963 Worldcon in Washington DC. "Back when I was still Andy Silverberg…" – his name at the time.
(3) QANTAS PHYSICS. Fanac.org's next "FanHistory Project Zoom Session" will be "Wrong Turns on the Wallaby Track: Australian Science Fiction Fandom to Aussiecon – Part 1, 1936 to 1960" featuring Leigh Edmonds and Perry Middlemiss. According to your time zone, it starts December 4 at 7PM Dec 4 EST, 4PM Dec 4 PST, or December 5 at 11AM in Melbourne AU. RSVP to [email protected] to get the Zoom link.
From the 1930s to the 1950s sf fandom in Australia was active and buoyant. Centred mainly around the city of Sydney their activities included fanzine production, club meetings and feuding. Yet by the beginning of the 1960s it had nearly all withered away. How did this vibrant community survive the Second World War and yet somehow fail to make it through peacetime? This, and many other questions, will be addressed by Dr Leigh Edmonds, sf fan and professional historian, in his FANAC talk titled "Wrong Turns on the Wallaby Track: Australian Science Fiction Fandom to Aussiecon – Part 1, 1936 to 1960."
(4) WHO WAS THAT MASKED FAN? The Los Angeles Times reports on Comic-Con Special Edition: "Comic-Con returns to San Diego amid COVID-19 pandemic".
They say not all superheroes wear capes. But they do all now wear masks.

This weekend, thousands of people flocked to San Diego for the city's first in-person Comic-Con — the beloved geekfest for all things science fiction, superhero and fantasy — in two and a half years.

The cosplayers squeezed into their spandex, strapped on their plastic weapons and secured their brightly colored wigs.

But with great power comes great responsibility. So, in a pandemic twist, they all donned face masks and red wristbands after proving they had either been vaccinated against or had recently tested negative for the greatest villain of all: COVID-19….
(5) COMIC-CON MUSEUM. The Times of San Diego takes its "First Peek Inside Comic-Con Museum, Revealing Exhibits Amid Soft Opening".
…Local dignitaries, Comic-Con officials and volunteers were the first to see the 250,000 square feet of exhibits as a "special edition" San Diego Comic Convention opened Friday at the San Diego Convention Center.

The former San Diego Hall of Champions sports museum will be a destination for Comic-Con attendees, who can take a free shuttle between to the venue. The shuttle goes every 30 minutes….
This is the link to the Museum website where these six theme exhibits are now on display:
Gene Roddenberry: Sci-Fi Visionary as creator of "Star Trek."
Chas Addams…Family and Friends as cartoonist of darkly humorous and macabre characters.
Eight Decades of Archie: a new pop-up exhibition that explores the storied history of America's typical teenagers
Cardboard Superheroes: the art of teenage brothers Connor (17) and Bauer (14) Lee, this exhibit features life-size cardboard models of superheroes such as Hulkbuster, Groot, C-3PO, and Baby Yoda.
Out of the Darkness: Comics in the Times of COVID featuring artwork by San Diego young people.
The PAC-MAN Arcade on the 2020 Museum Character Hall of Fame Inductee.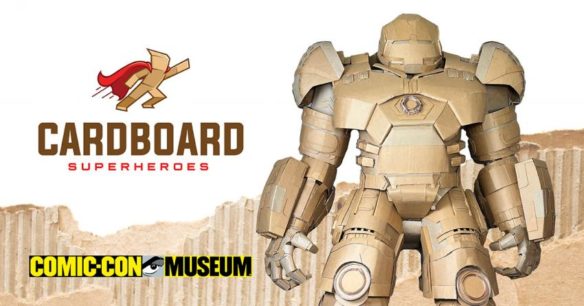 (6) COMICS EXHIBIT IN WASHINGTON, DC. There's news about what the Library of Congress is doing with Steve Geppi's collection of comics. Geppi Gems is on view in the LOC's Graphic Arts Gallery through March 2022. A second rotation, with a completely different selection, is intended for the Spring of 2022. "Geppi Gems Exhibit: Highlights from the Stephen A. Geppi Collection at the Library of Congress".
…Stephen A. Geppi opened the Geppi Entertainment Museum in Baltimore, Maryland, in 2006, with the intent of showing how artistic creations from the pages of newspaper comic strips and comic books permeated popular culture. Over time, he expanded his collecting interests to reflect such comic book themes as superheroes, westerns, science fiction, horror, sports, music and entertainment. When the Geppi Entertainment Museum closed its doors in 2018, Mr. Geppi generously donated a large portion of its contents to the Library of Congress, with a desire that thousands of people share his excitement for comic books….
There's also an online version of the exhibit: "Geppi Gems".
(7) MEDIA BIRTHDAY.
1972 — [Item by Cat Eldridge.] Forty-nine years ago this evening, Via Galactica, a SF rock musical, premiered on Broadway. Critics all hated it. Audiences really weren't fond of it either. It lasted but seven shows before being cancelled. Yes, it was that bad. The story by Christopher Gore and Judith Ross, lyrics by Gore, and music by Galt MacDermot. It marked the Broadway debut of actor Mark Baker who went on to far better things. (Raul Julia was in the cast.) The storyline was so difficult to follow that at the very last moment producers inserted a plot synopsis in Playbill, but audiences still had no idea what they were witnessing unfolding on stage which involved, among other things, a clamshell-shaped garbage ship called the Helen of Troy. No, I'm not kidding. It would be one of the very first Broadway plays to lose a million dollars. That's over six million dollars today. 
Jennifer George, daughter of the producer George W. George, has a look at it here.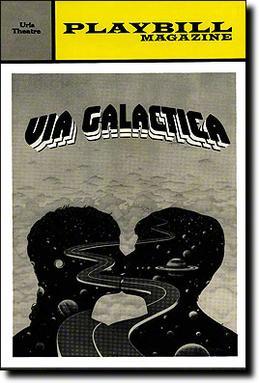 (8) TODAY'S BIRTHDAYS.
[Compiled by Cat Eldridge.]
Born November 28, 1930 — William Sargent, 91. He played Dr. Leighton in "The Conscience of the King", a first season episode of Star Trek. He also shows up in Night Slaves (really don't ask), Mission: Impossible, Shazam!, Voyage to the Bottom of the Sea, The Twilight Zone, Alfred Hitchcock Presents and The Invaders. He was in the pilot for The Immortal series but wasn't in the regular cast.
Born November 28, 1939 — Walter Velez. His agent and fellow artist Jill Bauman wrote, "Walter created illustrations for most of the major book and gaming companies. He has been long known for his cover art for such popular books such as the Thieves World series and the Myth Adventures series, both edited by Robert Asprin; and the Ebenezum, Wuntor, and Cineverse Cycle series, all by Craig Shaw Gardner. Walter illustrated for TSR games extensively. He applied his multi-faceted talents to trading cards for the Goosebumps series for the Topps Company, and a series of Dune trading cards. In the early 80's he worked with Random House to create art for several Star Wars books that were licensed from George Lucas." (Died 2018.)
Born November 28, 1944 — Rita Mae Brown, 76. Author of the Sister Jane mysteries which features foxes, hounds and cats as characters with voices which in my mind makes them genre novels. Not to mention her creation of Sneaky Pie Brown who "is a New York Times best-selling writer and cat who co-authors the Mrs. Murphy series of mystery novels with her owner, Rita Mae Brown." And who she has an entire series devoted to. 
Born November 28, 1946 — Joe Dante, 75. Warning, this is a personal list of Dante's works that I've really, really enjoyed starting off with The Howling then adding in Innnerspace, both of the Gremlins films though I think only the first is a masterpiece even if the second has its moments, Small Soldiers and The Hole. For television work, he's done a lot but the only one I can say that I recall and was impressed by was his Legends of Tomorrow's "Night of the Hawk" episode.  That's his work as Director. As a Producer, I see he's responsible for The Phantom proving everyone has a horrible day.  
Born November 28, 1952 — S. Epatha Merkerson, 69. Best remembered as Lieutenant Anita Van Buren on Law & Order appearing in 395 episodes of the series. Since Dick Wolf also is responsible for Chicago Med, she's now playing Sharon Goodwin there. Both of her major SF roles involve robots. The first was in Terminator 2: Judgment Day as Tarissa Dyson; a year later, she had a recurring role as Capt. Margaret Claghorn in Mann & Machine. And she had a recurring role as Reba on Pee-wee's Playhouse which I believe the consensus here is that it's genre. 
Born November 28, 1962 — Mark Hodder, 59. Best known for his Burton & Swinburne alternate Victorian steampunk novels starting off with The Strange Affair of Spring-Heeled Jack that deservedly garnered a Philip K. Dick Award. He also wrote A Red Sun Also Rises which recreates sort of Victorian London on a far distant alien world. Emphasis on sort of. And then there's Consulting Detective Macalister Fogg which appears to be his riff off of Sherlock Holmes only decidedly weirder. 
Born November 28, 1981 — Louise Bourgoin, 40. Her main SFF film is as the title character of Adèle Blanc-Sec in The Extraordinary Adventures of Adèle Blanc-Sec as directed by Luc Besson. Anybody watched the uncensored English version that came out on Blu-ray? It's on my list To Be Watched list. She also played Audrey in Black Heaven (L'Autre monde), and she's the voice heard in the Angélique's Day for Night animation short.
Born November 28, 1987 — Karen Gillan, 34. Amy Pond, companion to the Eleventh Doctor. Nebula in the Guardians of The Galaxy and in the later MCU films, Ruby Roundhouse in Jumanji: Welcome to the Jungle. Two episodes of Who she was in did win Hugos, "The Pandorica Opens/The Big Bang" and "The Doctor's Wife", the first at Renovation and the latter at Chicon 7. 
(9) FORTY WHACKS. The New Yorker enumerates "The Lessons of 'The Lorax'".
In 1989, the year that Iran's Ayatollah Ruhollah Khomeini issued a fatwa calling for the death of Salman Rushdie, for writing "The Satanic Verses," American parents in Laytonville, a small town in Northern California, demanded that their children's elementary school take Dr. Seuss's 1971 book, "The Lorax," off its list of required reading for second graders. The book is "Silent Spring" for the under-ten set. "I speak for the trees," the Lorax says, attempting to defend a soon to be blighted forest, its tufted Truffula trees chopped down and knit into hideous thneeds—"a Fine-Something-That-All-People-Need"—until there is nothing left but one single seed.

…"I drew a Lorax and he was obviously a Lorax," Geisel said. "Doesn't he look like a Lorax to you?" But, in 1989, to Bill and Judith Bailey, the founders of a logging-equipment business in Laytonville, the Lorax looked like an environmental activist. "Papa, we can't cut trees down," their eight-year-old son, Sammy, said after reading the book, in which a "Super-Axe-Hacker" whacks "four Truffula Trees at one smacker." Townspeople were caught up in the so-called "timber wars," when environmentalists camped out in trees and loggers wore T-shirts that read "Spotted Owl Tastes Like Chicken." Logging families took out ads in the local newspaper. One said, "To teach our children that harvesting redwood trees is bad is not the education we need."…
(10) ONE DAM THING AFTER ANOTHER. "Ian Frazier Wishes Somebody Would Write About the World's Largest Beaver Dam" in the New York Times. He avoids SF…but we'll skip that quote.
Which subjects do you wish more authors would write about?

I don't know — how about the world's largest beaver dam? It's in northern Alberta, Canada, and very hard to get to. Supposedly it's the largest animal-made structure visible from space. I would like to write about it myself, but no editors are interested. (Write about it, that is, without actually going there.)
(11) ELON MUSK NEWS. [Item by Martin Morse Wooster.] In the Washington Post. Isabelle Khurshudyan and Mary Ilyushina discuss the popularity of Elon Musk in Russia. Among his fans is Pavel Antonov, who wants to be the first bartender in space, with his role model being the android Michael Sheen played in Passengers. "Why Russia's mania for Elon Musk just keeps on growing".
…Pavel Antonov's life goal can be traced back to the 2016 movie "Passengers," a sci-fi romance that takes place on a luxury spaceship. One character in the movie is Arthur, an android bartender played by Michael Sheen. Arthur provides smiling relief amid the chaos.

"I immediately thought Musk will definitely need such a person who would distract from all problems," Antonov said. "For at least one hour, you can sit at the bar, forget about everything and talk about neutral topics. From then on, I decided that I want to be the first bartender on Mars."…
He's developed "a signature cocktail for Mars" which is bright blue and a red cherry for the Red Planet…
(12) VIDEO OF THE DAY. "Mr. Sci-Fi" Marc Scott Zicree is roaming the aisles at San Diego Comic-Con — Special Edition.
[Thanks to John King Tarpinian, Andrew Porter, Michael Toman, Alan Baumler, SF Concatenation's Jonathan Cowie, Cat Eldridge, Mike Kennedy, Martin Morse Wooster, and JJ for some of these stories. Title credit belongs to File 770 contributing editor of the day Joe H.]