(1) EATING THE FANTASTIC. Famed comics writer Marv Wolfman joins Scott Edelman for gelato in Episode 54 of the Eating the Fantastic podcast.
As I prepared to lunch with this episode's guest, I was startled to realize I'd last interviewed him in 1974—43 years ago! Back then, I was an assistant editor in the Marvel Bullpen, while Marv Wolfman was (among many other things) scripting Tomb of Dracula and editing Crazy magazine, not yet having ascended to the role of Editor-in-Chief. And it was my job to report on his doings for the readers of F.O.O.M., Marvel's official fan magazine.

Over the course of his career, Marv did a whole lot more than what I talked with him about back then. He went on to script the adventures of many legacy characters for both Marvel and DC, including the Fantastic Four, Spider-Man, Superman, and Green Lantern, and during that time he also co-created the characters of Blade, Bullseye, Destiny, Nova, and many others. He wrote the Teen Titans comic for 16 years. There's even more to Marv than that, of course, as you'll find out when you give this episode a listen….

We discussed his horrifying early job as a DC Comics intern destroying (and in some cases rescuing) original art, why he loves the science fiction writer Alfred Bester, how his writing back when he started out was a blend of John Broome and Stan Lee, what he learned from binge-reading 181 issues of Spider-Man before starting to script it himself, what it was like returning to DC after his years at Marvel, why he felt he could write Tomb of Dracula even though when he was handed the assignment he'd never read the Bram Stoker novel or seen any of the movies, his secret to making the Teen Titans seem like actual teens, why he owes his career to Gene Colan, and much, more.
(2) JOSHI DEFENDS HIMSELF. S.T. Joshi tees off on Brian Keene once more in his November 15 blog post.
Let us consider his assertion that I have gone out of my way to attack certain individuals who have criticised Lovecraft only because they are women (Ellen Datlow), persons of colour (Daniel José Older), persons in the LGBTQ community (S. J. Bagley [although his membership in this community is news to me]), and self-styled "'white trash' Appalachians" such as himself. If anything could reveal Mr. Keene's nincompoopery—not to mention identity politics run amok—this must be it. Mr. Keene ignores the fact that I have also addressed other individuals—unimpeachably Caucasian and undeniably male—such as China Miéville (see my blog of August 23, 2014), Charles Baxter (blog of December 3, 2014), Robert Dunbar (blog of February 27, 2015), and others. Then there's Niels Hobbs, about as chalk-white a Nordic as one could ask for. But more significantly, Mr. Keene is blithely unaware of how his assertion can be flipped around and made to bite him in the posterior. By his own reasoning (if it can be called that), anyone who criticises me for any reason must be an anti-Asian racist. For it cannot be news to Mr. Keene that I was born in India and am an immigrant to this country (but a U.S. citizen of long standing). Is Mr. Keene therefore prepared to admit that he is a racist? How about it, Mr. Nicolay? What do you have to say for yourself, Mr. Lockhart?

But of course this is absurd. I have never accused any of my antagonists of prejudice (only of stupidity, hypocrisy, and suchlike faults that are widely shared by all races and genders), and I trust I may be granted the same courtesy, especially in the absence of evidence (and of course there is none) that I myself have ever exhibited racial or gender prejudice. I confess to an irremediable prejudice against illiterate morons like Mr. Keene (in part because this "revolt of the stupid" inflicted upon us our current "president"), but beyond that, my record is clean.

Mr. Keene also asserts, preposterously, that I do not want Lovecraft's racism discussed. I myself have discussed this issue—in my biography and elsewhere—more comprehensively and with a greater understanding of the historical, philosophical, social, and cultural issues involved than any other commentator. Where Mr. Keene got the idea that I threatened to boycott the 2017 NecronomiCon if there was a panel on this subject, I cannot begin to imagine. In fact, Niels Hobbs and I, long before our falling out, had already agreed that there need not be any such panel at the 2017 event, since we had had panels on the subject at the two previous conventions—and I was a member of the panel in 2013. My boycott threat was tied specifically to the presence of known and unrepentant Lovecraft-haters on the program—and I was under the impression that Mr. Hobbs had acceded to my request to keep them off the program…
Joshi's love for abusing people in lush terms inspires me to ask who would win if he and John C, Wright were paired in a literary cage match?
(3) LEFTOVER STUFFING. Jon Del Arroz has posted the "Happy Frogs OFFICIAL 2017 Nebula Awards Slate Recommendations". Whether such a slate can be effective remains to be seen, since only SFWA members can nominate. If the real goal is to court controversy and gain publicity, well, it's working already.
The Happy Frogs are back!  It's already getting close to award season, as nominations are opening for the 2017 Nebula Awards. Our Board of Trustees  has scoured  the best of the best of Science Fiction and Fantasy to come up with recommendations for YOUR SFWA Nebula Award ballots. These stories are tremendous. Believe me. You'll want to jump to fill in your Nebula ballots with these choices immediately.

Many categories had very difficult choices with so much great fiction available, and we did our best to bring about the five best of the year in each category.  The TOP BALLOT was given a little extra love, so we can ensure SFWA members give proper focus if they only wanted to choose one Happy Frogs nominee.
Jon's work, some Superversive and Castalia House authors, and other Scrappy-Doos comprise most of the list, but a Tor book is recommended for Best Novel – go figure.
Top Ballot: The Guns Above by Robyn Bennis (Tor Books) – Hands down the most epic fun book of 2017. It has fantasy, it has steampunk, it has incredibly well detailed battles that rival David Weber. It's got one of the coolest main characters in Josette, and is so well written, we at the Happy Frogs could read it over and over again. Incredible work.
(4) CALL FOR PAPERS,. "Glasgow International Fantasy Conversations" has put out a call for papers on the theme of "Escaping Escapism in Fantasy and the Fantastic." The event takes place April 26-27, 2018.
What is the role of fantasy and the fantastic? Why—and perhaps more crucially, how—does the genre matter? Fantasy theorists frequently define the genre in opposition to what is possible and real: Kathryn Hume, for instance, sums it up in Fantasy and Mimesis as "departures from consensus reality". Critics often scrutinize this departure as a negative, and disparage representations of the fantastic either due to their failure to depict real world issues or their presumed attempts at "escapism." This perceived link between fantasy and escapism is so strong that dictionaries like the Oxford English Dictionary define escapism as "engaging in fantasy".

… This two-day conference seeks to examine and honour the relationship between escapism and the fantastic. We welcome proposals for papers on this theme from researchers and practitioners working in the field of fantasy and the fantastic across all media, whether within the academy or beyond it. We are particularly interested in submissions from postgraduate and early career researchers.
(5) TODAY IN HISTORY
December 1, 1932 — The big screen adaptation of H.G. Wells' Island Of Lost Souls premieres in the U.S.
(6) HONOR IN GOTHAM. Welcome2TheBronx says a street will be given the name of Batman's co-creator: "Recognition At Last! Bronx Street to be Renamed After Batman Co-Creator Bill Finger".
On December 8th, late Bronxite and DeWitt Clinton alumni Bill Finger and co-creator of Batman will have justice with a Bronx street renamed after him.

For years, many only knew Bob Kane as the creator of Batman but it was actually Bill Finger who gave Bob Kane not only the idea of how Batman should look but also created his origin story and wrote many of the stories during the beginning of the rise of the Dark Knight.

Born Milton Finger in Denver, Colorado on February 8, 1914, eventually he and his family moved to The Bronx where he was raised and went to DeWitt Clinton High School (where Bob Kane went as well).

Kane was trying to come up with a character to compete with the craze created by Superman but was stuck in a rut when he asked Bill Finger for some advice. The two would meet up at Poe Park on the Grand Concourse to come up with ideas and it was Finger who told him to change his costume into what became the Batman we know today.
(7) THE SEASON. The Book Smugglers decreed: "Smugglivus is HERE – A Primer".
Smugglivus is our month-long (technically about five weeks long) end of the year celebration. Back in our first year of The Book Smugglers in 2008, we wanted to do something special at the end of the year leading up to our blog anniversary in early January. So, we came up with the idea to host a holiday bonanza to celebrate our favorite books, authors, and bloggers of the year. Thus, inspired by Seinfeld's infamous Festivus, Smugglivus was born.

Each year, Smugglivus begins on December 1 and features guest posts from our favorite people across the interwebs (with a healthy serving of our regular reviews and giveaways, of course). The event ends with a bang on January 7, our very own blogiversary. And this year? We will be celebrating our biggest milestone to date: our tenth anniversary!

…This year, our all-star author lineup includes, among many others, Aliette de Bodard, Martha Wells, Kate Elliott, N.K. Jemisin and more. Of course, we'll also have plenty of awesome bloggers/reviewers/vloggers over to play too!
(8) EYE ON THE PRIZE. Camestros Felapton is a great fan of book cover art (something we know because he's already done 22 covers for McEdifice Returns and may not be done). In that line, he has gathered some of the year's most admired artwork in his post "The Book Cover Thing 2017: The Longlist".
Thanks for all the suggestions I didn't include them all (looks specifically at Doris for a moment). I also went hunting for some extra names and interesting covers of books I haven't heard of. Obvious note: appearance on the list is not any kind of endorsement of the content of the books or their authors and in some cases I know nothing about the books at all – but at least one was intentionally deplorable.
(9) ENDEAVOUR AWARD. Although the winners of the 2017 Endeavour Award, Patricia McKillip and Matt Ruff, weren't at OryCon to pick up their awards, two other finalists were on hand to receive commemorative certificates, Curtis Chen and David D. Levine. Thanks to Jim Fiscus for the photos:
The two head shots were taken when the authors were reading from their books, Arabella of Mars for David D. Levine and Waypoint Kangaroo by Curtis Chen.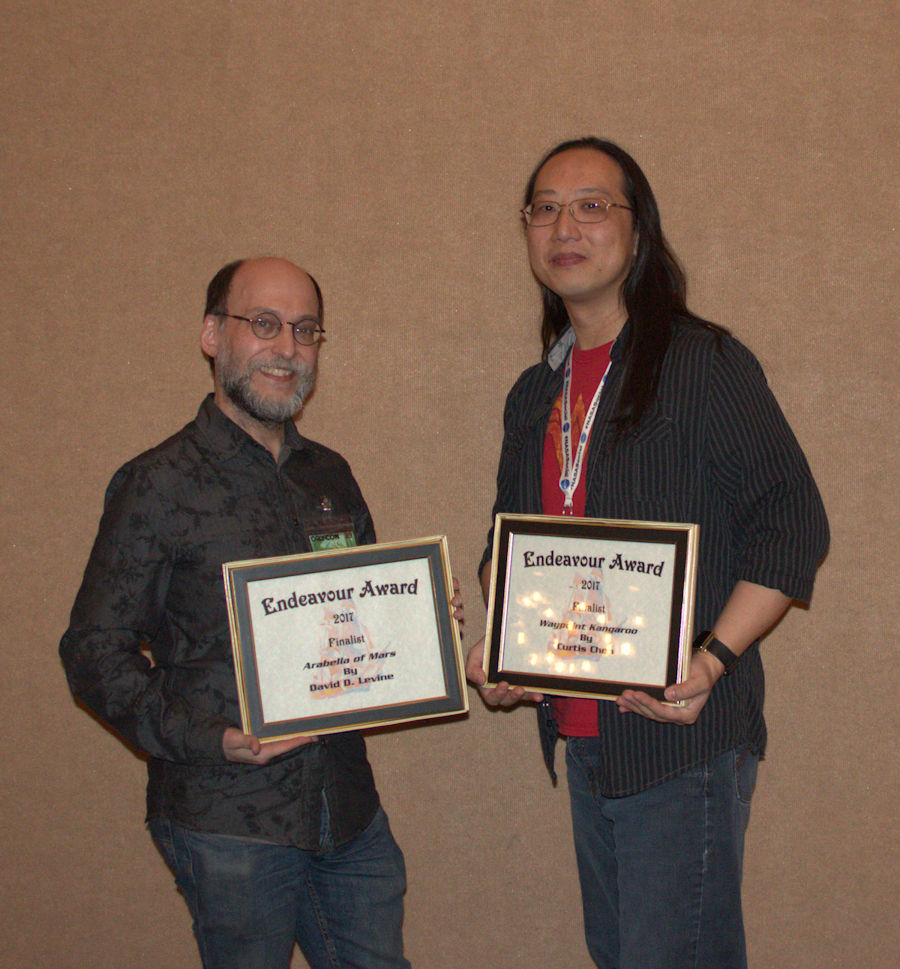 (10) VIRAL CAT. Social media has another feline star: "Meet Max, the cat who lost the library but won the Internet".
This is basically halfway to being a children's book pic.twitter.com/DjwUPHy9Wz

— Erin McGuire (@e_mcguire_) November 29, 2017
This story, printed and taped onto a university library door in St. Paul, Minn., might have ended there. But as seen above, it got tweeted. It also got Tumblr-ed. And Reddit-ed. And because the Internet loves cat characters — and has a special fondness for those known as library cats — the story of 3-year-old Max exploded Wednesday. (In some online corners, anyway; it was a heavy news day.)

Having been shooed away from the Macalester College library, Max sprinted straight toward Internet fame.

The people wanted a children's book. Someone dashed off text in rhyme:
Get into the thread here —
Every time Max went inside,
librarians from far and wide
would chase him out and whisper "Shoo!"
His owner had forbade him too.
Poor cat. No human thought that he
belonged inside the library.

— Finn, a Human (@relsqui) November 29, 2017
(11) ELASTIC CURRENCY. Nerd & Tie reports "Checks Are Bouncing For Guests Who Appeared at Waxacon".
About six hundred people turned up for the first ever Waxacon in Waxahachie, TX on November 18th and 19th. Attendees got to meet guests like Corin Nemec, Olivia Hack, Kevin Duhaney, Jeff Parazzo, Christina Masterson, Philip Andrew, Jack Guzman, Philip Jeanmarie and Chuck Huber. With so few attendees present, it must have been a fun, intimate experience for fans. But here's the thing, as far as we can tell none of those guests have been paid yet.

We've spoken to representation for multiple guests who appeared at Waxacon, and those who were supposed to see payment arrive via Paypal haven't received what's due to them. What's worse is that we've confirmed that guests who were handed checks by the convention organizer Alex Betsill have seen them bounce….
(12) ANOTHER STRANGER. Netflix has greenlighted a third season of Stranger Things. [H/T Nerd & Tie.]
(13) REJECTED. This video from the Bradbury Center tells how the scripts and films of Something Wicked This Way Comes were rewritten, reshot, and re-edited before the popular Disney movie was released.
(14) BEER REVIEW Nickpheas writes, "We had the underwhelming Dark Vader a couple of weeks ago." He found its lack of taste…disturbing. But if you're in the neighborhood —
The pub just next to my place of work (and any filer visiting the area can always hit on me for a pint) has turned up two more genre themed ales.
Things I do for our "better" customers… Here you go @dustytruffle @tinyrebelbrewco Stay Puft Chocolate AND Vader Shuffle ? #YouAreWelcome ??@YorkBeer pic.twitter.com/4KdAityCUO

— shaun collinge (@maltingsyork) December 1, 2017
(15) SPECULATING ABOUT PLANET NINE. Maybe the Lectroids' home? "Planet Nine: Theories About the Hypothetical Planet".
A massive ice giant may be traveling through the outer solar system. Dubbed "Planet Nine," the hypothetical world was proposed to exist after scientists noticed that a handful of objects beyond Pluto had been shaken up in unusual orbits. Search parties have formed to find the unseen planet, with optimistic hopes of spotting it within a year.

"It's not crazy; this is the kind of stuff people are finding all the time," co-discoverer Mike Brown, at the California Institute of Technology, told Space.com earlier this year. Brown and lead author Konstantin Batygin, also at CalTech, published a paper in January 2016 suggesting that a massive planet could be stirring up the icy bodies of the Kuiper Belt, a ring of material at the edge of the solar system.
(16) POWER UP. Tesla makes goal: "World's Largest Battery Is Turned On In Australia As Tesla Ties Into Power Grid" — 37 days ahead of schedule.
The power grid in South Australia now includes a huge Tesla battery tied to a wind farm, allowing the system to supply electricity around the clock. The battery was installed well before Tesla CEO Elon Musk's 100-day guarantee lapsed — and just in time for the start of summer.

"This is history in the making," South Australia Premier Jay Weatherill said of the battery system, which sits next to wind turbines at the Horndale Power Reserve.
(17) DEL TORO FILM REVIEWED. Close but no cigar: NPR's Justin Chang finds that "Gorgeous And Lyrical 'Shape of Water' Doesn't Quite Hit Its Mark".
"The Shape Of Water" is such a lyrical and imaginative piece of storytelling that I'm genuinely disappointed that I didn't love it more. There's no doubting the visionary credentials of the director, Guillermo del Toro, though his richly atmospheric fantasies are often more inspired in concept than they are in the moment-to-moment unfolding. The great exception is his Oscar-winning 2006 film "Pan's Labyrinth," a masterpiece of historical fantasy in which he held a brutal Spanish war story and a transporting fairy tale in exquisite balance.
(18) PTEROSAUR EDEN. NPR reports "Hundreds Of Eggs From Ancient Flying Reptile Are Found In China".
A cache of hundreds of eggs discovered in China sheds new light on the development and nesting behavior of prehistoric, winged reptiles called pterosaurs.

Pterosaurs were fearsome-looking creatures that flew during the Lower Cretaceous period alongside dinosaurs. This particular species was believed to have a massive wingspan of up to 13 feet, and likely ate fish with their large teeth-filled jaws.

Researchers working in the Turpan-Hami Basin in northwestern China collected the eggs over a 10-year span from 2006 to 2016.

A single sandstone block held at least 215 well-preserved eggs that have mostly kept their shape. Sixteen of those eggs have embryonic remains of the pterosaur species Hamipterus tianshanensis, the researchers said in findings released today in Science.
(19) A DISCOURAGING WORD. The BBC tells how they do it — "From disguises to bad manners: How celebs avoid being pestered in public".
[Mark] Hamill recently tweeted how he hopped into a wheelchair at an airport to "avoid autograph $alesmen/Dealer$ who constantly badger me (and my family) to increase value of their items".

Hunger Games star Lawrence, who refuses selfies with fans, said: "I just, generally, once I enter a public place, I become incredibly rude – that's kind of like my only way of defending myself."

Mark Hamill tries "the old wheelchair trick", Daniel Radcliffe wore a Spider-Man suit (plus rucksack and American accent) to Comic-Con, …
(20) THE BADDEST PART OF THE FILE. For some strange reason a Jim Croce filk festival broke out in comments. Here is microtherion's contribution:
If I could save time in a shoggoth
The first thing that I'd like to do
Is to sleep in R'lyeh
'Til eternity passes away
Just to spend strange aeons with you
(21) HOW IT TOOK SHAPE. Marc Scott Zicree, who worked on a book with Guillermo Del Toro, tells the vision behind The Shape of Water.
Mr. Sci-Fi Marc Zicree shares insider info on his friend and co-writer Guillermo del Toro's wonderful new film The Shape of Water.
[Thanks to John King Tarpinian, Jim Fiscus, JJ, Nickpheas, Martin Morse Wooster, Chip Hitchcock, Carl Slaughter, Cat Eldridge, and Andrew Porter for some of these stories. Title credit belongs ti File 770 contributing editoe of the day Soon Lee.]