(1) NETWORK EFFECT. Martha Wells commented about last night's win in "Nebula Award!"
So a cool thing happened: Network Effect won the Nebula Award for Best Novel!

I was really shocked and floored. I really didn't think it would win. We had invited some (vaccinated) friends over to watch the ceremony live on YouTube but I also had to be logged in to a zoom "green room" the whole time, so we spent a lot of Friday and Saturday housecleaning, getting party food at the store, and trying to reconfigure our internet to be robust enough to make this work. (Because of the way the live broadcast worked, if I got kicked out of the green room zoom because of a dropped connection, they wouldn't be able to let me back in.) We ended up directly connecting my laptop to the router, which worked great. And the Tiramisu cake from the HEB bakery was both beautiful and delicious.

There was a Nebula Red Carpet tag on Twitter for outfits, and I wore a dress I'd actually bought for the Dublin WorldCon, but the back wasn't sewn quite right, so wearing it for an online event was perfect.
(2) O'DONNELL AWARD. And Connie Willis, winner of The Kevin J. O'Donnell, Jr. Service to SFWA Award, posted her acceptance remarks on Facebook.
Thank you, Jim, for that great introduction and thanks to all of you for this lovely award.

I don't really deserve it. In the first place, if the service was emceeing the Nebulas, that was really fun.

In the second place, if it was teaching at Clarion and Clarion West, I loved doing that, and I've been rewarded every day by the wonderful things my students have accomplished and the awards they've won. You Clarion people are great!…
(3) LIVE FROM THE VATICAN. Brother Guy is on the NPR's "Weekend Edition": "The Vatican's Space Observatory Wants To See Stars And Faith Align".
At a time of growing diffidence toward some new scientific discoveries, the one and only Vatican institution that does scientific research recently launched a campaign to promote dialogue between faith and science.

It's the Vatican Observatory, located on the grounds of the papal summer residence in Castel Gandolfo, a medieval town in Alban Hills 15 miles southeast of Rome.

The director, Brother Guy Consolmagno, is giving this reporter a guided tour of the grounds….

…A native of Detroit, Consolmagno studied physics at the Massachusetts Institute of Technology, volunteered with the Peace Corps in Africa and taught physics before becoming a Jesuit brother in his 40s. He has been at the Observatory for three decades. His passion for astronomy started with a childhood love of science fiction.\

"I love the kind of science fiction that gives you that sense of wonder, that reminds you at the end of the day why we dream of being able to go into space," Consolmagno says.

A passionate Star Wars fan, he tells this reporter proudly, "even Obi-Wan Kenobi came to visit" the Observatory, pointing to the signature of actor Alec Guinness, who played the role in the original movie trilogy, in a visitor's book from 1958….
(4) THANKS FOR THE MEMORIES. From writer/director/producer Lisa Joy (Westworld) comes Warner Bros. action picture Reminiscence, starring Hugh Jackman, Rebecca Ferguson and Thandiwe Newton. Scheduled for release on August 20.
Nick Bannister (Jackman), a private investigator of the mind, navigates the darkly alluring world of the past by helping his clients access lost memories. Living on the fringes of the sunken Miami coast, his life is forever changed when he takes on a new client, Mae (Ferguson). A simple matter of lost and found becomes a dangerous obsession. As Bannister fights to find the truth about Mae's disappearance, he uncovers a violent conspiracy, and must ultimately answer the question: how far would you go to hold on to the ones you love?
(5) FOREIGN MARKETS. Fonda Lee comments on trad publishers' varied handling of translated editions of books. Thread starts here.
(6) DEEPER DIVE INTO POE. In the Washington Post, Michael Dirda reviews The Reason for the Darkness of the Night by John Tresch, a book that shows that Edgar Allan Poe was well-informed about the science of his day and a look at how science played a role in Poe's thought, including his fiction. "Is Poe the most influential American writer? A new book offers evidence".
…That morose view of Poe, still widespread, isn't precisely accurate. As Tresch reminds us, Edgar grew up coddled by the wealth and status of his Richmond stepparents, excelled in many of his courses at the University of Virginia and, during his time at West Point, was well liked by his fellow cadets (over half of whom helped underwrite a volume of his poems). While it's hard to imagine him in any uniform but a severe black suit, Poe actually served in the Army for four years, rising to the rank of sergeant major.

…As a lifelong "Magazinist," Poe could write anything: humorous squibs, book reviews, parodies, articles about the latest scientific discoveries, exposés of quackery (most notably of Maelzel's chess-playing automaton), critical essays on "the philosophy of composition," an almost unreadable cosmological prose-poem called "Eureka" and, of course, those unforgettable stories of self-justifying murderers and shrill psychopaths: "The thousand injuries of Fortunato I had borne as I best could, but when he ventured upon insult I vowed revenge." . . . "True — nervous — very, very dreadfully nervous I had been and am; but why will you say that I am mad?"

In "The Reason for the Darkness of the Night" (available June 15), Tresch emphasizes how much Poe infuses scientific discourse into his most fantastical imaginings. For example, in "A Descent Into the Maelstrom," a sailor, whose boat has been sucked into a gigantic whirlpool, rather improbably saves himself by thinking like a physicist: He observes that cylindrical objects fell more slowly into the whirling vortex than other objects of the same size, so he quickly lashes himself to a barrel to escape from a watery grave. In another story, "The Man That Was Used Up," Poe describes a highly decorated army officer who, because his body parts have been replaced by various prostheses, is actually a steampunk cyborg….
(7) KRAMER PAROLE VIOLATION ALLEGED. Seems like it's barely news anymore when Ed Kramer gets arrested. Just found out this happened in January: "Ed Kramer — who was tied to Gwinnett courthouse computer trespassing drama — was arrested this week" – the Gwinnett (GA) Daily Post has the story.
Gwinnett County jail records show Ed Kramer was arrested by sheriff's deputies on Wednesday and released the following day. The only charge was the probation violation, for which a judge set a $22,200 bond.

"There was an alleged probation violation where it was alleged that Mr. Kramer texted an alleged image of an unclothed adolescent," District Attorney Patsy Austin-Gatson said. "He has been released and the matter is pending investigation."…
(8) GRAND OPENING. Deadline says the "2021-22 NBC Schedule" features a show that'll go even deeper underground than LA's Red Line.
TUESDAY

9-10 PM – LA BREA

LA BREA – An epic adventure begins when a massive sinkhole opens in the middle of Los Angeles, pulling hundreds of people and buildings into its depths. Those who fell in find themselves in a mysterious and dangerous primeval land, where they have no choice but to band together to survive. Meanwhile, the rest of the world desperately seeks to understand what happened. In the search for answers, one family torn apart by this disaster will have to unlock the secrets of this inexplicable event to find a way back to each other.

The cast includes Natalie Zea, Eoin Macken, Jon Seda, Nicholas Gonzalez, Chiké Okonkwo, Karina Logue, Zyra Gorecki, Jack Martin, Veronica St. Clair, Rohan Mirchandaney, Lily Santiago, Josh McKenzie and Chloe De Los Santos. Writer David Appelbaum executive produces with Avi Nir, Alon Shtruzman, Peter Traugott, Rachel Kaplan, Steven Lilien, Bryan Wynbrandt, Ken Woodruff, Arika Lisanne Mittman and Adam Davidson. "La Brea" is produced by Universal Television, a division of Universal Studio Group, in association with Keshet Studios.
(9) WILLIAMS III OBIT. Actor Clarence Williams III died June 4 of colon cancer at the age of 81. Best known for his work on Sixties police series The Mod Squad, his genre roles included three episodes of Twin Peaks (1990) as FBI Agent Roger Hardy, who informed Dale Cooper of his suspension from the FBI. He also was in TV episodes of Tales from the Crypt (1992), Star Trek: Deep Space 9 (1996), and Millennium (1997).
(10) MEDIA BIRTHDAY.
June 6, 1998 – On this date in 1998, The Truman Show premiered. It was directed by Peter Weir, and produced by Scott Rudin, Andrew Niccol, Edward S. Feldman, and Adam Schroeder. It was written by Andrew Niccol off the 198 The Twilight Zone episode "Special Service" (as written by J. Michael Straczynski). It starred Jim Carrey, Laura Linney, Noah Emmerich, Natascha McElhone, Holland Taylor and Ed Harris. Critics loved it, it did great at the box office and the audience reviewers at Rotten Tomatoes currently give it an eighty-nine percent rating. Did I mention it won the Hugo for Best Dramatic Presentation at Aussiecon Three?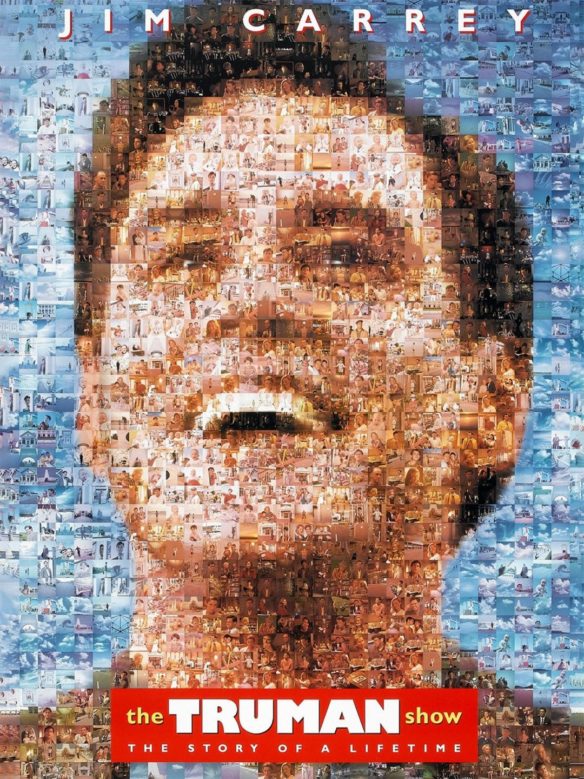 (11) TODAY'S BIRTHDAYS.
[Compiled by Cat Eldridge and John Hertz.]
Born June 6, 1799 – Alexander Pushkin. Sometimes after a surprise you re-examine and think "Oh. Of course." When Ravi Shankar first visited Russia, people cried "Pushkin! Pushkin!" They loved Pushkin and there is a resemblance. I'd like to call Mozart and Salieri a fantasy but, as my father used to say, not within the normal meaning of that term. Anyway, we get Ruslan and Lyudmila and "The Queen of Spades" and The Bronze Horseman and "The Golden Cockerel" and The Stone Guest and "The Shot". Speaking of which – (Died 1837) [JH]
Born June 6, 1918 — Richard Crane. In the Fifties, he would be cast in two of the series that largely defined the look and feel of televised SF for a decade. First, he was the dashing lead in Rocky Jones, Space Ranger which lasted for thirty-nine thrilling episodes; second, he's Dick Preston in nine of the twelve episodes of the wonderfully-titled Commando Cody: Sky Marshal of the Universe. He was also the lead in the fifteen-chapter serial Mysterious Island which was a very loose adaption of the Jules Verne novel. (Died 1969.) (CE)
Born June 6, 1921 – Milton Charles. Artist and art director in and out of our field; Art Director for Jaguar (New York), later for Pocket Books; five hundred awards from Amer. Inst. Graphic Arts (AIGA), Society of Illustrators, Amer. Book Publishers, and like that. Here is his cover for Tucker's Wild Talent; here is Vonnegut's Mother Night; here is a study of his V.C. Andrews covers. (Died 2002) [JH]
Born June 6, 1924 — Robert Abernathy. Writer during the 1940s and 1950s. He's remembered mostly for his short stories which were published in many of the pulp magazines that existed during the Golden Age of Science Fiction such as Planet Stories, Galaxy, F&SF, Astounding and Fantastic Universe. He did around forty stories in total, and apparently wrote no novels that I can locate. There's no collection of his works currently available in digital form but many of his stories are up at the usual digital suspects. (Died 1990.) (CE)
Born June 6, 1945 – Vivian French, age 76. Libraries in the United Kingdom say she is borrowed – that's a metaphor, folks – shall we call it a Thing Contained for the Container? – half a million times a year; the Tiara Club books have sold three million copies. Three dozen novels for us, some shorter stories, not least "I Wish I Were an Alien" in which the extraterrestrial boy, for his part, wishes – [JH]
Born June 6, 1947 — Robert Englund, 74. I think his best performance was as Blackie on the very short-lived Nightmare Cafe. Short-lived as in just six episodes. Of course most will remember him playing Freddy Krueger in the Nightmare on Elm Street franchise. He actually appeared in a couple of now forgotten horror films, Dead & Buried and Galaxy of Terror, before landing that role. And he's continued to do myriad horror films down to the years ranging from CHUD to Strippers vs Werewolves. (Really. Truly.) Versatile man, our Robert. (CE)
Born June 6, 1951 – Geraldine McCaughrean, age 70. (Pronounced "muh-cork-run".) For us, a dozen novels, including the authorized sequel Peter Pan in Scarlet, retellings of The Odyssey and 1,001 Nights; as many shorter stories; recent collection, Sky Ship; a hundred seventy books all told; five dozen plays; two Carnegie Medals; Printz Award. "Do not write about what you know, write about what you want to know." [JH]
Born June 6, 1957 – Max Bertolini, age 64. Thirty covers, a few interiors; artbooks The Art of Max Bertolini and Revelations; comics. Here is the Jun 04 Magazine of Fantasy & Science Fiction. Here is the Oct-Nov 08. Here is the Apr 11 Fantasy. Here is his Silver Surfer. [JH]
Born June 6, 1964 — Jay Lake. Another one who died far too young. If you read nothing else by him, read his brilliant Mainspring Universe series. Though his Green Universe is also entertaining and I see Wiki, not necessarily known for its accuracy, claims an entire Sunspin Universe series is still forthcoming from him. Anyone know about these novels? (Died 2014.) (CE)
Born June 6, 1973 — Guy Haley, 48. British author of the Richards & Klein Investigations series, a cyberpunk noir series where the partners are an android and an AI. His regular pay check comes from his Warhammer 40,000 work where he's written a baker's dozen novels so far. Not surprisingly, he's got a novel coming out in the their just announced Warhammer Crime imprint which, though I've read no other Warhammer 40.000 fiction, I'm interested in seeing how they do it. (CE)
Born June 6, 1973 — Patrick Rothfuss, 48. He is best known for the Kingkiller Chronicle series, which won him several awards, including the 2007 Quill Award for his first novel, The Name of the Wind. He also won the Gemmell Award for The Wise Man's Fear. Before The Name of the Wind was released, an excerpt from the novel was released as a short story titled "The Road to Levinshir" and it won the Writers of the Future contest in 2002. (CE)
Born June 6, 1973 – Anne Ursu, age 48. Teaches at Hamline, first university in Minnesota. She's given us eight novels, for children, adults, both. The Lost Girl is told from the viewpoint of a crow. In The Cronus Chronicles – three so far – two cousins find they're in Greek myths; the first cousin we meet is Charlotte Mielswetzki, and if I say so myself it's about time we did. Breadcrumbs retells The Snow Queen; creatures from Hans Andersen's tales keep showing up; and Jack, Hazel's only friend in 5th Grade, may not want to be saved. [JH]
(12) COMICS SECTION.
Non Sequitur comments on that advanced alien technology we're always on the lookout for.
Heathcliff leaves something to the imagination – barely.
Comics Kingdom draws an unexpected parallel between Robin and the Seven Hoods and Star Wars.
(13) VOICE OF EXPERIENCE. Kameron Hurley says her career arc taught her to put things in perspective. Thread starts here.
(14) LISTEN TO MY STORY. [Item by Martin Morse Wooster.] Shipworm calls itself "the first feature-length audio movie" which means it s a 115-minute drama that has a script that reads more like a screenplay and less like a radio drama. A doctor and Iraq War veteran wakes up and finds a voice in his head who calls herself "The Conductor" and tells him he has to do bad things or his wife and children will die. I'm not going to explain what The Conductor is and what the shipworms are, but this story is borderline sf and slightly on the sf side of the border but only slightly.. It's a professional production (SAG-AFTRA is acknowledged in the credits) and I listened to it and it's OK, but the writers studied their screenwriting books too closely because the characters seem like plot cliches and not human beings. I think this is Two Up Productions's first entry into this sort of production, and I'd like to hear their fifth. Shipworm is promising, but there's room for improvement. "Shipworm: Podcast".
(15) STRANGE NEW EGGS. "Star Trek: Strange New Worlds Star Teases Original Series Easter Eggs" at Comicbook.com.
,,, Rebecca Romijn plays Number One, the Enterprise's first officer, in Star Trek: Strange New Worlds, alongside Anson Mount as Captain Christopher Pike and Ethan Peck as Mr. Spock. She tells Looper that production is now deep into the show's first season.

"We are currently in production on the first season of Star Trek: Strange New Worlds," Romijn said. "My lips are sealed, but I am in Toronto and we are on episode seven of 10 — and we are not allowed to say anything about what we're doing. This is the story of the 10 years on the Enterprise — this is the 10 years leading up to Captain Kirk on the Enterprise. So, this is Captain Pike and Number One, and Spock is a science officer. We outrank him, which is really fun, because when does anybody ever outrank Spock?'"

While Romijn might not be spilling plot details, she did indicate that there will be references to Captain Kirk's adventures charting the final frontier. "I can't say anything else because there are so many Easter eggs on this show, but we are very, very, very excited to introduce this show," she said. "It's in keeping with the original series — they're standalone episodes. It's a little bit lighter. We are visiting planets. We are visiting colonies, and we are so proud of our work so far."
(16) AND EGGS AGAIN. SYFY Wire took the tour: "The MCU Easter Eggs You Need to Look for at Avengers Campus", a new attraction at Disney California Adventure. Here are the first two of 15 identified in the article.
Here are some of our favorites you can see in our exclusive slideshow below:

1) The Pym Menus boards are actually Scott and Hope's phones, and if you watch the screens, you'll see them get texts and messages from some of their famous friends like Tony Stark.

2) Near the front of the Stark Industries building (now WEB Workshop), there's a special parking spot for a close friend of both Howard Stark and Peggy Carter.
(17) DOUBLE DRAGONS. There are now two Dragons at the ISS: "SpaceX Dragon docks at space station to deliver new solar arrays and tons of supplies" – Space.com has the story.
A SpaceX Dragon cargo ship arrived at the International Space Station today (June 5) to deliver new solar arrays along with tons of fresh research experiments and NASA supplies as part of the company's 22nd cargo resupply mission.

The uncrewed Dragon autonomously linked up with the orbiting laboratory at 5:09 a.m. EDT (0909 GMT), parking at the zenith, or space-facing, side of the station's Harmony module. Docking occurred approximately 40 hours after the Dragon's launch on a Falcon 9 rocket Thursday (June 3) from NASA's Kennedy Space Center in Florida. At the time of docking, both spacecraft were sailing about 258 miles (415 kilometers) over the South Pacific Ocean. …
(18) STAND ON MANHATTAN. Jason Sacks reviews one of the famous Malthusian sf novels for Galactic Journey: "[June 6, 1966] The World is Ending (Make Room! Make Room! by Harry Harrison)".
In this world we follow police officer Andrew Rusch as he tries to track down the murderer of a rich man who lives in one of those spacious apartments. We watch Rusch fight through his wretched world to find the killer, find a new love, lose an old companion, and fight like hell to acquire even the most basic things he needs to survive. Even the source of food remains a mystery in this book. We never find out what the mysterious and prized substance soylent is made of, and that enigma is typical of the way Harrison creates his world. Harrison puts us in the well-worn shoes of his characters, forcing us to understand their privations and pain on a personal level….
"We never find out"? Of course we do in the movie, but what about in the book, which I read when it first came out? Unfortunately, I don't remember for myself how Harrison left things – I'll have to trust Jason on that.
(19) BUGS, MR. RICO! The "Cicadas Have Arrived" in Mister Scalzi's neighborhood. Listen to them on his video at the link.
(20) IT'S A BIRD. [Item by Martin Morse Wooster.] This video from Accented Cinema's Yang Zhang has as its premise that South Korea, with Parasite and Minari, is now a global power in films. But to get there South Korean filmmakers turned out a lot of sci-fi and fantasy cheese. Zhang shows us the cheese, including knockoff anime, knockoff Godzilla, knockoff Batman and Wonder Woman, and lots of other bits of cheesy goodness, including a knockoff King Kong (released in the U.S. as A*P*E that does something that Kong has thankfully never done.
(21) WISHES. Once again, a chance to watch The Genie (A Unicorn Production) made by LA fans in the 1950s. With Forry Ackerman, Fritz Leiber., Jr, and Bjo Trimble.
(22) VIDEO OF THE DAY. A sff short film "It's Okay" presented by DUST.
In this Black Mirror-esque tale, a couple revisit key moments of their past, only for their memories to take an unexpected turn. … Cam and Alex are a simple couple living an un-extraordinary life, when strange things suddenly start happening to them. Will they uncover the truth before they lose one other?
[Thanks to Michael Toman, John King Tarpinian, Cat Eldridge, John Hertz, Paul Weimer, Nancy Collins, Lise Andreasen, Daniel Dern, Mike Kennedy, Andrew Porter, Martin Morse Wooster, and JJ for some of these stories. Title credit belongs to contributing editor of the day Daniel Dern.]