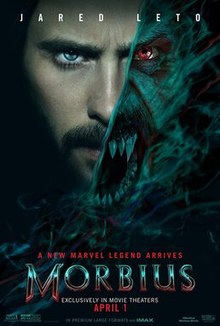 The 43rd Razzie nominations are out and three genre works are contenders in several categories. The first two are named in the press release:

The year's most ridiculed movie, Morbius (with Worst Actor nominee Jared Leto in the title role) collected five nods. Disney's wholly unnecessary (and oddly creepy) live action/CGI remake of Pinocchio pulled our voters' strings to make it into six categories.
Morbius is based on a Marvel superhero character of the same name.
Tom Hanks, not ordinarily associated with stinkers, acted his way into two categories, as Worst Actor for his performance as Gepetto in Disney's Pinocchio, and as Worst Supporting Actor as Col. Parker in the non-genre Elvis.
The third genre contender is The King's Daughter, based on Vonda McIntyre's historical fantasy The Moon and the Sun. It also yielded nominees for Worst Actress and Worst Supporting Actress.
The 43rd Razzie "winners" will be unveiled on Oscar Eve — Saturday, March 11th.

43rd Annual Golden Raspberry (Razzie®) Nominations
WORST PICTURE
Blonde
Disney's Pinocchio
Good Mourning
The King's Daughter
Morbius
WORST ACTOR
Colson Baker (aka Machine Gun Kelly) Good Mourning
Pete Davidson (Voice Only) Marmaduke
Tom Hanks (As Gepetto) Disney's Pinocchio
Jared Leto / Morbius
Sylvester Stallone / Samaritan

WORST ACTRESS
Ryan Kiera Armstrong / Firestarter
Bryce Dallas Howard / Jurassic Park: Dominion
Diane Keaton / Mack & Rita 
Kaya Scodelario / The King's Daughter
Alicia Silverstone / The Requin  

WORST REMAKE/RIP-OFF/SEQUEL
Blonde
BOTH 365 Days Sequels – 365 Days: This Day
& The Next 365 Days [a Razzie BOGO]
Disney's Pinocchio
Firestarter
Jurassic World: Dominion

WORST SUPPORTING ACTRESS
Adria Arjona / Morbius
Lorraine Bracco (Voice Only) Disney's Pinocchio
Penelope Cruz / The 355
Bingbing Fan / The 355 & The King's Daughter
Mira Sorvino / Lamborghini: The Man Behind the Legend

WORST SUPPORTING ACTOR
Pete Davidson (Cameo Role) Good Mourning
Tom Hanks / Elvis
Xavier Samuel / Blonde
Mod Sun / Good Mourning
Evan Williams / Blonde

WORST SCREEN COUPLE
Colson Baker (aka Machine Gun Kelly) & Mod Sun / Good Mourning
Both Real Life Characters in the Fallacious White House Bedroom Scene / Blonde
Tom Hanks & His Latex-Laden Face (and Ludicrous Accent) ELVIS
Andrew Dominik & His Issues with Women / Blonde
The Two 365 Days Sequels (both Released in 2022)

WORST DIRECTOR
Judd Apatow / The Bubble
Colson Baker (aka Machine Gun Kelly) & Mod Sun / Good Mourning
Andrew Dominik / Blonde
Daniel Espinosa / Morbius
Robert Zemeckis / Disney's Pinocchio

WORST SCREENPLAY
Blonde / Written for the Screen by Andrew Dominik,
Adapted from the "Bio-Novel" by Joyce Carol Oates
Disney's Pinocchio / Screenplay by Robert Zemeckis & Chris Weitz
(Not Authorized by the Estate of Carlo Collodi)
Good Mourning / "Written" by Machine Gun Kelly & Mod Sun
Jurassic World: Dominion / Screenplay by Emily Carmichael
& Colin Treverrow,Story by Treverrow & Derek Connolly
Morbius / Screen Story and Screenplay by Matt Sazama & Burk Sharpless
Update 01/25/2023: Added The King's Daughter per correction in comments. // Lined out Ryan Kiera Armstrong in the Worst Actress category: "Razzie awards remove 12-year-old from worst actress category after backlash" in the Guardian.