(1) GET READY. It's happening September 8: "'Star Trek' Reveals 55th Anniversary Plans With 'Star Trek' Day Celebration", and Uproxx tells fans what to expect.
Not only is the iconic science-fiction series Star Trek living long and prospering — it's having a pretty great time while it does. To help celebrate the series 55th year around the sun, CBS has announced the network is hosting a live-streamed Star Trek day celebration on September 8 starting at 5:30 pm PT. According to the description uploaded alongside the event's trailer, the show will not only be a celebration of Star Trek's legacy but will also provide fans with some "surprise announcements and reveals" as well as some exclusive new footage.

The Star Trek Day celebration will be hosted by The Next Generation star Wil Wheaton and actress/host/all-around geek icon Mica Burton. Together, the pair will hold "back-to-back in-person conversations" with members of the cast and crew of Star Trek shows, past and present, with particular emphasis on the future of the franchise. The event will also include a live orchestra performance by Jeff Russo, some big reveals, and, you guessed it, a whole lot of panels….
(2) LE GUIN FELLOWSHIP AWARDED. Joan Lubin is the 2021 winner of the Le Guin Feminist Science Fiction Fellowship sponsored by UO Libraries' Special Collections and University Archives at the University of Oregon. [Via Locus Online.].
The intention of the Le Guin Feminist Science Fiction Fellowship is to encourage research within collections in the area of feminist science fiction. The UO Libraries Special Collections and University Archives (SCUA) houses the papers of authors Ursula K. Le Guin, Joanna Russ, James Tiptree, Jr., Kate Wilhelm, Suzette Haden Elgin, Sally Miller Gearhart, Kate Elliot, Molly Gloss, Laurie Marks, and Jessica Salmonson, along with Damon Knight. SCUA is also in the process of acquiring the papers of other key feminist science fiction authors.

Fellowship description: This award supports travel for the purpose of research on, and work with, the papers of feminist science fiction authors housed in SCUA. These short-term research fellowships are open to undergraduates, master's and doctoral students, postdoctoral scholars, college and university faculty at every rank, and independent scholars working in feminist science fiction. In 2022, $3,000 will be awarded to conduct research within these collections. The fellowship selection committee will include representatives from the UO Libraries Special Collections and University Archives (SCUA) and selected UO faculty.
(3) HEARING FROM THE SOURCE. Cora Buhlert has unveiled a Fancast Spotlight for So I'm Writing a Novel, an SFF-writing-focused podcast.
Tell us about your podcast or channel.

Well, as I like to say at the start of each episode:

"So I'm Writing a Novel is the show where you join me, Oliver Brackenbury, on the journey of writing my next novel, from first ideas all the way to publication & promotion.

In this one-man-reality show I'll share with you my ever evolving thoughts and feelings on how I write, being a writer, and everything that entails at each stage of the process. I'll also answer listener questions and, sometimes, interview people who write fiction.

If you're the kind of person who likes to learn how things are made, and get to know the people making them, then this is the show for you."

The novel is a sword & sorcery short story cycle, meaning it's a bunch of short stories following a fifteen year period in my protagonist's life. Each story can stand alone, but readers are rewarded for reading from first to last.

Similarly I do my best to make each podcast episode work in isolation, providing short recaps as necessary, but starting from the beginning and working your way up will yield greater rewards.
(4) EMMY AWARD WINNERS. "'Love, Death, and Robots' Season 2 Animation Goes Deeper" at IndieWire.
…In Season 2 of Neflix's "Love, Death & Robots," the adult animated anthology from executive producers David Fincher and Tim Miller ("Deadpool") continued its embrace of survival and immortality in strange dystopian environments. However, there were eight shorts instead of 18 and a greater emphasis on philosophizing, with some directors stepping out of their comfort zones.

Indeed, the sci-fi anthology, produced by Blur Studio for Netflix, so impressed the TV Academy that it was awarded four juried prizes on Wednesday: Robert Valley, production designer ("Ice"); Patricio Betteo, background artist ("Ice"); Dan Gill, stop-motion animator ("All Through the House"); and Laurent Nicholas, character designer ("Automated Customer Service")….
(5) TIME FOR PLAN B. [Item by Martin Morse Wooster.] In the Washington Post, Alyssa Rosenberg says that Reminiscence is yet another failed movie about climate change and if Hollywood wants to deal with climate problems they should film Kim Stanley Robinson's novels. "'Reminiscence' highlights Hollywood's inability to address climate change effectively".
"Reminiscence," a recent science fiction movie starring Hugh Jackman, takes place in a future Miami that has been transformed by rising sea levels into a new Venice. And yet, "Reminiscence" isn't really about climate change or the response to it. Instead, the movie fixates on an addictive machine that lets users travel back into their memories. It's about escape — not adaptation.As such, "Reminiscence" is a great illustration of how strangely passive and defeatist an industry full of Prius early adopters has been about the biggest challenge of our time….
(6) LEARN ABOUT LIGHTSAIL. Planetary Society CEO Bill Nye and members of the LightSail 2 mission team will do a Q&A following the Sailing the Light premiere event on Saturday, August 28, 2021, at 10:00 a.m. Pacific on YouTube.
Sailing the Light tells the story of the LightSail mission, a crowdfunded space science project from The Planetary Society. This groundbreaking mission showed that solar sailing — using the sun's light to push a spacecraft through space — is a viable propulsion technology for CubeSats. These small, standardized spacecraft are part of a global effort to lower the cost of space exploration. Our LightSail 2 spacecraft, launched 25 June 2019, uses sunlight alone to change its orbit, and is currently operating under an extended mission to further advance solar sailing technology.
(7) DREAM FOUNDRY VIDEOS. More videos from this year's Flights of Foundry have been released on the Dream Foundry YouTube channel.
(8) ON THE SPOT. In "Maggie's World 093: Credit" for Comic-Con International: San Diego, Maggie Thompson tracks down the original, non-Disney art that illustrated a story she remembers from long ago:
I was 13. Mom used to buy Woman's Day magazine (7 cents! cheaper than a comic book!) at the grocery store, and at some point I'd read her copy. The June 1956 issue cover-featured Danny Kaye—but there was also a cover notice about a serial starting in the issue: "Part 1 of a new novel: The GREAT DOG ROBBERY."

I enjoyed the heck out of that first part—and the three that followed. However, when the novel was later published in book form, I noticed that the pictures I'd loved were missing and that the copyright page had this notice: "The Hundred and One Dalmatians appeared in serial form, with different illustrations, as 'The Great Dog Robbery' in Woman's Day."

What I didn't know was who that original artist had been or why the art wasn't in the book….
Thompson sent these notes along with the link to her post:
Disney's animated version of Cruella first appeared in 1961's One Hundred and One Dalmatians, in which she is voiced by Betty Lou Gerson and animated by Marc Davis who together crafted her into an iconic and memorable character. Disney based its version of Cruella on the personality and mannerisms of Tallulah Bankhead, and her long, lanky physical design came from Mary Wickes, who served as her live-action model.
When it came to Cruella, one of the only characters to ever be completely controlled by a single animator, Davis claimed his greatest inspiration was the vocal performance of Betty Lou Gerson.[16] Gerson commented in an interview how Davis incorporated her high cheekbones into Cruella's face and how closely she had to work with him to perfect "the laugh."
Marc Davis was the sole animator on Cruella De Vil. During production, Davis claimed her character was partly inspired by Bette Davis (no relation), Rosalind Russell, and Tallulah Bankhead. He took further influence from her voice actress, Betty Lou Gerson, whose cheekbones he added to the character. He later complimented, "[t]hat [her] voice was the greatest thing I've ever had a chance to work with. A voice like Betty Lou's gives you something to do. You get a performance going there, and if you don't take advantage of it, you're off your rocker".[20] While her hair coloring originated from the illustrations in the novel, Davis found its disheveled style by looking "through old magazines for hairdos from 1940 till now". Her coat was exaggerated to match her oversized personality, and the lining was red because "there's a devil image involved"
(9) MEMORY LANE.
1957 – Sixty-four years ago, How the Grinch Stole Christmas by Dr. Seuss was published. The story was published as a book by Random House, and at approximately the same time in two issues of Redbook. The book has been adapted many times, first as an animated film narrated by Boris Karloff who also provided the Grinch's voice. Eleven years later, a Halloween prequel titled Halloween Is Grinch Night aired with the Grinch voiced by Hans Conried better known as Snidely Whiplash in Jay Ward's Dudley Do-Right cartoons.  Since then, there's been the film starring Jim Carrey, a musical, an animated film with Benedict Cumberbatch voicing him, and a live television adaptation of the musical starring Matthew Morrison.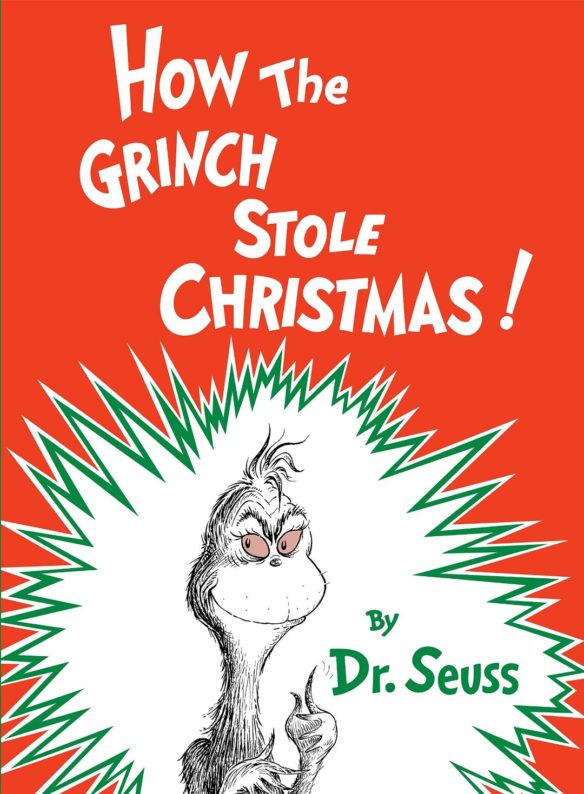 (10) TODAY'S BIRTHDAYS.
[Compiled by Cat Eldridge.]
Born August 26, 1904 — Christopher Isherwood. I'll first note, though not genre, that he wrote Goodbye to Berlin, the semi-autobiographical novel which was the inspiration for Cabaret. Genre wise, he co-wrote Frankenstein: The True Story with Don Bachardy, The Mortmere Stories with Edward Upward, and one short story in the Thirties, "I am Waiting." (Died 1986.) 
Born August 26, 1904 — Peter Lorre. Genre appearances included roles in the Verne-inspired movies Around the World in 80 Days, 20,000 Leagues Under the Sea, and Five Weeks in a Balloon. In the Voyage to the Bottom of the Sea film he was Comm. Lucius Emery, and in an Americanized version of Casino Royale done as a Fifties episode of the Climax! he played LeChiffre. (James Bond was called Jimmy. Shudder!)  He was in Tales of Terror as Montresor in "The Black Cat" story, The Raven as Dr. Adolphus Bedlo and The Comedy of Terrors as Felix Grille. (Died 1964.)
Born August 26, 1911 — Otto Oscar Binder. He's  best remembered as the co-creator with Al Plastino of Supergirl and for his many scripts for Captain Marvel Adventures and other stories involving the entire Marvel Family. He was extremely prolific in the comic book industry and is credited with writing over four thousand stories across a variety of publishers under his own name. He also wrote novels, one of which was The Avengers Battle the Earth Wrecker, one of the series created by writer-editor Stan Lee and artist and co-plotter Jack Kirby. (Died 1974.)
Born August 26, 1940 — Peter Cave, 71. Author of three New Avengers novels (House of Cards, Last of the Cybernauts and Hostage) and an Invasion: Earth novel as well, The Last Echo. 
Born August 26, 1958 — Wanda De Jesus, 63. She's Estevez in Robocop 2, a film that had its moments but rarely, and she has two other film genre roles, Lexie Moore in Captain Nuke and the Bomber Boys, and Akooshay in Ghosts of Mars. Series wise, she has a number of one-offs including Babylon 5, Tales from The Darkside, SeaQuest DSV, Happily Ever After: Fairy Tales for Every Child and voicing a character on one of the Spider-Man series.
Born August 26, 1970 — Melissa McCarthy, 51. Yes, I know she was in the rebooted Ghostbusters. Fanboys across the net are still wetting their pants about that film. I'm much more interested in Super Intelligence in which she is playing a character that has an AI who has decided to take over her life. It reminds me somewhat of Naomi Kritzer's Hugo Award winning "Cat Pictures Please" premise.  (And we are not talking about The Happytime Murders in which she was involved. No, we're not.) 
Born August 26, 1980 — Chris Pine, 41. James T. Kirk in the current Trek film franchise; also Steve Trevor in the Wonder Woman film franchise as well as voicing Jack Frost in Rise Of The Guardians. He was Peter Parker / Spider-Man in Spider-Man: Into the Spider-Verse which won a Hugo at Dublin 2019.
(11) BRITISH PROZINE COVER ART. Downthetubes.net shows the book will have a dynamic cover and plenty of fine interior art – as soon as the author figures out how it will be published: "Sneak Peek: Rayguns and Rocketships! a new book by Rian Hughes celebrating the cover art of 1950s and 60s SF".
Heading to bookshops, soon, hopefully, from Korero Press is Rayguns and Rocketships, a celebration of 1950s and and 1960s British SF paperback cover art, compiled by ace artist, designer and author Rian Hughes.

Although the book has been listed on several booksellers web sites, Rian tells us the project that publication schedule is still to be decided, and may be the focus of a Kickstarter – more news to follow as we get it.
(12) JOCULARITY. Aaron Starr is "Treading Carefully" at Black Gate. So is this supposed to be an example of a successful or unsuccessful lighthearted send-up of a familiar set of social media concerns?
…"Well," she responded, "what you did write, however well-intentioned, is almost certain to come off as condescending and simplistic to the people in question." My representative snorted dismissively at this, rolling his eyes silently as she continued. "Many of these cultures rightly feel misrepresented, and might see this as cultural appropriation."

"I can appreciate that," I said carefully, as my representative shook his head in open disbelief at her words. "I do try to find a way to have people of the cultures I write about review a later draft, to clear up the biggest mistakes.  But I'm also writing in a world that isn't exactly ours, so there are bound to be cultural differences anyway, right?" Her look was dubious, but she cut off her own retort and listened as I continued.

"Even a fantasy story in the most stereotypical medieval European setting is usually full of inaccuracies. Ask any historian. And even they don't fully agree on lots of specifics. So it's not just vastly different cultures from around the world that writers get wrong. It's the roots of their own culture, as well. I'm going to bet that writers all over the world do the same thing. We're writing fantasy and science fiction here, not historical textbooks."…
(13) ORIGIN STORY. This trailer for The King's Man dropped today, and has a red band for swearing and gore. It can only be viewed at YouTube.
As a collection of history's worst tyrants and criminal masterminds gather to plot a war to wipe out millions, one man must race against time to stop them. Discover the origins of the very first independent intelligence agency in The King's Man.
(14) USE THE STIX, LUKE. Buzzfeed's "29 Things For The Ultimate Star Wars Party" is just an excuse to make a post out of advertising, but I do like this item:
3. A pair of lightsaber chopsticks that'll have your guests all aglow when dinner is served.
This set includes two lightsaber chopsticks. The "force" is strong with these (i.e., batteries are included).

Promising review: "These are the coolest chopsticks I have ever seen. The instructions for use and cleaning were clear and concise and the light that they give off is amazing!"
(15) MARCH OF TIME. "How a little shell tells us the day was 23½ hours long, once upon a time", a 2019 article in The Indian Express.
…Today, Earth's orbit is not exactly 365 days, but 365 days and a fraction, which is why our calendars have leap years, as a correction. In the new study, the most accurate estimate that can be made is in a whole number of days a year, said lead author Neils de Winter, a geochemist from Vrije Universiteit Brussel,

"We are pretty sure this number (372) is very accurate because of our new method of looking at multiple chemical records and multiple years. However, the exact number could be, for example, 372.25 or 371.75, just like it is approximately 365.25 days nowadays (when we count the leap days)," de Winter said, by email….
(16) VIDEO OF THE DAY. This episode of How It Should Have Ended about Black Widow (with Batman as guest star) dropped yesterday.
[Thanks to Cat Eldridge, Mike Kennedy, Andrew Porter, Martin Morse Wooster, JJ, Michael Toman, and John King Tarpinian, for some of these stories. Title credit belongs to contributing editor of the day Miles Carter.]