(1) OVERCOMING GRIEF. Dan Grossman profiles "Maurice Broaddus: Afrofuturist Author, Conversation Guy, and Mentor" at Nuvo.
Broaddus, who lives near Eagle Creek Reservoir on the northwest side of Indianapolis with his wife and two sons, is a busy guy. This past spring he scored a $175,000 three-book deal with TOR Books for a forthcoming fantasy series titled All the Stars. Tor Books, a subsidiary of Macmillan, is the largest publisher of science fiction and fantasy in the United States.

Broaddus, 49, also was coping with the death of his father the previous week, but this wasn't slowing him down.

"One of the ways I tend to cope with grief," he said, "is to go into high production mode."

To contain that grief, he wrote a short story, figuring that the word count would be around 5,000.

"But it turned out to be 20,000 words by the time I was done," he said. The story, "Bound by Sorrow," will soon appear in the online sci-fi/fantasy magazine Beneath Ceaseless Skies.
(2) POP INTO 1964 GERMANY. Cora Buhlert's latest article at Galactic Journey is about Perry Rhodan, but there is also a bit about East-West German relations, bad German pop music and fairground rides: "[November 5, 1964] The State of the Solar Empire: Perry Rhodan in 1964"
Since the Heftroman issues of Perry Rhodan are published weekly now, the plot moves at a brisk clip. Furthermore, a monthly companion series of so-called Planetenromane (planet novels), 158 page paperback novels, premiered in September. The third issue just came out. Many Heftromane have paperback companion series, but most of them just republish old material, occasionally by literally stapling unsold issues together and adding a new cover. The Planetenromane, on the other hand, offer all-new stories, often side stories, which don't quite fit into the main series.
(3) LAUGH TRACK. Ethan Alter, in the Yahoo! Entertaiment story "'WandaVision': Everything we know about Marvel's 'first sitcom'" profiles WandaVision, a sitcom featuring Elizabeth Olsen as Wanda Maximoff, the Scarlet Witch, and Paul Bettany as Vision which will begin streaming on DisneyPlus in the spring of 2021 but which is reportedly shooting now.
WandaVision's sitcom status was confirmed to Yahoo Entertainment by no less an authority than the Scarlet Witch herself. Catching up with Olsen and Bettany at Disney's D23 event in August, the actress told us, "We can confidently say it is [a sitcom]." Her co-star quickly added, "That's how it begins and it moves into more familiar epic territory later. But it's absolutely a mash-up of sitcoms." Based on our interviews and concept art unveiled at D23, The Dick Van Dyke Show and Father Knows Best seem to be some of the sitcoms that are being mashed-up. The teaser image shows Bettany and Olsen in a '50s suburban setting, dressed more like the Cleavers than the Avengers. All that's missing is the laugh track — and Olsen revealed that may not change, "That's to be decided."
(4) IN TECH TO COME. The November 7 issue of Nature includes Andrew Robinson's reviews of works like Reality Ahead of Schedule by Joel Levy Smithsonian (2019).
This picture-packed volume by science journalist Joel Levy tours scientific advances sparked by ideas in science fiction. The title comes from a definition of sci-fi by Syd Mead, an industrial designer behind the look of futuristic movies such as Blade Runner (1982). But how prescient is sci-fi? Levy shows how H. G. Wells's 1903 story 'The Land Ironclads' inspired Winston Churchill to promote the development of the military tank in 1915. But Wells did not envisage its key technical idea: caterpillar tracks, for added grip.
(5) TODAY IN HISTORY.
November 7, 1951 — Flight To Mars debuted in theaters.
November 7, 1954 — Target Earth premiered.
November 7, 1997 — Paul Verhoeven's Starship Troopers premiered. Starring Casper Van Dien Dina Meyer and Denise Richards, this adaption of Heinlein's novel wasn't well received by critics or SF fans in general but currently garners 70% at Rotten Tomatoes and long since earned back its modest budget.
(6) TODAY'S BIRTHDAYS.
[Compiled by Cat Eldridge.]
Born November 7, 1910 — Pearl Argyle. Catherine CabalI in the 1936 Things to Come as written by H.G. Wells based off his "The Shape of Things to Come" story. Being a dancer, she also appeared in 1926 The Fairy Queen opera by Henry Purcell, with dances by Marie Rambert and Frederick Ashton. Her roles were Dance of the Followers of Night, an attendant on Summer, and Chaconne. (Died 1946.)
Born November 7, 1914 — R. A. Lafferty. Writer known for somewhat eccentric usage of language.  His first novel Past Master would set a lifelong pattern of seeing his works nominated for Hugo and Nebula Awards as novels but not winning either though he won a Hugo short story for "Eurema's Dam". He had received a World Fantasy Lifetime Achievement Award, he received the Cordwainer Smith Foundation's Rediscovery award. (Died 2002.)
Born November 7, 1943 — Peter Straker, 76. He was Commander Sharrel in "The Destiny of The Daleks" a Fourth Doctor story. He's also the Lead Choir Singer in, I kid you not, Morons from Outer Space.
Born November 7, 1950 — Lindsay Duncan, 69. Adelaide Brooke in the Tenth Doctor's "The Waters of Mars" story and the recurring role Lady Smallwood  on Sherlock in "His Last Vow", "The Six Thatchers" and "The Lying Detective". She's also been in Black Mirror, A Discovery of Witches, Frankenstein, The Storyteller: Greek Myths, Mission: 2110 and one of my favorite series, The New Avengers.
Born November 7, 1954 — Guy Gavriel Kay, 65. So the story goes that when Christopher Tolkien needed an assistant to edit his father J. R. R. Tolkien's unpublished work, he chose Kay who was then a student of philosophy at the University of Manitoba. And Kay moved to Oxford in 1974 to assist Tolkien in editing The Silmarillion. Cool, eh? Kay's own Finovar trilogy is the retelling of the legends of King Arthur, Lancelot and Guinevere which is why much of his fiction is considered historical fantasy. Tigana likewise somewhat resembles Renaissance Italy . My favorite work by him is Ysabel which strangely enough is called am urban fantasy when it isn't. It won a World Fantasy Award. 
Born November 7, 1960 — Linda Nagata, 59. Her novella "Goddesses" was the first online publication to win the Nebula Award. She writes largely in the Nanopunk genre which is not be confused with the Biopunk genre. To date, she has three series out, to wit The Nanotech Succession, Stories of the Puzzle Lands (as Trey Shiels) and The Red. She has won a Locus Award for Best First Novel for The Bohr Maker which the first novel in The Nanotech Succession. Her 2013 story "Nahiku West" was runner-up for the Theodore Sturgeon Memorial Award, and The Red: First Light was nominated for both the Nebula Award and the John W. Campbell Memorial Award. Her site is here.
Born November 7, 1934 — Wendy Williams, 85. You know I'll work a Doctor Who reference in and she was in a Fourth Doctor story, "The Ark in Space" as Vira. Other genre appearances include Jack the Ripper and The Further Adventures of the Musketeers. 
(7) VOTING NEIGH. Jill Hughes, candidate for the Brexit Party for the UK general elections, has been dropped by her party, because she publicly claimed to be an alien from Sirius who has come to Earth to raise humanity's consciousness. Apparently, that was too much even by the standards of the Brexit Party: "Brexit Party general election candidate dropped after claiming she's from a distant star" in The New European.
In the acknowledgements for her novel "Spirit of Prophecy", which is about a psychic detective in rural England, Hughes also said that extraterrestrials (ETs) are working with world governments in a "hush-hush" arrangement.

"The E.T's, some of them less than apple pie wholesome or positive pumpkins, are already here working with our world governments, but that's all hush-hush for now," she said.

Hughes' author bio tells of how she came to believe in reincarnation "when her old horse Red made a re-appearance, this time as a palomino called Hooray Henry".
(8) WHAT'S THE BUZZ? Inverse: "Researchers have developed a durable robot bee". Video at the link.
Remember those scary bees from Black Mirror? This ain't that. Researchers at Harvard have developed a "RoboBee" that has soft artificial muscles, which allow it to crash into walls and the ground without breaking. The soft actuators, mechanisms that operate the robot's wings, were made with a type of electroactive polymer that has elastic qualities.
(9) SKIFFY. A pigeon has made itself at home inside a war memorial in Australia and has taken poppies from wreaths to build its nest. Photo at the link. The article goes on to discuss the use of pigeons in war.
The Hall of Memory has become host to a pigeon, which has stolen poppies from the Tomb of the Unknown Soldier to make its nest.

Photos show the pigeon nestling by the stained glass window of a wounded Australian soldier in a corner of the revered, mosaic-covered hall.

… Pigeons came back into use in the Second World War, a conflict that at face value appeared to involve only modern technology.

"We've got our trucks instead of horses, and wireless radio, and sophisticated radar signals, and all those sorts of things," Dr Hampton said.

"But particularly in the Pacific, the mountains and the humidity meant that the wireless radios didn't work very well," she said.
Pigeons were the most effective way of getting messages up and over ranges, and throughout the islands.
(10) STEM STYLE. FastCompany briefs the fashion conscious that "You can now wear the work of Ada Lovelace, Rachel Carson, and Mae Jemison".
To those of us who aren't well-versed in data or computer science, data can seem foreign and intimidating. But Giorgia Lupi has devoted her career to making statistics accessible to everyone by transforming them into visually stunning patterns that tell engaging stories about the knowledge and the people behind the data. In the past, she's run a data visualization company, and most recently, she joined the design firm Pentagram as a partner. But in her spare time, she's been moonlighting as a fashion designer.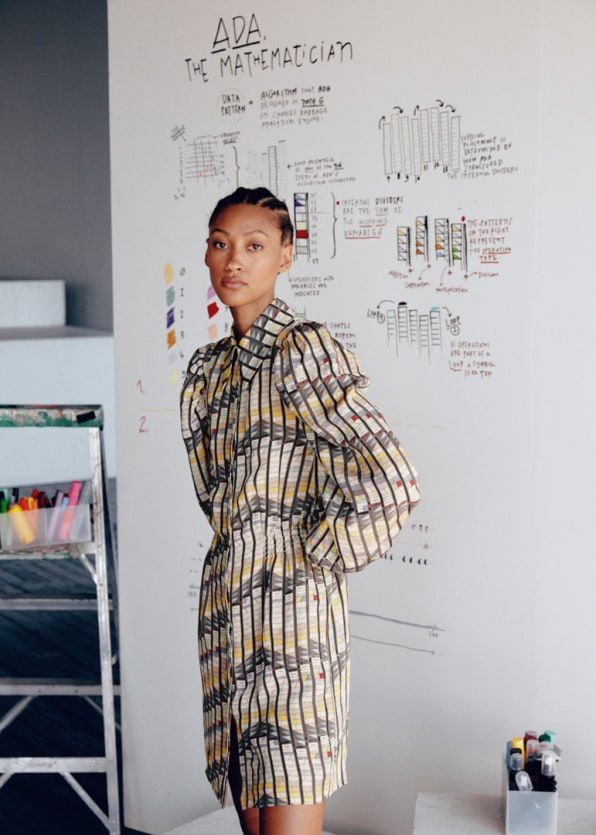 [Thanks to Cat Eldridge, JJ, Chip Hitchcock, John King Tarpinian, Martin Morse Wooster, Mike Kennedy, Cora Buhlert, SF Concatenation's Jonathan Cowie, and Andrew Porter for some of these stories. Title credit goes to File 770 contributing editor of the day Ingvar, who gets a star.]