(1) COLSON WHITEHEAD FETED BY LOC. He's the youngest person to get this recognition: "Library of Congress to honor author Colson Whitehead.
Already this year's recipient of the Pulitzer Prize for fiction and the Orwell Prize for political fiction, Whitehead is now being honored by the Library of Congress. On Monday, it announced that he had won the Library of Congress Prize for American Fiction.

Whitehead, 50, is the youngest winner of the lifetime achievement prize, which the library has previously given to Toni Morrison, Philip Roth and Denis Johnson, among others. He is the first author to win Pulitzers for consecutive works of fiction — "The Underground Railroad" and "The Nickel Boys," for which he won in April.
(2) WHY HE HAD TO LEAVE. Edmund Schluessel reports on his experiences with Finncon 2020, which took place this past Friday-Sunday online and was based in Tampere, Finland. "Finncon 2020. So."
I was quite sanguine about Finncon 2019. I praised the "more thriving, more diverse, more accepting community" I had found in Finland.

Thus this post is difficult to write. I'll start with the part of Finncon 2020 I was there for, then talk about why I had to leave….
(3) HOLIDAY ON KLENDATHU. [Item by Olav Rokne.] Writing at The Verge, Joshua Rivera examines the legacy and impact of Paul Verhoeven's 1997 film adaptation of Starship Troopers, linking to several other articles that examine the movie's newfound relevance to America's current political divisions. I know this film gets debated endlessly around these parts, but to my eye, the fact that a quarter century later people outside the SFF community are still debating its meaning and parsing its subtext is a good indication that Starship Troopers has enduring value. "The world is finally coming around to Starship Troopers"
I'm here to see the fireworks, and rare is the blockbuster that is interested in forcing me to question that.
(4) SAME BAT-TIME, SAME BAT-DISTANCE. Shelf Awareness shows how it's done genre-style in "Social Distancing at Atomic Books".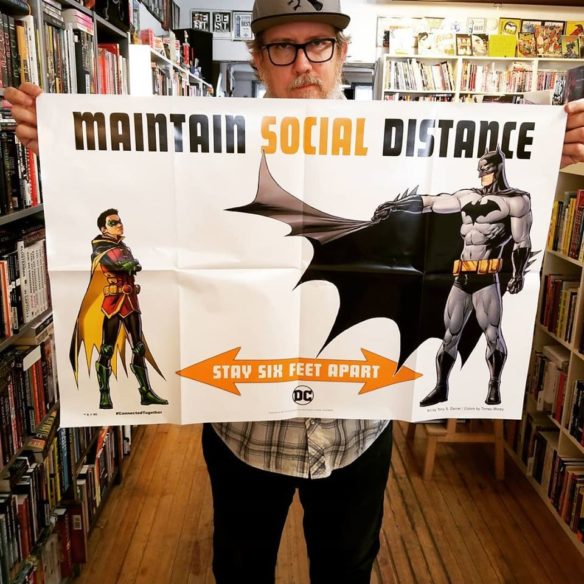 (5) SWEDISH HOPES UP. Fantastika, the Swedish national con or Swecon, is off for this year so they've named a date for the event in 2021. (We had the cancellation a few days ago, but not the new date.)
The Committee has decided to cancel the convention in October due to the corona pandemic. We have instead booked the venue, Dieselverkstaden, for the weekend April 9-11, 2021, i e the weekend after Easter. We sincerely hope that it will be possible to have the convention at that time. Please note that this is not the same date as the one that we previously considered.

If you wish to have the membership refunded you need to send me an e-mail with information on how I should send it, e g via PayPal. If you have already got a refund you are of course welcome to pay the membership again.

Please see further information on https://fantastika2020.com/.
(6) DEEPSOUTHCON HOPES DOWN BUT NOT OUT. CONtraflow chair Frank Schiavo told Facebook followers the event (which is also this year's DeepSouthCon) has been postponed to 2021. But there may be a virtual DeepSouthCon on the original weekend.
After much discussion, long board meetings, working back and forth with the host hotel, city/parish/state leadership, and Southern Fandom Confederation/Deep South Con representatives , the board of directors of CONtraflow has come to the following conclusion: under current conditions, we cannot give you the amazing Fan experience that you all have come to expect from the previous nine years of CONtraflow. We must reschedule CONtraflow 10, originally scheduled for this coming November 13-15. Hosting our convention as usual in 2020 is impossible in these pandemic conditions, as they currently are and will be for the foreseeable future. There are simply too many unknowns at play at this time. Our only responsible, reasonable, and possible choice is to reschedule CONtraflow 10. Please know this decision is as tough and painful for us as it is for all of you. We didn't make it lightly and hope you will support our decision.

I am sure most of you have questions about the rescheduled event. I'll try to answer a few of the big ones.

The new date for CONtraflow 10 is October 1-3, 2021 at the Airport Hilton in Kenner, Louisiana. We are currently working on guests and speakers for the new convention dates. We'll have a first flier about the new dates up on social media for you to share in the next few days. We are planning to have a more detailed flier with guests and major events up and out there online before the end of September.

…As for the DeepSouthCon 58 (2020) to be hosted by CONtraflow this year, there are plans for a virtual DeepSouthCon 58 mini convention featuring panels, programming, the annual SFC meeting and the Hearts tournament, and more on the Saturday of the original convention weekend (November 14, 2020). We are working out the details of online hosting and any possible costs and will be updating you with details of the virtual DSC in the coming weeks….
(7) A STRANGE PROLOGUE. Rob Hansen has added "THE 1971 EASTERCON" to his THEN British fanhistory website, complete with the usual cornucopia of photos. It includes this account of a bizarre chain of events:
THE BRIAN ALDISS GoH SAGA – Peter Weston

At SCI-CON 70:

Brian confided that this was the second time he had been asked to be Guest of Honour but had then been required to step down. We were suitably shocked, as he went on to explain how he had been invited as GoH for 1969 in Oxford, but when a new committee had taken over, headed by John Brunner, they had wanted to have Judith Merril instead. George Hay had heard about this, thought it was a bit poor, and so he had asked Brian to be GoH in 1970, which he had accepted. Then George heard that James Blish was moving to England and he did exactly the same thing, pushing out Brian once again in favour of a supposed bigger "name." Rog and I were suitably disgusted, and promptly offered to make amends. We would bid for the 1971 Eastercon and would do it properly. We promised to find a decent hotel and make Brian our Guest of Honour. (p.191)

***

Suddenly, however, we hit double trouble. Brian Aldiss resigned as Guest of Honour, and this was immediately followed by the start of a postal strike. Brian's letter was a bombshell! The only reason Rog and I had taken on the convention was to do justice to him, and now he was dropping out for no very good reason, saying vaguely that he "might be living in Hong Kong for a while."
(8) INSIDE THE STORY. The Odyssey Writing Workshop does a Q&A with a graduate: "Interview: Graduate Corry L. Lee".
What's the biggest weakness in your writing these days, and how do you cope with it?

I mentioned cross-tension earlier, which I love. The thorn in my side, however, is forward tension.

To start us on the same page, by forward tension I mean the often external plot tension that pulls a reader through the story. In my Bourshkanya Trilogy, this tends to be resistance activities to weaken or tear down the fascist state. In general, fighting the big bad, and the sequence of events that leads to it, tends to be high in forward tension as the characters try and fail, as the villain pursues them, etc.

Cross-tension, by contrast, occurs between characters who have opposing, potentially unreconcilable beliefs. Both characters may try to do what they believe is right or necessary, may even care deeply for one another, but with the underpinnings of their belief structures in conflict, they're forced onto opposite sides, e.g., a resistance fighter and a loyal State soldier. Secrets flourish in this soil, as do the juiciest (in my opinion) of all fiction elements: well-motivated, understandable yet heartbreaking betrayals. Or not. Opposing beliefs can be reconciled, which is part of what makes them so delightful. Cross-tension can also arise between a character and elements of the world, e.g., a resistance fighter who has to pretend loyalty to the State.

From my description, you can probably tell how much I love cross-tension. It makes my brain sing and is one reason I love having multiple POVs on both sides of a tricky moral line.
(9) HELP NEEDED. Jenny Parks, the author of Star Trek Cats (2017) and Star Trek: The Next Generation Cats (2018) has an online fundraiser for treatment of her Hodgkin's lymphoma: "Jenny Parks Cancer Relief Fund". As of today, people have donated $10,462 of the $25,000 goal. Ben Bird Person submitted the item with these images of "some of her art she's done for me!"
(10) PRESTON OBIT. Actress Kelly Preston, whose best-known sff role was in the 1986 film Space Camp, died July 12 of cancer. (The New York Times tribute is here.) She had a brief cameo with her husband John Travolta in Battlefield Earth (2000). On This Date In Science Fiction History takes an extended look at her genre resume in "Stardate 07.13.2020.A: In Memoriam – Kelly Preston".
(11) CRAWFORD OBIT. Small press publisher Gary William Crawford (1953-2020) died July 9.He founded Gothic Press in 1979, serving as its editor, as well as the author of many published works in Gothic literature.
From 1979 to 1987, Crawford produced six issues of the journal Gothic, and later, the press published the horror poetry magazine Night Songs. Crawford recently began the online journal, Le Fanu Studies.
(12) BRECHA OBIT. Sff writer F. Alexander Brejcha (1957-2019), whose first story was published in Analog in 1992, died in February 2019 it was recently learned. A collection of his short fiction, People First!!, was released in 2004, as was a collection of three novellas, No World Warranty.
(13) MEDIA BIRTHDAY.
July 13, 1960 — Irwin Allen's version of The Lost World premiered. Based on the Arthur Conan Doyle novel. It was directed by him, produced by him with the assistance of Cliff Reid, and he wrote the screenplay with the help of Charles Bennett. The cast included Claude Rains, David Hedison, Fernando Lamas, Jill St. John, and Michael Rennie. Financing was so limited that the monsters were monitor lizards, iguanas, and crocodiles affixed with miniature horns and fins. Critics weren't fond of it, it did poorly at the box office, and the audience reviewers at Rotten Tomatoes currently give it a scathingly poor 20% rating.
(14) TODAY'S BIRTHDAYS.
[Compiled by Cat Eldridge and John Hertz.]
Born July 13, 1796 – William Harvey. Engraver and designer. Woodblocks for e.g. Bewick's Aesop, Northcote's Fables, Lane's Arabian Nights. Here is "Ali of Cairo"; here is "The Merchant and the Jinni" (note, jinni is the singular, jinn the plural); here is "Sayf al-Muluk and Badi'a al-Jamal". Here is a portrait of Defoe, and title page, for Robinson Crusoe. (Died 1866) [JH]
Born July 13, 1864 – John Astor IV. Possibly the richest man in the world when he went down with the Titanic; wrote A Journey in Other Worlds set in what is now our past, the year 2000, with travel to Jupiter and Saturn powered by antigravity. (Died 1912) [JH]
Born July 13, 1904 — Norvell W. Page. Chief writer of The Spider pulp series as Grant Stockbridge. He started out by writing a backup story in the first issue of The Spider pulp: "Murder Undercover" and by the third issue was writing the main Spider stories which he did for some seventy stories. He also wrote The Black Bat and The Phantom Detective pulps. (Died 1961.) (CE)
Born July 13, 1926 — Robert H. Justman. Producer and director who worked on many a genre series including Adventures of Superman, The Outer Limits, Star Trek, Mission: Impossible, Man from Atlantis and Star Trek: The Next Generation. He was the assistant director for the first two Star Trek episodes: "The Cage" and "Where No Man Has Gone Before". (Died 2008.) (CE)
Born July 13, 1926 – Dik Daniels. For years a prominent photographer, to whom we owe many such records. Widely, long, and uncelebratedly enough helpful that he was given the Big Heart, our highest service award. Some photos 1968-2001 on this Website. (Died about 2001) [JH]
Born July 13, 1937 — Jack Purvis. He appeared in three of director Terry Gilliam's early fantasy films, with roles in Time Bandits, The Adventures of Baron Munchausen and Brazil. He's in three of the Star Wars films, the only actor he claims to have played three different roles, and he's also in Wombling Free (based on The Womblies, a UK Children's series), The Dark Crystal and Willow. (Died 1997.) (CE)
Born July 13, 1940 — Sir Patrick Stewart OBE, 80. Jean-Luc Picard, starting with being Captain of the USS Enterprise (NCC-1701-D) on Star Trek: The Next Generation up though the current Star Trek: Picard. Also had some minor role in the MCU as Professor Charles Xavier, and played Leodegrance in Excalibur. Though not even genre adjacent, I'm fond of his role as King Henry II in The Lion in Winter. (CE)
Born July 13, 1942 — Harrison Ford, 78. Three great roles of course. First, being Dr. Henry Walton "Indiana" Jones, Jr. in the Indiana Jones franchise which is four films deep with a fifth on the way. The second, of course, being Han Solo in the Star Wars franchise, a role he's done four times plus a brief cameo in The Rise of Skywalker. And the third being Rick Deckard in Blade Runner, a role he reprised for Blade Runner 2049. Oh ,and he played the older Indy at age fifty in the Young Indiana Jones Chronicles in the "Young Indiana Jones and the Mystery of the Blues" episode. (CE)
Born July 13, 1953 — Chip Hitchcock, 67. To quote Fancyclopedia, Chip Hitchcock "is a con-running fan living in the Boston area. He is a member of NESFA and MCFI and has worked on a great many conventions including Worldcons at the Division Head level, Boskones and numerous other regionals." Happy Birthday, Chip! (CE)
Born July 13, 1954 – Gary Feldbaum, 66. First SF con, Boskone 15 (Fancyclopedia 3 and some others call the first Boskones I-V i.e. through 1945; the current ones, starting in 1965, 1-57 so far). Moved to Philadelphia; happening to be a lawyer when one was wanted incorporated the Philadelphia SF Soc. (PSFS); chaired six Philcons. Has worked on Worldcons on three continents. Might be found heading a Division or ushering for the Masquerade. [JH]
Born July 13, 1965 – Tomoyuki Hoshino, 55. Two novels, a dozen shorter stories for us; nine more novels. Bungei, Mishima, Noma, Ôe, Yomiuri, Tanizaki Prizes. Born in Los Angeles, lived in Mexico long enough to get work in Japan translating Spanish-language movies. Teaches creative writing at his alma mater Waseda U. Me and the collection We, the Children of Cats are available in English. [JH]
Born July 13, 1981 – Monica Byrne, 39. The Girl in the Road won a Tiptree Award (as it then was); translated into German. Nine shorter stories in, on, or at Electric Velocipede, Fantasy, The Magazine of Fantasy and Science Fiction, Shimmer. Plays. A TED Talk (Technology, Entertainment, Design). Non-fiction in The Atlantic, Huffington Post, Virginia Quarterly Review. Website. [JH]
(15) COMICS SECTION.
Farcus has a toy that's too big for the playroom.
Something Positive finds it's too hard to separate the work from the artist.
(16) FULL LID. Alasdair Stuart fills readers in about The Full Lid for 10th July 2020:
This week in The Full Lid we have a first!! Matt Wallace's Savage Legion is out in a couple of weeks and as part of the coverage for it, I'm delighted to run an original flash fiction piece by Matt, along with one by myself. Matt's one of my favorite writers and people and it's a delight to see him doing excellent work like this piece and the upcoming novel.

Elsewhere I take a look at the graphic novel new Netflix movie The Old Guard was adapted from. Finally, I take a look at unfairly overlooked crime/science fiction/magic movie Sleight.
(17) KOWAL Q&A. Andrew Liptak's Reading List has a substantial "Interview with Mary Robinette Kowal" filled with insights like this:
How did this all dovetail with your interest in science fiction?

There's no point in my life when I don't remember reading science fiction. My dad and I would — actually the whole family, but dad and I particularly — would listen to Hitchhiker's Guide to the Galaxy when it was on the radio. We'd watch Star Trek, Battlestar Galactica; I read all of the things. But it is for me again, the thing that I said at the beginning about the ways science fiction and fantasy for me allows us to ask big questions.

Connie Willis set a thing once, which made me go "Oh, yes, that's why I like it so much." She said that she thinks that the difference between science fiction and fantasy and mimetic fiction or everyday fiction is that in mimetic fiction, you have ordinary problems, but then your character has to have an outsized or an extraordinary response to an ordinary problem. Like, someone's husband is cheating on them, it's not just, that they go stay with a family member; they go to the PTA and they stand on the table and they confront the person that he was having an affair with in order to drive the plot — you have to have this extraordinary reaction to cause the plot to move forward.

Whereas in science fiction and fantasy, we have extraordinary events taking place, which allows people to have normal, proportionate responses. And that made me understand part of why I like science fiction and fantasy, but it also made me realize that it gives us an opportunity to present a much more faithful representation of honest human emotion. The things that happen to us in our real world can be as as rocking or earth-shattering as a meteor hitting. There can be things that are as deeply traumatic. But most of those things aren't enough to drive a plot. I feel like that's doing a disservice to people who write mimetic naturalistic fiction, because I certainly have read stuff where people are having completely normal responses to completely normal events, but speaking in very general terms, it is an opportunity that science fiction offers.
(18) WITNESS SELF-PROTECTION PROGRAM. Frank Robinson's early story, "Hunting Season" has been discovered and is going into production says The Hollywood Reporter: "James Wan, 'John Wick' Writer Derek Kolstad Team for Sci-Fi Time Travel Tale 'Hunting Season'".
…Robinson was one of the figures to come out of the mid-20th century sci-fi short story scene, penning techno-thrillers for various pulp publications. His thriller The Glass Inferno, written with Thomas Scortia, was one of two books that were combined to make the classic 1974 disaster film The Towering Inferno. He also was known for being the speechwriter for Harvey Milk, the gay San Francisco politician who was assassinated in 1978.

Hunting Season will follow a law officer from the future who is declared an enemy of the state and sentenced to be executed by being sent to the past and stalked by a posse. The man has three days to acclimate to his new era and find a way to survive.
(19) NO NORMAL CONQUEST. Steven H Silver's new novel After Hastings is behind today's Big Idea feature at Whatever: "The Big Idea: Steven H. Silver".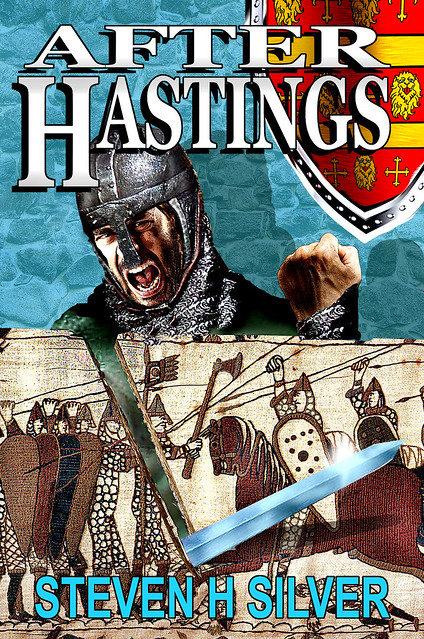 While in grad school, one of the things my professors constantly warned against during discussions was falling into the trap of counterfactual speculation. When discussing and debating the causes and events of the medieval period, we were to confine ourselves to theories that could be supported by the primary sources and archaeological evidence. The fact that I did not become an historian and founded the Sidewise Award for Alternate History may give some indication of how well I adhered to those rules.
(20) PAGING DR. HOWARD, DR. FINE, DR. HOWARD… [Item by Mike Kennedy.] Pick six of your most intelligent, fittest friends. Now imagine the seven of you are on a mission to Mars & you have appendicitis. Which friend do you pick to be your surgeon? Mind you, none of them have medical training. "From floating guts to 'sticky' blood – here's how to do surgery in space" at The Conversation.
… Surgery in microgravity is possible and has already been been carried out, albeit not on humans yet. For example, astronauts have managed to repair rat tails and perform laparoscopy – a minimally invasive surgical procedure used to examine and repair the organs inside the abdomen – on animals, while in microgravity.

These surgeries have led to new innovations and improvements such as magnetising surgical tools so they stick to the table, and restraining the "surgeonaut" too.

One problem was that, during open surgery, the intestines would float around, obscuring view of the surgical field. To deal with this, space travellers should opt for minimally invasive surgical techniques, such as keyhole surgery, ideally occurring within patients' internal cavities through small incisions using a camera and instruments.
(21) DON'T LESNERIZE. [Item by Martin Morse Wooster.] In the Washington Post, Simon Denyer, Akiko Kashiwagi, and Min Joo Kim discuss how robots are being used in the pandemic in Japan and South Korea, including Avatarin's use of avatars and the robot in South Korean elementary schools who takes kids temperatures and maskshames them if their masks aren't over their noses. "No masks, no coughs: Robots can be just what the doctor ordered in time of social distancing".
Now, the patrol robot has been adapted so it can also disinfect surfaces as it patrols, and is attracting interest from Tokyo's Metro stations as well as other businesses.

In May, Japanese Prime Minister Shinzo Abe noted surging demand for unmanned deliveries and pledged to carry out tests to see if delivery robots were safe to use on roads and sidewalks by the end of the year.

Even the self-driving wheelchair can come into its own amid a coronavirus-filled world, the company said, potentially helping elderly people move around more independently without a helper who might be a vector for the virus.
(22) OVERTAKING. "Female gamers are on the rise in the 'world capital of gaming'".
The number of females playing video games in Asia is growing at a faster rate than their male rivals, according to the latest research.

Women are levelling the playing field across all of Asia's key markets including China, India and Japan.

The female video gaming community grew by 19% last year, according to data commissioned by Google.

Asia is regarded as the global capital of video games, accounting for 48% of the world's total gaming revenue.

…There are a number of factors that are contributing to this rise, with storylines becoming more inclusive and connectivity improving across the region.

For 2019, the numbers of female gamers had grown to 38% of the 1.33bn global gaming population, according to Google which collaborated with market researchers Niko Partners.

But for Asia, the proportion of female gamers is much higher. In China, they now account for 45%, while for South Korea, Japan and Southeast Asia the figure is 40%.
(23) ENVIRONMENTAL DRINKING. "Johnnie Walker whisky to be sold in paper bottles". If this was Beam's, could you imagine "Smooooth"-ing with a paper bottle?
Johnnie Walker, the whisky which traces its roots back 200 years, will soon be available in paper bottles.

Diageo, the drinks giant that owns the brand, said it plans to run a trial of the new environmentally-friendly packaging from next year.

While most Johnnie Walker is sold in glass bottles, the firm is looking for ways of using less plastic across its brands.

Making bottles from glass also consumes energy and creates carbon emissions.

To make the bottles, Diageo will co-launch a firm called Pulpex, which will also produce packaging for the likes of Unilever and PepsiCo.

Diageo's paper whisky bottle, which will be trialled in spring 2021, will be made from wood pulp and will be fully recyclable, the company said.

The idea is that customers would be able to drop them straight into the recycling.
(24) TUCKER INTERVIEW, PART DEUX. Fanac.org has posted the second segment of the Bob Tucker interview done for Chicon 2000.
Dick Smith's interview of Wilson "Bob" Tucker was done for Chicon 2000, that year's World SF Convention. Here in Part 2, the stories keep coming (and Bob is an excellent storyteller). Tucker talks about Claude Degler's first appearance in fandom and how Jack Speer (later Judge Speer) got into trouble. There's more about Chicon 1, how he learned about the internet and how fandom has changed in the preceding 60 years. You'll even hear how Bob ended up joining the N3F after decades in fandom. Videography by Tom Veal, Chairman of Chicon 2000.
[Thanks to Andrew Porter, Mlex, Olav Rokne, "Orange Mike" Lowrey, Mike Kennedy, Martin Morse Wooster, Ben Bird Person, John King Tarpinian, Rich Lynch, Steven H Silver, Michael Toman, John Hertz, JJ, Cat Eldridge, and Chip Hitchcock for some of these stories. Title credit goes to File 770 contributing editor of the day Peer.]