A long-eared geezer, eight stories and an embarrassing admission in today's Scroll.
(1) Today's birthday boy is… Bugs Bunny. He's 75 years old.
(2) David Steffen answers "Why Do I Value The Hugos?" on Diabolical Plots.
[Excerpt is the second of seven points.]
I've been following the Hugos closely for several years, trying to read and review as many of the nominated works as I can digest between the announcement of the ballot and the final deadline.  I also follow the Nebulas, and I glance at the results from other SF genre awards, but for me the Hugos take up most of my attention come award season.  With this eventful Hugo year, it crossed my mind to wonder why the Hugos specifically, and whether I might perhaps be better off devoting more of my attention to awards that don't collect controversy the way the Hugo Awards always seem to do, and in escalating fashion these last few years….

 The Hugos Have a Long Reading Period

The Nebulas and the Locus awards have very short reading periods (the period of time between the announcement of the ballot and the voting deadline) of only about a month.  If I want to read as much of the fiction as possible, that's not nearly enough time–I can't finish all the short fiction, let alone start the novels.  The Hugo ballot is announced around Easter weekend (usually early April or so) and the voting deadline is at the end of July, so there are nearly four months to try to do all the reading.  The Hugo Packet isn't released right at the beginning of the reading period, but usually enough of the short fiction was published in online venues so that I can fill my reading time with Hugo material.
https://twitter.com/LisaR_M/status/625448045316943872
(3) Then maybe Lisa would rather hear about – Worldcon site selection?
Spacefaring Kitten thinks it's only fair that Helsinki win the right to host 2017 because all the other contenders have already had a turn…or seven.
A few facts to consider:

Five last countries that have hosted a Worldcon: United States (2015), United Kingdom (2014), United States (2013), United States (2012), United States (2011). Next year, the Worldcon will be in United States. In case the bid for Washington DC in 2017 (that is sort of a favorite at the moment, I guess) is successful, that's third United States year in a row, and given the fact that there are only US bids for 2018 at the moment, it's quite probably going to be four years of back-to-back United States Worldcons and seven United States Worldcons in eight years. That's a lot of United States in one paragraph.

Competing for the 2017 Worldcon location, there are also bids for Montreal (in Canada) and Shizuoka City (in Japan). After 2000, the Worldcon has been in Canada twice (2009, 2003) and in Japan once (2007). Now, I'm sure that all proposed locations would hold a wonderful convention, but Helsinki would certainly be something new.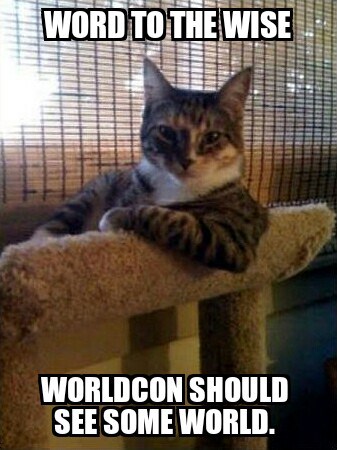 (4) Toymakers have got to protect the brand. Or, "Why Thomas the Tank Engine Doesn't Kill Anybody in Ant-Man".
"I believe in Edgar [Wright] and Joe Cornish's original drafts it was a train set," Reed recalls. "At some point in the process that predated my involvement it became Thomas. As I came on, they had not secured the rights to Thomas. We had to do this whole thing where we did this presentation for the people who own the rights to Thomas. Thank God they agreed and found it funny, but there were definite stipulations. For example, nobody could be tied to the tracks and run over by Thomas. Thomas couldn't be doing anything that could be perceived by children as evil Thomas. Thomas had to stay neutral in the battle, which was always our intention. Like anybody, they're protective of their brand. I didn't know what we were going to do if we didn't get the rights to that. There are certain things I was going to be devastated about if we couldn't have them. Thomas was one, because… you could do any kind of toy train, but the personality of that thing and the eyes moving back and forth give it a whole vibe and took it to another level."
(5) Another Castalia House child prodigy! Jeffro Johnson reports in "First Session Report for my Daughter's Dungeon Design!"
At the age of nine, my daughter has designed a 15 level dungeon, gotten paid for her work, and received back playtest report. It doesn't get any better than that…!
It's true – and entertaining, too.
(6) The Official Tolkien Calendar 2016 featuring artwork by Tove Jansson will be released on July 30. The cost is £9.99.
Jansson, who passed away in 2001, is well-known worldwide as the author and artists behind the popular Moomin series. As an accomplished artist, she provided the artwork for the Swedish editions of Alice's Adventures in Wonderland and The Hobbit (also later used in Finnish editions). In Boel Westin's autobiography of Jansson, she is quoted as saying "The figures are banal: dwarves, gnomes, fairies, dark-elves. But the scenery is luring in its macabre cruelty … Haunted woods, pitch-dark rivers, a moon-lit moor with burning wolves."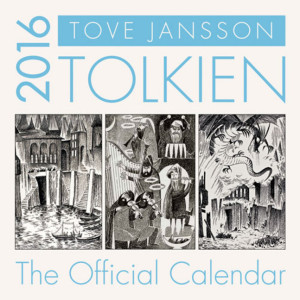 (7) Ursula K. Le Guin is offering writing advice through an "Online Fiction Workshop" at Book View Cafe. Use the form at the post to submit your question.
I have enough vigor and stamina these days to write poems, for which I am very thankful. It takes quite a lot of vigor and stamina to write a story, and a huge amount to write a novel. I don't have those any more, and I miss writing fiction.

Reliable vigor and stamina is also required to teach a class or run a workshop, and so I had to give up teaching several years ago. But I miss being in touch with serious prentice writers.

So in in hope of regaining some of the pleasures of teaching and talking about writing fiction with people who do, I'm going to try an experiment: a kind of open consultation or informal ongoing workshop in Fictional Navigation, here on Book View Café.

I hope it will work its own process out as we go along, but here's how I plan to start:

I invite questions about writing fiction from people who are working seriously at writing fiction.
(8) Explore the author's earliest novels in Part I of SF Signal's Interview with Samuel R. Delany.
Q: Your new book, A, B, C: THREE SHORT NOVELS, takes the reader back to the beginning of your career by offering up your first three novels. What is it about these works that impelled you to offer them up again?

Samuel R. Delany: With all these books' clumsinesses and immaturities, I think—I hope—I was trying for something that is probably harder and harder to see with time's passing. Indeed, it may never have been there. The only thing that might have thrown some highlighting onto it at the time they were published were slight differences between them and what was then coming out in the genre. Because so many changes have taken place in the background against which individual works now register, however, it's harder and harder to read the signals.
(9) The Guardian included Neal Stephenson's Seveneves on its 70 title longlist for the "Not The Booker prize".
If you want to become part of this noble process, all you have to do is vote for two books from the longlist, from two different publishers, and accompany those votes with a review of at least one of your chosen books in the comments section below. This review should be something over 100 words long, although, as the rules state, we probably won't be counting all that carefully.
Readers have until August 2 to vote titles onto the shortlist.
(10) After using geometric logic to deduce the wrong writer behind "Ray Blank's" real-life identity, I was informed by a friend that it's not even a secret. Eric Priezkalns says it's him:
Ray Blank is the pen name I use when submitting speculative fiction to publishers.
And just in case I needed more convincing, my friend also ran comparative text samples through IBM Watson Personality Insights. Because science!
Really, though, it's just not any kind of a secret.
Membership data from Worldcon2015 demonstrates why the Hugo Awards should be run independently of any convention http://t.co/IVNVVdfugD

— Eric Priezkalns (@ericpriezkalns) July 25, 2015
[Thanks to JJ, Mark, Will R., Jonathan Olfert, and John King Tarpinain for some of these stories. Title credit to Soon Lee]