(1) Q&A WITH POLISH SFF WRITER. Bence Pintér's interview with Polish sci-fi author Jacek Dukaj is available in English at Spekulatív Zóna: "Q&A with Jacek Dukaj".
The most recently translated work from you is The Old Axolotl. This book is unique in a lot of ways. What inspired you to write it, and why did you released it only in e-book form initially?

Lately I find I need some additional push to complete a story – to write for publication, not just for my own satisfaction. In this case it was the literary project and PR campaign of Allegro (sort of Polish eBay). You could say they had commissioned "The Old Axolotl". They didn't set any limits for a theme or style (I wouldn't have agreed to such a deal). But it was an opportunity to explore new features of electronic books (as they appeared to us back then).

I'm always up for pioneer projects. If something looks very risky or impossibly hard, my first reaction is to try and do it.

The book was adapted by Netflix, but the series Into the Night only used the premise of the story. How do you feel about this adaptation?

I wonder if "adaptation" is the right word. It would be more fair to say that Into the Night was based on the same idea as the one which gave birth to The Old Axolotl. The story, the characters – they are all different. Jason George, the showrunner of Into the Night, is the sole author of the screenplay.

I'm happy people seem to like it. It's rather small budget production, yet it became much more popular globally than other non-English series of similar budget. Into the Night punches above its weight, so to speak.
(2) BEBOP BEGINNING. Variety sets up the video: "'Cowboy Bebop': Opening Credits Debut for Netflix Adaptation".
…The opening credits are so iconic that, rather than release a trailer to promote its upcoming live-action adaptation of "Cowboy Bebop," Netflix elected to debut the full opening credits for the show during its Tudum global fan event on Saturday….
(3) STEELY FAN. Tablet Magazine's Paul Grimstad holds "A Conversation With Donald Fagen", which has a section on the musician's love of sf, of which this excerpt is about half —
A tune like "Pretzel Logic" has a pretty elliptical story going on, and speaking of science fiction!

Well, yeah, that was kind of a time-travel thing.

It's funny when the person who greets the narrator in the future, says, "Where did you get those shoes?" like the fashion between the two times is completely out of whack.

That actually fills in the link between black humor and science fiction, because the science fiction novels I liked the most were funny in that way. I think my favorites included that kind of humor. Like Frederick Pohl and his partner Cyril Kornbluth, who wrote these really satirical novels.

The Space Merchants was recently reissued in the Library of America Series …

Oh really? I remember reading that one when I was a kid.

Another guy from that era who I think of as funny is Alfred Bester.

Another one of my favorites. He was an ad man, so it's got this very New York, Madison Avenue feel, the Mad Men type of thing, but making fun of it.
(4) NASA'S FIRST WOMAN. [Item by Mike Kennedy.] NASA has released issue 1 of First Woman—a downloadable, interactive (augmented reality), graphic novel telling the (to date) fictional story of the first woman (and first person of color) to walk on the Moon. It's also available as an audio story. A Spanish-language version of (at least) the first issue of the comic is also planned. The comic is available for iOS & Android platforms. "NASA Releases Interactive Graphic Novel 'First Woman'".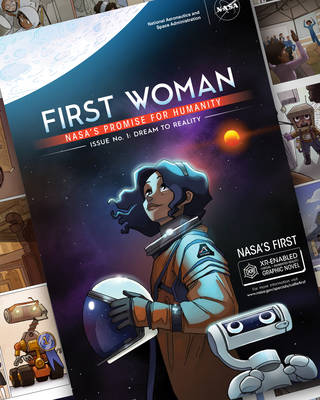 NASA released its first digital, interactive graphic novel on Saturday in celebration of National Comic Book Day. "First Woman: NASA's Promise for Humanity" imagines the story of Callie Rodriguez, the first woman to explore the Moon.

While Callie's story is fictional, the first woman and the first person of color will walk on the Moon, achieving these historic milestones as part of NASA's Artemis missions. Through this graphic novel, NASA aims to inspire the next generation of explorers – the Artemis Generation.

Download, read, and interact with "First Woman" or listen to the audio version exclusively on NASA's SoundCloud.

…The 40-page comic book highlights NASA technologies for traveling to, landing on, and exploring the Moon. The digital format comes to life, letting readers engage and interact through augmented reality elements using the First Woman website or their mobile devices.
To learn more about the graphic novel and interactive experiences, visit: Calliefirst
(5) FULL COURT PRESS. The New York Times has more coverage of the legal issues between Steve Ditko's heirs and Disney, which has sued to keep them from regaining their share of the rights to some well-known Marvel characters: "Disney Sues to Keep Complete Rights to Marvel Characters".
The reclamation attempts stem from a provision of copyright law that, under certain conditions, allows authors or their heirs to regain ownership of a product after a given number of years. Such efforts turn on whether authors worked as hired hands or produced the material on their own and then sold it to publishers. The Copyright Revision Act of 1976, which opened the door to termination attempts, bans termination for people who delivered work at the "instance and expense" of an employer.

"Since these were works made for hire and thus owned by Marvel, we filed these lawsuits to confirm that the termination notices are invalid and of no legal effect," Mr. Petrocelli said by phone. (Mr. Petrocelli is also representing Disney in its legal fight with Scarlett Johansson, who sued the company in July over pay connected to ticket sales for "Black Widow.")

For instance, Disney's complaint against Mr. Lieber contends that "Marvel assigned Lieber stories to write, had the right to exercise control over Lieber's contributions and paid Lieber a per-page rate for his contributions." Those conditions render his contributions "work made for hire, to which the Copyright Act's provisions do not apply," according to the complaint.

Mr. Toberoff sharply disagrees. "At the time all these characters were created, their material was definitely not 'work made for hire' under the law," he said in an email in response to Disney's filings. "These guys were all freelancers or independent contractors, working piecemeal for car fare out of their basements." Hence, not "traditional, full-time employees," he said.

"At the core of these cases is an anachronistic and highly criticized interpretation of 'work-made-for-hire,'" Mr. Toberoff said in a separate email, adding that the interpretation "needs to be rectified."
(6) FINAL TALLY. Robert Kroese declared the first BasedCon "a tremendous success. We had nearly 70 attendees and a phenomenal group of authors and presenters. People came from as far away as Oregon, California, Texas, and New Hampshire." He wants to run another in 2022.
(7) JUST LIKE THE 770 COMMENTS SECTION! [Item by John A Arkansawyer.] This is a very funny online-only thing Seth Meyers does at the end of every week, reading letters from the viewers at home (the jackals) about the various errors from the week before. This week, he addresses his former nemesis, the jackal/knitter Patti Lyons. It's cued up to that:
Seth Meyers takes a moment to address some of the errors from this week of Late Night, like accidentally saying "on accident" instead of "by accident" and pronouncing "turnpike" as "turnbike."
This closing speech is not genre in content (other than the knitting), but is so genre in form that it just isn't funny. Except it is. Very.
(8) TRIVIAL TRIVIA.
(9) MEDIA BIRTHDAY.
1987 – Thirty-four years ago, The Princess Bride premiered. It was directed by Rob Reiner who co-produced it along with Andrew Scheinman. It was adapted by William Goldman from his novel of the same name. It had amazing cast of Cary Elwes, Mandy Patinkin, Chris Sarandon, Christopher Guest, Wallace Shawn, André the Giant, Robin Wright, Peter Falk, Fred Savage and Billy Crystal. It would win a Hugo at Nolacon II. Reception for it was great with every major critic loving it and many praising its sweetness. It currently holds a ninety-four rating among audience reviewers at Rotten Tomatoes. Mind you it was a modest box office success just earning back what it cost to produce. 
(10) TODAY'S BIRTHDAYS.
[Compiled by Cat Eldridge.]
Born September 25, 1919 — Betty Ballantine. With her husband Ian, she created Bantam Books in 1945 and established Ballantine Books seven years later. They won one special World Fantasy Award for professional work in 1975 and another one shared with Joy Chant et al for The High Kings which is indeed an amazing work. ISFDB list one novel for her, The Secret Oceans, which I've not read. Who here done so? (Died 2019.)
Born September 25, 1930 — Shel Silverstein. Not sure how he is SFF but ISFDB lists him as such for his Every Thing On It collection and a handful of a apt named poems, and I'm more than thrilled to list him under Birthday Honors. I'm fond of his poetry collection Where the Sidewalk Ends and will also note here A Light in the Attic if only because it's been on "oh my we must ban it now attempts" all too often. So what do you think is genre? (Died 1999.)
Born September 25, 1946 — Felicity Kendal, 75. She plays Lady Clemency Eddison in the the Tenth Doctor story, "The Unicorn and The Wasp", one of my favorite Who tales. She recently played Baroness Ortsey in the new Pennyworth series. And though it's definitely really not genre, I'm noting her role in Shakespeare-Wallah, story of a family troupe of English actors in India, just because it's a fascinating story.
Born September 25, 1951 — Mark Hamill, 70. OK, I'll confess that my favourite role of his is that he voices The Joker in the DC Universe. He started doing this way back on Batman: The Animated Series and has even been doing on other such series as well. Pure comic evilness! Oh, and did you know he voices Chucky in the new Child's Play film? Now that's creepy. 
Born September 25, 1952 — Christopher Reeve. Superman in the Superman film franchise. He appeared in the Smallville series as Dr. Swann in the episodes "Rosetta" and "Legacy". His Muppet Show appearance has him denying to Miss Piggy that he's Superman though he displayed those superpowers throughout that entire episode. (Died 2004.)
Born September 25, 1961 — Heather Locklear, 60. Her first genre role was Victoria 'Vicky' Tomlinson McGee in Stephen King's Firestarter followed by being Abby Arcane in The Return of Swamp Thing. She was also Dusty Tails in Looney Tunes: Back in Action. She's had one-offs in Tales of the Unexpected, Fantasy Island, Muppets Tonight and she voiced Lisa Clarkson in the "Prophecy of Doom" episode on Batman: The Animated Series.
Born September 25, 1964 — Maria Doyle Kennedy, 57. She was Siobhán Sadler in Orphan Black, and currently is Jocasta Cameron in Outlander. She's been cast as Illa in now being filmed The Wheel of Time series.
Born September 25, 1968 — Will Smith, 53, Despite the stinker that were Wild Wild West and later Suicide Squad, he's done some brilliant work — the first Men in Black film is superb as is Independence Day and Aladdin.
(11) THE SIGN OF THE Z. Screen Rant says you can trace the influence on Batman's creators to a 1920s Zorro movie, and it didn't stop there. The connection plays an major role in a current DC Comics' crossover event, "Joker War." — "Batman: How Zorro Created The Dark Knight".
…It wasn't until the legendary Frank Miller decided to give a nod to Kane and Finger in The Dark Knight Returns #1 that The Mark of Zorro is established. Miller cites the 1940 Tyrone Power adaptation, which was actually released after Batman's creation, but the precedent was set. In Todd Phillips' Joker film, 1981's Zorro, the Gay Blade is the movie referenced. Whichever adaptation a creator chooses, Zorro and Batman's histories are inextricably intertwined, which explains why Bruce's archenemy decides to use the film against him….
(12) CASSANDRA PETERSON (ELVIRA) INTERVIEWED ABOUT COMING OUT AS GAY. Cassandra Peterson gave her first interview since she came out about her 19 year relationship to The Tamron Hall Show.
The woman behind the iconic character Elvira, Mistress of the Dark, Cassandra Peterson exclusively sits down for the first interview since revealing a 19-year relationship with a woman. The undisputed Queen of Halloween reveals her full story in a new book titled, "Yours Cruelly, Elvira: Memoirs of the Mistress of the Dark," and joins our show to talk about it. From her roots in Kansas to coming out, Elvira gets real about her journey to become the world's sexiest, sassiest Halloween icon.
(13) GO FAST, TURN UP! [Item by Jeff Warner.] Being an auto racing fan as well as a SF Geek, this caught my attention. "NASA astronaut captures Indianapolis from space station" in the Indy Star.
Indianapolis is, once again, piquing the interest of astronauts in space.

NASA Astronaut Shane Kimbrough has been regularly sharing "out of this world" views from the International Space Station on Twitter, including stunning views of the French Riviera, Hawaii's Mauna Loa volcano and the Las Vegas Strip. 

Indianapolis joined the ranks with clear views of White River, the Indianapolis Motor Speedway and the Indianapolis International Airport. If you zoom into the center, you can see Lucas Oil Stadium, too.
(14) JEOPARDY! A contestant on last night's episode of Jeopardy! went astray. Andrew Porter took notes.
Category: Novels

Answer: "I was no longer a master, but an animal among the animals, under the Martian heel."

Wrong question: "What is Slaughterhouse 5?"

Correct question: "What is 'War of the Worlds?'"
(15) SHE DRAWS HIM LIKE A GUN. [Item by Martin Morse Wooster.] There is a disturbance in the Force. The Senators from the Old Republic are alarmed. But can they trust…The Parliamentarian? The Washington Post's Alexandra Petri declares, "The Senate Mandalorian — I mean, Parliamentarian — is our only hope".
The twin suns set over the Senate chambers, and the leadership sighed. The legislative nights were long and cold on this desert planet where no compromise had flourished for a long time, just banthas and the partisan Rancor.

"We have important legislation containing lots of policy priorities we have got to get through," Grief Schuuma, leader of the Narrow Majority, said. "But there is just no way we can do it using regular order."

"Well, we could," a voice murmured from the corner, cloaked in shadow, "if we were willing to sacrifice the filibuster."…
(16) ZINE SCENE. Mlex sent a link to the Autumn Equinox issue of his zine Zapf Punkt. Read the synopsis and you'll know why!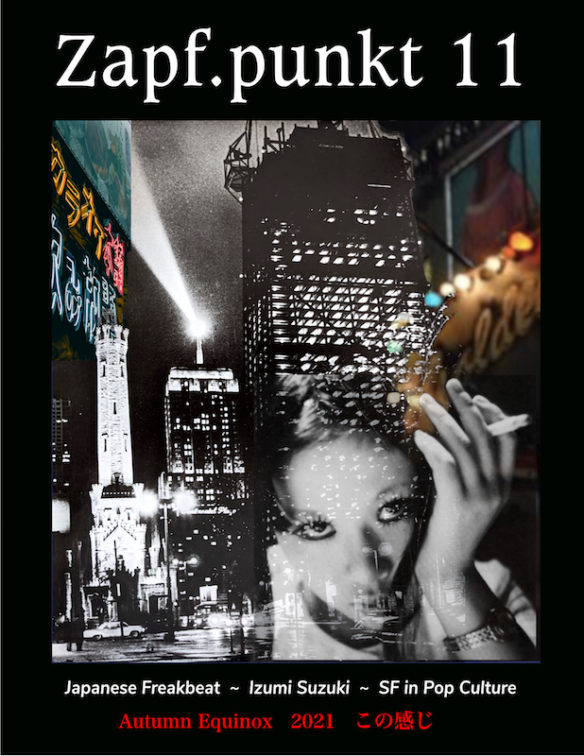 In this issue, we investigate the radical art collective Zero Dimension, the electric guitar boom in Japan, and the dropout culture that threatened to overrun traditional society with folk music, glue-sniffers, surrealism, violence, pornography, pills, gender-confusion, interplanetary war, and the worst of all possible dooms: disorder.

By the late 1960s, this agitated social crisis briefly intersected with a manufactured music scene called Group Sounds. We listened to many hours of cheesy pop music to find the cherry bombs and make our own favorite freakbeat selection. Here's our group sounds playlist, the official soundtrack of ZP 11.

This issue also features an edited transcript of our interview with Daniel Joseph, which originally appeared on Diamond Bay Radio in May. Daniel provides the biographical background for Izumi Suzuki's Terminal Boredom, and we discuss her writing style, the modes and themes that appeared in her work, and how revolutionary it was at the time.

Join us for the meta-textual knock-out that Suzuki delivered to Japanese science fiction literature, before her decline into depression and suicide in 1986.

A pictorial glimpse of popular science fiction culture from around 1970 in Japan wraps up the issue.
(17) THINGS TO COME. The Orville: New Horizons arrives March 10, 2022.
[Thanks to Andrew Porter, Martin Morse Wooster, JJ, Bence Pintér, Jeff Warner, Darrah Chavey, Mlex, John A Arkansawyer, Michael Toman, John King Tarpinian, Cat Eldridge, and Mike Kennedy for some of these stories. Title credit belongs to contributing editor of the day Joe H.]