(1) SF BEER. Poul Anderson used to set great store by Heineken beer. This billboard ad from the 1970s claims Mr. Spock did, too.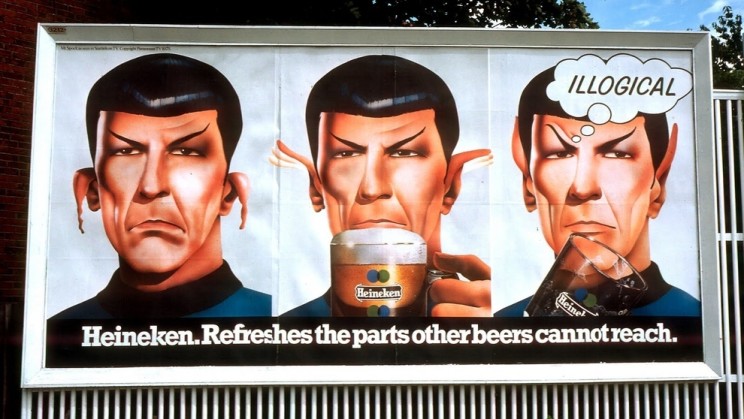 (2) SYFY PROTOTYPE. Deadline tell us "Cote de Pablo Poised To Star In Syfy Pilot 'Prototype'".
EXCLUSIVE: NCIS alumna Cote de Pablo is nearing a return to series television. I have learned that the fan favorite is in negotiations to play the female lead opposite Jack Davenport in Prototype, Syfy's sci-fi thriller drama pilot written by Tony Basgallop (24: Live Another Day). It centers on three unlikely cohorts  — two of them played by de Pablo and Davenport — who inadvertently stumble upon an invention that challenges the very nature of quantum physics – a discovery which in turn puts their lives in grave danger.

De Pablo would play Laura Kale, a driven, extremely intelligent mother of two. Excited about a potentially world-changing machine being developed by herself and two partners, she is certain that she is on the brink of something history-making. Propelled by a shot at glory, she is not about to give up despite numerous setbacks.
(3) AUTOGRAPHED LENSMAN. Heritage Auctions is already taking bids for items in its "April 6 Rare Books Grand Format Auction".  The chair J.K. Rowling sat in to write a couple of Harry Potter books is on the block. So is an autographed boxed set of the Fantasy Press edition of E.E. "Doc" Smith's Lensman series – they're looking for an opening bid of $2,000.
Edward E. ("Doc") Smith. The History of Civilization, including: Triplanetary, First Lensman, Galactic Patrol, Gray Lensman, Second Stage Lensman, Children of the Lens. Reading: Fantasy Press, 1955. First edition, limited to seventy-five numbered sets, of which this is number twenty-four. Each volume signed by the author and volume one additionally warmly inscribed to Smith's "friend and fellow-toiler in the vineyard of SF," Ben J[—]. Six octavo volumes. Publisher's special binding of quarter reddish-brown leather over brick red cloth-covered boards, spines lettered in gilt, in publisher's original box. Books very nearly fine with only minimal rubbing to spine ends and light soiling. Box edges worn, some lid edges split with tape at corners. From the collection of Dr. Stuart David Schiff.
(4) ANOTHER REASON MCDEVITT ROCKS. Locus Online reports the International Astronomical Union has approved a proposal to name an asteroid after sf writer Jack McDevitt:
The asteroid, now known as "Jackmcdevitt," is designated 328305, and was discovered in 2006 by astronomer Lawrence Wasserman at Kitt Peak observatory in Arizona.
(5) WHY BATMAN STINKS ON ICE. ScreenRant will happily tell you the "13 Worst Things About Batman & Robin".
11. Bat Ice Skates

Again, in a continuation of the bizarre '60s Batman mythos, Joel Schumacher's take on the Dynamic Duo is filled with a collection of oddly specific bat-gadgets. Considering that Batman had no idea that Mr. Freeze would turn out to be the big villain of the movie, it's strange that he had already prepared a collection of ice-themed accessories, including a jet ski and special ice-themed costumes.

In their first run-in with Mr. Freeze, upon discovering that the floor has been frozen solid, Batman and Robin activate their "bat ice skates," which appear out of the bottom of their boots with a click of the heels. The convenience of this gadget takes the silly accessories of Batman's utility belt from the '60s show to a cinematic extreme, adding fuel to the fire of the joke that Batman's true superpower is his magic utility belt which can produce anything the plot requires it to.
(6) GRAPHIC MARCH MADNESS. Comic Mix is getting ready to run webcomics brackets — "Announcing the 2016 Mix March Madness Webcomics Tournament"
Yes, it's that time of year again, the time where bracketology reigns supreme and the cry around the nation is "Win or Go Home!" Last year's Mix March Madness Webcomics Tournament was incredibly popular, and so we're doing it all over again– and raising money for the Hero Initiative in the process!

We're giving you a list of over 300 webcomics, and we want your votes . We're taking the top 128 and putting them in a single elimination tournament where we whittle down the contestants down to one. The top 128 vote getters make it into the tournament, with the biggest getting top seeds. The voting ends Sunday, March 13 at 11:59 PM EDT, and brackets go up on Monday, March 14!

Simply check off the strips you want to see in the tournament below. If there are webcomics you don't see, check "Other" at the end and include the strip name AND THE URL. We'll add them to the main list periodically for higher visibility.
(7) FREE AUTOGRAPHS. The West Australian has a story on the Australian national convention — "Perth fandom unites for 41st Swancon". It's funny what you have to explain to people nowadays.
Beasley said Swancon welcomed the increase interest in fandom these nationally-run conventions bought but he hoped the local version could always retain its more intimate, community feel.

"You will most likely see our guests wandering around the hotel interacting with anyone who buys them a coffee," he said.

"The membership fee covers everything contained in the convention and our guest signings are also free."
(8) WILL BLOOM AGAIN. Rachel Bloom's Crazy Ex-Girlfriend series will get a second season.
Musical comedy series @CW_CrazyXGF renewed for a second season! https://t.co/hvm6sC2j3V pic.twitter.com/kdvYfW6XLX

— broadway.com (@broadwaycom) March 11, 2016
(9) TODAY IN HISTORY
March 11, 1818 – Frankenstein published.
March 11, 1971: George Lucas makes his feature debut with THX-1138.
(10) TODAY'S BIRTHDAY BOY
Born March 11, 1952 – Douglas Adams
(11) DYEING OUTSIDE. Cat Rambo's "Pink Hair Manifesto" at Medium.
The first time I dyed it, I was about to head off to my first Wiscon?—?a large feminist science fiction convention held yearly in Madison, Wisconsin. As I've found the case at sf conventions since then, I wasn't the only person there with an odd hair color; I glimpsed rainbows of pink, blue, and green. And I realized it was becoming. Complete strangers would lean over and whisper, "I like your hair," including two flight attendants on the way home.

After the con the color faded, softer and softer, until finally, when I went to get a haircut, the hairdresser was cutting away dusty rose tips. I looked in the mirror and saw a middle-aged woman with a short, practical cut.

I bought a new kit on the way home and re-pinked my hair that afternoon….

That's another reason why I dye it pink. People talk to me. There's something about the color that draws them to ask about it or say that they like it. The only person I've ever found who disapproved outright was a relative's girlfriend. She didn't last. My hair color has.

But more than that, the pink forces me to talk to people as well. I've habitually toed the line between introvert and extrovert, depending on which Meyer Briggs results you look at, and I like the fact that the pink pushes me outside myself, makes me be socially brave in a way I've sometimes retreated from.
(12) RABID PUPPIES. Vox Day moves on to the novella category of his slate — Rabid Puppies 2016: Best Novella.
The preliminary recommendations for the Best Novella category.

"Fear and Self-Loathing in Hollywood", Nick Cole
"Penric's Demon", Lois McMaster Bujold
"Hyperspace Demons", Jonathan Moeller
"The Builders", Daniel Polansky
"Slow Bullets", Alastair Reynolds
(13) HOW DEADPOOL BEGAN. Steve Fahnestalk's latest "Second Looks" column at Amazing Stories includes two reviews — "Marvel's Deadpool & Ant-Man and Some Words on Writing".
And now we come to Deadpool. I was vaguely familiar with the character—I think I'd read a recent Spiderman with him in it (one of the ones after Miles Morales became Spiderman). I knew he was called "The Merc With The Mouth," and that he apparently couldn't be killed, but I knew little else about him. Now I know that he's been around for—wait for it!—25 years! (Thanks, Wikipedia!) I also found out, courtesy of the Wiki, that he was played by Ryan Reynolds already in X-Men Origins: Wolverine, and that he was the dude who had everyone's powers including Cyclops's, and whose head was cut off and destroyed the atomic cooling tower! Whoa! Looks like I needed a crash course! (So I got some fairly recent Deadpools, like Deadpool – Dracula's Gauntlet and Deadpool's Secret Wars [both 2015], and read up a bit.) And from what I can tell, by casting Ryan Reynolds in this movie, Marvel (or whomever did the casting) really, really nailed the character. He's profane, obscene, funny, athletic, heroic and antiheroic, mouthy, sexy, and a whole lot more.
(14) HOW DEADPOOL SHOULD HAVE ENDED. Yes, the How It Should Have Ended team has fixed Deadpool for ya.
[Thanks to Andrew Porter, Glen Hauman, and John King Tarpinian for some of these stories. Title credit belongs to File 770 contributing editor of the day Will R.]