Juneteenth 2020
By Chris M. Barkley:
"Won't it be wonderful when Black history and Native American history and Jewish history and all of U.S. history is taught from one book. Just U.S. history." — Maya Angelou
On this, the 155th anniversary of the reading of the Emancipation Proclamation in Galveston Texas, the one word that is uppermost in my mind is…endurance.
Endurance can be the only word that can be applied to my African ancestors, brought here involuntarily, the Native Americans of this continent, and all those others who have migrated or immigrated here from other lands.
For we have endured despite the numerous and myriad attempts by, let's just say, other, richer, less melanin enhanced Americans, who have done their damnedest to dominate, assimilate, and commit waves of genocidal acts and otherwise erase us from history.
And, for long stretches of our mutual history, they succeeded. But the funny thing about history is that it can never completely be erased or forgotten, especially by those who are the ones being oppressed.
Juneteenth, also known as Freedom Day, Liberation Day and Jubilee Day, started out as a regional celebration in Texas state holiday. Though it was somewhat eclipsed by the Civil Rights movement in the 1950's and 60's, the celebration began anew in the 70's, particularly in the American South.
I first became acquainted with Juneteenth in the 1990's when National Public Radio's All Things Considered did a lengthy feature story about it. Having grown up in a Catholic grade and high school, I was never taught about the contributions of people of color to American History, with one single exception, the death of Crispus Attucks, an African-American stevedore who was killed by British troops at the Boston Massacre of 1770. He is widely regarded as the very first casualty of the American Revolution.
As I progressed through high school and into college, I discovered even more tidbits of hidden Black History, explorers like Matt Henson, journalist Ida B. Wells, scientists and engineers such as George Washington Carver, Granville Woods, and Willie Hobbs Moore. This was during a time when the hidden figures of Black History were being rediscovered and elevated by revisionist historians at universities all over America.
This was also the era when I discovered sf fandom.
I had been reading sf authors like Bradbury and Asimov since the eighth grade and had discovered the first two volumes of The Hugo Winners (the book club edition) when it was first published during my sophomore year in high school.
As I recounted in File 770 over twenty years ago, I was puzzled by the mention of conventions where the Hugo were given out but there were practically no information on how to attend them. Little did I know that I was living in one of the hotbeds of sf fandom at the time, Cincinnati, Ohio.
When I came across a notice of Cincinnati's annual convention, Midwestcon, in an issue of Analog in the summer of 1976, I persuaded my best friend and neighbor, Michaele Jordan, to come with me to a small hotel less than five miles from our homes.
It just so happened that Midwestcon 27 had a rather high number of professional writers and fans attending that weekend. I not only found myself surrounded by writers whose books I had read, I also were with people, for the very first time in my life, who did not judge me by the color of my skin but by the content of my character.
In the forty-four years since that joyous weekend, I have been to nearly two hundred conventions (YES, I saved ALL of my badges) including twenty-nine Worldcons.
I did notice that unlike today, there were not a lot of African Americans attending conventions in those days. As I made my way around the east coast conventions I did encounter three African-Americans I looked up to and admired from afar.
Samuel R. "Chip" Delany still walks among us. We met in 1986 when I chaired and organized a one-shot sf convention, Cinclave, which was done in conjunction with the University of Cincinnati. Despite my best efforts, the convention was a financial disaster for me but Chip Delany was a delight to converse with and he graciously signed all of my books. I recently made it a priority to spend some of my COVID-19 stimulus cash on acquiring all of his most essential works. You know them; Babel-17, The Einstein Intersection, Dhalgren, Triton, Nova, Distant Stars. A tremendous writer, he was named a Grand Master by the Science Fiction and Fantasy Writers of America in 2014.
Elliot K. Shorter (April 2, 1939 — October 1, 2013) was an impressive looking man; an ex-marine MP, he stood at 6'4" he was easy to spot. He won a TAFF race against Charles N. Brown and Bill Rotsler and was the Fan Guest of Honor at Heicon in West Germany, the first Worldcon held on mainland Europe. He was a regular conrunner at many east coast conventions and very active in the Society for Creative Anachronism. When I found out who he was and how accomplished he was, I wanted to be just like him.
D Potter (who died October 25, 2017) was a very tall, funny and effusive soul, who ALWAYS seemed to be having a good time wherever she was. She was an avid and prolific fanzine writer and apazine editor. I never got to know her very well and that was my loss. But I remember her vividly as a welcoming and good soul.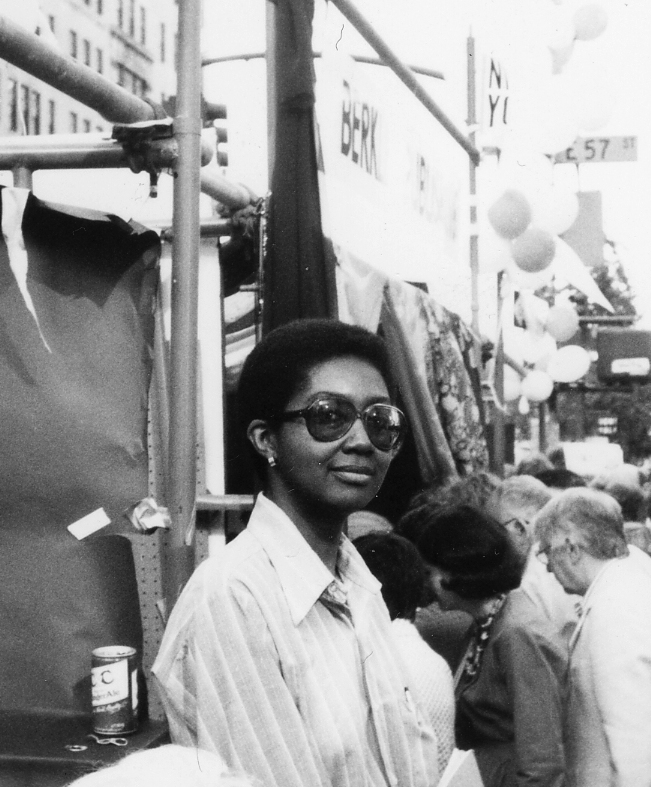 My time in fandom, has, for the most part, been a very good journey. It has not been without a few controversial moments and bruised toes but overall, there are very few things that I regret doing or experiencing.
My first volunteer effort was a brief stint in the Iguanacon Art Show in 1978. I started appearing regularly on Worldcon panels starting at Noreascon 2 in 1980. I have mostly been either staffing or running Worldcon Press Offices starting with ConStellation in 1983 to MidAmericon 2 in 2016.
In addition, there was the twenty-year odyssey at the Worldcon Business Meetings, wherein I labored to persuade members to change, modify or create new Hugo Award categories. Although I have been the subject of derision and abject scrutiny because of my efforts, I am quite proud of the work I and the like-minded fans who either supported these efforts and gave up their precious time at various Worldcons to come and vote on measures, motions and amendments.
So, where does fandom stand today?
Goodness knows we can safely say, we are in VERY INTERESTING TIMES. Most cons have been either canceled or postponed due to the COVID-19 pandemic and there is no end in sight.
Add on the uncertain and unsteady leadership in our government, the economic crisis that came as a result of the disease and the incredible social upheaval in the wake of the murder of George Floyd by Minneapolis Police, every branch of fandom has reason to worry about their future endeavors.
Which brings me back to that word.
Endurance.
Fandom has been here before. In 1968. In 1972. In 1980. In 2001. In 2016.
Oh yes, we have been here before and we will endure, as we have always have.
Fandom has never been more diverse, more aware and as WOKE as ever.
On this Juneteenth, I may be wary of what may lie over the horizon but I do know that we, as fans, writers, editors, artists and conrunners are ready to weather almost anything that may be coming.
Right now, our institutions, fan groups and individuals are rallying around the victims of COVID-19, economic distress, police murders and riot damaged businesses. And we didn't need to be told that Black Lives Matter, we ALWAYS knew that.

More than ever, like the generations of black and other minorities we call our allies and brethren, we cannot be silenced. We will not obey. We will not comply. We will always ask the next question. We will always question authority.
We will endure. No matter what comes next.
"If you know whence you came, there is really no limit to where you can go." — James Baldwin