(1) FAN NONPROFIT CALLS FOR SUPPORT. Con-or-Bust, the organization that helps people of color/non-white people attend SFF conventions, has put out a call for workers to keep it going. Their Twitter thread about what's needed starts here.
(2) FRESH MONSTERS. "Creepy Stories (and More) from Victor LaValle and Benjamin Percy" on Lit Hub links to an episode of the Lit Hub podcast Fiction/NonFiction, which features interviews with LaValle and Percy and each author reading three excerpts from their fiction.
LaValle explains how devices like monsters make it possible to write about how something feels, rather than merely what happened; Percy discusses doppelgängers, and asks whether politically, the call is coming from inside the house.
(3) COMPLETING THE ARC. John Scalzi had a good time at the movies — "Terminator: Dark Fate Review" on Whatever.
…As I walked out of the film last night I posted a five word recommendation of this film: "It gets Sarah Connor right." This actually matters because despite the name of films, the "Terminator" films are about Sarah Connor, and the arc of her life dealing with the terrible fate that life has dealt her: Victim to fighter to avenger. Sarah Connor is realistically (with the context of these films) damaged by this fate of hers; particularly in this film she's a PTSD wreck. And, well, she would be, wouldn't she. It's important that the Terminator films show her this way. It's for better or worse the grounding the films need to make every other absurd thing that happens in them function on the level of plausibility.
(4) NOT SO BLITHE SPIRIT. In "Like It or Not, Damon Lindelof Made His Own Watchmen", Vulture's Abraham Reisman gets showrunner Damon Lindelof to answer several ethical questions about Watchmen, including the morality of how he is making the series without Allan Moore's and Dave Gibbons's permission because the rights were supposed to revert to them if the comic books were out of print, and they've never gone out of print, and how Robert Redford is "in the series" as the perpetual president but the actual Robert Redford was neither approached or asked because he had retired before the series started production.
Does it keep you up at night? Or have you made your peace with it?
It wakes me up at night, but much less so now that it's done. I'm about to say something very ridiculous, but in all sincerity, I was absolutely convinced that there was a magical curse placed upon me by Alan [Moore]. I'm actually feeling the psychological effects of a curse, and I'm okay with it. It's fair that he has placed a curse on me. The basis for this, my twisted logic, was that I heard that he had placed a curse on Zack [Snyder]'s [Watchmen] movie. There is some fundamental degree of hubris and narcissism in saying he even took the time to curse me. But I became increasingly convinced that it had, in fact, happened. So I was like, "Well, at least I'm completely and totally miserable the entire time." I should be!
(5) ALL ABOARD PULLMAN. The new BBC/HBO His Dark Materials mini-series starts Monday, November 4. The credits alone are enough to leave Io9's Julie Muncy bowled over: "The Opening Title Sequence for His Dark Materials Is Stunningly Good".
His Dark Materials is a sweeping fantasy epic, and it deserves a title sequence to match. Fortunately, thanks to HBO and the BBC, it's got one. Today, BBC released the opening for the upcoming His Dark Materials TV show, and it absolutely lives up to the pedigree of the series. If you're looking for something to build hype, this is it. I'm especially partial to the graphics at the end. Like, wow.
(6) HIS BARK MATERIALS. The previous item also reminded Daniel Dern of a photo he shot at Arisia 2016 of an "Armored polar bear" from The Golden Compass.
(7) NANOWRIMO AT 20. The New York Times celebrates the anniversary: "Ready. Set. Write a Book." Article includes tips and tools.
This year marks the 20th anniversary of the National Novel Writing Month project, which challenges people to write a 50,000-word novel in November. NaNoWriMo, as it is known, is a nonprofit that supports creative writing and education. Those who sign up for the group's free annual event get community support, progress tracking and motivational advice to complete a book draft.

If you think you have a novel in you, here is a quick guide to digital tools to help you along your way.

(And if the thought of cranking out an average of 1,667 words a day in the NaNoWriMo challenge doesn't fit in with your schedule or you need more prep time — don't despair. You could write it at your own pace.)
(8) SLADE OBIT. Bernard Slade, who co-created The Flying Nun and wrote 17 episodes of Bewitched, has died at the age of 89 reports the New York Times. Outside of genre his successes were creating the 1970s television series The Partridge Family, and the Broadway play "Same Time, Next Year."
(9) TODAY IN HISTORY.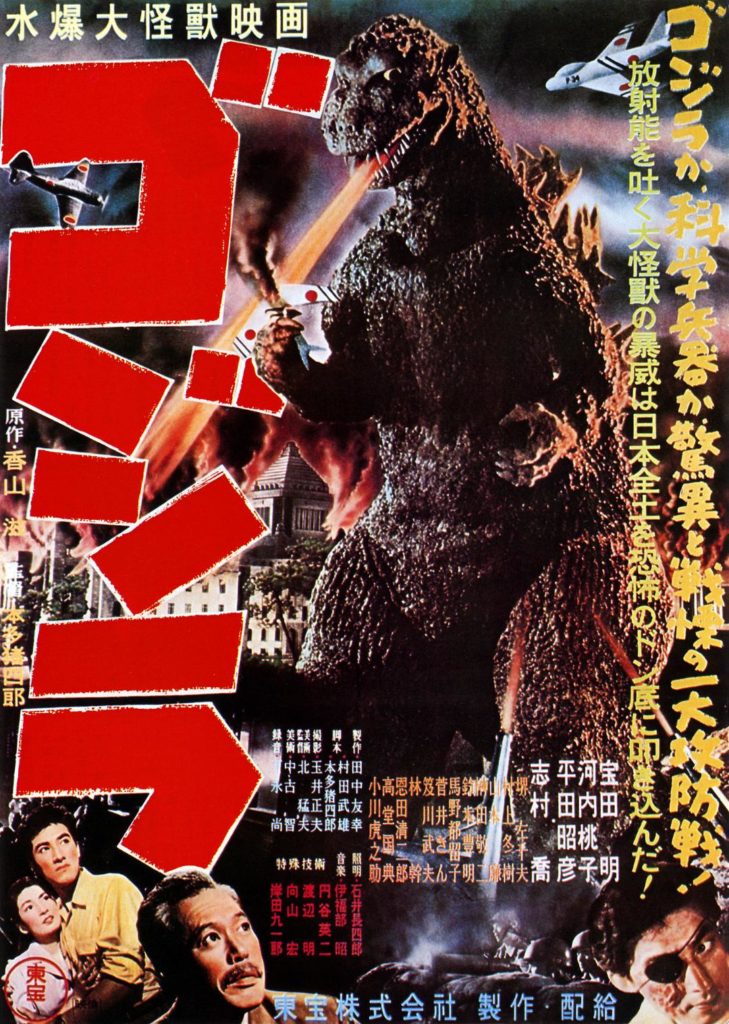 November 3, 1954 — In Japan, Godzilla (Gojira) premiered. This is the very first film in the Godzilla franchise. It was written by Honda, Takeo Murata, and Shigeru Kayama, and was produced by Tomoyuki Tanaka, with special effects by Eiji Tsuburaya. It enjoys a 89% rating at Rotten Tomatoes among viewers and an even more impressive 93% among critics. It made almost nothing on its first run here on the States.
And here is a good place to link to Funny or Die's Rambo/Godzilla mashup (released in June).
November 3, 1967 — The Trek episode of "I, Mudd" first aired. Starring Roger C. Carmel as Harry Mudd with Richard Tatro as Norman, Alyce Andrece as Alice #1 through #250, Rhae Andrece as Alice 251 through 500 and, lest we forget, Kay Elliot as Stella Mudd. Written by Stephen Kandel as based on a story by Gene Roddenberry.
(10) TODAY'S BIRTHDAYS.
[Compiled by Cat Eldridge.]
Born November 3, 1921 — Charles Bronson. He didn't do he a lot of genre acting but I've got him in One Step Beyond as Yank Dawson in "The Last Round" and he's in The Twilight Zone in "Two" as The Man opposite Elizabeth Montgomery as The Women. He was also in Master of The World which is  based on the Verne novels Robur the Conqueror and its sequel Master of the World. (Died 2003.)
Born November 3, 1932 — Monica Vitti, 87. She's best remembered in the English language movie going world for her performance as the lead agent in Modesty Blaise. It's rather loosely based upon the Modesty Blaise strip by Peter O'Donnell, who co-wrote the original story upon which Evan Jones based his screenplay. 
Born November 3, 1932 — Jack Harness. Usually I'd give a précis of his fan bio based Fancyclopedia 3 and sources. Oh, this time you really need to go read the Fancyclopedia 3 write-up as the writer has detailed a true character among characters: Jack Harness (Died 2001.)
Born November 3, 1933 — Aneta Corsaut. If you saw The Blob, the original Fifties version, she was Jane Martin. Her only other genre film work was as an uncredited tourist mother in Blazing Saddles. And unless I'm mistaken, she had no other genre series work at all though she was popular in Westerns. (Died 1995.)
Born November 3, 1933 — Jeremy Brett. Still my favorite Holmes of all time. He played him in four Granada TV series from 1984 to 1994 in a total of 41 episodes. One source said he was cast as Bond at one point, but turned the part down, feeling that playing 007 would harm his career. Lazenby was cast instead. (Died 1995.)
Born November 3, 1933 — Ken Berry. He's making the Birthday Honors for Disney's The Cat from Outer Space in which he was Dr. Frank Wilson. No, the cat wasn't Goose. And he played seven different roles on the original Fantasy Island which well may be a record. Oh, he like pretty much everyone else was a guest performer on Rowan & Martin's Laugh-In. I know it's not genre, I just find that amusing. (Died 2018.)
Born November 3, 1952 — Eileen Wilks, 67. Her principal genre series is the World of Lupi, a FBI procedural intertwined with shapeshifters, dragons and the multiverse. Highly entertaining, sometimes considered romance novels though I don't consider them so. The audiobooks are amazing as well! 
Born November 3, 1953 — Kate Capshaw, 66. Best known as Willie Scott in Indiana Jones and the Temple of Doom (which I'll confess I've watched but a few times unlike the first film which I've watched way too much), and she was in Dreamscape as well. She retired from acting several decades ago.
Born November 3, 1953 — Adam Ant, 66. He actually has a decent genre acting history having been on the Eighties Amazing Stories, in Out of Time (a time travel film), Love Bites (oh guess), Tales from The Crypt, voiced a role on Batman: The Animated Series and Cyber Bandits. Oh and voicing Sri Charge-A-Lot on The Sylvester & Tweety Mysteries!
Born November 3, 1956 — Kevin Murphy, 63. Best known as the voice and puppeteer of Tom Servo for nine years on the Mystery Science Theater 3000. He was also the writer for the show for eleven years. I'm surprised the series was never nominated for a Hugo in the Long Form or Shot Form. Does it not qualify?
Born November 3, 1963 — Brian Henson, 55. Can we all agree that The Happytime Murders should never have been done? Thought so. Wash it out of your consciousness with Muppet Treasure Island or perhaps The Muppet Christmas Carol. If you want something darker, he was a puppeteer on The Witches, and the chief puppeteer on Teenage Mutant Ninja Turtles. And he voices Hoggle in Labyrinth.
(11) COMICS SECTION.
(12) CARTOON-LIKE SCULPTURE. This towering figure sits in front of a new high-rise on the waterfront in Greenpoint, NYC.
(13) KEEPING AHEAD. Steven James advises authors "How to Write Crime Fiction Set in the Near Future" at CrimeReads.
2) Trust your reader's imagination.

In my latest novel, Synapse, I refer to slates, which are basically the tablets of the future. Who knows what phones thirty years from now or even five years from now will be able to do? Don't make the smartphones of the future too dumb. If you can imagine it, there's probably some software engineer somewhere out there who's thought of the same thing.

So, when it comes to technology don't try to get so specific that the technology will be outdated by the time the book comes out.

Here's a prime example: years ago when I was writing my book The Rook, I thought it would be cool if someone could look up a song online just by humming it and search using sound-based search algorithms rather than just text-based ones. Cutting-edge, right? Well, as I was writing the manuscript, that technology was released. If I'd included it in my book as something new or innovative, readers would have shaken their heads: "They've been able to do that forever." It's important to keep an eye on current trends and technological breakthroughs.
(14) FANTASTIC ART. CBS' Sunday Morning paid a visit to "Art collective Meow Wolf".
What is Meow Wolf? An art collective founded in Santa Fe, N.M., whose name came from words picked out of a hat, and which puts on immersive exhibitions that tantalize audiences with vivid visuals and storytelling that is magical, mysterious, or just downright weird. Their latest exhibit, called "The House of Eternal Return," is contained in a former bowling alley purchased by one of the group's benefactors, "Game of Thrones" author George R.R. Martin. Conor Knighton reports.
(15) NEXT WEB. Looper sounds the alert: "Get ready for a Spider-Man: Into the Spider-Verse sequel".
The news drop came after several days of teasing and a pair of cryptic tweets posted to the official Twitter account for Spider-Man: Into the Spider-Verse. On October 27, the account posted a GIF of a genetically modified spider silk-gliding down to the streets of New York and creepy-crawling toward the camera — a moment fans will remember from the aesthetically striking film. The post was accompanied by an emoji of a pair of eyes, often used to indicate that secrecy, sneaky behavior, or some kind of deceitful act is taking place. Then, on October 31, the Into the Spider-Verse Twitter page shared a hype-boosting warning: "Something's up. Our Spidey sense is tingling. RT if yours is, too."
(16) VIDEO OF THE DAY. In "How To Power Your House, With xkcd's Randall Munroe" on YouTube, Randall Munroe offers all sorts of options for powering your house using the amount of space in a typical front yard.
[Thanks to Andrew Porter, Mike Kennedy, John King Tarpinian, Martin Morse Wooster, JJ, Chip Hitchcock, Darrah Chavey, Daniel Dern, and Cat Eldridge for some of these stories. Title credit goes to File 770 contributing editor of the day Patrick Morris Miller.]