(1) "POINTLESS" QUIZ SHOW. [Item by Christian Brunschen.] I was just watching a repeat of the quiz show "Pointless" on BBC – where questions have been previously asked of 100 people who are given 1 minute to give answers; and the contestants have to try to find answers that are not only correct, but which as few as possible of the 100 polled people knew!
In this episode the final category was "Award-winning authors in specific genres" – and the three options were "Hugo Award for Best Novel", "Wodehouse Award for Comic Literature" and "Walter Scott Prize for Historical Fiction".
The contestants are allowed to give three possible answers, from any of the three options, and in order to win they need to give at least one answer which nobody else among the 100 knew – one "pointless" answer.
They chose to go for three answers from the Hugo Awards category:
Frank Herbert
Robert Silverberg
Brian Aldiss
Each one of those was then counted down to see how many of the group-of-100 had given that answer.
The counter for Frank Herbert went down to 1 – only a single one of the 100 had given Frank Herbert as an answer – so just 1 away from being pointless.
Neither Robert Silverberg nor Brian Aldiss were correct – so the contestants did not win.
It was mentioned that Robert Silverberg had the most nominations without winning.
Pointless answers in the Hugo award category included Mary Robinette Kowal, Neil Gaiman, Ray Bradbury, Susanna Clarke, William Gibson, Robert A. Heinlein; big scorers (known by many of the 100) were Isaac Asimov, Arthur C. Clarke, Philip K. Dick.
This was apparently season 25 episode 17 broadcast in April 2021, which can be seen by viewers in the UK (only) on BBC iPlayer right here.
(2) MAKING WORLDS AND PUZZLES. Host Kate Elliot discusses a worldbuilding topic with Karen Lord in Narrative Worlds Season 2: Ep. 3 now available on SFWA's YouTube channel.
Welcome to Episode 3 of Season Two in the Narrative Worlds Webinar Series, hosted by author Kate Elliott! Featuring guest author Karen Lord, this month's topic is "The Puzzles Inside Worldbuilding: Constructing Narratives at Various Lengths." This monthly series digs into the theory and practice of building the worlds in which stories are set. Rather than focusing on a survey of basics like "What elements do you need to create a setting?" Elliott discusses a specific single topic in more depth each month with a guest.
(3) WAITING AT THE LIGHT. J. Michael Straczynski, in a public Patreon post, today announced that while the Babylon 5 reboot wasn't greenlighted for fall 2022, it has been retained in active development at the CW and Warner Bros. for fall 2023. "B5 CW News".
Anyone who knows the history of Babylon 5 knows that the path of this show has never been easy, and rarely proceeds in a straight line. Apparently, that has not changed.

About a month or so ago it was announced that the CW Network, B5's home for the last year while the pilot script was in active development, was up for sale. When news of this broke, the immediate question was: will this have any effect on B5? Situations like this have a way of upending development because new owners usually want to put their imprimatur on what programs go forward. Like everyone else, I'd hoped there would be no immediate impact, and that progress on the project would continue onward unabated.

A few days ago, I heard from inside Warner Bros. that there were a number of High Level Conversations taking place with the CW to determine how many pilots, and what sort, could be picked up during this transition, especially given pre-existing deals and commitments. This made sense given the preceding paragraph, but I remained optimistic.

Today, about an hour ago, Deadline Hollywood announced the slate of pilot scripts being picked up for production by The CW. Babylon 5 was not on that list.

When a pilot script is not picked up to production, 99.999% of the time, that's the end of the road for the project, the script is dead.

However: shortly before that piece was published, I received a call from Mark Pedowitz, President of The CW. (I should mention that Mark is a great guy and a long-time fan of B5. He worked for Warners when the show was first airing, and always made sure we got him copies of the episodes before they aired because he didn't want to wait to see what happened next.)

Calling the pilot "a damned fine script," he said he was taking the highly unusual step of rolling the project and the pilot script into next year, keeping B5 in active development while the dust settles on the sale of the CW….
(4) CANDIDATES FOR CHAIR OF GLASGOW IN 2024. Alice Lawson, on behalf of the board of the Glasgow in 2024 bid, has called for anyone who intends to put themselves forward to chair the convention to let the board know by February 7. Bid chair Esther MacCallum-Stewart is already a candidate. Her letter was shared with Glasgow in 2024 supporters.
Dear Alice, the Board of Glasgow 2024, all staff members, and pre-supporters.

I would like to put myself forward as Chair of the Glasgow 2024 Worldcon.

I have been working towards a third Worldcon in Glasgow since 2016, announcing an intention to bid at Novacon alongside Emma England and Vanessa May. Since then I have led the bid team, first as a Co-Chair, and then as Chair. We are currently approaching just under 1000 pre-supporters, and the Bid has had tremendous support from the SFF fan community and beyond.

I have been a volunteer for Worldcon since 2011, when I joined the Loncon 3 team as an AH for games. Since then I have worked as Programme manager and admin (Loncon, MAC II), DH for Facilitation (Dublin 2019), and co-DH for Facilities (ConZealand). I have also volunteered for Eastercons (the UK national convention) and Octocon (the Irish National Convention). Elsewhere I have been Vice-Chair of DiGRA (Digital Games Research Association) and am currently Chair of the UK chapter, which runs events on a yearly basis. In 2021 I was made a Professor of Game Studies at the University of Staffordshire.

I am hugely proud of the Bid Team and their passion for Glasgow 2024. Every day I see something original, funny or hard working from them, and this continues to grow. I have seen friendship, bravery and more than my fair share of armadillos in the last few years, as more people join and add their own sense of wonder and creativity to the bid. We would not be so strong if it were not for all these working parts, in which every single one counts towards something brilliant. I am constantly amazed at the goodwill and passion to create an event that is inclusive, caring and extraordinary. I would be honoured to lead such a group forwards as Chair, towards a Worldcon in Glasgow, a city I love, in 2024, a year which has special importance to me.

/s/ Professor Esther MacCallum-Stewart
(5) SPACE GHOSTS. [Item by Martin Morse Wooster.] In the Financial Times behind a paywall, Isabel Hilton reviews The Subplot: What China Is Reading And Why It Matters by Megan Walsh, a book about fiction popular in China and what Chinese tastes in fiction have to say about the Chinese. Among the topics Walsh discusses is sf in China.
For many authors who must navigate the uncertainties of shifting official red lines, science fiction offers a safe haven. It is a genre in which to address the disruption and dislocations between past and present, and between official narratives and reality, and to explore otherwise dangerous themes such as social injustice.

Liu Cixin, a computer engineer and bestselling sci-fi author, locates real world problems such as pollution and human greed on distant planets, while in the story "Underground Bricks," Han Song describes recycling the rubble of the 2008 Sichuan earthquake, which contains victims' remains, into 'intelligent bricks' for space colonization, thus populating distant planets with unhappy ghosts.
(6) EATING THE FANTASTIC. Scott Edelman invites listeners to nibble noodles with Daryl Gregory in Episode 164 of the Eating the Fantastic podcast.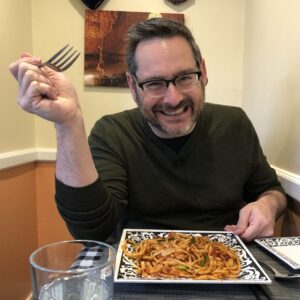 It's time for you to join Daryl Gregory and me as we have lunch at Dolan Uyghur restaurant.

Daryl Gregory's first novel, Pandemonium (2008), won the Crawford Award and was nominated for a World Fantasy Award. His novella We Are All Completely Fine (2014) won the Shirley Jackson Award and the World Fantasy Award. His short story collection Unpossible and Other Stories was named one of the best books of 2011 by Publishers Weekly. His novel Spoonbenders (2017) was a Top 20 Amazon Editor's Choice, an Audible.com's editors choice for the year, and an NPR best book of the year. His most recent novel is Revelator, which was published last August. His comics work includes Planet of the Apes, The Green Hornet, Dracula, and the graphic novel The Secret Battles of Genghis Khan.

If you'd like a tiny taste of Daryl before taking a seat at the table for our full meal, check out what he had to say while eating a raspberry coffee cake donut during the 2018 Nebula Awards weekend.

We discussed how he celebrated the two books he published during the pandemic, what caused him to say about his latest novel, "I like to split the difference to keep everyone as unsatisfied as possible," the narrative technique which finally unlocked the writing of that book (and why it made Revelator more difficult to complete), how our mothers responded to our writing, the way marketing affects the reading protocols of our stories, how listening to Damon Knight and Kate Wilhelm argue about one of his stories freed him as a writer, the promise a murder mystery makes to a reader, his "Mom Rule" for Easter eggs, the way he tortured a comic book artist with an outrageous panel description, how to play fair when writing a science fiction mystery where anything can happen, what Samuel R. Delany told him which helped him make his first sale to F&SF, how he doesn't understand why everybody doesn't want to be writers, the way his writing gets better during the times he isn't writing, Gardner Dozois' "ladder of sadness," and much more.
(7) SHIPPING SCHEDULE. The Orville: New Horizons will now arrive on June 2.
(8) MEMORY LANE.
1998 — [Item by Cat Eldridge] Twenty-four years ago, Morn apparently had died on "Who Mourns for Morn?", an episode of Deep Space Nine. Yes, that character in Quark's Bar, the one what never spoke on the series despite ninety-one appearances as Morn plus several more as Morn on Next Generation and Voyager.
The actor had another eleven appearances as other characters on the DS9 series. Indeed Shepherd makes an appearance (still uncredited as all of his Morn appearances were) as a Bajoran mourner at Morn's memorial service who sits in Morn's chair, thus showing the actor's actual appearance.
Can I spoil a twenty-year-old episode really? I think not. Morn had faked his death to escape some legal troubles and this dealt with aftermath of him doing so. It was a quite funny episode as written by Mark Gehred-O'Connell for season six after previously writing "Second Sight" and "Meredian" for the series.
Critical reviews of it are almost non-existent with the only one being the Star Trek: Deep Space Nine Rewatch by Keith R. A. DeCandido for Tor.com who said that "Still, this is, ultimately, a gag episode about a gag character, and the gag loses steam at the end when we get the full story, but Quark has to say all of it in order to keep the gag going. It doesn't work at that point, and the ending falls flat because we can see the strings." I never thought of Morn as being a gag. He's somehow sweet despite never saying a word.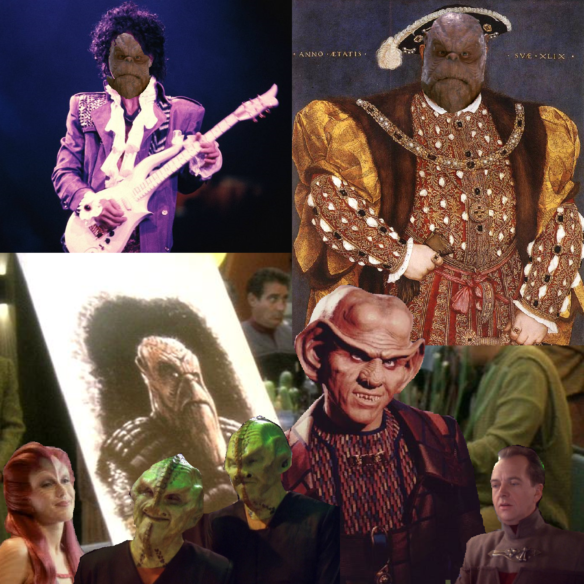 (9) TODAY'S BIRTHDAYS.
[Compiled by Cat Eldridge.]
Born February 4, 1922 — William Phipps. He started off his genre career by being in both The War of The Worlds and Invaders from Mars. He'd later be in Cat-Women of the Moon, The Snow Creature,The Evil of Frankenstein, and the Dune series. He'd have one-offs in Batman, Green Hornet, The Munsters, Wild Wild West and a lead role in the Time Express series which would last four episodes according to IMDB. (Died 2018.)
Born February 4, 1925 — Russell Hoban. Author of a number of genre novel of which the best by far is Riddley Walker. Indeed, ISFDB some fifteen such novels by him, so I'm curious how he is as a genre writer beyond Riddley Walker. (Died 2011.)
Born February 4, 1936 — Gary Conway, 86. Best remembered I'd say for starring in Irwin Allen's Land of the Giants. You can see the opening episode here. He was also in How to Make a Monster, a late Fifties horror film which I'm delighted to say that you can watch here. He's the Young Frankenstein in it. 
Born February 4, 1940 — John Schuck, 82. My favorite SF role by him is as the second Draal, Keeper of the Great Machine, on the Babylon 5 series. I know it was only two episodes but it was a fun role. He's also played the role of Klingon ambassador Kamarag in Star Trek IV: The Voyage Home and in Star Trek VI: The Undiscovered Country.  He guest-starred in Deep Space Nine as Legate Parn in "The Maquis: Part II", on Voyager as Chorus #3 in the "Muse" episode, and on Enterprise as Antaak in the "Divergence" and "Affliction" episodes.  Oh. and he was Herman Munster in The Munsters Today.  Now that was a silly role! Did you know his makeup was the Universal International Frankenstein-monster makeup format whose copyright NBCUniversal still owns? 
Born February 4, 1940 — George Romero. Dubbed by many as Father of the Zombie Film. Certainly his Night of the Living Dead from just over fifty years ago is the root of the Zombie movie craze. He also created and executive-produced Tales from the Darkside. No, I'm not listing all of his films here as I'm assuming you tell me what your favorite film by him is as you always do.  (Died 2017.)
Born February 4, 1951 — Patrick Bergin, 71. If he had done nothing else, he'd make the Birthday list today for playing Robin Hood in the 1990 Robin Hood which for my money is the finest such film made. Go ahead and argue, I've all night. Now as it turns out he has a very long career in this community starting after playing Robin Hood by being in Frankenstein as Victor Frankenstein, then Benjamin Trace In Lawnmower Man 2: Beyond Cyberspace (a film universally despised), George Challenger in The Lost World, Treasure Island as Billy Bones, Merlin: The Return as King Arthur, Dracula as, well, Dracula Himself, Ghostwood as Friar Paul and Gallowwalkers as Marshall Gaza. 
Born February 4, 1959 — Pamelyn Ferdin, 63. She was in the "And the Children Shall Lead" episode of Trek. She'll show up in The Flying Nun (as two different characters), voicing a role in The Cat in the Hat short, Night Gallery, Sealab 2020 (another voice acting gig), Shazam! and Project UFO.She'd have a main role in Space Academy, the Jonathan Harris failed series as well. 
Born February 4, 1961 — Neal Asher, 61. I'm been reading and enjoying his Polity series since he started it nearly twenty years ago. Listing all of his works here would drive OGH to a nervous tick as I think there's now close to thirty works in total. I recently finished off Jack Four, his latest novel in that series, and it's typically filled with his usual mix of outrageous SF concepts. 
(10) COMICS SECTION.
Bizarro eavesdrops on the confessions of a garden gnome.
When social distancing should be enough….
(11) IF THE JUSTICE LEAGUE WERE DINOSAURS, MY LOVE. "DC Comics Turns Justice League Into Dinosaurs For Jurassic League" and Bleeding Cool has sample art.
… In the world of Jurassic League, Superman was still sent to Earth on a rocket ship from a dying planet. And he was still raised by humans. It's just that he's also a man-shaped brachiosaurus. Batman (rather, Batsaur, Gedeon clarifies for Polygon) is an allosaurus. Wonder Woman is a triceratops. The Joker is a dilophosaurus….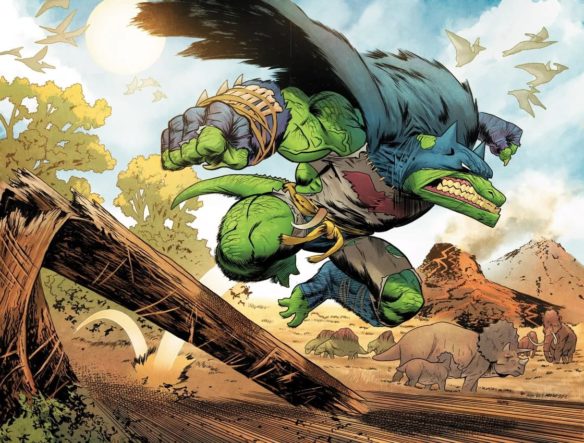 (12) QUESTRISON Q&A. Space Cowboy Books will host a reading and interview with J. Dianne Dotson, author of The Questrison Saga on Tuesday, February 15 at 6:00 p.m. Pacific. Free registration at Eventbrite.
The Questrison Saga is an epic four-book space opera beginning at the edge of our solar system and expanding out into the galaxy. Within its pages: Love and war. Spaceships and exotic worlds. Aliens, androids, ecosystems. Mages and presidents. Long cons. Family feuds that led to galactic destruction. Family ties that could save the galaxy.
(13) ASK HARRIS. And Space Cowboy Books will also host an interview with Brent A. Harris, author of the science fiction novel Alyx: An AI's Guide to Love and Murder, on Tuesday, February 22 at 6:00 p.m. Pacific. Free registration here.
What if your home wanted you dead?

Tech-loving teen Christine makes fast friends with her home's AI, Alyx. But when a real-world romance threatens their bond, Alyx turns from friend to foe.

Alyx is a positive LGBTQ+ coming-of-age techno-thriller trapped inside a monster-in-the house horror where the home itself is the monster.
(14) THE EYES HAVE IT. Clarion West is offering a "Draw Your Way Out with Julie E. Czerneda" online workshop on March 3 at 10:00 a.m. Pacific. Cost: $75. Register at the link.
Use visual means to organize and connect information about characters, setting, and movement, expand plot options using a flowchart, then combine all into a single large diagram outline.

Every writer has their approach to resolving plot problems and generating new ideas. One that Julie Czerneda has used successfully for years is to "draw her way out." In this workshop, you'll use this technique to work through different story challenges, from character development to plotting. There is no advance preparation required.

Materials Required:

Attendees will be emailed worksheets to be used during the workshop and must have their own large sheet of paper (minimum 40X40cm).
(15) TAKING OFF THE DARK HELMET. Vox is ready to tell you "How fandom sent Boba Fett from minor character to leading man".
…About 1.7 million households tuned into The Book of Boba Fett's premiere last December, and a second season seems inevitable. Han Solo might be sabotaging the Death Star, Luke Skywalker might be forging the fate of the Force, but currently, Star Wars fans are far more fascinated with this obscure C+ player in a green visor. Back when I was a preteen Star Wars fan, my friends and I shared an innate understanding that Boba Fett was uncommonly cool, even if we didn't know much about him. Twenty years later, I'm still trying to figure out why.

James Clarke, 36, is well equipped to answer that question. He's a longtime editor of the Boba Fett Fan Club, which sports over 14,000 members and is the single most comprehensive repository of Fettian facts, tributes, and theories on the internet. Like me, Clarke fell in love with the bounty hunter as a child, and pursued his fascination to the point of writing reams of Boba-themed fanfiction in middle school. "I probably have 25-year-old stories still on the site somewhere," says Clarke. (Minutes after our interview, he sent me a photo of himself in full Boba Fett cosplay, a confirmation of his bona fides.)…
[Thanks to Cat Eldridge, Mike Kennedy, Martin Morse Wooster, JJ, Olav Rokne, Daniel Dern, John King Tarpinian, Andrew Porter, and Michael Toman for some of these stories. Title credit belongs to File 770 contributing editor of the day Kendall.]