(1) A SECOND MEOW. Geoff Carter, in "Inside Meow Wolf's immersive Omega Mart art installation in Las Vegas" at the Las Vegas Weekly, reports on the second Meow Wolf installation, "Omega Mart," which opened last month in Las Vegas. It apparently starts as a pretend supermarket and gets much weirder! Their first permanent space, in Santa Fe, is in an old bowling alley purchased for their use by George R.R. Martin.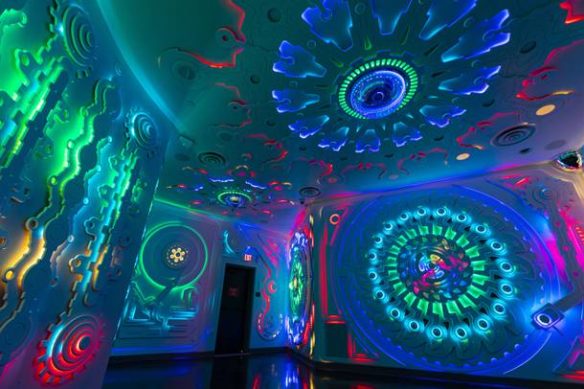 Omega Mart is Meow Wolf's second permanent installation—arriving after Santa Fe's House of Eternal Return—and their second entry into Las Vegas; the group took over the Life Is Beautiful festival's Art Motel space in 2017. If you were there, you have some idea what Meow Wolf has to offer: laser harps, portals to the unknown, room-size bowls of "ramen." The collective has a unique talent for producing and soliciting works of maximalist art, collecting them in warehouse-size spaces with innocuous facades and tying all those artworks together through inventive visual segues and mystery-box narrative.

"Our work is for people that don't necessarily go to art galleries and art museums, who feel like they want to see artwork and have it [as] an important part of their lives, but might feel a little alienated by the art world," says Corvas Brinkerhoff, Meow Wolf's executive creative director. "We're trying to build a bridge to those people and say, look, art is valuable. And all this brilliant work that all these artists are making deserves to have a place where it can be seen, and where the artists can be supported in the process of making it…."

…Brinkerhoff notes that there are several giant stories unfolding within the space, including those of a shadowy corporation (Omega Mart's parent company "Dramcorp"). Brinkerhoff says it's "trying to save humanity from itself" by experimenting with what looks like alien technology. A zealous resistance group—shades of Meow Wolf's beginnings here—is standing against these corporate overlords wielding what little it has.

There are RFID-accessed computer terminals and old-fashioned phones scattered throughout that yield clues to the mystery (Brinkerhoff says the phones mostly deliver recorded messages, though "you also might get a live human"), and videos that advance the story—about three hours' worth of original footage….
(2) LEARNING FROM PRATCHETT. Ziv Wities' project "Story Structure Lessons From The Discworld." is a series of videos aimed at readers and writers, where he talks about "what structure is, how you spot it in what you read and watch, how you choose it and build it up in your own work." Why Discworld? "The Discworld subseries aren't just about different characters and different events. They've got different structures; they're each built differently. So Discworld is a single series, but it tells many shapes of stories — which makes it a perfect example to learn structure from."
Structure is fundamental to fiction. So often, though, we lack basic terms and ideas to talk about story structure. We have trouble getting past basic intuition. What *is* structure? What makes structure "good"? When one story is better-structured than another — what is the actual difference? To answer these questions, we're using Terry Pratchett's wonderful Discworld novels. Because one interesting thing about the Discworld is how it's divided into sub-series — different books following different characters and different story arcs. Throughout these videos, we'll see that the Discworld sub-series not only follow different characters — they follow different structures. By comparing and contrasting, we'll understand what those structural differences are — and how to think about story structure in what we read, and in what we write.
(3) GET READY TO HAVE A BLAST. [Item by David K.M. Klaus.] Everybody who registered with TWA and PanAm for moon tickets back in 1969 has another chance. Another eight names will be drawn from a dimensionally transcendental (*) hat for a trip on SpaceX's mis-named "Starship" (since technically it's not a starship, but merely a spaceship) and there's no initial mention of an age/health requirement so maybe even D. D. Harriman could go. Inverse has the story: "SpaceX Moonshot: How to win a seat on Yusaku Maezawa's trip to the Moon".

You can't win if you don't enter, and even if you wind up like the crews of Shuttle Orbiters Challenger and Columbia, you'll still be part of Earth history not to be forgotten. You will be remembered.
(*) Doctor Who reference, Tom Baker years
HOW TO APPLY TO GO TO THE MOON

According to the new video, the way to enter into the competition is not as straight-forward as putting your name in the hat, as it were. But it does start that way.
Go to the dearMoon website, the site set up to release new information regarding the project.
There, people are invited to preregister with the mission by giving their name, country of origin, and email.
Entrants are also asked to upload an image of themselves.
Entrants are also asked to select which of Maezawa's many social profiles they follow, too.
"Everyone who pre-registers will receive an email about the selection process," the dearMoon site reads. They will also receive a "crew candidate" certificate with their name and picture on it, according to the site.
(4) DOCTOR WHO MARKS THE DAY. "Doctor Who female stars discuss International Women's Day 2021" – a Radio Times from March 8.
Mandip Gill – actor, Yaz Khan in Doctor Who

International Women's Day to me is a day to celebrate women's progression politically, socially and economically. It's also a day for us as a whole to recognise the further improvements needed. Ultimately it's about the celebration of women.

Doctor Who saw what most people could see, in that it wasn't an equal playing field.  They absolutely took a stand in changing the space to one much more equal by having Jodie as the Doctor. This challenged things that were just a given and showed the audience why we should continually challenge these structures and roles.

From the first meeting I knew the significance of this change to Doctor Who history and knew I wanted to be a part of that change. You could feel the significance and positive energy of what was to come from my first audition with Jodie.

Personally, I love the weight of being a south Asian female companion and do hope young people take inspiration from my role in Doctor Who as I did watching the cast of Goodness Gracious Me.
(5) WORK V. ARTIST. Essence of Wonder with Gadi Evron discusses "Can We Read Their Books While Not Forgiving Them?" on Saturday March 13 at 3 p.m. Eastern. Register here.
P. Djèlí Clark, Stephen Llano, and Alan Bond will join Gadi and Karen to discuss the challenges faced by the community when considering problematic authors and how to treat their works.
(6) BEING PROFESSIONAL. [Item by N.] Show creator Owen Dennis offers insights about marketing and how creators have to keep mum about a lot of details regarding the future of their shows/projects in this Twitter thread.
The previous day he'd announced this –
(7) THROUGH ALIEN EYES (OR WHATEVER THEY USE). James Davis Nicoll isn't surprised that most sff is told from a human viewpoint, however, it certainly isn't limited to doing so: "Five Classic SF Novels. Written From an Alien Perspective"
Pride of Chanur by C. J. Cherryh (1982)

The Compact comprises seven technologically sophisticated species, each shaped by its own evolutionary history. In spite of sometimes profound communication problems, the seven coexist peacefully enough that violence is retail, not wholesale.

At Meetpoint Station, Tully, a hairless primate of a new, unfamiliar species , takes refuge in the hani trading ship Pride of Chanur. For reasons that made sense at the time, Pyanfar Chanur grants the furless, blunt-fingered alien sanctuary. In so doing, she offends the kif Akkhtimakt. In Akkhimakt's eyes, Pyanfar has stolen Akkhimakt's property. The kif do not forgive affronts. Pyanfar's act of mercy makes her ship the target of a kif vendetta.
(8) MEMORY LANE.
1981 — Forty years ago, Unfinished Tales of Númenor and Middle-Earth by J.R.R. Tolkien won the Mythopoetic Fantasy Award. (From 1971 until 1991, they gave but one award for all fantasy literature. Starting in 1992, they expanded to this award into two: one for adult literature and one for children's literature.)  It was published by  George Allen & Unwin Publication in 1980. This is yet another collection of tales edited by Christopher Tolkien. It would also win a Balrog Award from the Intentional Fantasy Gamers Society.
(9) TODAY'S BIRTHDAYS.
[Compiled by Cat Eldridge and John Hertz.]
Born March 10, 1891 — Sam Jaffe. His first role was in Lost Horizon as the High Lama and much later in The Day the Earth Stood Still playing Professor Jacob Barnhardt. Later on we find him in The Dunwich Horror as Old Whateley, voicing Bookman in Bedknobs and Broomsticks, playing The Old-Man in The Tell-Tale Heart, and in his last film, appearing in Battle Beyond the Stars as Dr. Hephaestus. John Sayles wrote the script for the latter surprisingly enough. (Died 1984.) (CE) 
Born March 10, 1918 — Theodore Cogswell. He wrote almost forty  science fiction stories, most of them humorous, and was the co-author of a Trek novel, Spock, Messiah!, with Joe Spano Jr. He's perhaps best remembered as the editor of the Proceedings of the Institute for Twenty-First Century Studies in which writers and editors discussed their own and each other's works.  A full collection of which was published during 1993 except, as EoSF notes "for one issue dealing with a particularly ugly controversy involving Walter M Miller".  Having not read these, I've no idea what this entails. (Died 1987.) (CE) 
Born March 10, 1938 — Marvin Kaye, 83. Formerly the editor of Weird Tales, he has also edited magazines such as H. P. Lovecraft's Magazine of Horror and Sherlock Holmes Mystery Magazine. His Cold Blue Light novels with Parke Godwin are quite superb. The Fair Folk anthology which is most excellent and which he edited won a World Fantasy Award. He writes the "Marvin Kaye's Nth Dimension" for the Space and Time website. (CE) 
Born March 10, 1958 — Sharon Stone, 63. Damn she's the same age I am. She's been in three genre films, her first being the original Total Recall where she played the deservedly ill-fated Lori Quaid. Her next was Sphere where she was cast as Dr. Elizabeth "Beth" Halperin, and last was in, errr, Catwoman where she was Laurel Hedare, an assassin. (CE) 
Born March 10, 1977 — Bree Turner, 44. She's best remembered for her role as Rosalee on Grimm. She also starred in the pilot episode ("Incident On and Off a Mountain Road") of Masters of Horror. She was in Jekyll + Hyde as Martha Utterson. Confession time: I got through maybe three seasons of Grimm before giving up as it became increasingly silly. (CE) 
Born March 10, 1979 — Fonda Lee, 42. Her Jade City novel was a finalist for a Nebula Award for Best Novel and won the World Fantasy Award. It's sequel, Jade War, was published last year. And her Cross Fire novel was named Best YA Novel at the 2019 Aurora Awards for best Canadian speculative fiction. (CE) 
Born March 10, 1913 – Carlos Ochagavia.  Three dozen covers, a few interiors.  Here is A Scanner Darkly.  Here is Universe 8.  Here is The Best of Keith Laumer.  Here is Dream Park.  (Died 2006) [JH]
Born March 10, 1920 – Boris Vian.  Author of prose, poetry, plays, music, criticism; actor; translator; inventor, engineer.  Active in French jazz, among other things liaison for Miles Davis and Duke Ellington, commenter for Le Jazz Hot, trumpeter at Le Tabou (yes, that's "The Taboo"); also, it seems, wrote the first French rock 'n' roll songs.  Strange books, e.g. L'ecume des jours variously tr. as Froth on the Daydream, Mood Indigo (twice), Froth on the Daze; half a dozen ours, anyway; fifty shorter stories, still few available in English but «Le bons élèves» appeared 2010 as "Honor Students".  Some fiction attributed to a fictitious Vernon Sullivan whom BV supposedly translated.  (Died 1959) [JH]
Born March 10, 1955 – Walter Riess, age 66.  Five dozen covers, mostly for Anticipatia (which is SF in Romanian, just as Anticipation was the 67th Worldcon in Montreal).  Here is The Einstein Intersection.  Here is A Time for Changes.  Here is The Demolished Man.  Here is the 1999-2000 Anticipatia Almanac.  [JH]
Born March 10, 1962 – Amy Casil, age 59.  One novel, two dozen shorter stories.  Studied at Chapman under James Blaylock.  Poem "Joshua Swims in the Ocean of Dreams" in Mythic Delirium.  Three terms as SFWA (Science Fiction & Fantasy Writers of America) Treasurer, including while John Scalzi was President and Mary Robinette Kowal was VP, hello, you two – or three: Amy, do you read this?  Outside our field, biographies of Buzz Aldrin and John Dewey.  Recent collection, The Instrumentality of Women. [JH]
Born March 10, 1972 – Lynette Mejía, age 49.  A score of short stories, three dozen poems, recently in Liminality.  Interviewed in Redstone.  "When I'm not working, I mostly read, think, and talk to trees.  Every once in a while, they talk back."  Website – which, possibly because of her Louisiana connections, has a section "lagniappe".  [JH]
Born March 10, 1975 – Claire Merle, age 46. Four novels.  Shadow Weaver won a B.R.A.G. (Book Readers Appreciation Group Medallion.  Be independent!  [JH]
(10) PLEASE, SIR, I WANT SOME MOA. Polygon finds a way to make your hunger pangs extinct: "Pringles releases Halo potato chips that taste like Moa Burgers from Halo Reach".
Microsoft has teamed up with chip-maker Pringles for a new flavor of potato chip: Moa Burger. As in the Moa, the flightless bird indigenous to the planet Reach (and also the name of an extinct species of bird here on Earth), from Halo: Reach.

In the Halo fiction, Moa were a source of food on Reach, and were served in wing, nugget, and burger form. Pringles' new Moa Burger aims to approximate what a quadruple hamburger made of ground space bird, plus cheese, pickles, lettuce, onions, and an unidentified sauce, would taste like. They are artificially flavored, naturally.
(11) GALAXY OF THE MONTH CLUB. Galactic Journey's Gideon Marcus comes up with an eye-opening hook to begin his review of the latest – in 1966 – issue of Galaxy: "[March 10, 1966] Top Heavy (April 1966 Galaxy)".
Stacked

For as long as I can remember, American culture has really liked people who have extra on top.  Whether it's Charles Atlas showing off his wedge-shaped physique or Jayne Mansfield letting herself precede herself, we dig an up front kind of person.

So I suppose it's only natural that this month's issue of Galaxy put all of the truly great material in the first half (really two thirds) and the rest tapers away to unremarkable mediocrity (though, of course, I'm obligated to remark upon it).
(12) WANDAVISION DEBRIEFINGS. Two semi-dissatisfied customers tell what they think WandaVision's shortcomings were. NATURALLY THERE ARE SPOILERS.
Abigail Nussbaum discusses "America's Sweetheart: Thoughts on WandaVision" at Asking the Wrong Questions.
…It's impressively weird, in other words, and as if that weirdness weren't enough, every now and then, strange occurrences interrupt the domestic idyll and gentle comedy. Some of the Westview residents experience alarming fugue states. A voice on the radio urgently calls out to Wanda. Out of place items and people—a colorized helicopter toy; a man in a beekeeper outfit—appear with no explanation. The "show" is interrupted by sinister commercials with obvious relevance to the events of Wanda's life—a Stark toaster that beeps ominously, like the bomb that took her parents' lives; Lagos-brand kitchen towels with which to mop up blood-red liquid, a reference to her failure to prevent a Hydra bombing in Captain America: Civil War.

This glut of strange, disparate details is incredibly enticing, inviting audiences to parse references and spot easter eggs….
Film Crit Hulk's "Watercoolering With WANDAVISION – Season One Finale" is a free Patreon post.
So. The finale, as a finale, does the things that finales are supposed to do. We wrap up our general story, we send some bad people to their respective fates, and we send some good people on their respective ways, all with a series of lessons seemingly learned. Because of this, I imagine that there are many who are satisfied with the overall experience. Especially as it did not make any egregious surface-level errors that have often plagued other finales (especially those that tend to treat their audience with more hostility). But Wandavision aimed for safety and it delivered on the base promises of the narrative itself. It even delivered on some genuinely nice beats in the process. And so, all seems well.

My personal feelings are little bit different.

Because my experience with the finale was one where I felt like I was constantly rocked back and forth between the positive and negative aspects of certain choices. Because of this, I want to take a different approach and single out the things where I was like "oooh, neat!" along with all the things where I really got tripped up. Because when you really, really look at some of those moments, something more problematic emerges….
(13) DIDN'T SEE THIS COMING. Vox Day's own Castalia House blog reviewer likewise criticized WandaVision, calling it "acceptably mediocre," prompting Day to write a dissenting post in which he said that what the other reviewer called shortcomings hadn't affected his own enjoyment of the series — "In which I disagree" [Internet Archive link].
…While I always hesitate to share an opinion that is massively less-informed than a genuine expert's perspective, what I think we have here is a distinction between an informed Marvel fan's perspective and an uninformed non-Marvel non-fan's perspective on the series. Unlike Dark Herald, I didn't watch Wanda Vision from the perspective of someone who knew considerably more about the subject than having seen less than half of the MCU movies, most of which had only been viewed in order to learn how to write superhero movie scripts.

And at least from the ignorant, non-Marvel non-fan's perspective, Wanda Vision was a surprisingly good, surprisingly powerful story about a woman wrestling with horrific grief. The alternative interpretations and possibilities that were not pursued are meaningless to me, because I didn't know anything about the various historical storylines from the original comics, and therefore the production pyrotechnics with the evolving TV sitcom styles were presented were sufficiently intriguing to hold my interest in that regard.

There was, of course, an amount of the usual Marvel SJW nonsense, but it was minimal by today's standards and did not conflict with the storytelling….
(14) A LOT OF LOTR. "Colbert and Andy Samberg Get Real Geeky About LORD OF THE RINGS" — Yahoo! previews the video clip.
…In keeping with his usual vibe, Samberg maintained a sense of humor about Colbert showing him up in Tolkien knowledge; likewise, Colbert copped bashfully to his proclivity for long-winded rants when it comes to these stories. All in all, the two comics enjoyed a fun nerd sesh about one of the nerd world's favorite topics.
(15) JEOPARDY! Genre stumped two contestants again on tonight's Jeopardy. Andrew Porter shares his notes.
Category: Characters in Children's Lit.

Answer: When Wendy first meets Peter Pan, he's flown into her room searching for his lost this.

Wrong questions: What is a thimble?; what is childhood?

Correct question: What is his shadow?
(16) SPACE COMMAND. Showrunner Marc Scott Zicree has made available Space Command Episode One – "Mira Furlan's Last Great Role" – to YouTube viewers.
(17) SUPER RESULTS. The Late Show with Stephen Colbert featured a very positive report from the North Carolina bookstore owner featured in the show's small-business counterpart to the kind of celebrity-laden commercials aired during the Super Bowl: "Sales Triple At Foggy Pine Books After Receiving The Colbert Small Biz Bump" – video at the link.
The "Colbert Bump" is real! Just ask the owner of Foggy Pine Books in Boone, North Carolina, who enjoyed a huge surge in sales after being featured on our Super Bowl special.
(18) OF COURSE HE GETS WET. The original cast of the 1984 movie Gremlins is reunited to plug Mountain Dew. "Gremlins Mountain Dew Commercial: Gizmo & Zach Galligan Return".
Gizmo's all grown up and still getting into some mischief in Mountain Dew's new Gremlins commercial featuring the return of our favorite furry friend and star Zach Galligan in the fun new ad.
[Thanks to N., John King Tarpinian, Michael Toman, Andrew Porter, JJ, Cat Eldridge, John Hertz, Mike Kennedy, Ziv Wities, and Martin Morse Wooster for some of these stories. This mashup title credit goes to File 770 contributing editor of the day Daniel Dern.]