(1) OSCAR CHANCES. "Is Chadwick Boseman Headed for a Posthumous Best-Actor Oscar Win?" asks Vogue. Fans remember him as the Black Panther, King of Wakanda, and there may be other pages still to be added to his memory book:
With rave reviews for his performance as Levee, a blues trumpeter in 1920s Chicago, in the film adaptation of the August Wilson play Ma Rainey's Black Bottom—and now with a Screen Actors Guild nomination to go along with the Golden Globes nod he received on Wednesday—Chadwick Boseman may be inching ahead of his competitors in this year's Oscars race for best actor.

Many award prognosticators are already predicting that Boseman, who died of cancer in August at the age of 43, could become the third actor—following Peter Finch in Network and Heath Ledger in The Dark Knight—to win a posthumous Oscar for his performance. (At this point, his chief rival appears to be Riz Ahmed, who plays a punk-metal drummer beginning to go deaf in Sound of Metal. Ahmed has won several critics' awards as well as the best-actor citation from the National Board of Review.)…
(2) MURDER, HE WROTE. Mark Lawrence took a poll. The result, he says, is that "7.4% of you are monsters".
(3) O TEMPORA, O MORES! How the classics are neglected. The Washington Post needed to add this correction to the end of an article today —
Correction: A previous version of this story implied that a planet blows up in "The Empire Strikes Back." No planets blow up in that particular Star Wars film. This story has been updated.
(From the article "Kroger closes Ralphs, Food 4 Less stores over pandemic pay mandate".)
(4) ARGUMENT CLINIC. David Gerrold offered a new service on Facebook. This could be the coming thing.
At the suggestion of a friend, I am now charging $50 for 30 minutes of online argument.

Subject must be agreed on beforehand. (I reserve the right to decline.) Sources of data must also be agreed on before. (Fox News and other farce right sources will not be accepted. In return, I will forego CNN, NYT, Huffpost, Washington Post, and MSNBC)

No personal attacks aloud or allowed.

Only one argument per week please.
(5) ALPHABET SOUP IS BLUE. [Item by Cora Buhlert.] YInMn has now been approved for commercial use: "Meet YInMn, the First New Blue Pigment in Two Centuries" at Hyperallergic.
Cerulean, azure, navy, royal … Much has been written about the color blue, the first human-made pigment. "Because blue contracts, retreats, it is the color of transcendence, leading us away in pursuit of the infinite," wrote William Gass in his book On Being Blue: A Philosophical Inquiry. Wassily Kandinsky once mused: "The power of profound meaning is found in blue, and first in its physical movements of retreat from the spectator, of turning in upon its own center […] Blue is the typical heavenly color."

And now, for the first time in two centuries, a new chemically-made pigment of the celebrated color is available for artists — YInMn Blue. It's named after its components — Yttrium, Indium, and Manganese — and its luminous, vivid pigment never fades, even if mixed with oil and water.

Like all good discoveries, the new inorganic pigment was identified by coincidence….
(6) THE GAME'S AFOOT. The Guardian covers the many reimaginations of Sherlock Holmes, including a few that are clearly genre, as well as the ongoing conflicts with the litigious Arthur Conan Doyle estate: "'I think I've written more Sherlock Holmes than even Conan Doyle': the ongoing fight to reimagine Holmes".
…. "My step-grandmother, Dame Jean Conan Doyle, tried hard to stop the world doing what it liked with her father's fictional characters. In the end she realised this was a fruitless exercise," says Richard Pooley, director of the Conan Doyle estate and step- great-grandson of the author. "Instead she focused on giving her approval to those Holmes pastiches which were well-written and did not stray too far from Doyle's characterisation. We have tried to do the same."

The estate has authorised Horowitz's sequels and Lane's stories, but most Holmes adaptations come without the estate's stamp of approval – not that that appears to put readers off. Pooley says that its approval comes down to the quality of the writing, and if the writer stays "true to Doyle's depiction of Holmes's and Watson's characters" – meaning they don't mind if Cumberbatch's Holmes lives in modern London, or if Holmes and Watson are women, as in HBO Asia's Miss Sherlock….
(7) CREATIVITY BY THE HANDFUL. Another opportunity to hear from Octavia Butler researcher Lynelle George "about how a writer looks, listens, and breathes—how to be in the world." "A Handful of Earth, A Handful of Sky: The World of Octavia E. Butler: A Conversation with Author Lynell George". Register here.
George will be in conversation with Los Angeles artist Connie Samaras, an avid admirer of Butler's prose which served as the inspiration for her 2019 project "The Past is Another Planet", an illustrious depiction of the Huntington Library, home to Butler's archive.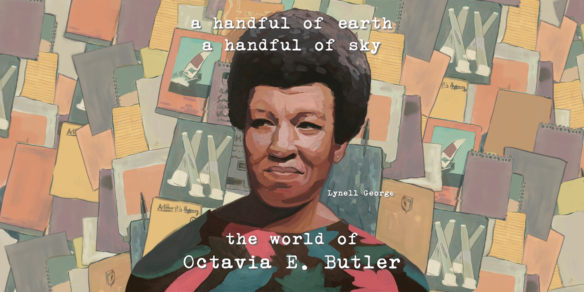 (8) MEDIA BIRTHDAY.
February 4, 1983 — Videodrome premiered. It was written and directed by David Cronenberg, with a cast of James Woods, Sonja Smits, and Debbie Harry. It was the first film by Cronenberg to get Hollywood backing and it bombed earning back only two million dollars of its nearly six million budget. In spite of that, critics and audience goers alike found it to a good film. Today it is considered his best film by many, and it holds a sterling seventy-eight percent rating among audience reviewers at Rotten Tomatoes.
(9) TODAY'S BIRTHDAYS.
[Compiled by Cat Eldridge and John Hertz.]
Born February 4, 1889 – Dorothea Faulkner.  Two short stories, half a dozen poems, in If and Slant (there's a range for you) and like that, under variations of "Rory Faulkner", "Rory Magill", "Dorothea M. Faulkner".  Active in the LASFS (Los Angeles Science Fantasy Society), serving a term as Secretary, and the Outlanders, also the N3F (Nat'l Fantasy Fan Fed'n).  Often seen in Now & Then.  With that and Slant you won't be surprised to hear she attended Loncon I the 15th Worldcon (at age 68) and was made a Knight of St. Fantony.  (Died 1999) [JH]
Born February 4, 1915 – Harry Whittington.  For us, one Man from U.N.C.L.E. novel and four novellas, and an essay on Fredric Brown for this collection; outside our field, note first HW's One Deadly Dawn was published as an Ace Double with Tucker's Hired Target; HW wrote two hundred novels – fourscore in one twelve-year span – under a score of names; quite possibly King of the Pulps; see here.  (Died 1989) [JH]
Born February 4, 1938 – Ted White, age 83.  Perhaps our most been-everywhere-done-everything fan alive.  A dozen novels, thirty shorter stories; assistant editor at The Magazine of Fantasy & Science Fiction, then edited Amazing and Fantastic (concurrently!), Stardate; columnist for Algol and Thrust; "Uffish Thots" and "The Trenchant Bludgeon" in SF Review; active beyond measure there, in Izzard, New Frontiers, Raucous Caucus, Riverside Quarterly, Yandro, and indeed File 770.  Interviewed by Schweitzer in SF Voices.  One Hugo (as Best Fanwriter; often a finalist as a pro), three FAAn (Fan Activity Achievement) Awards.  Chaired Lunacon 11-13.  Organized FanHistoricon 9 but couldn't attend.  Variously Pro and Fan Guest of Honor at Bubonicon 4, DeepSouthCon 18, RavenCon 11, Aussiecon Two the 43rd Worldcon.  Also musician and music critic (plays keyboards, saxophone).  British Fantasy Award for Heavy Metal.  Acidulous, enthusiastic, skeptical, strong; it would be a miracle not to think him sometimes wrong.  [JH]
Born February 4, 1940 — John Schuck, 81. My favorite SF role by him is as the second Draal, Keeper of the Great Machine, on the Babylon 5 series. I know it was only two episodes but it was a fun role. He's also played the role of Klingon ambassador Kamarag in Star Trek IV: The Voyage Home and in Star Trek VI: The Undiscovered Country.  He guest starred in Deep Space Nine as Legate Parn In "The Maquis: Part II", on Star Trek: Voyager as Chorus #3 in the "Muse" episode, and on Enterprise as Antaak in the "Divergence" and "Affliction" episodes.  Oh, and he was Herman Munster in The Munsters Today.  Now that was a silly role! Did you know his makeup was the Universal International Frankenstein-monster makeup format whose copyright NBCUniversal still owns? (CE) 
Born February 4, 1940 — George A. Romero. Is horror genre or genre adjacent? Either way, he's got an impressive listing form the Dead films, I count seven of them, to Knightriders, which is truly genre adjacent at best, and one of my favorites of him, Tales from the Darkside: The Movie. Oh, and he wasn't quite as ubiquitous as Stan Lee, but he did show up in at least seven of his films. (Died 2017.) (CE) 
Born February 4, 1941 — Stephen J. Cannell. Creator of The Greatest American Hero. That gets him Birthday Honors. The only other genre series he was involved with was The 100 Lives of Black Jack Savage which I never heard of, but you can see the premiere episode here. (Died 2010.) (CE)
Born February 4, 1959 — Pamelyn Ferdin, 62. She was in the "And the Children Shall Lead" episode of Trek. She'll show up in The Flying Nun (as two different characters),  voicing a role in The Cat in The Hat short, Night Gallery, Sealab 2020 (another voice acting gig), Shazam! and Project UFO. She'd have a main role in Space Academy, the Jonathan Harris failed series as well. (CE) 
Born February 4, 1961 — Neal Asher, 60. I'm been reading and enjoying his Polity series since he started it nearly twenty years ago. Listing all of his works here would drive OGH to a nervous tick as I think there's now close to thirty works in total. I last listened to The Line War and it's typically filled with a mix of outrageous SF concepts (Dyson spheres in the middle of hundred thousand year construction cycles) and humans who might not be human (Ian Cormac is back again).  (CE)
Born February 4, 1962 — Thomas Scott Winnett. Locus magazine editorial assistant and reviewer from 1989 to 1994. He worked on Locus looks at books and Books received as well. In addition, he wrote well over a hundred review reviews for Locus. He died of AIDS related pneumonia. (Died 2004.) (CE) 
Born February 4, 1968 – Neve Maslakovic, Ph.D., age 53.  From Belgrade to Stanford's STAR Lab (Space, Telecommunications, And Radioscience) to writing fiction.  Four novels, another due next month.  Likes the Twin Cities winters.  Has read Time and Again, A History of [Greek letter "pi"], Three Men in a Boat, nine by Wodehouse, five by Sayers, a Complete Sherlock Holmes, A Connecticut Yankee in King Arthur's Court.  [JH]
Born February 4, 1968 – David Speakman, age 53.  Until recently very active in the N3F, serving as Chair of the Directorate, editor of The Nat'l Fantasy Fan and Tightbeam; two Franson Awards, Kaymar Award, awarded a Life Membership.  As to "recently", he explains here.  [JH]
Born February 4, 1990 – Zach King, age 31.  Actor, author, digital-video illusionist.  Three novels for us.  Two London Film Festival first-place awards.  A video of him apparently flying on a broomstick had two billion views in four days.  "They rejected my application to Hogwarts but I still found a way to be a wizard."  Does he do it all with mirrors?  Website. [JH]
(10) FANZINE SPOTLIGHT. The newest installment of Cora Buhlert's Fanzine Spotlight series is a Q&A with Star Trek Quarterly editor Sarah Gulde: "Fanzine Spotlight: Star Trek Quarterly".
Why did you decide to start your site or zine?

I've been a Trekkie since TNG started in 1987, so when Chris Garcia and James Bacon asked me to guest edit an issue of Journey Planet, I did a whole Star Trek-themed issue. I reached out to people I know in the Trek community and asked them to write about how Star Trek had impacted their lives. I ended up receiving some really impactful stories, from a friend who had immigrated to the US finding a family, to another friend finding the courage to come out of the closet, all through Star Trek.

It was a game-changing experience for me to edit other people's stories. Everyone has a story to tell, but everyone is at a different writing level. Some pieces I didn't have to touch, while I spent hours editing others. I loved helping people tell their stories, and making sure those stories were heard.

I loved it so much I didn't want to stop with one issue! After some careful thought, I decided to create my own Star Trek-themed fanzine. Monthly was too much for me to take on by myself, so I went with quarterly. I asked Women At Warp, a feminist Trek podcast, to write a regular column. (Since then I've joined the show as a co-host.) I passed out flyers at the big annual convention in Las Vegas soliciting submissions for the first issue. And I posted to various Star Trek Facebook groups looking for more….
(11) SHOCKED, I TELL YOU. Delish reports "This Chocolate Easter Egg Features A Marshmallow Baby Yoda Inside". Eat Baby Yoda? And the Galerie Candy site is already sold out! What kind of barbarians are at the gates?
…The Mandalorian Egg-Shaped Magic Hot Chocolate Melt from Galerie Candy is very similar to a hot cocoa bomb—but without the hot chocolate mix. Made of milk chocolate, it's meant to be dissolved in a cup of hot milk to reveal the green Baby Yoda marshmallow inside. While it's intended use is to make hot chocolate, you can easily eat the Baby Yoda treat as is.
(12) DEEP WATERS. In Two Chairs Talking podcast Episode 45, "Not Waving but Drowning" —
David Grigg and Perry Middlemiss talk about the books they've been reading lately, ranging in length from novellas to a nine-volume, almost million-word opus written entirely in the form of letters. And a rather damp theme emerges…
(13) LIGHTEN UP. Frostbeard Studio adds a brand new bookish scent every month to its line of Book Lovers' Soy Candles and Bookish Goods.

Here's the description of their scented "Through the Wardrobe" candle:
Follow your nose through the woods to a mysterious lamppost where you'll embark on a magical adventure into wintry realms. You might be cozied up with blankets and a book, but you'll feel like you're being whisked away to a snowy, enchanted forest in another world.
(14) GET IN ON THE GROUND FLOOR. Camestros Felapton recommends this adaptation of a comic: "Review: Sweet Home".
…The monsters feel like a cross between The Thing and Attack on Titan but that weirdness aside, the story gradually drifts into a more conventional zombie-apocalypse survival narrative. The small number of survivors trapped on the ground floor of the Green Home apartment bloc, must find ways to band together to protect themselves from the surrounding nightmare. In later episodes they have to deal with an intruding human gang, as well as the secret agenda of the army which (as per usual) knows more about the plague than they are letting on. Luckily, by this point the viewer is more invested in the fate of the ensemble of characters who range from shop keepers to an improbable combination of people with bad-ass backstories.
(15) SUICIDE SQUAD. [Item by Mike Kennedy.]Warner Bros. has announced the official plot synopsis for Gunn's The Suicide Squad. Now let the betting begin on who gets Gunned down first. "The Suicide Squad Synopsis Teases a 'Search and Destroy' Mission" at CBR.com.
… Some of the DC villains and antiheroes called out in the synopsis include Bloodsport, Peacemaker, Captain Boomerang, Ratcatcher 2, Savant, King Shark, Blackguard, Javelin and "everyone's favorite psycho, Harley Quinn." Part of the Suicide Squad's mission will see them dropped off "on theremote, enemy-infused island of Corto Maltese."
(16) CONTRAPTIONS WITH PERSONALITY. These imaginative illos are a lot of fun: "Boris Artzybasheff's living machines / part one" and "Boris Artzybasheff's living machines / part two" at PastPrint.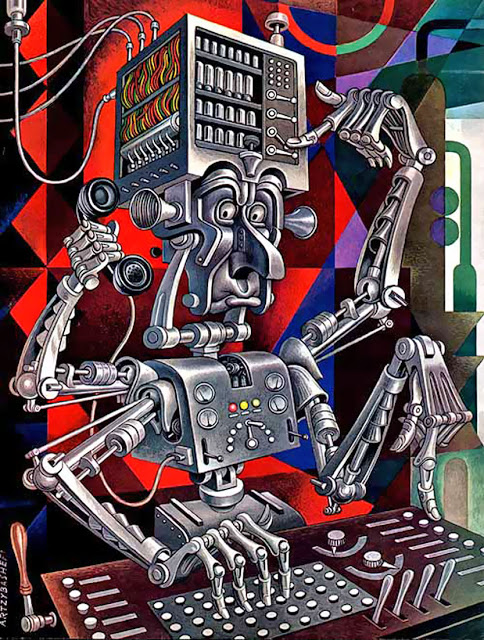 [Thanks to Michael Toman, Cora Buhlert, Martin Morse Wooster, Andrew Porter, JJ, Cat Eldridge, John King Tarpinian, John Hertz, and Mike Kennedy for some of these stories. Title credit goes to File 770 contributing editor of the day Ingvar.]