(1) RIDLEY TO WRITE NEXT BLACK PANTHER SERIES. The New York Times announced today in an exclusive interview that Academy Award-winning writer John Ridley (12 Years a Slave) will helm Marvel's next Black Panther comic book series alongside Marvel's Stormbreaker artist Juann Cabal (Guardians of the Galaxy). Their series will begin this August.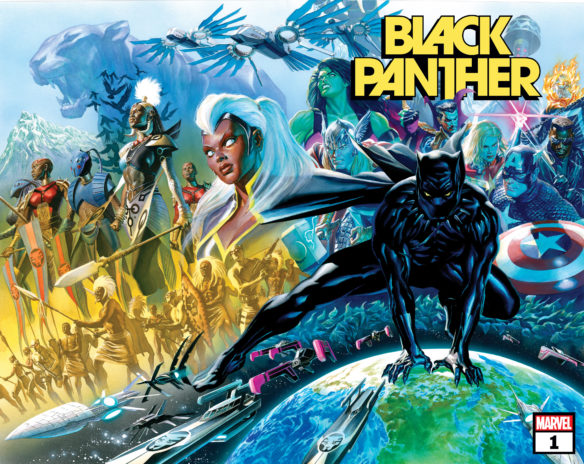 Building from the epic last chapter of Ta-Nehisi Coates' groundbreaking multi-year Black Panther run in BLACK PANTHER #25 next week, Ridley will kick off an action-packed espionage story that will impact everything in T'Challa's life and have ramifications for the entire Marvel Universe!

In this new ongoing series, secrets from T'Challa's past have come back to haunt him. Fresh from returning from his adventures in space, Black Panther receives an unexpected and urgent message from a Wakandan secret agent. T'Challa must race the clock not only to save his agent, but also to keep his true agenda under wraps. Because if the truth comes out, it could cost T'Challa everything…

"It's a hybrid espionage-superhero thriller, but at its core, it's a love story," Ridley told The New York Times. "And I don't mean just romantic love, although there's some of that as well. It's love between friends.

"We're coming out of a summer where we saw Black people fighting for our rights, standing up, fighting in ways that we haven't had to do in years," Ridley added. "And it was really important to me after the year we had where we can have these conversations with Black people and we can use words like love and caring and hope and regret and all these really fundamental emotions that everybody has."
(2) AMAZON PUBLISHING'S LIBRARY AGREEMENT. The Digital Public Library of America has signed an agreement with Amazon Publishing to make their ebooks available to U.S. libraries:
Digital Public Library of America (DPLA) is pleased to announce that we have signed an agreement with Amazon Publishing to make all of the approximately 10,000 Amazon Publishing ebooks and audiobooks available to libraries and their patrons through the DPLA Exchange, the only not-for-profit, library-centered content marketplace. This marks the first time that ebooks from Amazon Publishing have been made available to libraries. Like our previous publisher arrangements, this agreement furthers our mission to expand equitable access to ebooks and audiobooks while protecting library patron privacy.

Amazon Publishing titles will begin to be available in the DPLA Exchange via four licensing models this summer; we expect that libraries will be able to access all of the Amazon Publishing titles by the end of the year:
Unlimited, one user at a time access, two-year license
Bundles of 40 lends, available with a maximum of 10 simultaneously, with no time limit to use the lends
Bundles of five lends, available simultaneously, with no time limit to use the lends
26 lends, one user at a time access, the lesser of two years or 26 lends license
Library patrons will be able to access Amazon Publishing titles through SimplyE, the library-developed and managed e-reader app founded by New York Public Library.
Publishers Weekly's analysis says the deal will reduce pressure for a legislative solution:
…The deal will also serve to blunt a major criticism of Amazon, which until now had not made its digital content available to libraries under any terms—an exclusion that librarians have loudly criticized for years, and which was brought to the attention of lawmakers in an ALA report last year. In fact, an Amazon spokesperson revealed news of the potential deal with DPLA last year after reporters from The Hill contacted the company regarding a petition urging Congress to pursue "an antitrust investigation and legislative action to preserve and expand library services."
(3) LIVING INSIDE THE STORY. F&SF invites readers to find out just how far Eugen Bacon, author of "When the Water Stops" in F&SF's May/June issue, will go to research a new work in this author interview.
SRT: What literary (or other art/history) pilgrimages have you gone on?

EB: Bendigo is a mining town in Australia. I took a tour to the Central Debora Gold Mine for what they called Nine Levels of Darkness (228 metres) in a miner's cage to research a portion of my novel Mage of Fools by Meerkat Press in March 2022. One scene happens in a mine and I needed to experience it to write it. Imagine what would happen if I were researching a cannibalistic serial killer.
(4) CHILL OUT. James Davis Nicoll is all in favor of science fiction where the heroes get a nice nap before the action starts: "Space Hibernation: Five Stories Featuring Sleeper Ships" at Tor.com.
The Winds of Gath by E. C. Tubb (1967)

Determined to find his lost home world, Dumarest of Earth travels from world to world. Itinerate labourers like Dumarest must travel by the cheapest method available: cold sleep, AKA "Low Passage." True, the odds of waking from Low Passage are only five in six, assuming the traveller is well-fed and healthy, but it is a risk Dumarest and his companions accept.

Surviving yet another gamble with Low, Dumarest is confronted by yet another Low reality: there is no protection or warning for the traveller should the starship captain alter destination in flight. Rather than waking on prosperous Broome, Dumarest is stuck on tide-locked Gath. Gath is not prosperous and escape may prove quite difficult. If escape is possible at all.
(5) THE BEST OF CORA BUHLERT 2021. Cora Buhlert is making her 2021 Hugo Voter Packet submission available to everyone – and it's up now.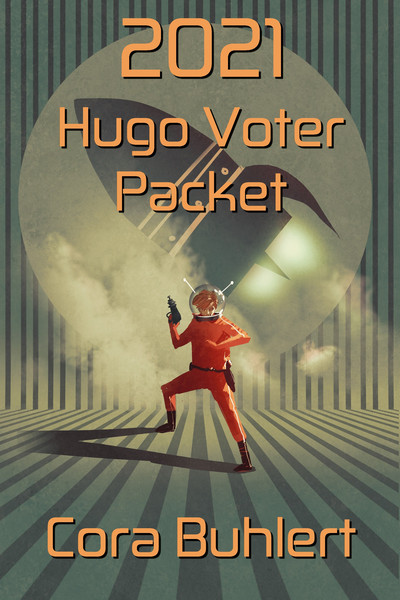 (6) PILING UP THOSE CANS OF FILM. "Amazon in talks to buy 'James Bond' movie studio MGM" reports the Los Angeles Times.
Amazon is looking to bulk up its film and TV operations with MGM's deep film library and substantial television production work as it looks to keep Prime Video competitive with Netflix and Disney+, which are spending billions to dominate the streaming wars, the sources said.

The Seattle company had long been thought to be a potential acquirer largely because of the appeal of the MGM film and TV library, which includes 4,000 movies such as "Robocop" "The Pink Panther" and "The Silence of the Lambs." MGM's scripted TV division is responsible for "Fargo," "The Handmaid's Tale" and "Vikings."

The Information first reported the talks, which escalated recently and are said to be in the advanced stages. Sources said the purchase price being discussed is within a range of $7 billion to $9 billion….
(7) ELECTION INTERFERENCE. Essence of Wonder with Gadi Evron will continue its discussion of threats to last year's US elections in "US Election Interference in 2020 and Beyond Part II – Domestic Interference". Register at the link. Joining the team for this program will be Bryson Bort (founder of Scythe), Matt Masterson (Former Election Security Lead for CISA), Harri Hursti (Nordic Innovation Labs), and SJ Terp (Strategist, ThreeT Consulting).
(8) LIVING IN SPACE. Jeff Foust reviews two books about the science of settling on Mars and the Moon for The Space Review: "Developing Space and Settling Space".
Developing Space by John Strickland with Sam Spencer and Anna Nesterova
Settling Space by John Strickland with Sam Spencer and Anna Nesterova

For all his talk about wanting to make humanity multiplanetary, Elon Musk hasn't said much about how he would ensure people would stay alive on another world. Musk is happy to talk about how Starship can make it possible for people to go to the Moon, Mars, and elsewhere in large numbers, including that vision of a million people living on Mars. But exactly what people would do once on Mars, and how they would survive the extreme environment there, is an exercise left for the reader.

That reader—or maybe Musk himself—could turn to the two volumes recently published by John Strickland, called Developing Space and Settling Space. Strickland, a longtime space advocate and regular contributor to The Space Review, spares no detail in his analysis of how humans can not only get to other worlds—or create their own in the form of space settlements—but also survive and thrive once they got there….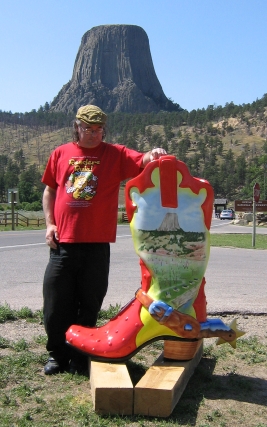 (9) DON SAKERS OBIT. Author and retired librarian Don Sakers (1958-2021) died May 17. From 2009 to the present he was Analog's book reviewer, with a "Reference Library" column in every issue.
He most enjoyed being remembered for exploring the thoughts of sapient trees in The Leaves of October (part of his Scattered Worlds series), beating the "Cold Equations" scenario ("The Cold Solution," Analog 7/91, voted the magazine's best short story of the year), and editing Carmen Miranda's Ghost is Haunting Space Station Three (1989), an anthology inspired by Leslie Fish's filksong, to which he contributed two stories.
Sakers lived at Meerkat Meade in suburban Baltimore with his spouse, costumer Thomas Atkinson.
(10) GRODIN OBIT. Actor Charles Grodin has died of cancer at the age of 86. His best genre roles were in the movies Rosemary's Baby (1968), King Kong (1976), Heaven Can Wait (1978), The Incredible Shrinking Woman (1981), and The Great Muppet Caper (1981). He also appeared in single episodes of TV's Captain Nice, and My Mother the Car. The Hollywood Reporter's career notes mention —
…Grodin's characters occasionally displayed a sinister side. In King Kong (1976), he played the shady businessman who tries to cash in on the giant ape; two years later, he portrayed an oily lawyer in the screwball comedy remake Heaven Can Wait, starring Warren Beatty.

Early in his career, Grodin was in the running to star as Benjamin Braddock in The Graduate (1967), then played an obstetrician in Rosemary's Baby (1968)….
(11) MEDIA ANNIVERSARY.
May 18, 1962 — On this date in 1962, The Twilight Zone aired "I Sing The Body Electric," scripted by Ray Bradbury. They make a fairly convincing pitch here. It doesn't seem possible, though, to find a woman who must be ten times better than mother in order to seem half as good, except, of course, in the Twilight Zone. — Intro narration. Although Bradbury contributed several scripts to the series, this was the only one produced. An large ensemble cast was needed, hence Josephine Hutchinson, David White, Vaughn Taylor, Doris Packer, Veronica Cartwright, Susan Crane and Charles Herbert all being performers. This was the year that the entire season of the series won the Best Dramatic Presentation Hugo at Chicon III.
(12) TODAY'S BIRTHDAYS.
[Compiled by Cat Eldridge and John Hertz.]
Born May 18, 1852 – I.L. Peretz. A great figure in Yiddish literature; a score of stories for us, among which a classic version of the golem legend. Extra credit: compare Avram Davidson's. (Died 1915) [JH]
Born May 18, 1919 – Margot Fonteyn. Dame Commander of the Most Excellent Order of the British Empire; named prima ballerina assoluta of the Royal Ballet by Elizabeth II. Danced many fantasies e.g. The Firebird, Giselle, Raymonda, Swan Lake. (Died 1991) [JH]
Born May 18, 1930 — Fred Saberhagen. I'm reasonably sure I've read the entirety of his Berserker series though not in the order they were intended to be read. Some are outstanding, some less so. I'd recommend Berserker Man, Shiva in Steel and the original Berserker collection. Of his Dracula sequence, the only one I think that I'veread is The Holmes-Dracula File which is superb. And I know I've read most of the Swords tales as they came out in various magazines. (Died 2007.) (CE)
Born May 18, 1931 – Don Martin. Album covers for Miles Davis, Art Farmer, Stan Getz. A cover and thirty interiors for Galaxy. Mad's Maddest Artist, of floppy feet, onomatopoeia – his car license plate was SHTOINK – and National Gorilla Suit Day. Fourteen collections. Ignatz Award, Nat'l Cartoonists Society's Special Features Award, Will Eisner Hall of Fame. (Died 2000) [JH]
Born May 18, 1934 — Elizabeth Rogers. Trek geeking time. She had two roles in the series. She provided the uncredited voice for "The Companion" in the "Metamorphosis" episode. She also portrayed Lt. Palmer, a communications officer who took the place of Uhura, in "The Doomsday Machine", "The Way to Eden", and the very last episode of the series, "Turnabout Intruder". She also had appearances on Time Tunnel, Land of The Giants, Bewitched, The Swarm and Something Evil. (Died 2004.) (CE)
Born May 18, 1946 — Andreas Katsulas. I knew him as Ambassador G'Kar on Babylon 5 but had forgottenhe played the Romulan Commander Tomalak on Star Trek: The Next Generation. His first genre role on television was playing Snout in A Midsummer Night's Dream and he had a recurring role in Max Headroom as Mr. Bartlett. He also had appearances on Alien Nation, The Death of the Incredible Hulk, Millennium, Star Trek: Enterprise anda voice role on The Real Adventures of Jonny Quest. (Died 2006.) (CE)
Born May 18, 1946 – Larry Smith, F.N. Chaired Marcon III-XII, Fan Guest of Honor at XIII; vice-chair of Chicon IV, Fan Guest of Honor at Windycon 27; co-chaired Ohio Valley Filk Fest 14, World Fantasy Con 2010. Fellow of NESFA (New England SF Ass'n; service). Bought Dick Spelman's book business when DS retired, became a leading book dealer with wife Sally Kobee, ran Dealers' Room at many Worldcons. (Died 2017)
Born May 18, 1948 – R-Laurraine Tutihasi, age 73. Active in fanzines, the N3F (Nat'l Fantasy Fan Fed'n; won its Kaymar and Franson awards), and otherwise. Loccer ("loc" also "LoC" = letter of comment, the blood of fanzines) at least as far back as Algol and The Diversifier, also Argentus, Janus, Flag, Broken Toys. Her own fanzine is Purrsonal Mewsings. [JH]
Born May 18, 1952 — Diane Duane, 69. She's known for the Young Wizards YA series though I'd like to single her out for her lesser-known Feline Wizards series where SJW creds maintain the gates that wizards use for travel throughout the multiverse. A most wonderful thing for felines to do! (CE)
Born May 18, 1958 — Jonathan Maberry, 63. The only thing I've read by him is the first five novels in the Joe Ledger Series which has a high body count and an even higher improbability index. Popcorn reading with Sriracha sauce. I see that he's done scripts for Dark Horse, IDW and Marvel early on. And that he's responsible for Captain America: Hail Hydra which I remember as quite excellent. (CE)
Born May 18, 1969 — Ty Franck, 52. Half of the writing team along with Daniel Abraham that's James Corey, author of The Expanse series. I'll admit that I've fallen behind by a volume or two as there's just too many good series out there too keep up with all of them, damn it, but now that it's ended I intend to finish it. (CE)
(13) COMICS SECTION.
At Lio's booth he charges ten times what Lucy did – which makes a kind of sense when you consider what the demand was for his makeover material a year ago.
(14) IN TUNE WITH SFF. Jackiem Joyner is a contemporary saxophonist, author, and music producer. He's released seven albums, has two number one hit songs, and five Top 10 Billboard singles. On the sff side, his second sff novel, Timelab: Episode One, came out in October.
Two Scientists. One from long ago. The other from modern day 2018.
Both on the precipice of greatness.
Both met with disdain, and in one case, branded a witch.

Sir Bernard, a seasoned and trusted scientist, living in the time of King Caesar, is lauded by many… until his invention sparks rage and fear among the people. When they brand him as a witch, practicing dark magic, he makes a daring escape via his time machine.
He finds himself in San Francisco, 2000 years in the future. There, he befriends Kyle, a young, talented physics student, whose brilliance also sparks distrust, and in some cases, maltreatment.
Together, the two scientists are a formidable force, but there are barriers that prevent them from making good use of their scientific theories.
Sir Bernard's homeland is on the brink of war. To save his people, he must go back in time, but first he'll need a new, more powerful time machine.
Kyle has struggles of his own. His brain puts him ahead of the class, but he has trepidation about his mother's legacy. He wants to clear her name and prove that she didn't intentionally detonate a scientific lab, killing everyone, including herself.
Two scientists from vastly different worlds fight to erase the past. Can they prove their theories are real and can they save lives and reputations, including their own?
(15) YOU HAVE TO BE OH SO SMART OR OH SO NICE. The artist is trying to nice despite the kerfuffle: "'Sinister' statue of mythical Irish creature put on hold in Co Clare" – IrishCentral tells all about it.
Sculptor Aidan Harte has shared with IrishCentral his thoughts about the controversy surrounding his 'Púca of Ennistymon' statue.

Harte told IrishCentral on Wednesday morning: "All I can say is that it matters what all the people of Clare think.

"A vocal minority seem to have been set against it from the start, and that culminated with the priest denouncing it from the altar as a pagan idol.

"That's silly; the Púca is no more pagan than the leprechaun.

"But since the controversy went national there's been a swing, with locals who like it now speaking up. That's welcome and I hope it goes ahead.

"The brief was to make a statue that would attract tourists to Ennistymon. The Púca hasn't even been put up yet and all Ireland is already talking about it!"
(16) THAT'S WHAT TIGERS DO. Entertainment Weekly tells how "C. Robert Cargill pays tribute to a sci-fi hero in robot apocalypse novel Day Zero".
C. Robert Cargill's just-published science-fiction novel Day Zero hinges on the relationship between a boy named Ezra and his tiger-resembling "nannybot," Pounce.

"It's the eve of the robot revolution," the author and Doctor Strange co-writer, 45, tells EW. "When everything hits the fan, it's up to a nannybot to decide whether he wants to join the revolution or protect the boy he loves."

… Day Zero is a tip of a hat to the late science fiction writer Harlan Ellison, whose tale A Boy and His Dog found a character named Vic and his telepathic canine partner Blood attempting to survive in a post-apocalyptic world. Cargill got to know Ellison when he and Doctor Strange director Scott Derrickson signed on to turn the Ellison-written Outer Limits episode "Demon With a Glass Hand" into a movie.

"The big deal was announced and nobody had told Harlan," says Cargill. "Harlan immediately hit all of the [web] boards he was frequently on and goes, 'Who the hell is C. Robert Cargill?' Three different friends reached out to me on the same Saturday morning and said, 'Ah, Harlan Ellison is looking for you. He seems kind of pissed.'"

Although the film was never made, the pair became friendly.
(17) CATCH 'EM ALL. Input leads the cheers for this obsessive collector: "All hail King Pokémon!"
"We're honored to have the one and only King Pokémon!" an announcer calls out.

On this mid-March day, he strides into Collect-A-Con, a two-day, first-of-its-kind conference dedicated to non-sports trading cards, in Frisco, Texas. By his side are fellow Pokémon royalty — RealBreakingNate and Leonhart, two mega-popular Pokémon Trading Card Game (TCG) YouTubers. Making his way through the cheering crowd, King Pokémon waves and smiles, his demeanor that of a kid popping bubbles: lit-up, blissful.

The King is Gary Haase, a 67-year-old father of three from Las Vegas. His Pokémon TCG collection's estimated total value is more than $10 million, making it the most expensive in the world. In this windowless Embassy Suites ballroom, owning top-tier Pokémon cards makes you a star. And Haase, who has obsessively collected Pokémon cards since 1998, is a bona fide celebrity. One meet-and-greet, expected to go for an hour and a half, lasts five hours….
(18) QUACKING UP. The New Yorker chronicles "The Strange Story of Dagobert, the "DuckTales" Bandit".
…He mailed a ransom note to the store demanding a million marks—the equivalent of more than a million dollars today. "I gave you a demonstration of my determination to achieve my goal, including with violence," he warned. "The next time there will be a catastrophe." Funke instructed the store to place a coded message in the Hamburger Abendblatt newspaper if it was willing to comply: "Uncle Dagobert greets his nephews." Dagobert Duck is the German name for Scrooge McDuck, the money-grabbing duck from Disney's "Uncle Scrooge" comics and "DuckTales" TV show.

Funke sent directions to a forested area, where police officers found a box attached to a telephone pole, with a linen bag inside bearing the "DuckTales" logo and an image of Scrooge McDuck. They also found a strange contraption designed to connect the money bag to the back of a train using electromagnets. Funke instructed them to attach the money bag to a train from Rostock to Berlin. When the train roared past, he pushed a button on a transmitter to deactivate the magnets, but the package didn't drop; the police had tied it to the train. He sent another letter, changing the pickup location. On August 14th, he again waited near the train tracks, wearing gloves, black glasses, and a gray wig. This time, the package eventually detached and crashed against the tracks. As Funke ran to pick it up, the train stopped and police officers jumped out. "Stand still or I'll shoot!" an officer cried, firing his weapon into the air.

Funke grabbed the package and scampered to safety. When he opened it, he saw that only four thousand marks were real; the rest was Mickey Mouse money. He had threatened the store with another bomb if it didn't pay up. Meanwhile, it didn't take the police long to connect the two bombings: both involved voice changers, a treasure hunt, ingenious gadgets, and money thrown from a train. They were dealing with a serial bomber who appeared to take inspiration from the capers in comic books featuring Scrooge McDuck. From that moment on, they called him Dagobert….
(19) TRAILER PARK. Hotel Transylvania: Transformania comes to theaters July 23. SYFY Wire frames the scene:
As the film opens, the title hotel — set up by Dracula (Brian Hull, replacing original star Adam Sandler) as a haven for himself and his monster friends where they could be free of human persecution — is celebrating its 125th anniversary, and Dracula's son-in-law Johnny (Andy Samberg) is doing his best to throw a killer bash for his father-in-law. When things go wrong, Johnny worries that he'll never really be able to relate to Dracula and his pals because he's not a monster.

Enter Van Helsing (Jim Gaffigan), who reveals that he's developed a "Monsterification Ray" that will transform Johnny into the monster he's always wanted to be. Of course, the ray can also transform any monster it hits into a human, and when the invention goes haywire, the whole monster squad gets an unexpected and unwelcome taste of mortality.
(20) VIDEO OF THE DAY. In "Honest Game Trailers: Resident Evil Village" on YouTube, Fandom Games says in this game you "Have the arena of a small country as you blast away at vampires, werewolves, livestock, and the Borg!"
[Thanks to Andrew Porter, Martin Morse Wooster, JJ, Michael Toman, John King Tarpinian, Cat Eldridge, John Hertz, and Mike Kennedy for some of these stories. Title credit goes to contributing editor of the day Tom Becker.]