(1) OVERVIEW OF SF IN CHINA. A lot of good information in Regina Kanyu Wang's "Chinese Science Fiction Goes Global", available in English at Korean Literature Now.
…Back in 1991, 1997, and 2007, Science Fiction World, the largest SF magazine and publisher in China, convened for international conventions that not only received government support, but featured government leaders in attendance. Since 2016, the China Association for Science and Technology has sponsored the China SF Convention in Beijing, Chengdu, and Shenzhen. Not only was the opening ceremony attended by the Chinese vice president, but association leaders and local officials have attended every year since then. In 2017, Chengdu, Sichuan Province, co-hosted the 2017 China SF Con as well as the China International SF Conference, and it was declared that the latter event would, in perpetuity, become biennial and be held in Chengdu.

The aforementioned names and their linkages may be a complicated matter, but suffice it to say, the two major SF conventions in contemporary China are led by the China Association for Science and Technology and the Sichuan Province Association for Science and Technology. Another grassroots science fiction event—the Xingyun (Nebula) Awards for Global Chinese Science Fiction ceremony—gained government support and commercial viability a few years after being financially sponsored by its founders. Unlike the fan-fueled activities of their international counterparts, the major SF conventions within China are tied to the popularization of science and development of the SF industry and rarely do without speeches from officials, high-level summits, laser light shows, closed-door banquets, and the like. To solidify the connection between domestic and foreign conventions, the science and technology associations and local governments have regularly sent representatives to Worldcon in recent years, heading overseas to study how to hold international SF conventions, with panel discussions, marketplaces, exhibitions, and parties—and various other activities that have since become commonplace. Relatively speaking, China's science fiction conventions have become fancier, as well as more commercial, whereas overseas science fiction conventions have generally become more grassroots.

Particularly noteworthy is the case of Chengdu, Sichuan Province, home of the longstanding Chinese SF institution, Science Fiction World magazine. Today, Chengdu is competing with Memphis in the United States to host the 2023 Worldcon. This is but one such initiative designed to cement Chengdu's reputation as the Capital of Science Fiction. According to the 2019 Chinese Science Fiction Industry Report: "In order to develop the city's 'Silicon Valley' for science fiction film and television industry, Chengdu plans to invest more than 2 billion yuan and add another 200,000 square meters to its current size of 150,000 square meters, for a total gross investment of 26 billion yuan." Chengdu is not the only local government to invest in science fiction as a growth sector. In the city of Mianyang, also in Sichuan Province, the Pisces Dome Sci-Fi World is a project that spans about 2500 Chinese mu—or 412 acres—and calls for a total gross investment of 5 billion RMB to implement cutting-edge VR/AR (virtual reality and augmented reality) technology, establishing the city as a science and technology tourist destination. In Qianjiang, Hubei Province, plans are underway for the construction of the so-called Chinese Sci-Fi Author Village, where authors will be invited to assume the post of village head and write works on the theme of the Qianjiang crawfish (a local delicacy), and engage in other related commercial activities.

Thus, it should be clear that to the Chinese government, science fiction is not only literature, but a lucrative industry….
(2) CONTRADICTING THE RECEIVED WISDOM. From [link to pirate site removed.]
HALDERMAN: You do invent wonderful landscapes. The Earthsea trilogy creates such a vivid picture of the sea—have you done a lot of sailing?

LE GUIN: All that sailing is complete fakery. It's amazing what you can fake. I've never sailed anything in my life except a nine-foot catboat, and that was in the Berkeley basin in about three feet of water. And we managed to sink it. The sail got wet and it went down while we sang "Nearer My God to Thee." We had to wade to shore, and go back to the place we'd rented it and tell them. They couldn't believe it. "You did what?" You know, it's interesting, they always tell people to write about what they know about. But you don't have to know about things, you just have to be able to imagine them really well.
(3) MORE ABOUT LUPOFF. The Wikipedia reminds us:
Starting in 1977, Lupoff co-hosted a program on Pacifica Radio station KPFA-FM in Berkeley, California that featured book reviews and interviews, primarily with science fiction (and mystery) authors. Originally an occasional one-hour program called Probabilities Unlimited, after several months it became a regular weekly, half-hour program called simply Probabilities, which aired until 1995. The program relaunched that year as Cover to Cover; Lupoff departed in 2001 to focus on his writing career. Among the notable authors interviewed by Lupoff and his co-host, Richard Wolinsky, were such luminaries as Ray Bradbury, Octavia Butler, Richard Adams, Ursula K. Le Guin, and Kurt Vonnegut.
Andrew Porter says all of Dick's interviews on KPFA are still on the Internet here. And he sent three photos he took of Lupoff over the years. [Credit: Photos by and copyright © Andrew Porter.]
(4) NYRSF READINGS. The New York Review of Science Fiction Readings for November 2 features James Morrow. The online event and starts at 7:00 Eastern. Jim Freund says —
Normally we convene (virtually or not) on the first Tuesday of each month, but this November that would mean Election Eve, and it was pointed out that may be a wee bit distracting. But you can't ask for a better distraction than James Morrow, who will read from his latest published novella, "The Purloined Nation," from the anthology "And the Last Trump Shall Sound."

James Morrow is the award-winning author of over ten novels, as well as novellas and short-story collections. His critically acclaimed works include Blameless in Abaddon, New York Times Notable Book of the Year, and The Last Witchfinder called "provocative book-club bait" and "an inventive feat" by critic Janet Maslin. He has twice received the World Fantasy Award, for Only Begotten Daughter and Towing Jehovah, and has also won the Nebula Award and the Theodore Sturgeon Memorial Award. He lives in State College, Pennsylvania, with his wife and their two enigmatic dogs.

Arc Manor Books is generously offering a 40% discount to attendees through the end of November. the other contributors are Cat Rambo and Harry Turtledove, so you'll want to take advantage.
(5) BEST BOOKS OF 2020. Locus Online has extracted the works of genre interest from the list of "Publishers Weekly Best Books 2020" (see the full list at PW.) Their coverage begins with the SF/Fantasy/Horror category.
The City We Became, N.K. Jemisin (Orbit)
Everyone on the Moon Is Essential Personnel, Julian K. Jarboe (Lethe)
The Invisible Life of Addie LaRue, V.E. Schwab (Tor)
The Lost Future of Pepperharrow, Natasha Pulley (Bloomsbury)
The Only Good Indians, Stephen Graham Jones (Saga)
Riot Baby, Tochi Onyebuchi (Tor.com publishing)
Strange Labour, Robert G. Penner (Radiant)
There are also works of genre interest in other categories.
(6) IT'S PERSONAL. Anna Martino tells why we should remember Captain Nemo in "Personal Canons: Jules Verne".
…My 10th birthday, in January of 1991, was a special occasion for two very different reasons. There was a war going on in Iraq, and the adults at the party talked of little else. And my maternal grandmother — a Brazilian-Italian lady who had never been the warmest of women — gave me a collection of Jules Verne's books as a present.

Those eleven hardcover books had once belonged to my mother. They were first published in Brazil in the early 1960s, with proper names translated into Portuguese (Conseil became Conselho and the Times of London became O Tempo) — but, other than that, they were completely unabridged.

These two facts moulded my life. I was curious about that strange, televised war — even moreso when my father explained there were rules to the battle. This led me, many years later, to a Master's Degree in International Relations, focusing on conflict and news reception (namely, how do you know what you think you know about other countries?)

And then there was Captain Nemo.

Whenever someone talks about "The Great Canon of SFF", I notice more of what's not being said than what is. I'm Brazilian: my canon isn't your canon. There's the language barrier and the cultural perspective to consider. More's the pity if you can't read in Portuguese: you are missing out on fantastic stuff (but that's a topic for another moment.)…
(7) EATING THE FANTASTIC. Scott Edelman invites everyone to "Get crunchy with Robert Shearman" in Episode 130 of Eating the Fantastic podcast.
Robert Shearman has won the World Fantasy Award, the Shirley Jackson Award, and multiple British Fantasy Awards for his fiction, some of which has been gathered in such collections as Love Songs for the Shy and Cynical (2009), Remember Why You Fear Me (2012), They Do the Same Things Different There (2014), and earlier this year, a massive three-volume collection We All Hear Stories in the Dark. His writings for television, radio, and the stage have won him the Sophie Winter Memorial Trust Award, the Sunday Times Playwriting Award, the World Drama Trust Award, and the Guinness Award for Theatre Ingenuity. He also wrote the Hugo Award-nominated Doctor Who episode "Dalek" at the request of producer Russell T. Davies.

We discussed the reason we're lucky we each survived to adulthood, how he almost talked his way out of selling his first short story, the way he starts every story thinking it's funny even as things turn horrific, why some readers find his new collection offensive and others uplifting, how he's following up that three-volume, 2,000-page, 650,000-word, 101-story collection, the way his brush with COVID-19 has affected his writing, and much more.
(8) WILLETT'S NEW BOOKS. In September, Saskatchewan author, Edward Willett released two books.
The Moonlit World from DAW is the third novel in his Worldshaper series.
In The Moonlit World, fresh from their adventures in Master of the World in a world inspired by Jules Verne, Shawna Keys and Karl Yatsar find themselves in a world that mirrors much darker tales. Beneath a full moon that hangs motionless in the sky, they're forced to flee terrifying creatures that can only be vampires…only to run straight into a pack of werewolves….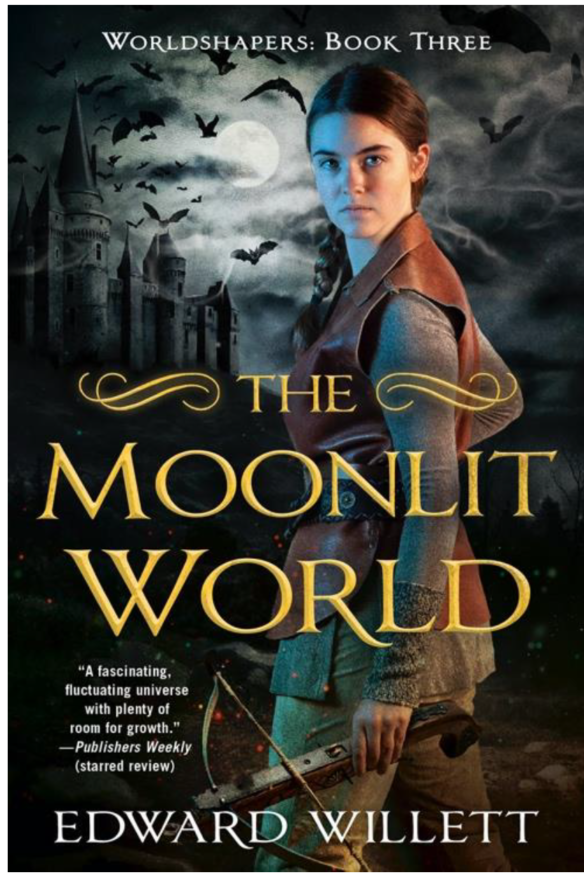 His second release, Shapers of Worlds, is an anthology project that Willett took on himself with his own press and features stories from multiple award winners and international best sellers in the science fiction genre. Shapers of Worlds was successfully Kickstarted earlier this year, raising $15,700 from more than 330 backers and the book will be available through all major retailers. The ebook came out September 22, and the print edition is coming out November 14 Regina's Shadowpaw Press.
Shapers of Worlds features new stories from Seanan McGuire, Tanya Huff, David Weber, L.E. Modesitt, Jr., D.J. Butler, Christopher Ruocchio, John C. Wright, Shelley Adina, and Willett himself, plus reprints from John Scalzi, David Brin, Joe Haldeman, Julie E. Czerneda, Fonda Lee, Dr. Charles E. Gannon, Gareth L. Powell, Derek Künsken, and Thoraiya Dyer.
All of the featured authors were guests during the first year of Willett's podcast, The Worldshapers, winner of the 2019 Aurora Award (Canada's top award for science fiction and fantasy) for Best Fan Related Work.
Willett is himself an award-winning author of more than sixty books of fantasy, science fiction, and non-fiction for readers of all ages.
(9) PAINSTAKING. Elizabeth Bear is interviewed about her new book, Machine, a sequel to Ancestral Night, at Fantasy Hive.
Dr. Jens in Machine has a chronic pain condition. And that's one of the things that mediates the way through which she interacts with the world around her. What was it like writing for a character with this condition?

I have an autoimmune condition myself. So I do have a certain amount of chronic pain. It's not as debilitating as Jens' chronic pain. It occurred to me while I was writing this book that I have, throughout my career, actually tended to write a lot of characters with some sort of chronic pain disability. All the way back to my first published novel, Hammered, the protagonist of which is a military veteran with some long-term damage from her combat experience. This is the first time though that I've really been conscious of the fact that I was writing something like that out of my own experience.

It's odd how your brain compartmentalizes things.

This is very personal, but I think it's because I had a really bad autoimmune flare starting in about the summer of 2015. That has really changed my ability to do a lot of things that I took for granted. We all process our trauma through our art. If you try not to do it, you're just going to be writing very two-dimensional art. And so, it was in some ways cathartic. It was in some ways difficult and emotional. But also, I feel very strongly that there need to be narratives about marginalized people that do not center that marginalization. That there need to be narratives about queer people where the entire point of the narrative is not to problematize their queerness. And having grown up very rarely seeing somebody who I felt reflected me in the books that I was reading, I like to be able to widen the door to different kinds of protagonists.

I think the real strength of science fiction and fantasy right now, my generation of writers and the generation of writers that are right after us, is that we are very diverse in our backgrounds and outlooks. And that… that is making science fiction and fantasy a much wilder and more interesting place.
(10) CHAMPION OBIT. Marge Champion, a great dancer in the 1940s and 1950s who was also a model that Disney animators used as Snow White and a hippopotamus in Fantasia died October 21 reports SYFY Wire. She was 101 years old. The Hollywood Reporter adds:
…Marge even danced for them as the dwarf Dopey, she recalled. She also served as a Disney model for the Blue Fairy in Pinocchio (1940), for Hyacinth Hippo in Fantasia (1940) and for Mr. Stock in Dumbo (1941).

…In 1936, she performed before large crowds with the Los Angeles Civic Opera and a year later married Art Babbitt, the Disney animator who created Goofy (she was 17 and he was 29; they divorced in 1940). She then played Snow White in a touring vaudeville act with The Three Stooges.
(11) MEDIA ANNIVERSARY.
1970 — Fifty years ago at Heicon '70 which had John Brunner as Toastmaster, The Left Hand of Darkness by Ursula K. Le Guin won the Hugo for Best Novel. Runner-ups were Robert Silverberg's Up the Line, Piers Anthony's Macroscope, Kurt Vonnegut, Jr's Slaughterhouse-Five and Norman Spinrad's Bug Jack Barron. She would also win the Nebula for this novel. In all, she would garner nine Hugos with her final one being for the superlative The Books of Earthsea: The Complete Illustrated Edition for Best Art Book as illustrated by Charles Vess.
(12) TODAY'S BIRTHDAYS.
[Compiled by Cat Eldridge and John Hertz.]
Born October 23, 1919 – Roy Lavender. Engineer. First Fandom (active at least as early as the first Worldcon, 1939; few still alive; a First Fandom organization continues). Cincinnati Fantasy Group. Los Angeles Science Fantasy Society. Fan Guest of Honor, Kubla Khatch 22. Memoir here. Len Moffatt's appreciation here (PDF). "When the Apollo circled the Moon and the astronauts reached into B-3 locker for their cameras, they pulled them from the shock absorbing sheath I designed. On the test stand for the Saturn rockets, cameras look up into the flame to photograph the performance (or failure) of the engines. They survive in a protective box I designed." (Died 2007) [JH]
Born October 23, 1935 — Bruce Mars, 85. He was on Trek three times, one uncredited, with his best remembered being in the most excellent Shore Leave as Finnegan. He also had one-offs in The Time Tunnel, Voyage to the Bottom of The Sea, and Mission: Impossible. (CE)
Born October 23, 1938 — Christopher Lloyd, 82. He has starred as Commander Kruge in The Search for Spock, Emmett "Doc" Brown in the Back to the Future trilogy, Judge Doom in Who Framed Roger Rabbit, and Uncle Fester in The Addams Family and the Addams Family Values. (Huh. I didn't spot him in those.) Let's not forget that he was in The Adventures of Buckaroo Banzai Across the 8th Dimension as John Bigbooté, and he played Dr. Cletus Poffenberger in a recurring role on Tremors. (CE)
Born October 23, 1938 – Bob Pepper. Ten dozen covers. Here is Titus Groan. Here is a Fahrenheit 451. Here is a Demolished Man. Here is Lord Tyger. Here is The Continent Makers. Here is Lucky Starr and the Rings of Saturn. (Died 2007) [JH]
Born October 23, 1940 — Terry Gilliam, 80. He's directed many films of which the vast majority are firmly genre. I think I've seen most of them though I though I've not seen The Man Who Killed Don Quixote, Tideland, The Zero Theorem or The Imaginarium of Doctor Parnassus. I've seen everything else. Yes, I skipped past his start as the animator for Monty Python's Flying Circus which grew out of his for the children's series Do Not Adjust Your Set which had staff of Eric Idle, Terry Jones, and Michael Palin. Though he largely was the animator in the series and the films, he did occasionally take acting roles according to his autobiography, particularly roles no one else wanted such those requiring extensive makeup. He's also co-directed a number of scenes. Awards? Of course. Twelve Monkeys is the most decorated followed by Brazil with two and Time Bandits and The Fisher King which each have but one. My favorite films by him? Oh, the one I've watched the most is The Adventures of Baron Munchausen followed by Time Bandits. (CE)
Born October 23, 1948 – Kent Bloom, 72. Chaired Denvention 3 the 66th Worldcon. Earlier, living in Washington, DC, chaired DatClave 1 (Jack Chalker's con report here); after moving to Denver, Smofcon 16 (SMOF for "secret masters of fandom", as Bruce Pelz said, a joke – nonjoke – joke; SMOFcon draws people who often do the work at SF conventions and want to do it better). Host (with wife Mary Morman) of First Friday Fandom. Fan Guest of Honor (with Mary), Westercon 71. [JH]
Born October 23, 1952 – Donna Andrews, 68. A detective-fiction novel about an Artificial Intelligence personality that became sapient (I don't know why people keep misusing "sentient" which means having senses – plants and animals are sentient, but so far as we can now perceive aren't sapient, a distinction which makes a difference), named Turing Hopper, won the Agatha Christie award for best mystery of the year (You've Got Murder, 2002); three more. Many other novels and shorter stories in that genre. See her Website. [JH]
Born October 23, 1953 — Ira Steven Behr, 67. Best remembered for his work on the Trek franchise, particularly Star Trek: Deep Space Nine, on which he served as showrunner and executive producer. As writer and or producer, he been in involved in Beyond Reality, Dark Angel, The Twilight Zone, The 4400, Alphas, and Outlander. (CE)
Born October 23, 1957 – Olga Slavnikova, 63. Won the Russian Booker Prize for her novel 2017 (tr. English 2010); also for us A Light Head (2010; Eng. Light-headed 2015). Five other novels. Director since 2001 of the Debut Prize; see this 2012 New Yorker interview. [JH]
Born October 23, 1959 — Sam Raimi, 61. Responsible for, and this is not a complete listing, the Darkman franchise , M.A.N.T.I.S., the Jack of All Trades series that Kage loved, the Cleopatra 2525 series, Hercules: The Legendary Journeys and Xena: Warrior Princess series and the Spider-Man trilogy. (CE)
Born October 23, 1983 – Dan Salmieri, 37. Illustrator, sometimes for us. Here is his note about his book Bear and Wolf. Here is a sketch from the New York Times about the Twins Study brothers Mark & Scott Kelly. Here is one from Data Collector. Here is one from Brain Pickings. Here is a cover for What Do Dragons Like Best to Eat? (in Dutch). [JH]
Born October 23, 2007 — Lilly Aspell, 13. She's a Scottish-born performer best known so far for portraying the young Diana in Wonder Woman. She was Newschild in Holmes & Watson, and Megan in the alien invasion flick Extinction. (CE)
(13) COMICS SECTION.
Close To Home says this is about Halloween but it reminds me of Dr. Moreau.
(14) CHECKING IN. Andrew Porter tears himself away from the TV to share a moment from tonight's Jeopardy! He says, "Not SF/F, but memorable!"
Category: Movie Sum-Up

Answer: Death takes a chess holiday; your move, Max Von Sydow.

Wrong questions: "What is Checkmate?" "What is Bill and Ted's Bogus Journey?"

Correct question: "What is 'The Seventh Seal'?"
(15) FROM BUS STOP FLOP TO TOP. The Guardian alerts viewers "Documentary to tell how Dorset bus drivers took Alien to West End".
When they came up with the idea of adapting the classic sci-fi horror film Alien for the stage, a troupe of amateur actors from deepest Dorset intended it to be faithful to the terrifying original.

It did not quite work out as as planned. The sets were shaky, the monsters not very scary and the acting not up to Hollywood standards – only one of the cast went with an American accent, the rest stuck with English west country. Nobody was frightened.

Alien on Stage, put on by a group of bus drivers and their friends, would have sunk without a trace had it not been noticed by a couple of London-based artistic types who had the madcap idea of transferring it to the West End of London.

The weird and wonderful tale of how Alien on Stage came to be performed in the West End is being told in a documentary to be premiered on Saturday at FrightFest in London…
(16) BRIDGE OVER RUBBLED WATERS. When Twisted Sifter says "This Animation of How Bridges Were Constructed in 14th Century Prague is Amazing" they speak sooth!
In this informative animation we learn how the iconic Charles Bridge was constructed in 1357. The historic bridge crosses the Vltava (Moldau) river in Prague, Czech Republic and is 516 metres (1,693 ft) long and nearly 10 metres (33 ft) wide. It was built as a bow bridge with 16 arches shielded by ice guards.
(17) ALL AIN'TS DAY. James Davis Nicoll's "Five SF Tales About Dead or Dying Worlds" is not a Halloween-themed piece, but it does contain the word candy.
Life on Earth is most likely doomed…in a billion years or so. The Sun's slowly increasing luminosity will trigger a runaway greenhouse effect like that seen on Venus. Later stages in stellar evolution will further sear the Earth into an airless husk (unless the red giant sun simply gobbles up the planet like a piece of candy). Oh woe is us!

The following five tales of dying worlds might be of some interest during this interesting time. Remember: when the prospect of yet another Zoom meeting provokes anxiety and loathing, we can always tell ourselves that it could be worse…
(18) VIDEO OF THE DAY. In "If A Ghost Possessed Someone in 2020" on YouTube, Ryan George explains that demonic possession just isn't scary in tumultuous 2020.
[Thanks to John King Tarpinian, John Hertz, JJ, Mlex, Michael Toman, Mike Kennedy, Andrew Porter, Martin Morse Wooster, Scott Edelman, and Cat Eldridge for some of these stories. Title credit belongs to File 770 contributing editor of the day C.A. Collins.]