(1) MORE ALA HONORS. We linked the 2019 youth awards from the American Library Association the other day. Here are two more sets of awards and recommended reading lists from the ALA: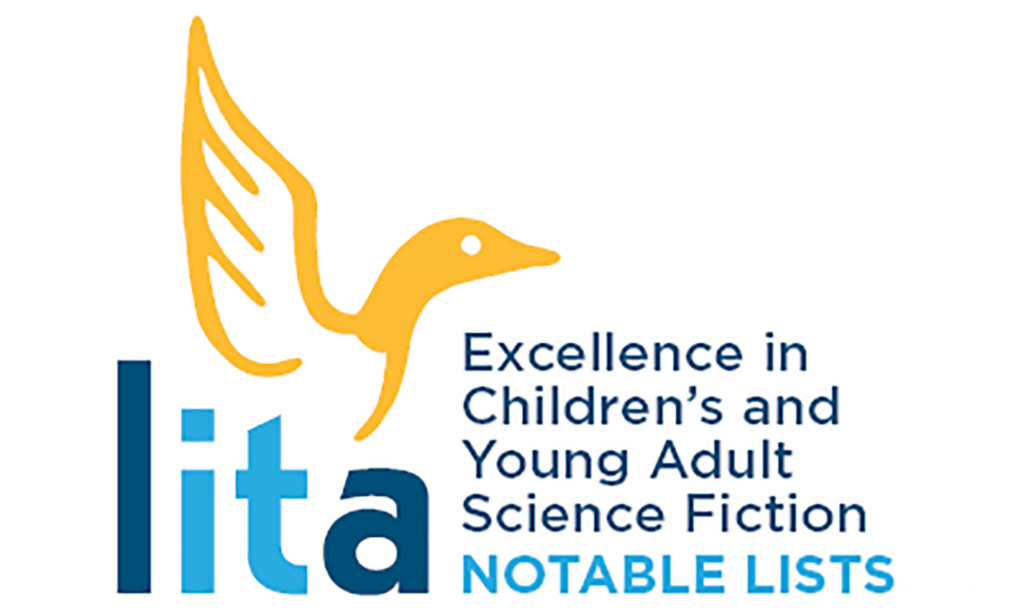 LITA: The LITA Excellence in Children's and Young Adult Science Fiction Notable Lists. The link is to the 2019 iteration, which is the successor to the Golden Duck awards formerly given out at Worldcon. (LITA, the Library and Information Technology Association, is a division of ALA). The list has three categories:
Golden Duck List (Picture Books)
Eleanor Cameron List (Middle Grade Books)
Hal Clement List (Young Adult Books)
The 2019 list has lots of authors you've heard of including Greg Van Eekhout, Fonda Lee, Brandon Sanderson, and Will McIntosh.
And here's the link to the 2018 list.
READING LIST: The Reading List is an annual list of recommended genre books put out by the Reference & User Services Association, another division of ALA. "Readers' Advisory Experts Announce 2019 Reading List: Year's Best in Genre Fiction for Adult Readers". Here are the winners in the sff/h genre categories:
Fantasy
Foundryside: A Novel by Robert Jackson Bennett. Crown, an imprint of the Crown Publishing Group, an imprint of Penguin Random House LLC.
Horror
The Silent Companions: A Novel by Laura Purcell. Penguin Books, an imprint of Penguin Random House LLC.
Science Fiction
The Calculating Stars by Mary Robinette Kowal. A Tor Book, published by Tom Doherty Associates.
(2) PICARD. Ethan Alter, in the Yahoo! Entertainment "Patrick Stewart teases return of Jean-Luc Picard, says new 'Star Trek' series 'is a 10-hour movie'", has an interview with Sir Patrick where he says he is playing Picard, that he thinks of his new Trek series "as a ten-hour movie" and that he will look younger (and not have a beard) than the Picard portrayed in the last episode of Star Trek: The Next generation."
Stewart elaborated on why he's ready to boldly go back to Star Trek in our interview. "I agreed to a meeting with the people who were going to produce this new version of Star Trek only because I wanted to seriously and respectfully explain to them why I was turning the project down. I heard just enough to realize this was something very unusual, and I was intrigued. What I was afraid of was … this was going to be jokey, and I didn't want to do that.' I asked a lot of questions and the answers were all very satisfying."

Naturally, Stewart declined to share any of those answers with us. But he did reveal a few tantalizing details. For starters, this new series will tell one long tale instead of Next Generation's episodic structure. "They are writing a 10-hour movie," the actor says…
(3) 4 CAPTAINS, 4 CREWS. An IDW Star Trek miniseries will bring together characters from a quartet of Trek shows in the same comic pages (SYFY Wire: "Exclusive preview: Starfleet's finest captains unite in IDW's new Star Trek: The Q Conflict"). The story includes art for the cover of Issue 1 and five interior pages.
In a grand event that can only occur in the creative dimensions of the comic book realm, the brave Star Trek crews and gallant captains of The Next Generation, The Original Series, Voyager, and Deep Space 9 will converge in a new IDW mini-series to pool their resources and hold the galaxy together against insurmountable odds.

Written by the scribes of Star Trek: TNG: Mirror Broken, Scott Tipton & David Tipton, this bold six-part adventure premiering today is matched with soaring art by David Messina (The Bounce, Wonder Woman) and corrals this historic collection of charismatic Starfleet commanders for the first time.
(4) MIGNOGNA. Anime News Network's post "'Far From Perfect': Fans Recount Unwanted Affection from Voice Actor Vic Mignogna" extensively documents examples of these charges, as well as additional criticisms of Mignogna's alleged anti-Semitic statements.
…Where is the line for appropriate guest and attendee behavior and what should be done when it's crossed?

These questions came to the forefront of social media these last weeks as rumors about convention guests and staff interactions with minors stopped being whispered and instead were shouted. A Twitter thread posted on January 16 accused dub voice actor Vic Mignogna of homophobia, rude behavior, and most concerning, making unwanted physical advances on female con-goers. The thread quickly spread with over 4,000 retweets at the time of this writing and over 400 comments, many relaying their own negative experiences, including unwanted and unsolicited physical affection from the Fullmetal Alchemist voice actor. As with any claims involving a person with a moderate fan following, Mignogna's supporters were quick to attempt to discredit individuals' claims or at the very least dispute the voice actor's intentions behind kissing or hugging attendees unannounced.

…Mignogna also assured his fans that the statements being made wouldn't be seriously considered by others in the business. His claim of course, wasn't entirely baseless. Rumors about Mignogna's alleged behavior toward con-goers and supposed outbursts at fellow voice actors and con staff have been shared within insider circles for over a decade. While researching this article, I kept learning of more conventions that supposedly "blacklisted" Mignogna from ever returning. Yet, any attempts to reach out to long-time staff for each event were met with silence. If the rumors were true, no one with any kind of power in the industry was willing to talk about it.
(5) CLARKESWORLD BOOKS. Neil Clarke is launching a translation-focused publishing imprint with Kickstarter funding, and its first book will be "A Hundred Ghosts Parade Tonight and Other Stories by Xia Jia"
 In 2014, we launched a Kickstarter campaign with the hope of expanding our content to include translated Chinese science fiction in every issue. The response was overwhelmingly positive, and not only did we successfully raise the funds to do so, but (over the next year) we also increased our subscriber base to continue the project indefinitely. With help from Storycom, we now have over forty translated stories under our belt. Recently, we began to wonder if there was more we could do to expand on this important work and create additional opportunities for authors seeking to have their work translated and published in English. 

…The focus of this campaign is to help us secure the funding to produce our debut book: A Hundred Ghosts Parade Tonight and Other Stories, the first English language collection by Xia Jia, an extremely talented author that I've had the pleasure of publishing seven times in Clarkesworld and various anthologies, including one of my earlier Kickstarter projects, Upgraded. I couldn't be more pleased to have her collection serve as the introduction to our new imprint. 
(6) YA CONTROVERSY. Was Amélie Wen Zhao harassed into pulling her YA fantasy Blood Heir before publication, or did she make a wise decision?
Criticism of how race was treated, levied by readers of the book's ARC, set off another YA tweetstorm. Caro Herrera's review on Goodreads said:
…Speaking of this, let's get to a really problematic scene in the story. I'm talking about the whole Katniss/Rue scene at the slave auction. Oh, sorry, I meant to say Ana/May. Yeah, that entire scene was lifted from Hunger Games, let's be real. Small black child dies in the arms of the white MC, while the MC sings a song that she taught the child? Come on. We've seen this before, both in a book and on the big screen. I cringed the entire time I read this. And did I mention the SLAVE AUCTION? Where a BLACK CHILD is killed?

Let's talk about diversity for a minute. I know the book is written by a WOC. As a WOC myself, I was excited to read this, and I love to support POC authors, especially women. But that doesn't mean all POC get a pass when their books are problematic. And this book was problematic. As another reviewer has mentioned, all diverse characters were used as props or were evil, so…? How is this truly introducing diversity and accurate and/or positive representation into the story, as the author claimed in her foreword to want to do?
The tweetstorm phenomenon was counterattacked by Jesse Singal in a thread that starts here.
And The American Conservative's Rod Dreher ("Amelie Zhao Learns To Love Big Brother") thought it was a golden opportunity to lambast Social Justice Warriors once again:
Donald Trump didn't destroy Amelie Wen Zhao's dreams. People wearing #MAGA hats didn't shame her into withdrawing her debut novel. Progressives on social media did. These people are the enemy. They colonized her mind, and caused her — a Chinese immigrant! — to hate herself. I hope that they haven't broken her spirit. Orwell, in these final lines from 1984, understands what they've done to her…
(7) TODAY'S BIRTHDAYS.
[Compiled by Cat Eldridge.]
Born January 30, 1924 – Lloyd Alexander. His most well-crafted work is The Chronicles of Prydain. Though drawn off Welsh mythology, they deviate from it in significant ways stripping it of much of its negativity.  To my belief, it is his only genre writing as I don't hold the Westmark trilogy to actually be fantasy, just an an alternative telling of European history. Splitting cats hairs? Maybe. He was also one of the founders of Cricket, an illustrated literary journal for children. The late illustrator Trina Schart Hyman whose art I lust after, errrr, adore was another founder. (Died 2007.)
Born January 30, 1926 – Peter Brachacki. Set designer for the very first episode of Doctor Who. Everything I've been able to read on him and that work says that he was not at all interested in working on the series and did so reluctantly under orders. Doctor Who producer Verity Lambert would  later recount that she was impressed with Brachacki's work on the TARDIS interior even though she personally did not like him at all. His design elements persist throughout the fifty years the series has been produced. His only other genre work that I've been able to find was Blake's 7  and a short series called the The Witch's Daughter done in the late Seventies. The BBC wasn't always great at documenting who worked on what series.  (Died 1980.)
Born January 30, 1930 – Gene Hackman, 89.  Let's see… Lex Luthor in Superman, Superman II and Superman IV: The Quest for Peace, Young Frankenstein's Harold, The Blind Man and voiced General Mandible in the animated Antz film. 
Born January 30, 1937 – Vanessa Redgrave, 82. I think her role of Guinevere in Camelot is her first genre role. Yes that's a fantasy. From there I see she's Lola Deveraux in The Seven-Per-Cent Solution, Max in Mission: Impossible, Robin Lerner in Deep Impact, Countess Wilhelmina whose The Narrator of Jack and the Beanstalk: The Real Story in which Jim Henson reworked the story to give it "a more ethical, humanist view".  Really. Truly. She next shows in the adaptation of Cornelia Funke's The Thief Lord as Sister Antonia. I've only got two series appearance for her, one on Faerie Tale Theatre as The Evil Queen in, surprise not, the "Snow White and the Seven Dwarfs" episode; the other on the Young Indiana Jones Chronicles as Mrs. Prentiss in the "London, May 1916" episode.
Born January 30, 1941 – Gregory Benford, 78. His longest running series is Galactic Center Saga, a series I find a little akin to Saberhagen's Beserker series. I've not read enough of it to form a firm opinion. Other novels I've read by him include Timescape (superb) and A Darker Geometry: A Man-Kzin Novel (Yes I do read Baen Books). 
Born January 30, 1955 – Judith Tarr, 64. I'm fond of her Richard the Lionheart novels which hew closely to the historical record while introducing just enough magic to make them fantasy. The novels also make good use of her keen knowledge of horsemanship as well. Her Queen of the Amazons pairs the historical Alexander the Great, with a meeting with the beautiful Hippolyta, who is queen of the Amazons. Highly recommended.
Born January 30, 1963 – Daphne Ashbrook, 56. She played Grace Holloway in the Doctor Who film– a portrayal that upset some Whovians because she was the first companion to romantically kiss the Doctor, the Eighth Doctor in this case. She played the title character in "Melora", an episode of Deep Space Nine.
Born January 30, 1974 – Christian Bale, 45. First enters our corner of the mediaverse in a Swedish film called Mio in the Land of Faraway where he plays a character named  Yum Yum. Note though that he doesn't speak in this role as his Swedish voice in done by Max Winerdah. So his playing Demetrius in A Midsummer Night's Dream is his speaking role. Next up is American Psycho in which he was Patrick Bateman, that was followed by a role in Reign of Fire asQuinn Abercromby (shitty film, great cgi dragons). He was John Preston in Equilibrium, and hevoiced Howl in Howl's Moving Castle, a film well worth seeing.  Need I say who he plays in Batman Begins? I thought not. He'd repeat that in The Dark Knight and The Dark Knight Rises. Amidst being Batman, he was also John Connor in Terminator Salvation. His last genre role to date was voicing Bagheera in Mowgli: Legend of the Jungle asked off Kipling's All the Mowgli Stories. He's got a television genre credit, to wit Jim Hawkins in Treasure Island off the Robert Louis Stevenson of that name.
(8) LORD OF THE RINGOS? Peter Jackson is not going to just Let It Be says the Richmond Times-Dispatch:
The Beatles' farewell documentary "Let It Be" is getting an encore, and a reinvention.

"Lord of the Rings" director Peter Jackson announced Wednesday that he is making a new film out of some 55 hours of footage — shot in January 1969 — that have never been seen by the public. The original movie, directed by Michael Lindsay-Hogg, came out in 1970, soon after the Beatles broke up and has long been viewed as a chronicle of the band members growing apart. In a Rolling Stone interview given months after the film's release, John Lennon recalled the making of "Let It Be" as a miserable experience.

But Jackson says the additional footage tells a very different story. "It's simply an amazing historical treasure-trove," he said. "Sure, there's moments of drama — but none of the discord this project has long been associated with."
(9) BATTLE BREW. Passport to Iron City transports visitors directly into the retro-futuristic world of Alita: Battle Angel, the upcoming 20th Century Fox film by Robert Rodriguez, James Cameron and Jon Landau, in advance of its February 14 opening. Guests can explore the movie's Iron City, which has been recreated down to the last detail by the film's production designers.
Live like a local in Iron City: join your team for exclusive drinks at the Kansas, the famous hunter-warrior watering hole, and explore the vibrant streets of Iron City, where you'll interact with the City's gritty residents and visit familiar landmarks, from the infamous cyborg scrapyards to the high-energy Motorball Stadium. Earn credits by completing puzzles and challenges, experiment with innovative technology, and uncover hidden clues to determine your fate.

This 12,000 square foot futuristic interactive playground will transport you to another world, unlike anything you've ever experienced!
Thematic beers have been created to accompany the event.
Three Weavers crafted a big, double dry-hopped wheat IPA called Berserker for the New York City event. For Austin, Three Weavers collaborated with Oskar Blues Brewery to create an eclectic pomegranate lime gosé named Badlands. And for their home city of Los Angeles, brewmaster Alexandra Nowell developed a fashionable lemon basil brut ale dubbed Panzer Kunst. Additional beers are available, including Three Weavers' Expatriate IPA and Seafarer kölsch-style ale in Los Angeles and New York; and Three Weavers' Seafarer kölsch-style ale and Oskar Blues' Can-O-Bliss IPA in Austin.
(10) TWILIGHT ZONING OUT. Did John nap through the part where the alien creature tried to break off the edge of this wing?
(11) THE OUT LAWS OF ROBOTICS. NPR has the story: "A Robot Named 'Tappy': Huawei Conspired To Steal T-Mobile's Trade Secrets, Says DOJ".
The Justice Department unsealed two separate indictments of Chinese telecom device maker Huawei on Monday. But only one of them reads like the script of a slapstick caper movie.

That would be the one that describes the U.S. government's case alleging that Huawei stole trade secrets from T-Mobile, the wireless service company.

In the indictment, the government says that between June 2012 and September 2014, Huawei repeatedly made efforts to steal information about the design of a T-Mobile robot. The robot's name, adorably, is "Tappy."

We would like to include a photo here of Tappy, but photographing the robot is expressly prohibited by T-Mobile, and Tappy is kept under very tight security in a lab at T-Mobile headquarters in Bellevue, Wash.

Tappy's job is to test devices before they go to market. With a rubber-tipped robotic arm, it touches the device screen, imitating a human using the phone — while at the same time tracking problems, measuring how long tasks take to complete, and monitoring how much battery is drained by each task.
(12) THE NEW NUMBER TWO. Penguin Middle School will soon be publishing the second book in the Klawde: Evil Alien Warlord Cat series:
Klawde is not your average cat. He's an emperor from another planet, exiled to Earth. He's cruel. He's cunning. He's brilliant… and he's about to become Raj Banerjee's best friend. Whether he likes it or not.
(13) ARCOLOGIES FOR REAL? Business Insider says that, "These billion-dollar cities are straight out of science fiction, and they will soon become a reality." These arcologies seem to be straight out of Oath of Fealty, though maybe without MILLIE.
Cities may be a long way from hovercrafts and Hyperloops, but they're slowly catching up to the visions of science fiction. 

Technologies that once seemed impossible, like driverless cars and drone taxis, are now popping up mega-developments around the world. 

By designing cities from scratch, nations like India, Saudi Arabia, and the US can accommodate new innovations in infrastructure and deliver services more efficiently to residents. 
(14) S.H.I.E.L.D. TEASER. How will the Agents of S.H.I.E.L.D. move on without Coulson? Here's your first look at Season 6. The premiere episode, 'Missing Pieces', is directed by Clark Gregg and written by Whedon and Tancharoen, and will air in July 2019 on ABC.
[Thanks to Linda Deneroff, Martin Morse Wooster, Carl Slaughter, Galen Charlton, Andrew Porter, John King Tarpinian, JJ. Cat Eldridge, Chip Hitchcock, and Mike Kennedy for some of these stories. Title credit goes to File 770 contributing editor of the day Daniel Dern.]