(1) THOUSANDS SIGN AUTHORS GUILD LETTER CALLING ON AI INDUSTRY TO PROTECT WRITERS. Over 9000 authors, including genre-recognizable names like Margaret Atwood, Michael Chabon, Carmen Machado, Joe Hill, Edward M. Lerner, Brendan DuBois, Terri Windling, Matthew Kressel, Sean Wallace, and Cecilia Tan, have signed an open letter from the Authors Guild to the CEOs of companies developing AI generative software to not use their members' work without consent, credit, and compensation when developing their systems.
Authors Guild press release: "More than 9,000 Authors Sign Authors Guild Letter Calling on AI Industry Leaders to Protect Writers".
The Authors Guild, the leading professional organization for writers in the United States, has submitted an open letter to the CEOs of prominent AI companies, including OpenAI, Alphabet, Meta, Stability AI, IBM, and Microsoft. The letter calls attention to the inherent injustice of building lucrative generative AI technologies using copyrighted works and asks AI developers to obtain consent from, credit, and fairly compensate authors.

More than 9,000 writers and their supporters have signed the letter including luminaries such as Dan Brown, James Patterson, Jennifer Egan, David Baldacci, Michael Chabon, Nora Roberts, Jesmyn Ward, Jodi Picoult, Ron Chernow, Michael Pollan, Suzanne Collins, Margaret Atwood, Jonathan Franzen, Roxane Gay, Celeste Ng, Louise Erdrich, Viet Thanh Nguyen, George Saunders, Min Jin Lee, Andrew Solomon, Rebecca Makkai, Tobias Wolff, and many others.

The open letter emphasizes that generative AI technologies heavily rely on authors' language, stories, style, and ideas. Millions of copyrighted books, articles, essays, and poetry serve as the foundation for AI systems, yet authors have not received any compensation for their contributions. These works are part of the fabric of the language models that power ChatGPT, Bard, and other generative AI systems. Where AI companies like to say that their machines simply "read" the texts that they are trained on, this is inaccurate anthropomorphizing. Rather, they copy the texts into the software itself, and then they reproduce them again and again.

Maya Shanbhag Lang, president of the Authors Guild, said, "The output of AI will always be derivative in nature. AI regurgitates what it takes in, which is the work of human writers. It's only fair that authors be compensated for having 'fed' AI and continuing to inform its evolution. Our work cannot be used without consent, credit, and compensation. All three are a must."…
The text of the open letter is here. It begins:
We, the undersigned, call your attention to the inherent injustice in exploiting our works as part of your AI systems without our consent, credit, or compensation.

Generative AI technologies built on large language models owe their existence to our writings. These technologies mimic and regurgitate our language, stories, style, and ideas. Millions of copyrighted books, articles, essays, and poetry provide the "food" for AI systems, endless meals for which there has been no bill. You're spending billions of dollars to develop AI technology. It is only fair that you compensate us for using our writings, without which AI would be banal and extremely limited.

We understand that many of the books used to develop AI systems originated from notorious piracy websites. Not only does the recent Supreme Court decision in Warhol v. Goldsmith make clear that the high commerciality of your use argues against fair use, but no court would excuse copying illegally sourced works as fair use….
(2) SFWA JOINS GLOBAL EFFORT. SFWA sent members a message encouraging them to read the AG's open letter and consider signing it. And as an organization that have signed onto another initiative: "NWU Joint Action on AI Copyright Exceptions and Authors Guild AI/ML Open Letter".
Last week, SFWA signed the "Creators Call for Action on Artificial Intelligence (AI) Copyright Exceptions," a joint action from 24 creator-led organizations delivered to the European Union and United States governing bodies. This letter addresses the harm already caused to creators by AI companies' manipulations of exceptions to copyright enacted by the 2019 European Union Directive on Copyright in the Digital Single Market. The details of this issue are well explained on the National Writers Union (NWU) website.

We felt it was important to sign onto this particular joint call for a number of reasons:
Working with other organizations to monitor and respond to developments both in generative AI and in the legal environment around it is essential to advocating for concrete protections and restitution for writers.
Responding to the unique issues that AI presents to creative copyrights is a global effort, not one limited to Silicon Valley. It's important to ensure that writers' rights are respected around the world, so corporations who may try to relocate their operations rather than compensate creators fairly will have no place to go.
This letter, written by the NWU, is one such global effort, and we encourage everyone to read the letter in full to better understand some of the important copyright issues regarding the use of AI/ML applications. You are welcome to distribute the joint call and spread the word. Access the PDF of the complete joint call for action here.
(3) TA-NEHSISI COATES ON THE SCENE. The author went to South Carolina to show his support. "Ta-Nehisi Coates Shows Up to SC School Meeting Over Removing His Book From Class" reports Daily Beast.
Ta-Nehisi Coates — screencap from news video.

A South Carolina school board meeting, in which community members railed against an African American culture writer's award-winning memoir about racial injustice, featured a special guest appearance: Ta-Nehisi Coates, the famed author in question.

On Monday evening, the Lexington-Richland District 5 School Board met to discuss the outrage concerning Coates' 2015 nonfiction bestseller, Between the World and Me, which has repeatedly caused political literary mayhem among reactionary right-wing communities and been placed on book ban lists.

In February, after getting approval from higher-ups, an AP Language teacher at Chapin High School conducted a lesson involving Between the World and Me. The book, written as an essay to Coates' son to prepare him for the life he will live as a Black man, details personal accounts of Coates' life and his first-hand experiences with racism. However, the lesson was shut down and the book was removed from the course after students filed a complaint claiming the book made them feel "guilty for being white," local news outlet CBS 19 Columbia reported.

According to footage obtained by CBS 19, a slew of people wearing blue rallied in support for the book and for academic freedom during the board hearing. And Coates sat in the back of the room next to the teacher who assigned the book as a sign of solidarity….

… The board did not conduct a vote after public discussion.

In a statement to The Daily Beast, Lexington-Richmond District 5 wrote that it is "important to understand" that Between the World and Me "is not banned in our school district."…
(4) INNOCENCE ASSERTED. Michele Lundgren, wife of sff artist Carl Lundgren, charged by Michigan authorities this week with numerous felonies as a fake Trump elector, gave an interview to a reporter in which she says she was duped. "I was an innocent little bystander in the whole thing thinking I was doing my civic duty."
However, if you watch this Detroit Free Press video from December 15, 2020 — https://www.youtube.com/watch?v=P_NgLQxMV9c&t=206s — it shows her just after the Michigan fake electors were turned away from the State House, standing next to Ian Northon, an attorney, nodding vigorously as he explains his theory of why the GOP fake electors should have been let in. (Thanks to Kathryn Cramer for the link.)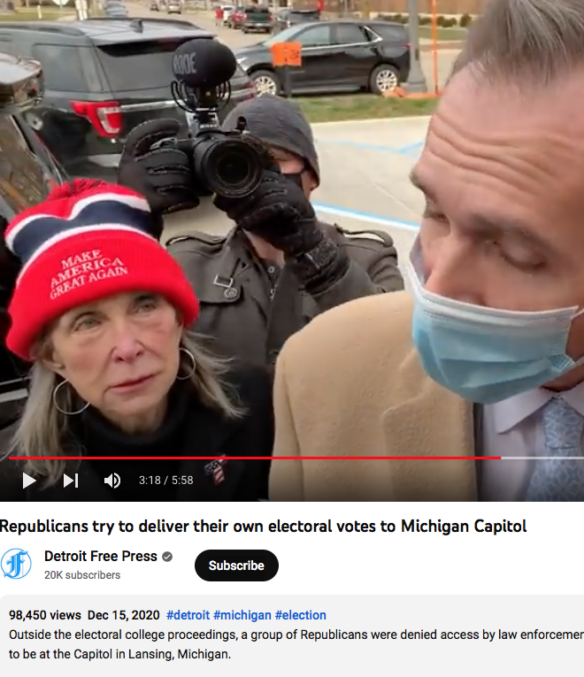 (5) LIADEN UNIVERSE® CREATORS. Paul Semel interviews "'Salvage Right' Co-Authors Sharon Lee & Steve Miller".
… As with all of the stories in the Liaden Universe® series, Salvage Right is a sci-fi space opera story. But are there any other genres at work in this story as well?

Sharon: Salvage Right is as pure a space opera as we've written in a while. It was fun to let all the stops out.

Steve: We also draw from regency romance and comedy of manners fiction; almost every time a character bows that's tip of the hat to Georgette Heyer!

Are there any writers, or stories, who had a big influence on Salvage Right but not on anything else you've written?

Steve: I don't think so; nothing recent, certainly, and with Salvage Right being a merge of story lines, it would be hard to filter one new factor in, I think.

Sharon: Harlan Ellison's short story "I Have No Mouth And I Must Scream"; The Prestige, the novel by Christopher Priest….
(6) O CAPTAIN, MY CAPTAIN. Kimberly Unger is at San Diego Comic-Con. From her hotel room window she was able to take a great photo of this bit of Star Trek publicity.
(7) TRACING OPPENHEIMER'S FOOTSTEPS IN SOUTHERN CALIFORNIA. William Deverell takes readers on a historic tour of a Caltech neighborhood significant to the history of J. Robert Oppenheimer in "The Pasadena Project" at Alta Online.
It's only a couple of hundred yards from our house to the heart of the Caltech campus, less than a 10-minute walk, an environment our dogs never tire of exploring. Devoted mostly to classrooms, dorms ("houses," in Caltech parlance), and research labs, the campus is almost always quiet, and if you know where to look, there are places on campus that are little changed from when Oppenheimer and members of his eventual Los Alamos team worked there.

Hiding in plain sight, innocuous and out of place, is a small Spanish revival home, smack-dab in the middle of everything else. This is the Tolman-Bacher House. Built around the same time as our home, which it resembles, the Tolman-Bacher House was the residence of Richard Tolman and his wife, Ruth (Louise Lombard plays her in the film). Richard Tolman had come to Caltech in 1922 as a professor of physics. He was a giant at Caltech and, later, in the Manhattan Project. Oppenheimer (played in the film by Irish actor Cillian Murphy) often stayed with the Tolmans when he'd come to Caltech from Berkeley during many a spring term in the 1930s. His brother, Frank, was a graduate student at Caltech then….
(8) EARLY VERDICT. According to critic Leonard Maltin, "'Oppenheimer' Is A Traditional Biopic".
… Being a Nolan screenplay, the story is told in nonlinear fashion. Cillian Murphy, with his open, seemingly guileless expression, is completely convincing as the scientist known as the father of the atomic bomb who, after building it, counseled against its use and made many enemies in the process. But no one can get inside the head of a genius—be it a painter or a composer or a brilliant scientist, so we don't leave the theater with a feeling of knowing what Oppy was all about, except on the surface. (There is even a glimpse of Albert Einstein, played by that wonderful actor Tom Conti.)…
(9) FRANK WALLER (1957-2023.) Longtime LASFS member Frank Waller died July 18 at the age of 66. He had quadruple bypass surgery on his heart in May, but had gone through rehab and was out of the hospital. Frank joined the club in 1988. He is survived by his sister, Beth and his brother, Joe.
(10) MEMORY LANE.
2005 – [Written by Cat Eldridge from a choice by Mike Glyer.]
Graham Joyce wrote our Beginning this time. Selecting his best novel is a futile exercise as everything is fantastically good but I'll single out Some Kind of Fairy Tale and The Tooth Fairy as the ones I found the most interesting reads.
No Hugos, not even a nomination, but he's won a few BFAs and even one WFA for The Facts of Life novel.
Mike picked The Limits of Enchantment which was published eighteen years ago by Artia Books in the States with the cover illustration by David Sacks. It was nominated for a World Fantasy Award.
And now for our Beginning…
Prologue
If I could tell you this in a single sitting then you might believe all of it, even the strangest part. Even the part about what I found in the hedgerow. If I could unwind this story in a single spool, or peel it like an apple the way Mammy would with her penknife in one unbroken coil, juice a-glistening on the blade, then you might bite in without objection.
But Mammy always said we have lost the art of Listening. She said we live in an age when everyone chatters and no one takes heed, and that, she said, is not a good time in which to live.
And while I offer you my story unbroken, like the apple peel, it hangs by a fibre at every turn of the knife. When you come to know the nature of the teller of this tale you may have good reason to doubt both. You may suspect the balance of my mind and you may condemn my position. You may start to disbelieve.
Perhaps I once was mad. Briefly. Perhaps that much is true. And this, in an age where we no longer have the patience to listen, may cause you to break off, to give up on me, to turn away. A young woman has so little of interest to offer, after all. A young woman of unsteady temper, even less.
What they did to Mammy they tried to do to me. They released the dogs. And when it comes to telling how it was done, I only ask this: when doubt wrinkles your brow; when incomprehension clouds your eyes; when distaste rests like a rank fog on your lips, then think how we few have held our tongues for so long. How we have choked back the truth. How we have burned in our hearts rather than risk the telling. And when you feel most far from me, then at that moment listen hard. Not to your thoughts, which will mislead you, nor to your heart, which will lie, but to the voice behind the voice, and trust the tale and not the teller.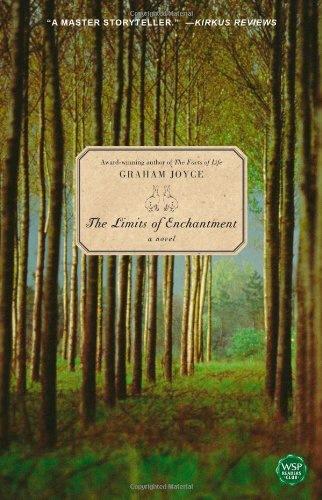 (11) TODAY'S BIRTHDAYS.
[Compiled by Cat Eldridge.]
Born July 20, 1924 — Lola Albright. Though she's best remembered best known for playing the sultry singer Edie Hart, the girlfriend of private eye Peter Gunn, she did do some genre performances. She's Cathy Barrett, one of the leads in the Fifties film The Monolith Monsters. Television was really her home in the Fifties and Sixties. She was on Tales of Tomorrow as Carol Williams in the "The Miraculous Serum" episode, Nancy Metcalfe on Rocket Squad in "The System" episode, repeated appearances on the various Alfred Hitchcock series, and even on The Man from U.N.C.L.E. in the episodes released as the feature length film The Helicopter Spies. She was Azalea. (Died 2017.)
Born July 20, 1930 — Sally Ann Howes. She is best known for the role of Truly Scrumptious in Chitty Chitty Bang Bang. She was in Brigadoon as Fiona McLaren at New York City Center Light Opera Company, and in Camelot as Guenevere at St. Louis Municipal Opera. She was even in The Hound of the Baskervilles as Laura Frankland which has a certain Starship Captain as George Stapleton. (Died 2021.)
Born July 20, 1931 — Donald Moffitt. Author of the Baroness thriller series, somewhat akin to Bond and Blaise, but not quite. Great popcorn literature. Some SF, two in his Mechanical Sky series, Crescent in the Sky and A Gathering of Stars, another two in his Genesis Quest series, Genesis Quest and Second Genesis, plus several one-offs. (Died 2014.)
Born July 20, 1938 — Diana Rigg, née Dame Enid Diana Elizabeth Rigg. Emma Peel of course in The Avengers beside Patrick Macnee as a John Steed. Best pairing ever. Played Sonya Winter in The Assassination Bureau followed by being Contessa Teresa "Tracy" Draco di Vicenzo Bond on On Her Majesty's Secret Service. By the Eighties, she's doing lighter fare such as being Lady Holiday in The Great Muppet Caper and Miss Hardbroom in The Worst Witch, not to mention The Evil Queen, Snow White's evil stepmother in Snow White. Now she would get a meaty role in Game of Thrones when she was Olenna Tyrell. Oh and she showed up in Dr. Who during the Era of the Eleventh Doctor as Mrs. Winifred Gillyflower in the "The Crimson Horror" episode. (Died 2020.)
Born July 20, 1947 — Michael "Mike" Gilbert. A fan artist in the late '60s in Locus and other fanzines as well as an author, and publishing professional who won a Hugo Award for Best Fan Artist at the first Noreascon. His wife Sheila was the co-publisher of DAW Books, and Mike worked in both editorial and art capacities at DAW, and was one of their primary first readers. He died of complications following open-heart surgery. (Died 2000.)
Born July 20, 1949 — Guy H. Lillian III, 74. Letterhack and fanzine publisher notable for having been twice nominated for a Hugo Award as best fan writer and rather amazingly having been nominated twelve straight times for the Hugo for best fanzine for his Challenger zine, unfortunately never winning. As a well-fan of Green Lantern, Lillian's name was tuckerized for the title's 1968 debut character Guy Gardner.
Born July 20, 1959 — Martha Soukup, 64. The 1994 short film Override, directed by Danny Glover, was based on her short story "Over the Long Haul". It was his directorial debut. She has two collections, Collections Rosemary's Brain: And Other Tales of Wonder and The Arbitrary Placement of Walls, both published in the Nineties. She won a Nebula Award for Best Short Story for "A Defense of the Social Contracts". "The Story So Far" by her is available as the download sample at the usual suspects in Schimel's Things Invisible to See anthology if you'd liked to see how she is as a writer.
(12) COMICS SECTION.
(13) OCTOTHORPE. In episode 88 of the Octothorpe podcast, "Someone Somewhere Must Know What's Going On", John Coxon is on brand, Alison Scott wants to do Mark, and Liz Batty had a few twinges.
We re-introduce ourselves for anyone who hasn't listened before, and then we dive into in-jokes, regular segments, waffling, and all the other things that have firmly cemented us as "a podcast that people can listen to". (COVID, Eastercon, Hugo Awards, Chengdu, Clarke Awards, Arkham Horror, and—checks notes—cycling.)
(14) VOYAGE TO ARCTURUS REFERENCED ON BANDCAMP. [Item by Steve French.] Back in 1974, British experimental folk musician Mike Cooper released his 'landmark' album, Life and Death in Paradise. The opening track was apparently influenced by David Lindsay's classic 1920 SF novel A Voyage to Arcturus, which influenced Lewis, Tolkien and more recently, Pullman. "A Reissue of 'Life and Death in Paradise' Brings Mike Cooper's Music to a New Generation" at Bandcamp Daily.
The opener, "Rocket Summer," like the songs on Trout Steel (inspired by Richard Brautigan's Trout Fishing in America) was born of Cooper's "esoteric" choice in literature—in this case, a sci-fi book called A Voyage to Arcturus. Aside from its narrative of interstellar travel, it's filled with "lots of references to sound and color" which were attractive to Cooper.
The album has just been re-issued, prompting Bandcamp to give Cooper the full-on 'feature' treatment.
(15) DEATH VALLEY DARTH. Space isn't the only place no one can hear you scream: "In 128-degree Death Valley, a man dressed as Darth Vader ran a mile".
…Around 2010, Rice wanted to make the runs harder, and he thought wearing a mask and black clothing would do the trick. When he remembered that parts of the Star Wars franchise were filmed in Death Valley, he got the idea to dress up as the villain of the series.

Rice, who edits a cryptocurrency trade publication, has done the Darth Valley run most years since then, with breaks during the coronavirus pandemic and a cross-country move. Sometimes other runners join him – occasionally in a Chewbacca costume….
(16) THE PRIMAL SCREAM. Speaking of screaming, film historians will want to know "The Original 'Wilhelm Scream' Was Found, And It's A Call For Better Sound Effect Preservation" at LAist.
The "Wilhelm scream" is arguably the most recognizable stock sound effect in the history of film and television, having been used in everything from mega-franchises like "Star Wars," "Indiana Jones" and "Die Hard,' to beloved TV shows from "X-Files" to "SpongeBob SquarePants" to "Game of Thrones" and beyond.

If the mere mention of its name doesn't immediately make the sound play in your head, you may recognize it from this scene in the movie that made it popular, 1977's "Star Wars: Episode IV — A New Hope," when the effect is used for a stormtrooper that falls off a ledge after Luke Skywalker shoots him with a blaster round.

The scream that's been used in more than 400 films is finding new life this year after California Institute of the Arts (CalArts) Professor Craig Smith discovered the Wilhelm's original recording session while preserving a collection of 35-millimeter sound films he got from USC's Cinematic Arts Library.
(17) SONIC SCREWDRIVER. There will be a new sonic screwdriver in the hands of the new Doctor Who. And it's ready for its close-up.
(18) FREQUENCY. "Unregulated radio waves emanating from satellites in the Starlink constellation could cause problems as more are launched," reports Nature: "SpaceX satellites are leaking radio waves — a potential headache for science",
Some of SpaceX's Starlink satellites are leaking radio waves that could interfere with astronomy.

In the last few years, astronomers have warned about light pollution and other unintended consequences of the growing number of satellites. Since 2019, the company SpaceX in Hawthorne, California, has launched more than 4,300 Starlink broadband satellites into orbit, where they make up around half of all active satellites.

Federico Di Vruno at the Square Kilometre Array Observatory in Cheshire, UK, and his colleagues used the LOFAR radio telescope in the Netherlands to observe 68 Starlink satellites. They found that 47 of the satellites were emitting radio waves at frequencies very different from those used, and approved, for satellite communications with control stations on Earth.

The satellites' emissions are not harming current radio astronomy observations, but such emissions might cause problems in future, as more and more satellites are launched. And although the emissions don't violate any regulations, satellite operators and government authorities might consider regulating them, the authors say…
(19) FROM THE MAKERS OF MINIONS. The trailer for Migration, coming to theaters December 22.
The Mallard family is in a bit of rut. While dad Mack is content to keep his family safe paddling around their New England pond forever, mom Pam is eager to shake things up and show their kids—teen son Dax and duckling daughter Gwen—the whole wide world. After a migrating duck family alights on their pond with thrilling tales of far-flung places, Pam persuades Mack to embark on a family trip, via New York City, to tropical Jamaica. As the Mallards make their way South for the winter, their well-laid plans quickly go awry. The experience will inspire them to expand their horizons, open themselves up to new friends and accomplish more than they ever thought possible, while teaching them more about each other—and themselves—than they ever imagined.
[Thanks to Mike Kennedy, Andrew Porter, John King Tarpinian, Bill, Darrah Chavey, Steve French, Daniel Dern,Kimberly Unger, Chris Barkley, Michael Toman, Cat Eldridge, and SF Concatenation's Jonathan Cowie for some of these stories. Title credit belongs to File 770 contributing editor of the day Jim Janney.]