(1) MORE MURDERBOT IN OUR FUTURE. Martha Wells has a new six-book deal with Tordotcom reports Publishers Weekly – three of them in the Murderbot series.
Tordotcom's Lee Harris took world English rights to six books by Martha Wells. The six-figure acquisition, which the imprint said is its largest to date, was brokered by Jennifer Jackson at the Donald Maass Literary Agency. Wells is the author of the bestselling Murderbot Diaries series, which is published by Tordotcom; the new deal covers three more books in that series, as well as three unrelated novels. The first book under the agreement, Witch King, is set for fall 2022.
(2) EATING THE FANTASTIC. Scott Edelman invites listeners to grab an egg roll and join comics writer/editor Jim Salicrup in Episode 143 of his Eating the Fantastic podcast.
I'd planned to take a day trip to New York last year to chat with Jim Salicrup, whom I'd met during the mid-'70s when we both worked in the Marvel Comics Bullpen, but (for reasons I'm sure you understand) that couldn't happen. And as I continue to pretend we're living in the world we want, rather than the one we've been handed, I recently had that meal … albeit remotely.

For the past 15 years, Jim's been the editor-in-chief at Papercutz, which publishes Nancy Drew, The Hardy Boys, Smurfs, Asterix, and more, but when I met him, he was at the start of his 20-year Marvel career, where he wrote Transformers, Sledge Hammer, The A-Team, Spidey Super Stories, the infamous Incredible Hulk toilet paper, and much more. He also edited The Avengers, The Uncanny X-Men, The Fantastic Four, and The Amazing Spider-Man. In between those two jobs, he worked at Topps, where edited books such as Bram Stoker's Dracula, X-Files, Zorro, and a line of Jack Kirby superhero comics — and also did a stint at Stan Lee Media as well.

We discussed the illustrated postcard which convinced Marvel Comics to hire him at age 15, how John Romita Sr. caused him to change his name the first day on the job, what he did to enrage MAD magazine's Al Feldstein, his late-night mission to secure Stan Lee's toupee, what editor Mark Gruenwald had in common with Bill Murray, why the 1970s' X-Men revival was like Amazing Fantasy #15, how he convinced Todd McFarlane to stick to Spider-Man (which eventually led to a blockbuster new comic), the possible connection between Stan's love of crossword puzzles and the famed Marvel Method, and much more.
(3) A NAME TO CONJURE WITH. "Unusual Humanism: Five Works by the Great Clifford D. Simak" are extolled by James Davis Nicoll at Tor.com.
Clifford Donald Simak was born on August 3, 1904, in Wisconsin. He died in Minnesota on April 25, 1988. That's thirty-three years ago as of this Sunday….

Unfamiliar with Simak? Here are five of his works you could sample….

Time Is the Simplest Thing (1961)

Having learned the hard way that frail human bodies cannot withstand the rigors of interstellar travel, humanity turned to psychic exploration. Where physical exploration fails, psychic exploration succeeds. Casting astral projections to the stars, paranormals—"parries" in the vernacular—like Shepherd Blaine bring home the Milky Way's wealth…at least, the riches that can be conveyed by a human mind. A bitterly disappointing result for most humans, but a source of great wealth for the Fishhook Corporation, which controls astral exploration.

Shepherd is too successful. After an encounter with a pink blob (who greets him telepathically with the words "Hi pal, I trade with you my mind…"), Shepherd returns home with an uninvited hitchhiker sharing his brain. Now, explorers who bring home guests vanish into Fishhook's hospitality, never to be seen again. What happens after that is unclear. Certain that he does not want to find out what Fishhook does with (or to) the explorers, Shepherd goes on the run. He discovers that not only did he acquire a passenger out there in the stars, Shepherd himself has been transformed in…interesting…ways.
(4) THE BIG QUESTIONS. Blood Knife's special cosmic horror issue includes these articles of interest:
"The Architecture of Woe" — Examines the role that architecture plays in gothic and cosmic horror past and present, and the way abandoned architecture and empty factories can evoke sensations of horror, awe, and inhumanity here in the real world.
…There is a haunting, dead quality to old buildings. They speak to us of lost possibility, of what was once mundane but which has been rendered fantastical by the passage of time—to walk their corridors or trip through their dust- and brickstrewn courtyards is to follow ancient footsteps, of men and women dead for decades and centuries. There is an energy to them, a sense that the past still lingers there. That it might reach out and take your hand, and pull you headlong and irresistibly back beyond your birth into the foreign realm of yesteryear….
"Interview: Laird Barron on Cosmic Horror" — Blood Knife's Kurt Schiller interviews Laird Barron, discussing the current state of the genre, his own history with cosmic horror, and the way horror can be a tool for examining philosophical and cultural questions.
Blood Knife: Cosmic horror often touches on these vast concepts far beyond human comprehension, but at the same time so much of the genre — as well as your own fiction (The Croning, Lagerstatte, etc.) — seems anchored to individual tragedy or loss. Is this balance between the cosmic and the individual something that you think about when writing?

Barron: The previous question touched on the micro/macro duality of cosmic horror. This is a facet of science fiction as well. Big concept, shallow character development vs. character driven narratives where the big concept is a backdrop. I've dabbled in both, but prefer the latter. I grew up telling stories to my brothers by kerosene lamplight. I improved those tales over time by observing their reactions. Invariably, they were most affected by narratives that centered people with problems. The background was just that—background. A trippy cosmic horror revelation works well as a destination. Characters are the vehicle that gets you there.
(5) SHELF CURIOSITY. Nerds of a Feather explores an author's favorites in "6 Books with David Bowles".
1. What book are you currently reading?

A Desolation Called Peace by Arkady Martine, the second in her Teixcalaan series. As a scholar of Nahuatl who has written a lot about pre-Columbian Mesoamerica, I really admired how Martine has done her homework for this series, mining Indigenous Mexican culture in such re
(6) BEHIND THE MASK. "New York Comic Con returning for smaller in-person event this fall" says SYFY Wire. And they've got events planned for other cities, too.
Manhattan's Javits Center will *fingers crossed* once again be hustling and bustling with nerd activity between Oct 7-10 come this fall. ReedPop announced today that New York Comic Con (aka the "Metaverse") is coming back for an in-person event this year, albeit with limited attendance and other safety measures (enforced social distancing, mandatory face coverings, and regular temperature checks) that help mitigate the spread of COVID-19. Pro tip: make sure you cosplay as a character who is famous for wearing a face covering at all times. Din Djarin, Zamus, Sheik, and Deadpool all come to mind….

…In addition to NYCC, ReedPop will also host Floridia's Supercon between Sep. 10-12; Seattle's Emerald City Comic Con between Dec. 2-5; and Chicago's C2E2 between Dec. 10-12. The biggest unknown right now is how many people are going to be allowed to attend these events (the attendance numbers, which are reliant on local and state mandates, can grow or shrink at any time). What's more: we don't know if proof of vaccination is going to be required before ticket-buyers start mingling among a throng of their fellow pop culture acolytes.
(7) THESE GROOTS ARE MADE FOR WALKING. The Verge thinks "Disney's amazing bipedal robot Groot looks like Asimo discovered cosplay".
Disney's R&D labs, commonly known as its Imagineering team, does some extremely impressive — and expressive — things with robots. It's made mechanical stunt doubles, lifelike alien Na'vi, and, uh, this skinless weirdo. But the company's latest creation looks like it quite literally walked out of a Disney movie. It's a bipedal Groot that can amble about tether-free. As Disney's Pinocchio would put it: he's got no strings to hold him down.

TechCrunch's Matthew Panzarino has the low-down on this robotic milestone for Disney. It's part of the company's long-term efforts to develop autonomous robot actors for its parks, says Panzarino, under the codename of "Project Kiwi." The company's engineers spent years creating their own free-standing bipedal robotics platform to power Groot, and Panzarino — who got to see the robot in person — came away impressed with their efforts….
(8) TODAY'S DAY.
The unofficial annual holiday celebrates the day in 2011 when the first episode of the sixth season of the [Doctor Who] series was aired in the United Kingdom, United States, and Canada….

Called "The Impossible Astronaut," the episode became one of the most appreciated and watched episodes of the series.
(9) MEDIA BIRTHDAY.
April 23, 1974 — On this day in 1974, Planet Earth premiered. It created by Gene Roddenberry, written by Roddenberry and Juanita Bartlett, not surprisingly, was based on a story by Roddenberry. It starred John Saxon as Dylan Hunt. The rest of cast was Diana Muldaur, Ted Cassidy, Janet Margolin, Christopher Cary. Corrine Camacho and Majel Barrett. It was intended as a pilot for a new weekly television series, but that never came to be. It was the second attempt by him to produce a weekly series set on a post-apocalyptic future Earth with Genesis II being the previous pilot. Roddenberry recycled both the concepts and characters used in Genesis II. Some of the characters here would show up in the Andromeda series such as Dylan Hunt. It was generally well-received by critics at the time, and it currently has a fifty percent rating among audience reviewers at Rotten Tomatoes. You can watch it here.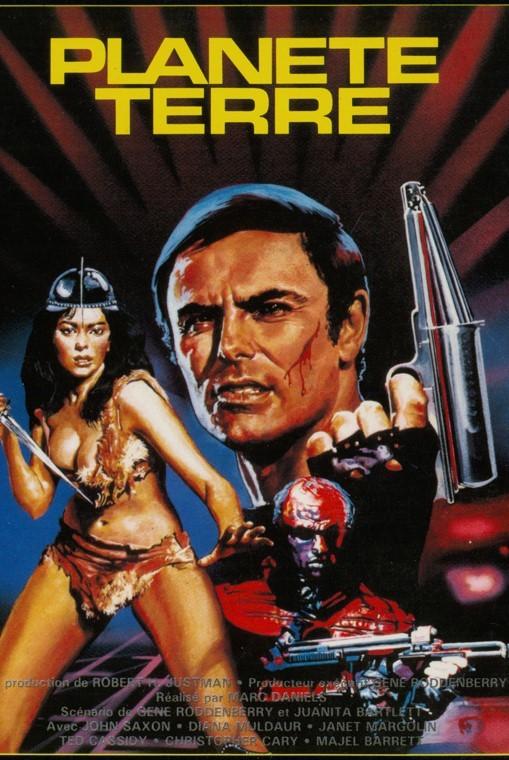 (10) TODAY'S BIRTHDAYS.
[Compiled by Cat Eldridge and John Hertz.]
Born April 23, 1923 — Avram Davidson. Equally at home writing mystery, fantasy or science fiction, he wrote two splendid Ellery Queen mysteries, And on the Eighth Day and The Fourth Side of the Triangle. I'm fond of his Vergil Magus series if only for the names of the novels, like The Phoenix and the Mirror or, The Enigmatic Speculum. There was a 2020 audiobook edition of The Avram Davidson Treasury: A Tribute Collection edited by Robert Silverberg and Grania Davis, first published in 1998, with afterwords by Ray Bradbury and Harlan Ellison, and intros by many other sff writers.  (Died 1993.) (CE)
Born April 23, 1946 — Blair Brown, 75. Emily Jessup In Altered States (based on the Paddy Chayefsky novel) was her first genre role. Later roles include Nina Sharp, the executive director of Massive Dynamic, on Fringe, an amazing role indeed, and Elizabeth Collins Stoddard in the 2004 television remake of Dark Shadows. Her last genre role I think was Kate Durning on Elementary. (CE)
Born April 23, 1955 — Paul J. McAuley, 66. Four Hundred Billion Stars, his first novel, won the Philip K. Dick Award, Fairyland which I adore won an Arthur C. Clarke Award and a John W. Campbell Memorial Award for Best SF Novel. He was Toastmaster along Kim Newman at Interaction. (CE) 
Born April 23, 1956 — Caroline Thompson, 65. She wrote the screenplays for Tim Burton's Edward Scissorhands, The Nightmare Before Christmas, and Corpse Bride. A stage version of the latter with director and choreographer Matthew Bourne was co-adapted with her this year. She also wrote the screenplay for The Addams Family. (CE) 
Born April 23, 1962 — John Hannah, 59. Here for being Jonathan Carnahan in The Mummy, The Mummy Returns, and there was apparently a third film as well, The Mummy: Tomb of the Dragon Emperor. In a meatier role, he was the title characters in Dr. Jekyll and Mr. Hyde, and of late he's been Holden Radcliffe on Marvel's Agents of S.H.I.E.L.D. series. Though not even remotely genre adjacent, he was Rebus in the one of BBC adaptation in of the Ian Rankin series. (CE) 
Born April 23, 1973 — Naomi Kritzer, 48. I saw that her 2015 short story "Cat Pictures Please" had been a Hugo Award winner at  MidAmeriCon II, so I went and purchased Cat Pictures Please and Other Stories off iBooks so I could read it. It was superb as was Catfishing on CatNet which won a Lodestar Award for Best Young Adult Book in 2020. A sequel Chaos on Catnet comes out next week. (CE)
Born April 23, 1564 – William Shakespeare. After five centuries a strong candidate for greatest writer in English. Four plays, one narrative poem for us; much else. Where his art pointed to fantasy he was as masterly as in the more mundane. In plays he had to inspire belief by showing his beings' speech and acts; which he did. Priceless to read, to perform, despite and because of what has and hasn't changed since. (Died 1616) [JH]
Born April 23, 1879 – Talbot Mundy. Four divorces, five wives; for years fifty cigarettes a day; failed at business ventures; married money and spent it; ivory poacher; war stories of himself false. Yet sold a score of novels, half a dozen shorter fictions – in our field, not counting e.g. seven hundred radio scripts for Jack Armstrong, the All-American Boy. Hated fascism and Marxism-Leninism. Racist anti-colonialist. Sexist pioneer of strong female characters. King – of the Khyber Rifles and Tros of Samothrace are on Kindle. (Died 1940) [JH]
Born April 23, 1935 – Tom Doherty, age 86. From book salesman to publisher of Tempo and Ace, then Tor and Tom Doherty Associates. Skylark, Solstice, Gallun, World Fantasy Lifetime Achievement Awards. Guest of Honor at Boskone 23; Balticon 21; Lunacon 33; Fourth Street Fantasy 1991; Minicon 29, 32, 50; ArmadilloCon24, WindyCon XXX; Westercon 58; World Fantasy Con 2008; Anticipation the 67th Worldcon. [JH]
Born April 23, 1942 – Amanda Prantera, age 79. Briton sixty years in Italy. Translator. Euhemerist (another fine word that). A dozen novels. I don't see how anything can be "very clear" in Strange Loop; in Conversations with Lord Byron a computer given everything known about B becomes sapient (not "sentient", Brother Clute, argh) and starts writing poetry, I'd add "naturally" but – [JH]
Born April 23, 1977 – Yasser Bahjatt, age 44. Computerman, gamer, SF fan, first Sa'udi in Singularity University's graduate program and thus worked on Matternet, translator of TED (Technology, Engineering, Design) talks into Arabic, chair of Jeddah for 2026 Worldcon bid. Wrote Yaqteenya, first Arabic alternative-history novel; it and three more novels (with Ibraheem Abbas) are available in English. Insists on "a distinct correlation between a culture's exposure to science fiction and the amount of scientific thought". [JH]
(11) COMICS SECTION.
(12) BUSTED. In "Meanwhile, in Texas: A McAllen Thief Pilfered $400 Worth of Spider-Man Comic Books", Texas Monthly tries to explain why these comics were worth stealing – if you are a collector.
What happened?

Kaboom Comics, a comic-book store in McAllen, had proudly built a display of rare comics on its "Wall of Keys," featuring iconic issues of various titles. On April 14, however, an employee noticed bare spots on the wall where some of the key issues should have been, and, after checking with coworkers, confirmed that no one had purchased them. According to MyRGV.com, the store released on social media the security footage showing the heist taking place and placed a call—a veritable bat signal, if you will—asking the community to help identify the thief.

What did they steal?

The biggest score in the heist was a copy of Amazing Spider-Man number 252, a key 1984 issue in Spidey's mythology. A couple of issues of Venom, a spin-off series starring the web-slinger's more sinister counterpart, as well as a stack of new-release comics were also skimmed off of the shelves.

Who took them?

While there's yet to be a conviction in the case, the caper seems to be relatively cut and dried: a caller identified the suspect to McAllen police, and then the man she named—Edinburg High School assistant principal Juan Martinez Jr.—turned himself in, along with the comics, to the police department, offering a full confession and waiving his Miranda rights. He was arrested and charged with a Class B misdemeanor for theft of property worth between $100 and $750 (the value of the books was estimated at $409.93)…
(13) DEER NORMAN. That's not how it's signed, just how it should be. Nate D. Sanders Auctions currently shows a $5,000 bid for a Walt Disney Signed "Bambi" Cel, Personally Inscribed to Norman Rockwell. You have until April 29 to top it.
Walt Disney signed display of Bambi and Thumper cels, uniquely inscribed to fellow American icon Norman Rockwell. Disney signs the mat in green wax crayon, "To Norman / With Best Wishes / Walt". Large display includes cels of Bambi, Thumper, two quail birds, grass and log, used in the 1942 classic film "Bambi", with a hand-painted background measuring approximately 11" x 9", framed to a size of 19.375" x 17.5". With "Original WDP [Walt Disney Productions]" stamp above Disney's signature. Some foxing and light discoloration to outer portion of mat. Cels remain in beautifully well-preserved condition, with only one hairline crack appearing on Bambi's leg. With an LOA from Carl Sprague of Stockbridge, Massachusetts, Norman Rockwell's town, whose wife Susan Merrill was previously married to Jarvis Rockwell, Norman Rockwell's son.
(14) PLEASE RELEASE ME. At Nerds of a Feather, Sean Dowie appreciates a novel's account of the struggle to be free: "Microreview [Book]: Defekt by Nino Cipri".
…Defekt is the most enjoyably bubbly book I've read exploring the burden of shackles. Not literal shackles, but ones that can extend to life as a retail worker or a one of self-doubt. Those shackles siphon your time at the expense of empty praise from apathetic bosses, or it hamstrings the growth of your relationships. But Defekt shows that being unshackled and free is a possibility and is only deceptively difficult…
(15) FIRST IN THE FIELD. Also at Nerds of a Feather, Arturo Serrano's "Review: The Dominion Anthology" leads with the note: "Ours is a time of ever-increasing visibility for African SFF—now it has its first anthology."
…Edited by Zelda Knight and Oghenechovwe Donald Ekpeki, and with a foreword by Tananarive Due, the Dominion anthology collects twelve stories and one poem about imagined futures and reimagined pasts told with deep sincerity and robustness of worldbuilding. This is certainly an exciting time for diversity in speculative fiction….
(16) ASTRONAUTS EN ROUTE TO ISS. SpaceX Crew2 launched and the crew is on its way to the Space Station.
This is a successful re-use of SpaceX craft – Space.com has the storyL "SpaceX launches 4 astronauts to space station, nails rocket landing".
SpaceX just launched its third astronaut mission in less than a year.

A slightly sooty Falcon 9 rocket topped with a Crew Dragon capsule took to the skies above NASA's Kennedy Space Center here at 5:49 a.m. EDT (0949 GMT) today (April 23), lighting up the predawn sky as it lifted off from the historic Pad 39A. The launch kicked off SpaceX's Crew-2 mission, which will carry four astronauts — NASA's Shane Kimbrough and Megan McArthur, French astronaut Thomas Pesquet and Japanese spaceflyer Akihiko Hoshide — on a 24-hour flight to the International Space Station (ISS).
More here, reported by Reuters: "SpaceX rocketship launches 4 astronauts on NASA mission to space station".
…The rocket's first stage, meanwhile, descended back to Earth and touched down safely on a landing platform floating in the Atlantic on a drone ship affectionately named Of Course I Still Love You….
(17) VIDEO OF THE DAY. While Soul may be a Hugo-nominated film, no movie is without sin – Cinema Sins, anyway: "Everything Wrong With Soul in 17 Minutes or Less",
[Thanks to Paul Weimer, Dann, John Hertz, Cat Eldridge, Martin Morse Wooster, Andrew Porter, John King Tarpinian, Michael Toman, JJ, Kurt Schiller, and Mike Kennedy for some of these stories. Title credit goes to File 770 contributing editor of the day Acoustic Rob.]