(1) TAKEI PAYS TRIBUTE TO BJO. [Item by David Doering.] If you didn't catch it, last night the Paramount+ network put on a Star Trek Day special. They included short retrospectives on past Star Trek series from cast members. For TOS, they had George Takei. He described how the series was rescued for a third season, but then went out of his way with the short time he had to mention Bjo Trimble as the force behind it. His mention received a roar of applause and cheers from the crowd. I was deeply touched by both his highlighting Bjo and the audience's response.
He went on to say that thanks to the third season, TOS could go into syndication, which is what cultivated a whole world of fans which led…and so on. Today we will have FIVE simultaneous Trek series on TV. Woah. So, SO glad to live to this era!
(2) WATCH STAR TREK DAY SPECIAL. A recording of the three-hour-plus Star Trek Day livestream celebration is available at Facebook Live today.
(3) YOU WON'T EAT LUNCH IN THIS TOWN AGAIN. They controlled the vertical. They controlled the horizontal. The 1965 Worldcon committee even found a way to tune out Harlan Ellison, writer of Outer Limits' "Soldier" episode. The Hugo Book Club Blog replays that bit of history in "How I Learned to Stop Worrying and Love the Bombastic Ego".
…Though he backed down from that attempt, Ellison was adamant that there should be a Hugo for Best Dramatic Presentation in 1965, and encouraged other fans to write in nominations for the category … with the apparent belief that if the category was being considered that year, his Outer Limits episode would be a shoe-in.

But the 1965 Hugo Awards operated under a unique set of rules that have not been used since; as per the convention committee, the shortlist was created via "nomination by a panel of experts, selecting from suggestions offered by the membership at large." In practice, this meant that no matter how many voters included "Soldier" on their nominating ballot, the Hugo Committee could omit it if they so chose….
(4) REMATRIX. The Matrix Resurrections will be in theaters and on HBO Max on December 22.
From visionary filmmaker Lana Wachowski comes "The Matrix Resurrections," the long-awaited fourth film in the groundbreaking franchise that redefined a genre. The new film reunites original stars Keanu Reeves and Carrie-Anne Moss in the iconic roles they made famous, Neo and Trinity.
(5) HE'S DEAD, JIM. Did you notice anything missing from the trailer above? Vice tries to explain the absence of a major character: "Is Morpheus Not in The Matrix Trailer Because He Died in The Matrix MMO?"
So you just watched the new Matrix Resurrections trailer and you're wondering where Laurence Fishburne character Morpheus is. I've got bad news for you: Canonically, he's been dead since the mid 2000s.

As part of an ambitious plan to continue The Matrix franchise after the films, the Wachowskis gave their blessing to a massively multiplayer online game based on the franchise, which launched in 2005. Victim of an overcrowded MMO market, The Matrix Online was canceled only four years later in 2009, and had less than 500 active players by that point. That this game is little known and now impossible to play does not also stop the following from being true: Technically, everything that occurred in that game is canon. The Matrix's fan wiki considers The Matrix Online canon, and the Wachowskis were heavily involved in the creation of some of the Matrix games. They even appeared in The Matrix: Path of Neo.

According to The Matrix's fan wiki, Morpheus's death was part of an in-game event where the character was, as always, up to some esoteric scheme…
(6) BYO. The real event was cancelled due to Covid, but 15,000 people showed up anyway. "Nevada sheriff says 'Renegade' Burning Man kept officers busy with rowdy behavior" reports the Reno Gazette Journal.
Things got a little salty on the playa at this year's rogue Burning Man, according to the sheriff who has been overseeing the annual festival since 2015.

Pershing County Sheriff Jerry Allen described this year's event — held outside the official auspices of the Burning Man organization — as  "people packed in a small space in the heat, no shade or cooling other than nighttime, little respect for your fellow man, and this year add the thick amounts of smoke and no (organized group) to attempt to diffuse situations."

In addition to an increase in car crashes and open acts of speeding, there was a general "lack of care for fellow participants" over gathering that culminated Monday, Allen said.

He estimated more than 15,000 people flocked to what was dubbed "Renegade" Burning Man after organizers canceled the event for the second year in a row amid the COVID-19 pandemic. https://www.usatodaynetworkservice.com/tangstatic/html/pren/sf-q1a2z3be0d353f.min.html Typically, the annual event attracts more than 80,000 people to the playa about two hours north of Reno.

Last year it was estimated that about 5,000 people gathered in the Black Rock Desert even though the arts festival was cancelled.  
(7) CALLING BUGGIRL200. The New York Times profiles the creator of "A T-Shirt Shop for the Semi-Ironic 'Twilight' Fan".
… She started selling them on Depop — a site often used to list "pre-loved" items — but realized, after receiving nearly 80 requests in her first day, that she'd need to scale up. So, she bought a web domain, BUGGIRL200.com (after her TikTok user name), and built her own online store. She has since sold more than 15,000 shirts, each of them reflecting tongue-in-cheek nostalgia for cultural touchstones from the last two decades. 

…This shirt — one of several "Twilight"-themed items Ms. Sinclair has made — was posted by Olivia Rodrigo on Instagram.

Her work has not gone unnoticed by the celebrity class: Olivia Rodrigo, for instance, tagged her friend Iris Apatow — daughter of Judd — in a photo on Instagram of a BUGGIRL200 original that reads as follows: "I think the Twilight movies are AWESOME!!!!! If you don't think that makes me SEXY and COOL, DON'T FREAKING TALK TO ME!!!!! I am not even kidding."

The image caught the eye of Dulce Clara, 21, a student in San Marcos, Calif. "'Twilight' will forever have a special place in my heart because not only did I grow up watching the movies, but it was actually my first teen romance film," she said. When she saw Ms. Rodrigo's post, she said, "I instantly fell in love with the shirt and bought it."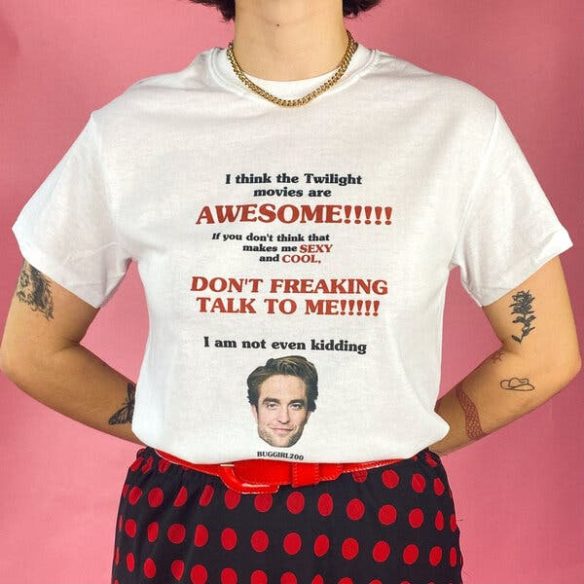 (8) CHUNG MEDICAL UPDATE. Winchell Chung of Atomic Rockets has announced he is battling cancer.
Ad Astra Games reports on the efforts to keep Atomic Rockets online:
(9) MEMORY LANE.
1978 – Forty-three years ago this week, the Jason of Star Command series was first seen on CBS. It was created and produced by Arthur H. Nadel who was previously responsible for Shazam!, The Secrets of Isis and Space Academy which this is a spin-off of. (The only series of these which I've seen is the first. I really liked it at the time. No idea what the Suck Fairy would make of it.) It would last but two seasons of twenty eight episodes.  (The first season episodes were fifteen minutes long and formed one story, the second were thirty minutes long.) James Doohan would be in the cast as Commander Canarvin for the first season before leaving to film Star Trek: The Motion Picture, and the chief villain here was Sid Haig who had appeared on Star Trek as the First Lawgiver in "The Return of the Archons". 
(10) TODAY'S BIRTHDAYS.
[Compiled by Cat Eldridge.]
Born September 9, 1922 — Pauline Baynes. She was the first illustrator of some of J. R. R. Tolkien's lesser known works such as Farmer Giles of Ham and Smith of Wootton Major and of C. S. Lewis's Chronicles of Narnia. With the help of cartographers from the Bordon military camp in Hampshire, Baynes created a map that Allen & Unwin published as a poster in 1970. Tolkien was generally pleased with it, though he didn't particularly like her creatures especially her conception of a spider. (Died 2008.)
Born September 9, 1929 — Joseph Wrzos, 92. He edited Amazing Stories and Fantastic under the name Joseph Ross from 1965 through early 1967. With Hannes Bok, he edited in 2012, Hannes Bok: A Life in Illustration. He won First Fandom Hall of Fame Award, and its Sam Moskowitz Archive Award twice.
Born September 9, 1935 — Topol, 86. He's best remembered for his role of Tevye the Dairyman in Fiddler on the Roof, on both stage and screen, but that's not why he's getting a Birthday.  No, that's because it's because he was Dr. Hans Zarkov in the 1980 Flash Gordon film. He's got just two other genre appearences, once in Tales of the Unexpected as Professor Max Kelada  in the "Mr. Know-All" episode, and in the Bond film, For Your Eyes Only.
Born September 9, 1943 — Tom Shippey, 78. Largely known as a Tolkien expert, though I see he wrote a scholarly 21-page introduction to Flights of Eagles, a collection of James Blish work. Under the pseudonym of John Holm, he is also the co-author, with Harry Harrison, of The Hammer and the Cross trilogy of alternate history novels. And early on, he did a lot of SF related non-fiction tomes such as Fiction 2000: Cyberpunk and the Future of Narrative (edited with George Slusser). He edited The Oxford Book of Science Fiction Stories thirty years ago. 
Born September 9, 1952 — Angela Cartwright, 69. Fondly remembered as Penny Robinson on the original Lost in Space. She, like several of her fellow cast members, made an appearance in the Lost in Space film. In her case, it was as Shelia Harris in the "Echoes" episode. She appeared in the Logan's Run series in "The Collectors" episode as Karen, and in Airwolf as Mrs. Cranovich in the "Eruption" episode. 
Born September 9, 1955 — Janet Fielding, 66. Tegan Jovanka, companion to the Fifth Doctor. The actress had a rather short performing career starting with the Hammer House of Horror series in 1980 where she was Secretary Mandy on the "Charlie Boy" episode" before landing the Doctor Who gig through 1984 before her career ending in the early Nineties. She was part of the 2013 50th Anniversary The Five(ish) Doctors Reboot. Her last acting role was voicing Dr. Mendez in the "Breakout" episode of the Australian Prisoner Zero series.
Born September 9, 1960 — Hugh Grant, 61. He appeared in The Lair of the White Worm as Lord James D'Ampton and in the remake of The Man from U.N.C.L.E. as Mr. Waverly. And he was the Handsome Doctor in Doctor Who: The Curse of Fatal Death, the 1999 Doctor Who special made for the Red Nose Day charity telethon. He's in the forthcoming Dungeons & Dragons as Forge Fletcher. 
Born September 9, 1971 — Henry Thomas, 50. Elliot in E.T. the Extra-Terrestrial. Let's just say that he's had a busy post-E.T. acting career for which I will single out his rather good work in Nightmares & Dreamscapes: From the Stories of Stephen King and The Haunting of Hill House series. He's playing Doctor Mid-Nite in the ongoing Stargirl series which I really need to see. 
(11) COMICS SECTION.
Lise Andreasen supplies a Danish/English translation for the Wulffmorgenthaler 7/9 cartoon published at Politiken.
Good news!  Now that the apocalypse is over, we actually have the resources to rebuild the whole society, just as it was before!  What do you say!?

How about we don't!  How do you think we ended up here?  Think, Lars!
(12) TILT. Somewhere down the I-10 from me a pop culture mecca is going away: "Pinball Museum Will Auction 1,700 Arcade Games After Closing Its Doors" says the New York Times.
Inside an unremarkable warehouse near Palm Springs, Calif., hundreds of pinball machines once beckoned arcade game aficionados from far and wide, their blinking lights and coin slots a throwback to a time long before Xbox.

But then came the coronavirus pandemic, and the game, one that the museum's owner said was already a losing proposition because of the economic climate and the cost of real estate and insurance, was over. No flippers could keep the ball in play.

Now, the Museum of Pinball in Banning, Calif., one of the largest museums devoted to pinball machines, is about to do something that once might have seemed inconceivable: It will start on Friday to auction off more than 1,700 arcade games.

The auction will be conducted both online and at the museum itself, where in 2015 a Guinness World Record was set for the most people playing pinball simultaneously: 331.

The collection could be worth as much as $7 million, according to the auctioneer handling the sale, which includes some machines more than 60 years old. The holy grail of the sale could be a "Pirates of the Caribbean" collector's edition pinball machine from 2018, associated with the Disney franchise, which the auction house said could fetch up to $35,000….
(13) MEET THE CREW. Star Trek: Strange New Worlds cast announcement does major fan service. See the video at StarTrek.com.
(14) CONTROL THAT IMPULSE. That's the plan, says Yahoo! News: "A 150-Year Old Idea Could Lead To A Breakthrough In Space Travel".
… Once the exclusive province of science fiction films, space colonization has been moving closer to becoming a reality thanks to major advances in astronautics and astrophysics; rocket propulsion and design, robotics and medicine. Trekkies, along with the otherworldly technology featured in the Star Trek series, have helped define the science fiction universe. One of the most mind-boggling of these technologies from those shows is the "Impulse Drive," a propulsion system used on the spaceships of many species to get across the galaxy in amazingly short timeframes measured in months or a few years rather than centuries or millennia. 

And now scientists have unveiled the Holy Grail of Space Travel: A real-life Impulse Drive system able to achieve sub-light velocities using zero fuel propellants. After 30 years of tinkering and fine-tuning, a pair of scientists might finally be close to turning science fiction into science fact. 

And, NASA is taking the idea seriously. 

Conventional spaceships burn rocket fuel to achieve escape velocities, maneuver, and even land, in the case of SpaceX rockets. But what if you could build a spaceship that runs entirely on electricity?

That's exactly what the Mach Effect Gravity Assist (MEGA) drive does.

Jim Woodward, a physics professor emeritus at California State University, Fullerton, and Hal Fearn, a physicist at Fullerton, have developed the Mach Effect Gravity Assist (MEGA) Drive propulsion based on what they say is peer-reviewed, technically credible physics.

With the help of a NASA Innovative Advanced Concepts (NIAC) grant, the two scientists have developed MEGA Drive based on the physics described in Einstein's theory of relativity….
(15) WHAT A TOOL. "Judge Says an AI Can't Be an Inventor on a Patent Because It's Not a Person" – MSN.com has the verdict.
U.S. federal judge Leonie Brikema ruled this week that an AI can't be listed as an inventor on a U.S. patent under current law. The case was brought forward by Stephen Thaler, who is part of the Artificial Inventor Project, an international initiative that argues that an AI should be allowed to be listed as an inventor in a patent (the owner of the AI would legally own the patent).

Thaler sued the U.S. Patent and Trademark Office after it denied his patent applications because he had listed the AI named DABUS as the inventor of a new type of flashing light and a beverage container. In various responses spanning several months, the Patent Office explained to Thaler that a machine does not qualify as an inventor because it is not a person. In fact, the machine is a tool used by people to create inventions, the agency maintained.

Brikema determined that the Patent Office correctly enforced the nation's patent laws and pointed out that it basically all boils down to the everyday use of language. In the latest revision of the nation's patent law in 2011, Congress explicitly defined an inventor as an "individual." The Patent Act also references an inventor using words such as "himself" and herself."
(16) HIJACK THE STARSHIP. Star Trek: Prodigy is coming to Nickelodeon.
Developed by Emmy Award-winners Kevin and Dan Hageman ("Trollhunters" and "Ninjago") the CG-animated series STAR TREK: PRODIGY is the first "Star Trek" series aimed at younger audiences and will follow a motley crew of young aliens who must figure out how to work together while navigating a greater galaxy, in search for a better future. These six young outcasts know nothing about the ship they have commandeered – a first in the history of the Star Trek Franchise – but over the course of their adventures together, they will each be introduced to Starfleet and the ideals it represents.
[Thanks to Cat Eldridge, Mike Kennedy, Andrew Porter, N., Lise Andreasen, Chris Barkley, James Davis Nicoll, Martin Morse Wooster, JJ, Michael Toman, and John King Tarpinian for some of these stories. Title credit belongs to contributing editor of the day Daniel Dern.]