(1) WORLDCON VENUE CONSTRUCTION REPORT. A Weibo user posted a video showing progress at the Chengdu Science and Technology Museum and Science Fiction Museum construction site. Here is a screencap from the video.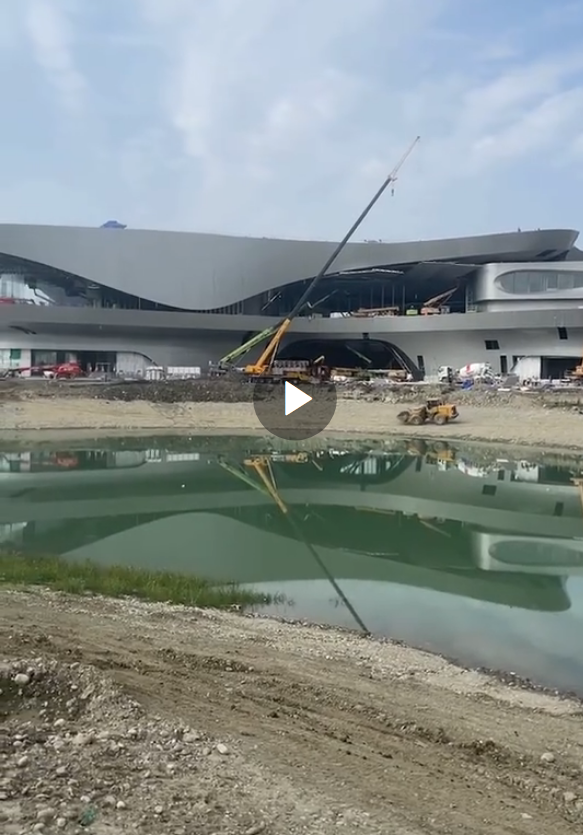 (2) WHEN FACEBOOK IS OUT OF TUNE. Somtow Sucharitkul shared his good-natured response to an annoying example of Facebook moderation.
(3) FIGHTING BACK. "Booksellers Move to the Front Lines of the Fight Against Book Bans in Texas" reports the New York Times.
With a book-rating law set to take effect in September, a group of booksellers, along with publishers and authors, filed suit to argue that it is unconstitutional.

A group of booksellers, publishers and authors filed a lawsuit on Tuesday to stop a new law in Texas that would require stores to rate books based on sexual content, arguing the measure would violate their First Amendment rights and be all but impossible to implement.

The law, set to take effect in September, would force booksellers to evaluate and rate each title they sell to schools, as well as books they sold in the past. If they fail to comply, stores would be barred from doing business with schools….

…Charley Rejsek, the chief executive of BookPeople in Austin, said that complying with the law would be impossible. BookPeople — which takes its name from Ray Bradbury's novel "Fahrenheit 451," in which a group of people try to preserve books in a world where they are burned — was founded in 1970, Rejsek said. The store does not have records of titles sold over the last half century, much less a way to know which of them are still in circulation — but under the law, BookPeople would be responsible for rating those books.

"I don't see a clear path forward for complying with the law as written," she said. "I don't know how I can rate them if I don't have any records."

Going forward, she said, BookPeople would have to read and rate many thousands of titles requested by school districts. Some might be in languages her staff cannot read, she said.

"I want to work with schools," she said. "But I just literally can't find a way to comply."
(4) BLERDCON. Listen as NPR's "Here and Now" shares how "Blerdcon celebrates Black nerd fandom throughout the year.
While summer may be the season for fan conventions, Blerdcon is unique in catering expressly to Black nerds (or blerds).

Founder and CEO Hilton George explains the rise of Black nerdom and the events he puts on to celebrate it throughout the year.
(5) FAMED MYSTERY BOOKSTORE OWNER. The Bookshop Podcast's Mandy Jackson-Beverly interviews Otto Penzler of The Mysterious Bookshop.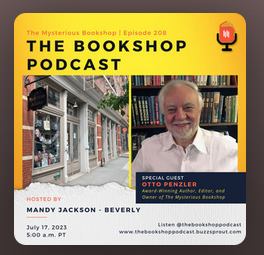 In this episode, I chat with Otto Penzler, owner of The Mysterious Bookshop about publishing, the genre of mystery and crime fiction, female mystery writers, and collecting first editions.

Opened in 1979 by Otto Penzler, The Mysterious Bookshop is the oldest mystery specialist book store in America. Previously located in midtown, the bookshop now calls Tribeca its home.

The bookshop stocks the finest selection of new mystery hardcovers, paperbacks and periodicals and also features a superb collection of signed Modern First Editions, Rare/Collectible hardcovers and Sherlockiana.
(6) THE SPACE PROGRAM'S ORIGINAL COMPUTERS. PBS' American Experience covers "The Women Who Brought Us the Moon".
…The women working at the Jet Propulsion Laboratory in the 1960s were all highly trained mathematicians, and many possessed advanced degrees. Helen Ling was born in China and experienced a tumultuous childhood formed under the pressures of WWII. Coming to the United States for college, she earned her master's degree in mathematics before leading the computing section in a managerial role for over three decades. There was also Janez Lawson, the first African American hired in a technical position at the laboratory. She held a bachelor's degree in chemical engineering from UCLA and by modern qualifications would be hired today as an engineer. However, in the 1950s, her gender and race impeded her employment and she was brought in as a computer….
The section on JPL is followed by another devoted to the African American computers at the Langley Memorial Aeronautic laboratory in Hampton, Virginia made famous by Hidden Figures.
…In a system designed to repress their advancement, the African American women became indispensable. "A Trojan horse of segregation opening the door to integration," Margot Lee Shetterly wrote in Hidden Figures, her 2016 nonfiction book documenting the groundbreaking female African American computers at Langley and adapted into a feature film of the same name. In the book, Shetterly focuses her narrative on three human computers turned engineers: Katherine Johnson, who was awarded the Presidential Medal of Freedom in 2015, Dorothy Vaughan and Mary Jackson. While their careers spanned decades, their contributions to early human spaceflight are most frequently lauded…
(7) JEOPARDY! [Item by David Goldfarb.] A number of SF-related clues in Wednesday's Jeopardy! episode, for some reason all in the first round.
I'm Blue, $200: This Oscar-winning actress has a certain mystique playing Mystique, who, deep down, is all blue
Challenger Lucas Partridge got it right: "Who is Jennifer Lawrence?"
All Kinds of Literature, $600: "Bowman could bear no more. He jerked out the last unit, and HAL was silent forever" is a line from this sci-fi work
Lucas knew this one.
Recent TV Shows by Episode Title, $400: "Chapter 13: The Jedi"
Lucas tried "Obi-Wan", which left the field open for returning champion Julie Sisson to respond, "What is 'The Mandalorian'?"
I'm Blue, $400: In this novel, a character is described as having "the half-tint blue eyes that told of off-planet foods in his diet"
Nobody knew what this one does. (I'll presume that all the Filers do.)
Recent TV Shows by Episode Title, $600: "Dear Offred"
Lucas got it right: "What is 'The Handmaid's Tale'?"
"Da" or "Ba" or "Dee", $800: It's a word describing motorcyclist Bud Ekins, or the name of a Marvel hero
The third player, Alex Muhler, responded with "What is Daredevil?"
(8) ONE RING. Josh Hutcherson and Morgan Freeman star in 57 Seconds, debuting September 29.
Time bends, revenge ignites, and survival hangs by a thread in 57 SECONDS! Josh Hutcherson and Morgan Freeman team up in this heart-racing action thriller. Franklin (Hutcherson) seeks vengeance against the man who killed his sister and the corporate empire he reigns, as he discovers a time-altering ring dropped by tech guru Anton (Freeman) that propels him into a pulse-pounding battle for survival.
(9) DAVID K. M. KLAUS (1955-2023). Longtime fan and File 770 contributor David K. M. Klaus died July 27 at the age of 67. He is survived by his sons Kevin and Ryan.
Gary Farber wrote a reminiscence on Facebook which begins with meeting David at Suncon, the 1977 Worldcon. About the David he knew for the next almost-fifty-years he says:
…Eager to help, friendly like a puppy, and occasionally overdoing it a bit. He helped several more times on sf conventions I worked on in later years, as well as many others. He also remained a major fan of fanzines and attempted to contribute to local clubs in the various places he lived. Science fiction clubs being what they are, sometimes his efforts were more compatible than others. But he truly wanted to help and was looking for no other reward.

David felt passionately, beyond passionately, about his various enthusiasms, especially his beloved STAR TREK, which remained central to the core of his ethos and who we was. David Klaus was always Starfleet in his own mind.

And now he no longer has to deal with the pain of his relatively recently deceased wife of many years, Nila….
Nila and David met at a Star Trek club meeting, married, and were together for many years, til he lost her to ovarian cancer in 2016.
I was honored with the rare opportunity to have dinner with the whole family when I was in St. Louis on business in 2010.
However, over the years our friendship experienced sudden peaks and valleys, the reasons for which I won't go into here. Fortunately our last exchange of emails in 2022 ended on an up note when I told him, "I should just point out some things I respect about you. You took care of your family, raised your sons, worked hard. You kept it together. There are some things in that line I'd like to have done as well as you did."
(10) TODAY'S BIRTHDAYS.
[Compiled by Cat Eldridge.]
Born July 27, 1938 — Gary Gygax. Game designer and author best known for co-creating Dungeons & Dragons with Dave Arneson. In addition to the almost beyond counting gaming modules he wrote, he wrote the Greyhawk Adventure series and the Dangerous Journeys novels, none of which is currently in print. I'll admit that I've not read any of the many novels listed at ISFDB, so I've no idea how he is as a genre writer. (Died 2008.)
Born July 27, 1938 — Pierre Christin, 85. French comics creator and writer. In the mid Sixties, collaborated with Jean-Claude Mézières to create the science-fiction series Valérian and Laureline for Pilote. Time Jam: Valerian & Laureline, a French animated series was released, and a feature film directed by Luc Besson, Valerian and the City of a Thousand Planets, was released as well. A officially released compilation of the Valerian & Laureline series is on YouTube here.
Born July 27, 1948 — Juliet Marillier, 75. She's a New Zealand-born and Western Australian resident fantasy writer focusing entirely on historical fantasy. She has a number of series including Blackthorn & Grim which at two volumes is a good introduction to her, and Sevenwaters which at seven volumes is a serious reading commitment. She contributed to the fiction writing blog, Writer Unboxed.
Born July 27, 1939 — Sydney J. van Scyoc. Her first published story was "Shatter the Wall" in Galaxy in 1962. She continued to write short stories throughout the Sixties and Seventies, and published Saltflower, her first novel in the early Seventies. Assignment Nor'Dyren is one of her better novels. Over the next twenty years, she published a dozen novels and likewise number of short stories. (Died 2023.)
Born July 27, 1952 — Bud Webster. Writer known for his essays on the history of science fiction and genre anthologies. His Bubba Pritchert series, all four stories, is fun reading indeed. He did but a handful of stories but essays as I alluded to above, oh my. Mike has a loving look at him and everything he did here. (Died 2016.)
Born July 27, 1968 — Farah Mendlesohn, 55. She's an historian and prolific writer on genre literature, and an active fan. Best works by her? I really like her newest work on Heinlein, The Pleasant Profession of Robert A. Heinlein, which won a BSFA. Her Diana Wynne Jones: Children's Literature and the Fantastic Tradition is also a fascinating read. And I highly recommend her Rhetorics of Fantasy as we don't get many good theoretical looks at fantasy. Her only Hugo to date was at Interaction for The Cambridge Companion to Science Fiction. She's also garnered a BFA for Children's Fantasy Literature: An Introduction (shared with co-writer Michael Levy) which also got a Mythopoeic Scholarship Award for Myth and Fantasy, and she is a Karl Edward Wagner Award winner as well.
Born July 27, 1973 — Cassandra Clare, 50. I read at least the first three or four volumes of her Mortal Instruments series which I see means I've almost completed it. Damn good series. Anyone read her Magnus Bane series? Interestingly she's been nominated for myriad Goodreads Choice Awards and won two for City of Fallen Angels and City of Heavenly Fire.
(11) A HOWARD BROTHER. Slashfilm points out that "Star Trek: SNW's Latest Guest Star Appeared in Star Trek When He Was Six Years Old".
…In "The Corbomite Maneuver," the U.S.S. Enterprise is approached by a massive and mysterious alien spaceship, perfectly spherical and possessed of immense destructive power. The ship is called the Fesarius, and Captain Kirk (William Shatner) can only communicate with the Fesarius' captain, Balok (voiced by Ted Cassidy), via audio. Balok declares that he very much intends to destroy the Enterprise using his superior weapons. Thinking quickly, Kirk bluffs; he says that the Enterprise is equipped with an imaginary substance called Corbomite that would react negatively to a weapons attack and destroy both ships. The bulk of the episode is a standoff between the two captains.

Spock (Leonard Nimoy) is able to hack into the video cameras on board the Fesarius and gets a visual of Balok. Children of multiple generations likely recall the nightmare-inducing image of Balok's evil face. Cruelly, the "Star Trek" producers included Balok's evil face over the credits of every episode.

At the end of the episode, however, it is revealed that Balok was also enacting a bluff. He was not an evil, blue-skinned alien, but a creature that looks an awful lot like a six-year-old boy. Balok was merely testing Kirk and would love to chat diplomatically.

Balok was played by a six-year-old Clint Howard, an actor who has revisited "Trek" periodically over the decades, and he appears in the latest episode of "Star Trek: Strange New Worlds" as a general in the Klingon Wars.

…Howard's latest "Star Trek" appearance is in "Under the Cloak of War," a flashback episode which shows what Nurse Chapel (Jess Bush) and Dr. M'Benga (Bab Olusanmokun) experienced during the Klingon Wars. Nurse Chapel arrives at a remote Federation outpost that is being aggressively bombarded by Klingon forces and is immediately made one of the chief medical officers because her predecessor was just killed in combat. Howard shows Nurse Chapel around, completely jaded by death and unaffected by the violence. …
Collider has an episode recap: "'Strange New Worlds' Season 2 Episode 8 Recap: War Makes Monsters of Us All".
(12) SFF COFFEE BREAK. Bones Coffee Company offers the Crusader's Cup blend.
Crusader's Cup is a wise choice for those who want to embark on a flavor-filled journey with hints of nutty chocolate, butterscotch, and caramel. If you're ready to take on the world and explore new horizons, grab Crusader's Cup and set out on your next adventure.
(13) PRIME REAL ESTATE CAN BE YOURS. Here's another plug…. GameSpot says "Lord Of The Rings Monopoly Is On Sale At Amazon Right Now".
Ever wondered what it would be like to own property in Middle-earth? Well, you can find out if you pick up the Amazon-exclusive Monopoly: The Lord of the Rings edition while it's on sale for just $26 (normally $45). This price is from a third-party seller, but if you'd rather buy directly from Amazon, you can get it for $32.49 with Prime shipping.

Monopoly: The Lord of the Rings Edition reimagines Hasbro's classic board game with locations, characters, and items from The Lord of the Rings film series directed by Peter Jackson. For example, instead of the original game pieces like the top hat and thimble, the game uses the iconic members of the fellowship–Frodo, Sam, Aragorn, Legolas, Gimli, Pippin, Merry, Boromir, and Gandalf. Monopoly: The Lord of the Rings edition also adds new rules where players compete for control over The One Ring and journey to Mordor along with the classic Monopoly gameplay….
(14) WRITER NOTED AS BODYPAINTING SUBJECT. "At NYC Bodypainting Day, Naked Bodies Become Artists' Canvases" in the New York Times.
…Across from a Pret a Manger near Union Square Park, Nicolette Barischoff held still as an artist painted an open blue eye across her sternum on Sunday. It was around 88 degrees and a crowd had assembled around them. But the temperature and the audience did not faze Ms. Barischoff. Nor did the fact that she was naked.

"It's a very Zen experience," she said, as photographers snapped pictures from behind police barricades. "This is my fishing."

Ms. Barischoff, 38, a writer in Los Angeles, was among the 60 people who had paid $100 to become mostly nude human canvases for 40 artists during NYC Bodypainting Day, a public art exhibition that has been staged annually since 2014. This year's installment was the 10th — and the last, according to the event's founder, Andy Golub, an artist. He said he was ending it to focus on other projects for his organization, Human Connection Arts….
Barischoff's online bio at Uncanny Magazine tells about the many sff projects she's worked on:
Nicolette Barischoff has spastic cerebral palsy, which has only made her more awesome. She qualified for SFWA with her first three stories, published in Long Hidden, Accessing the Future, and Unlikely Story's The Journal of Unlikely Academia. Her work has been spoken aloud by the wonderful people of PodCastle, and one of her novelettes is mandatory reading at the University of Texas, Dallas. She edited the personal essays section of Uncanny Magazine's Disabled People Destroy Science Fiction, which won a Hugo Award. She's also a fierce advocate for disability and body-positivity, which has occasionally landed her in trouble. She made the front page of CBS New York, who called her activism "public pornography" and suggested her face was a public order crime. She has the exact same chair as Professor X, and it is also powered by Cerebro.
(15) THE MARTIAN PARTICLES. [Item by SF Concatenation's Jonathan Cowie.] Today's Nature reports a wide range of organic compounds found by Perseverance rover in the Jezero Crater on Mars: "Diverse organic-mineral associations in Jezero crater, Mars".
The results come from the rover's Scanning Habitable Environments with Raman and Luminescence for Organics and Chemicals (SHERLOC) instrument.
The SHERLOC instrument is a deep ultraviolet (DUV) Raman and fluorescence spectrometer designed to map the distribution of organic molecules and minerals on rock surfaces.
(16) NUCLEAR PROPULSION BACK ON THE DRAWING BOARD. [Item by Mike Kennedy.] Rocket geeks of a certain age will remember the NERVA program, one of the first attempts to design a nuclear thermal rocket engine.
Well, NASA and DARPA are reviving that concept with the intent of a test flight as early as 2027. This version will be limited to cislunar space, but the idea is to enable flight to Mars and possibly beyond. "The US government is taking a serious step toward space-based nuclear propulsion" at Ars Technica.
Four years from now, if all goes well, a nuclear-powered rocket engine will launch into space for the first time. The rocket itself will be conventional, but the payload boosted into orbit will be a different matter.
NASA announced Wednesday that it is partnering with the US Department of Defense to launch a nuclear-powered rocket engine into space as early as 2027. The US space agency will invest about $300 million in the project to develop a next-generation propulsion system for in-space transportation.

"NASA is looking to go to Mars with this system," said Anthony Calomino, an engineer at NASA who is leading the agency's space nuclear propulsion technology program. "And in this test is really going to give us that foundation."

… The basic idea is straightforward: A nuclear reactor rapidly heats up a propellant, probably liquid hydrogen, and then this gas expands and is passed out a nozzle, creating thrust. But engineering all of this for in-space propulsion is challenging, and then there is the regulatory difficulty of building a nuclear reactor and safely launching it into space….
(17) VIDEO OF THE DAY. One of many trailers shown at SDCC is this one for Popeye The Sailor, a live-action fan-made film.
Based on characters created by E.C. Segar, Popeye The Sailor is a No budget, action, adventure fan film coming later this year. Before Olive, before Bluto, before Sweet Haven and its many residents, this feature film tells the story of a younger Popeye, wandering the world alone, living with questions of his past. In his quest to find answers, new foes are met, and new allies are made.
[Thanks to SF Concatenation's Jonathan Cowie, Mike Kennedy, Andrew Porter, Olav Rokne, David Goldfarb, John King Tarpinian, Chris Barkley, Michael Toman, Cat Eldridge for some of these stories. Title credit belongs to File 770 contributing editor of the day Daniel Dern.]