(1) BALTICON GUEST NEWS. Balticon 56 announced that Odera Igbokwe has had to withdraw as Artist Guest of Honor due to personal reasons.
They followed up by naming two special guests: Kevin Roche, a costumer, conrunner, and quantum scientist and his husband Andy Trembley, a filker, costumer, and conrunner.
Balticon, which takes place May 27-30, also confirmed they will be streaming their most popular program tracks, and hosting virtual panels, kaffeeklatsches, author readings and more.
Virtual pricing for the whole weekend is $30 for adults and $20 for young adults. Virtual membership is automatically included with any in-person membership purchase. (Full rate information is here.)
(2) ESFS AWARDS NOMINEES. The European Science Fiction Society has released the nominations for the 2022 Achievement Awards, Hall of Fame Awards, and Chrysalis Awards.
The winners of these awards will be selected at the next general meeting of the ESFS, which will take place at Luxcon 2022, which takes place from 7th to 10th April, 2022 in Dudelange, Luxembourg.
(3) GRRM-CONNECTED GAME SUCCESS. Yahoo! reports "'Elden Ring' Sells Over 12 Million Copies Worldwide" — "Almost as many as PacMan," teases John King Tarpinian.
While publisher Bandai Namco initially predicted that FromSoftware's Elden Ring would sell around 4 million units, the game has more than surpassed expectations. In the 18 days following its release, over 12 million copies of Elden Ring have been sold worldwide, the two companies announced on Monday.

According to the press release, the game was released throughout North America, Europe, Asia, Africa and the Middle East. 1 million units were sold in Japan alone.

Created in collaboration with novelist George R. R. Martin, who is best known for writing the series behind Game of Thrones, Elden Ring is an open-world action RPG that entered development in 2017. Players begin with a linear opening but are gradually enabled to explore the mythical Lands Between….
And George R.R. Martin recently took a moment to deny a story about the game.
…Oh, and as long as I am setting stuff straight, there's a weird story all over the internet about how I "hid" my initials in ELDEN RING because… ah.. some of the characters have names beginning with R, or G, or M.   To which I say, "Eh?  What?  Really?"   This was news to me.    I have been writing and publishing stories since 1971, and I suspect that I have been giving characters names beginning with R and G and M since the start.   Along with the other twenty-three letters of the alphabet as well…  
(4) WHAT WOULD IT LOOK LIKE IF THE MANDALORIAN WAS INDIGENOUS? [Item by Olav Rokne.] Pretty cool Star-Wars-Inspired works by Canadian artist Christal Ratt got featured on the CBC News this weekend. Ratt, a member of the Barriere Lake Algonquin Nation in Quebec, used traditional techniques to create birch-bark armour modelled after the Mandalorian's beskar armour. "What if the Mandalorian's armour was birch bark instead of beskar? An Algonquin artist brings that to life".
…And while it may not be able to stop lightsabers, the wearable piece of art also includes a birch bark helmet, with quilled Woodland florals and different shades of orange to honour residential school survivors from her community. 

The piece is called Shemaginish, which means warrior….
Personally, I find it really interesting to note that several artists of Indigenous Canadian descent are reinterpreting Star Wars iconography through traditional Indigenous styles. In addition to Ratt, there are several examples I can think of this, including well-known Canadian artists Andy Everson (a member of the Comox First Nation), and Aaron Paquette (a member of the Métis community in Edmonton) have found inspiration in mixing Star Wars with styles drawn from their respective Indigenous communities.
(5) AUTHOR'S GUILD SUPPORTS SMART COPYRIGHT ACT. The Author's Guild announced, "AG Supports Introduction and Passage of the SMART Copyright Act of 2022".
… Why the Smart Copyright Act Is Necessary

The safe harbors for internet platforms in the Copyright Act are conditioned on the platforms' cooperation to remove pirated content. The law has not worked as intended by Congress to encourage that cooperation, however, because the courts resisted enforcing the loss of safe harbors. In doing so, they took the teeth out of the law. As a result, piracy is out of control today, and the only mechanism that creators have to combat piracy is to send continuous takedown notices to the platforms, which is not only costly and time-consuming—for both the creators and platforms—but it is also ineffective because pirates often repost the infringing material. Online piracy harms the entire publishing and other creative ecosystems, leaving creators, who are usually at the bottom of the food chain, with only crumbs. Writers and other creators have no recourse except to watch the income from legitimate sales of their works dwindle while e-book pirates line their coffers.

The best way to curb piracy is for service providers to adopt STMs that automatically limit the amount of piracy on their services. These technologies already exist, and many platforms already use them effectively for certain types of works. The Authors Guild and other organizations representing creators have asked Congress to require all the major user-generated content sites to use such technologies to prevent or curb piracy. While the current law contemplates voluntary multi-industry convenings to create and adopt STMs, there has been no incentive for online providers to do so. As a result, no STMs have been formally recognized in the 23 years since the law was passed.
Bill co-sponsor Sen. Thom Tillis (R-NC) says on his site:
…Online service providers struck a deal with Congress twenty years ago—they wouldn't have to pay for copyright theft facilitated by their systems if they worked with copyright owners to create effective standardized technical measures (STMs) to identify and protect against distribution of stolen content. In enacting this grand bargain, Congress clearly envisioned this safe harbor immunity would act as an incentive for platforms and rights holders to collaborate on developing effective measures to combat copyright theft, lower transaction costs, accelerate information sharing, and create a healthy internet for everyone. 

Yet rather than incentivizing collaboration, the law actually inhibits it because service providers cannot risk losing their valuable safe harbors if an STM is created. In addition, the current statute provides only one path to establish that a technological measure is a consensus-based STM that must be available to all. As a result, no STMs have been identified since the law took effect.  The issue isn't whether technical measures to combat rampant copyright infringement exist—plenty do—but rather how to encourage service providers to adopt technical measures to combat stealing and facilitate sharing of critical copyright data.   

The Strengthening Measures to Advance Rights Technologies (SMART) Copyright Act of 2022 takes a measured approach to addressing these barriers in two ways. It creates flexibility so that more existing measures could be eligible for consensus created STMs and it addresses the incentive issue by authorizing the Librarian of Congress to designate through an open, public rulemaking process technical measures identified by stakeholders that certain service providers must accommodate and not interfere with. Instead of "bet the company" loss of safe harbors, violations involving designated technical measures (DTMs) risk only actual or statutory damages, from which innocent violators can be exempt.
(6) LISTEN IN. Cora Buhlert is interviewed by Oliver Brackenbury in episode 36 of the So I'm Writing a Novel podcast: "Interview with Cora Buhlert".
Cora Buhlert is a Hugo-nominated author and genre scholar who Oliver was lucky enough to meet through his research for the novel, and he'd love for you to meet her too!

Oliver and Cora discuss her falling in love with the very American body of work known as pulp fiction while she grew up travelling the world, the survival of dime novels in modern Germany, the irresistible pull of forbidden fiction, Thundarr and He-Man, "the best thing that happened in Germany in 1989"…
(7) SLICE OF LIFE. Did you ever want to know what H.P. Lovecraft thought of Gustav Meyrink's The Golem and its silent film adaptations? If yes, Bobby Derie has you covered: "The Golem (1928) by Gustav Meyrink" at Deep Cuts in a Lovecraftian Vein.
… Der Golem ("The Golem") was a silent film directed by and starring Paul Wegener with German intertitles released in 1915. The film is now believed to be lost, aside from some fragments. This film was followed by two more: Der Golem und die Tänzerin ("The Golem and the Dancing Girl") in 1917, and Der Golem, wie er in die Welt kam ("The Golem: How He Came Into The World") in 1920, both of which were also directed by and starring Paul Wegener as the golem. So it isn't clear which film Lovecraft actually saw. The 1920 film survives and is in the public domain.

Lovecraft claimed in most of his letters to have caught a showing of it in 1921, and like many an English student of the VHS era who needed to write a book report, he assumed somewhat erroneously that it was faithful to the plot of the book….
(8) ONCE UPON A NEWSSTAND. [Item by Cora Buhlert.] At Dark Worlds Quarterly, G.W. Thomas takes a look at Weird Tales' shortlived sister magazine Oriental Stories a.k.a. Magic Carpet Tales: "Magic Carpet Tales: The Other Weird Tales" I've read some of Robert E. Howard's contributions to Oriental Stories/Magic Carpet Tales and they were very good.
… Exotic locales, sexy seductresses and plotting agents aside, much of what appeared was a type of Horror fiction. Not always supernatural, torture tales, conte cruels but not your run-of-the-mill werewolf and vampire stories. For those who love Robert E. Howard and other WT authors, this is a bonanza of secondary tales….
(9) MEDIA BIRTHDAY.
1968 – [Item by Cat Eldridge.] On this day in the United Kingdom fifty-four years ago, Planet of The Apes premiered. It was directed by Franklin J. Schaffner. The screenplay was by Michael Wilson and Rod Serling, and was based loosely upon Pierre Boulle's La Planète des Singes.
It starred Charlton Heston, Roddy McDowall, Kim Hunter, Maurice Evans, James Whitmore, James Daly and Linda Harrison. Roddy McDowall had a long-running relationship with this series, appearing in four of the original five films (absent only from the second film of the series, Beneath the Planet of the Apes, in which he was replaced by David Watson in the role of Cornelius), and also in the television series.
It was met with critical acclaim and is widely regarded as a classic film and one of the best films of that year. Roger Ebert of the Chicago Sun-Times said that it was "much better than I expected it to be. It is quickly paced, completely entertaining, and its philosophical pretensions don't get in the way." And Kevin Thomas of the Los Angeles Times exclaimed that it was, "A triumph of artistry and imagination, it is at once a timely parable and a grand adventure on an epic scale."
It did exceedingly well at the box office costing less than six million to make and making more than thirty million in its first year of screening.
Audience reviewers at Rotten Tomatoes give it an eighty-seven percent rating with over a hundred thousand reviewers having expressed an opinion!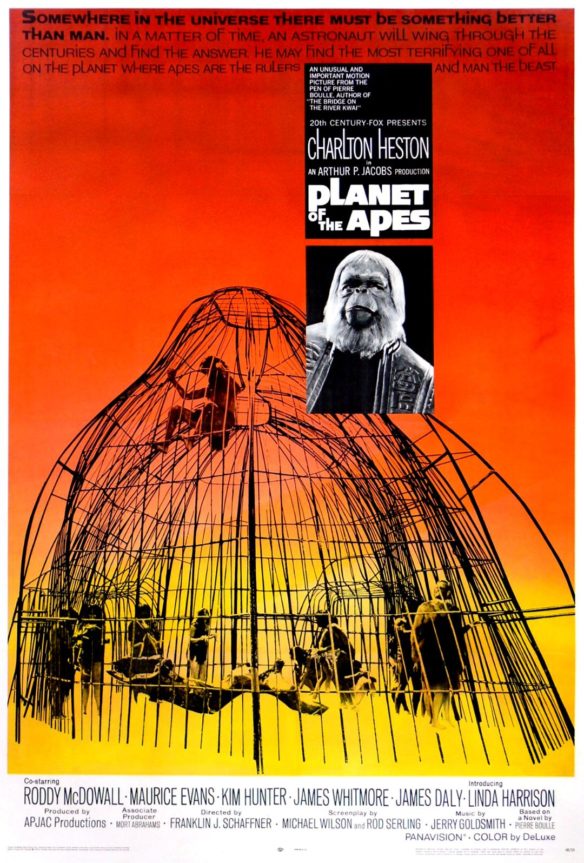 (10) TODAY'S BIRTHDAYS.
[Compiled by Cat Eldridge.]
Born March 21, 1931 — Al Williamson. Cartoonist who was best known for his work for EC Comics in the '50s, including titles like Weird Science and Weird Fantasy, and for his work on Flash Gordon in the Sixties. He won eight Harvey Awards, and an Eisner Hall of Fame Award.  (Died 2010.)
Born March 21, 1944 — Lorene Yarnell Jansson. Yarnell played Dot Matrix (body acting, with Joan Rivers performing the voice) in Spaceballs. She was Sonia in The Wild Wild West Revisted, Formicida / Dr. Irene Janis in Wonder Woman's "Formicida" episode and on the Muppet Show in season four episode, "Shields And Yarnell". (Died 2010.)
Born March 21, 1946 — Terry Dowling, 76. I was trying to remember exactly what it was by him that I read and it turned out to be Amberjack: Tales of Fear and Wonder, an offering from Subterranean Press a decade ago. Oh, it was tasty! If it's at all representative of his other short stories, he's a master at them. And I see he's got just one novel, Clowns at Midnight which I've not read but really should. He's not at all deeply stocked at the usual digital suspects but they do have this plus several story collections. He's won ten Ditmars, very impressive indeed, and quite a few other Awards as well.
Born March 21, 1946 — Timothy Dalton, 76. He is best known for portraying James Bond in The Living Daylights and Licence to Kill but is currently in The Doom Patrol as Niles Caulder, The Chief. As I've said before, go watch it now! He also was Damian Drake in Looney Tunes: Back in Action, Sir Malcolm on the Penny Dreadful series and Lord President of the Time Lords (Rassilon) during the Time of Tenth and Eleventh Doctors. He went to theatre to play Lord Asriel in the stage version of His Dark Materials.
Born March 21, 1956 — Teresa Nielsen Hayden, 66. She is a consulting editor for Tor Books and is well known for her and husband, Patrick Nielsen Hayden's superb weblog Making Light, and back in the Eighties, they published the Izzard fanzine. And she has three fascinating framing pieces in The Essential Bordertown, edited by Delia Sherman and Terri Windling. 
Born March 21, 1958 — Gary Oldman, 64. First genre film role was as Rosencrantz in Rosencrantz & Guildenstern Are Dead. Next up is the lead role in Bram Stoker's Dracula. And of course he was Jean-Baptiste Emanuel Zorg in Fifth Element, followed by being Lost in Space's Dr. Zachary Smith, which in turn led to Harry Potter's Sirius Black, and that begat James Gordon in the Batman films. Although some reviewers give him accolades for us as role as Dr. Dennett Norton in the insipid Robocop remake, I will not. Having not seen Dawn of the Planet of the Apes, I can't say how he is as Dreyfus in it.
Born March 21, 1965 — Cynthia Geary, 57. Best remembered as Shelly Tambo on Northern Exposure. It's genre, isn't it? If that's not enough, she's got a prime genre role in The Outer Limits episode "Mary 25" in which she plays Teryl who is not what she seems. And she shows up on Fantady Island in the "Dying to Dance" as Pamela Lewis.
Born March 21, 1970 — Chris Chibnall, 52. Current showrunner for Doctor Who and the head writer for the first two (and I think) best series of Torchwood. He first showed up in the Whoverse when he penned the Tenth Doctor story, "42".  He also wrote several episodes of Life on Mars. He's been nominated for a Hugo three times for work on Doctor Who, "Rosa" at Dublin 2019, "Resolution" CoNZealand and for "Fugitive of the Judoon" at DisCon III.
Born March 21, 1985 — Sonequa Martin-Green, 37. She currently plays Michael Burnham on Discovery which is now In its fourth series. She had a brief recurring role as Tamara in Once Upon a Time, and a much longer recurring role on The Walking Dead as Sasha Williams but I've never seen her there as zombies hold absolutely no interest to me. Well Solomon Grundy does…  And she was in the Shockwave, Darkside film.
(11) COMICS SECTION.
The Duplex shows the history you learn from watching movies.
Lise Andreasen says these are "Exactly the same things I would do!"
(12) OUTFOXED. Arturo Serrano reviews the new Pixar film for Nerds of a Feather in "'Turning Red' finds joy in the scary messiness of puberty".
…Disney/Pixar's new animated movie Turning Red takes this metaphor of puberty as transformation and situates it in the no less stressful context of the immigrant experience during the rise of digital mass media. If being a teenager is hard, it's almost unbearably so when inherited traditions and expectations conflict with multicultural openness and pop culture sex symbols. When protagonist Meilin Lee learns that the women of her family have the power to transform into enormous red pandas, it feels like it couldn't have come at a worse time: she's busy enough pleasing her parents and excelling at school and daydreaming about boy bands without going all Katie Ka-Boom every time she gets emotional. So she panics, and tries to hide what's happening to her, and pretends to be in full command of her feelings—but her inner animal won't be tamed. There's no denying the call of nature….
(13) EFF ME. That was my reaction to the headline "Hugh Grant 'in conversation' to replace Jodie Whittaker as Doctor Who" at Metro News.
…Well, rumour has it the Love Actually star could be taking over from Jodie Whittaker as the Time Lord.

According to The Mirror, the BBC series could be heading for a Marvel-style makeover, with Hugh at the helm….
(14) WIN BY LOSING. "Loki Award Show Lost Saves Universe, According to Miss Minutes" – Gizmodo has the story.
Awards season hit a high note this weekend as multiple guilds and groups gave awards leading up to the grand finale, the Oscars, which happen this coming Sunday. One of the biggest to do so was the Writers Guild of America—and apparently one specific category literally saved the world, at least according to a certain animated talking clock from the Marvel Cinematic Universe.

… In the Drama category, Succession was up against The Handmaid's Tale, The Morning Show, Yellowjackets, and Marvel's Loki. And it's that last one we're going to concentrate on. Showrunner and head writer Michael Waldron revealed on Twitter that, had Loki won, this is the acceptance speech the writers submitted to air.
(15) REGENCY TEA TIME. [Item by Cora Buhlert.] Aja Romano shares her appreciation for the works of Georgette Heyer and wonders why Heyer is not a household name and has never had a film or TV adaptation: "When will Hollywood discover Georgette Heyer?" at Vox. I'd say that Georgette Heyer is at least genre-adjacent, since a lot of SFF fans seem to like her and Regency romance in general. Plus, Regency dancing is a thing at many cons.
…[Jane] Austen's relative lack of sentiment also helped her gain popularity and respect as a writer in a male-dominated century of literature. While other women writers of her time like Fanny Burney were reviled as trashy, Austen's lack of interest in high drama and romance made her work acceptable to male readers as well as to women. One 19th-century critic wrote approvingly that "she sets her face zealously against romantic attachments."

That patriarchal lack of respect for the art of writing about love may also explain why few outside of romance fans have ever heard of Austen's primary successor: Georgette Heyer. Despite singlehandedly creating the modern romance, Heyer is still a niche author. And though she has nearly 10 times as many books available for cinematic adaptation as Austen, Hollywood has yet to discover her….
(16) PARALLAX VIEWS OF WESTEROS. George R.R. Martin introduces "The Rise Of The Dragon" at Not A Blog and explains how it complements Fire & Blood. Sample art at the link.
We're so excited to announce The Rise of The Dragon, a lavish visual history of House Targaryen – the iconic family at the heart of HBO's Game of Thrones prequel series, House of the Dragon – featuring over 180 all-new illustrations!

For those of you who are wondering: What's the difference between The Rise of the Dragon and Fire & Blood? Think of The Rise of the Dragon as a deluxe reference book, in which Westeros' most infamous family – and their dragons – come to life in partnership with some truly incredible artists.

Fire & Blood was scribed as a grandmaesters' account of events from Aegon Targaryen's conquest of Westeros through to the infamous Dance of the Dragons, the civil war that nearly undid the Targaryen rule. The Rise of the Dragon will cover the same time period, but is written in a more encyclopedic style similar to The World of Ice and Fire. In fact, The World of Ice and Fire authors Elio M. García, Jr. and Linda Antonsson have returned to help with this tome. …
(17) AIRING ON THE SIDE OF CAUTION. [Item by Daniel Dern.] From the "By The Book" weekly interview in the NY Times (Sunday) Book Review section, 3/20/22, with Jeremy Denk, a question that IIRC is part of every interview:
Q: What books are on your night stand.

A: In Manhattan, my night stand has become commandeered by a CPAP machine. I chose breathing over reading.
He then goes on to list books elsewhere in his domicile(s).
(18) IT'S FOR YOU. [Item by Martin Morse Wooster.] The BBC shows it's possible to walk outside with a mobile phone "as big as a walkie talkie" and make a phone call in this clip from a 1974 episode of Blue Peter.
[Thanks to John King Tarpinian, Andrew Porter, Michael Toman, Lise Andreasen, Olav Rokne, Daniel Dern, Cora Buhlert, Cat Eldridge, Mike Kennedy, Martin Morse Wooster, and JJ for some of these stories. Title credit belongs to File 770 contributing editor of the day Daniel Dern, who calls it his Tolkien cowboy title.]