(1) VALENTINELLI CONSIDERS ANTIHARASSMENT PROJECTS. Monica Valentinelli has issued a "Tentative Plan for Con Safety Discussion and Call for Feedback".
…I want to stress, however, that I am no expert on the subject of con safety. There are several people (4) who are already doing the work to make cons/events safer, and I feel that any forthcoming materials needs to emphasis those efforts and individuals. As I mentioned in the previous post, the discussion about con safety is far bigger than what happened at one con, and there can definitely be more than one solution (5) and multiple books.

What I Can Offer

Besides offering support, words of encouragement, or signal boosting where I can (6), I've had a few volunteers saying they'd be willing to help put together a book (7) on con safety. Doing so is complex, because a) it collates invaluable knowledge from existing volunteers b) people need to be paid fairly for their time c) it needs to be inclusive to address "what's missing" from underrepresented groups d) it requires a publisher and ample distribution and e) possibly a Kickstarter….
(2) NERD CON SAYS GOODBYE. Nerd Con, an Escondido, CA event, sent its fans into mourning when they announced on March 31 that the con is kaput.
Nerd Con Announcement:

These past years have been so much fun and we've had such a blast meeting so many awesome people. Its been really exiting bringing people together through our events (Nerd Con, Nerdy New Year) and creating memories that will surely last a lifetime.

We would like to thank the multitude of really great people who spent countless hours of time and dedicated their energy into making Nerd Con and Nerdy New Year special events for everyone.

At this time we no longer have the necessary resources to continue producing these events. We realize that this may come as a shock to many of you and we would like to thank you in advance for your patience and understanding….
It may have been a touch overdramatic to say "These past years have been so much fun…" The con's only been around for two years — the first was in 2015.
But that's been long enough to energize a few critics. Some wag put up a webpage with the message "Nerd-Con 2017 in Escondido IS CANCELLED for non-payment for services" and filled it with complaints about his experiences at last year's con.
(3) BACK TO KRYPTON. Might as well start covering this now, I'm sure we'll be hearing a lot more about the series as time goes on — "Syfy's Krypton: In Leaked Pilot Trailer, Grandpa Has a Message for Superman".
"The story of your family isn't how we died, but how we lived."

That's the message being left by Kal-El's grandfather in a leaked (and since-deleted, sorry!) trailer for Syfy's upcoming Superman prequel pilot, Krypton.

Penned by David S. Goyer (Man of Steel) and Ian Goldberg (Once Upon a Time), Krypton is set two generations before the destruction of Superman's home planet and follows the future Man of Steel's forefather — Seg-El (played by The Halcyon's Cameron Cuffe), whose House of El was ostracized and shamed — as he fights to redeem his family's honor and save his beloved world from chaos.

The cast also includes Georgina Campbell (Broadchurch) as Lyta Zod, a military cadet and Seg-El's romantic interest; Ian McElhinney (Game of Thrones) as Seg-El's own grandpa, a genius fascinated by space exploration; Rasmus Hardiker (Black Mirror) as Seg-El's best friend; Elliot Cowen (Da Vinci's Demons) as chief magistrate Daron Vex; and Wallis Day (The Royals) as Daron's daughter Nyssa.
(4) MAJOR BLABBAGE. DenofGeek brings "Doctor Who: huge Christmas special rumors" – coverage that comes with a big fat warning sign —
Huge rumours could become huge spoilers, so only read this article about the Doctor Who Christmas special if you're okay with that…

The Mirror is reporting that David Bradley will portray William Hartnell's first Doctor in the 2017 Christmas special, (sort of) reprising his role from the 2013 making-of drama, An Adventure In Space And Time.

"In the plot, the 1st Doctor has to help the 12th [Peter Capaldi] play out his last mission in the TARDIS. The pair must work together to save [their] home planet Gallifrey by moving it to another dimension", The Mirror claims.

The tabloid's report continues: "Fans will discover the close-up shot of Capaldi's eyes from the 50th [anniversary] special The Day Of The Doctor, was actually the start of his own regeneration."
(5) VERSATILE AUTHOR LAUNCHES PATREON. Since we last heard from Malcolm Cross ("Malcolm Cross, MilSF, and Piracy"), the author of Dog Country, Dangerous Jade, and Extinction Biome: Invasion, Dog Country has been nominated for the Ursa Major and Coyotl Awards, which are the equivalent of a Hugo and Nebula for furry writers. Cross has started a Patreon to reignite his career.
(6) HAPPY NEW YEAR! Standback's Short Story Squee & Snark online short story club is starting on stories from 2017.
With a whole Internet constantly supplying us with excellent short fiction, SSS&S is devoted to reading short stories often, and widely. Every week we read a story – hopping between magazines, authors, styles and subgenres. Then, we meet up back here and discuss – love it or loathe it, being able to talk stories over is often half the fun!

We're kicking off discussing Sarah Pinsker's "And Then There Were (N-One)" – the story of SarahCon, the exciting new convention for Sarah Pinskers from across the multiverse.

And, entering a new year of short fiction, we're very eager for story recommendations – tell us what stories from 2017 you'd love to see discussed, because we'd love to discuss 'em!
(7) 70TH EASTERCON. Last weekend the bid for Ytterbium was chosen to host the 2019 British Eastercon over the Easter weekend, April 19-22 at the Park Inn, Heathrow.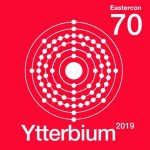 The Guests of Honour will be Frances Hardinge, Sydney Padua, John Scalzi, and DC.
Follow them here on Facebook.
And if someone is willing to alleviate my ignorance of who DC is, please do!
(8) KAYMAR. Congratulations to long-time fan John Thiel on winning the N3F's Kaymar Award for 2017.
The Kaymar Award is given in April every year, supposedly because the [National Fantasy Fan Federation] was organized in the month of April. The award, unlike other awards in fandom, can only be awarded once to a single person. It is not given for talent or for popularity, but for work — work for the benefit of the club and its members. The award is a memorial to K. Martin Carlson [1904-1986], who originated, maintained, and financed it for 25 years. Carlson was a long-time N3F member who held many positions in the club, including club historian. He went by the fan name of Kaymar
(9) LOST LOSS LEADER. For a mere $29,000 you can own a Lost In Space B-9 Robot 3rd Season Ultimate Prop Replica. (Though wouldn't you think you could get the original for that much money?)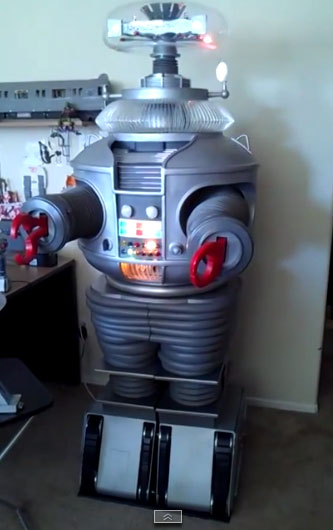 This B9 Robot was given the privilege to appear at the "50th Anniversary of Lost in Space" at the Hollywood show in Los Angeles. It also held a private exclusive photo shoot with the cast along with their signatures. Photo's and video will be made available as part of this sale.

3rd season version (paint & finish as seen in the final season)

Functioning Components:

– Lots of Sound FX and Dialogue from the series!
– This Robot has a 6 channel remote control that works 5 motors.
– The Robot will come to life at your control and you can impress family and friends.
– It has dual arm & claw extensions that will open and close, move forward and back.
– The Robot has a rotating torso, entire functions may be used at same time to bring the Robot to life.
(10) TANGLED UP IN BLUE. Some say they were creeped out by the commercial for "Pandora: The World of Avatar", which opens May 27 at Walt Disney World in Florida.
To others, Avatar feels like a distant memory now, but according to Polygon —
It may seem strange for an Avatar-themed park to be opening in 2017, but the Avatar franchise is far from over. Last April, Fox confirmed Cameron would direct Avatar 2, Avatar 3, Avatar 4 and Avatar 5 over the course of the next six years, with the final movie expected to be released around Christmas 2023. Avatar 2, the sequel to Cameron's box office-breaking 2009 film, will be released around Christmas 2018.
(11) TODAY IN HISTORY
The object in the water was not a form of marine life. It was a toy submarine outfitted with a sea-serpent head. This was revealed in 1994 when Christian Spurling, before his death at the age of 90, confessed to his involvement in a plot to create the famous Surgeon's Photo, a plot that involved both Marmaduke Wetherell and Colonel Wilson.
April 19, 1987 — The first television appearance of The Simpsons — Homer, Marge, Bart, Lisa, and Maggie — aired during the third episode of The Tracey Ullman Show.
(12) RESONANCE IMAGERY. Justira at Lady Business undertakes a deep. politically-based critique of two works in "Flawed Protagonists, Reader Discomfort, and the Semiotics of the Self: 'Borderline' & 'White Tears'".
…So let's return to Millie before we move on to Seth and White Tears. One of Millie's defining traits as a protagonist, when it comes to my reading experience, is that she made me uncomfortable, brought me discomfort. Sometimes this was the simple discomfort of a protagonist doing an obviously bad thing. That's relatively was easy to deal with. But sometimes it was the book making a point. Let's take Millie's self-consciousness about her racism — that made me uncomfortable, too. Millie will form some negative impression of a character and then wonder, it's not because he's a POC, is it? Or, conversely, Millie will desire a POC in a pretty… shall we say, colour-coded way. This, she was less self-conscious about, but juxtaposed with the flip side of her racism, it seemed obvious to me. To me, Millie's experience of this in her own head — am I thinking this because of X-ism? — ran perfectly parallel to my experience as a reader in regards to Millie: am I finding her unlikable in this moment because I'm ableist? This book uses reader discomfort as a tool to achieve a sociopolitical goal, to achieve a certain kind of consciousness, self-consciousness….
(13) SUBMISSION. Elizabeth Nolan Brown's analysis and opinion, in "Drupal Developer Larry Garfield Ostracized Over Involvement in Sci-Fi Based Kink Community" on Reason's "Hit and Run" blog, turns out to be about the consequences to an industry leader of being part of a community of "Goreans," who are devotees of the novels of John Norman. (Amazing to find Gor novels in the news 40 years later.) A lot of the arguments about the interplay of personal rights and membership in communities are familiar from comments on various topics here.
Inc points out that "the deeper question about how much tolerance should be afforded to controversial views is one that has popped up multiple times in open-source communities" in recent years, from Brendan Eich's removal as CEO of Mozilla over his opinion on same-sex marriage to the drama surrounding LambdaConf's inclusion of programmer Curtis Yarvin (who runs a neoreactionary blog in his non-professional life).

Buytaert was at first quite explicit on his answer to this question. In a section of his blog post that's now been deleted, the Drupal head opined that "someone's belief system inherently influences their actions, in both explicit and subtle ways," and wrote that he is "unwilling to take this risk going forward" with regard to Garfield's potential beliefs about sex and gender potentially spilling over into his professional life. And here's the real rub of it:

Larry's continued representation of the Drupal project could harm the reputation of the project and cause harm to the Drupal ecosystem. Any further participation in a leadership role implies our community is complicit with and/or endorses these views, which we do not.

Whether Buytaert himself believes that Garfield is a sexist pervert is irrelevant—he's clearly worried that other people will perceive Garfield as a sexist pervert, and afraid that this will create bad public-relations for Drupal. Rather than practice what he preaches about tolerance, respect, and creating "a culture of open-mindedness toward difference," Buytaert offered up Garfield for social-justice sacrifice in order to appease prudes and busybodies. Here's hoping the tech community continues to reject this sort of phony promise of diversity and attempts at inclusiveness through exclusion.
(14) FIRST NATIONS. Take Us to Your Chief and Other Stories: Classic Science Fiction with a Contemporary First Nations Outlook, edited by Drew Hayden Taylor, was released April 11.
A forgotten Haudenosaunee social song beams into the cosmos like a homing beacon for interstellar visitors. A computer learns to feel sadness and grief from the history of atrocities committed against First Nations. A young Native man discovers the secret to time travel in ancient petroglyphs.

Drawing inspiration from science fiction legends like Arthur C. Clarke, Isaac Asimov and Ray Bradbury, Drew Hayden Taylor frames classic science-fiction tropes in an Aboriginal perspective.

The nine stories in this collection span all traditional topics of science fiction–from peaceful aliens to hostile invaders; from space travel to time travel; from government conspiracies to connections across generations. Yet Taylor's First Nations perspective draws fresh parallels, likening the cultural implications of alien contact to those of the arrival of Europeans in the Americas, or highlighting the impossibility of remaining a "good Native" in such an unnatural situation as a space mission.

Infused with Native stories and variously mysterious, magical and humorous, Take Us to Your Chief is the perfect mesh of nostalgically 1950s-esque science fiction with modern First Nations discourse.
(15) SENSE OF WONDER. John Joseph Adams' Cosmic Powers anthology was released April 18 – cover by Chris Foss.
"Inspired by movies like The Guardians of the Galaxy and Star Wars, this anthology features brand-new epic stories from some of science fiction's best authors. For fans who want a little less science and a lot more action."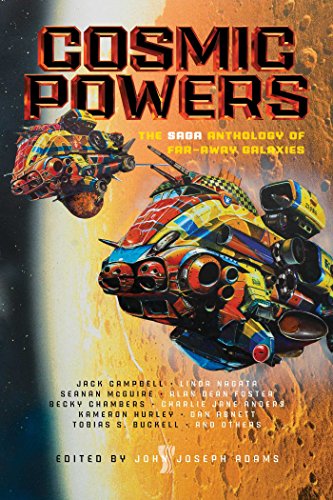 Table of Contents
A Temporary Embarrassment in Spacetime — Charlie Jane Anders
Zen and the Art of Starship Maintenance — Tobias S. Buckell
The Deckhand, the Nova Blade, and the Thrice-Sung Texts — Becky Chambers
The Sighted Watchmaker — Vylar Kaftan
Infinite Love Engine — Joseph Allen Hill
Unfamiliar Gods — Adam-Troy Castro, with Judi B. Castro
Seven Wonders of a Once and Future World — Caroline M. Yoachim
Our Specialty is Xenogeology — Alan Dean Foster
Golden Ring — Karl Schroeder
Tomorrow When We See the Sun — A. Merc Rustad
Bring the Kids and Revisit the Past at the Traveling Retro Funfair !— Seanan McGuire
The Dragon that Flew Out of the Sun — Aliette De Bodard
Diamond and the World Breaker — Linda Nagata
The Chameleon's Gloves — Yoon Ha Lee
The Universe, Sung in Stars — Kat Howard
Wakening Ouroboros — Jack Campbell
Warped Passages — Kameron Hurley
The Frost Giant's Data — Dan Abnett
(16) VERNE DISCOVERY. Mysterious Universe says a Jules Verne time capsule has been found after researchers analyzed hints about its location on his tomb.
So far, the box has only been examined with X-rays and, unfortunately, it and the materials inside show deterioration from being buried since the late 1800s – Verne died on March 24, 1905. According to Paris Descartes University Field Archaeologist Elouan Beauséjour, the papers appear damp and crumbling and the engravings on the inside of the box are nearly illegible. Other things that can be identified include books and metal objects. Beauséjour says the examination has moved to a more detailed phase that may involve opening the box in a sterile and preservative environment. He plans to issue a statement as this progresses.
(17) CAPITAL INFUSION. Not quite another The Leaky Establishment reference, but some unexpected people are getting into nuclear power: "British reality star building a fusion reactor".
Although it would be easy to dismiss Dinan as a dreamer, his startup Applied Fusion Systems is one of a growing number of firms investing in the promise of fusion. In the UK alone, there are at least two other companies trying to produce commercial nuclear fusion power stations. And as BBC Future reported last year, in the US, several projects have received the backing of wealthy technology billionaires including Amazon's Jeff Bezos, Microsoft co-founder Paul Allen, Paypal co-founder Peter Thiel and former Google vice president Mike Cassidy.
(18) COOL BEANS. And a lab demo of "negative mass".
Prof Peter Engels, from Washington State University (WSU), and colleagues cooled rubidium atoms to just above the temperature of absolute zero (close to -273C), creating what's known as a Bose-Einstein condensate.

In this state, particles move extremely slowly, and following behaviour predicted by quantum mechanics, acting like waves.

They also synchronise and move together in what's known as a superfluid, which flows without losing energy.

To create the conditions for negative mass, the researchers used lasers to trap the rubidium atoms and to kick them back and forth, changing the way they spin.

When the atoms were released from the laser trap, they expanded, with some displaying negative mass.

"With negative mass, if you push something, it accelerates toward you," said co-author Michael Forbes, assistant professor of physics at WSU.

He added: "It looks like the rubidium hits an invisible wall."
(19) SHIRLEY YOU JEST. When John Hertz cast his eye on the new Shirley Jackson bio Shirley Jackson: A Rather Haunted Life by Ruth Franklin (a Stoker nominee) this is what he discovered –
I turned to the index and found no entry for "One Ordinary Day, with Peanuts". Various other works of hers were listed.

I haven't read the book so can't say if the story is included in the text and merely omitted from the index, or left out entirely.

Opinions differ as to whether it's a horror story. I don't think it is, but I do think it wonderful.
(20) FIRST PAST THE POST. Camestros Felapton rates "Hugo 2017: Best Dramatic Presentation Short". Did that nominee we have already read Camestros raving about come in number one on his ballot? Well, yes!
(21) FURTHER DELIBERATIONS. More reviews from the Shadow Clarke jury – the hardest-working critics on the planet! Superb writers, too.
Empire V is about vampires, which is probably guaranteed to turn away many readers who could happily go the rest of their lives without seeing another vampire. The figure of the vampire has by this point been made to stand in for so many disparate things—the sexual predator, the romantic outsider, the lonely immortal, the feral beast, whatever—that the image feels quite emptied of meaning in itself. Merely knowing that there are vampires in a story no longer tells us anything useful about it. At best, one might make two safe guesses: one, that the story is not going to be about vampirism as such; two, that the vampires will be in some way a fringe element to society.
The first three books on my Sharke shortlist were an unabashed joy to me. Valente, Tidhar and Jemisin all delivered to my personal tastes in terms of prose, character and moral tone. I picked those books because I thought they would push my buttons and they did. I felt minimal friction while reading them or writing about them. Ninefox Gambit by Yoon Ha Lee was and is a different animal altogether; a book that I found challenging, elusive, tantalising and frustratingly obtuse by turns. This is unsurprising. I'm a historian and a medievalist by training, so military SF predicated on advanced mathematics is always going to test my limits. After 30 pages of immersion in Lee's world I found myself entirely at a loss for what the hell was going on. My paradigmatic understanding of how things work smacked into the world of the novel at high speed. Stuff exploded, characters were killed, geocide was committed and I was left feebly grasping at threads as they whipped past me. I might have given up on the book in discombobulated despair if not for the muscular grip of the writing:
Hunters & Collectors is a book about celebrity and the way that online celebrity interacts with social class. Tomahawk presents himself as this hedonistic and transgressive figure but as his destruction suggests, his ability to transgress the rules of polite society is constrained by a particular social contract: As a critic, he can express himself as honestly as he wants as long as that self-expression does not extend beyond the realms of consumer advice to a critique of existing power structures and social systems. Be as rude as you like about restaurant owners, but don't you dare talk about the government. The social contract also has an – unwritten but understood – rule that your celebrity and popularity are entirely dependent upon your ability to face the right direction at all times. Be as rude as you like about the out-group, but don't you dare talk about people we aspire to be lest we turn against you. There is also an understanding that making any statement in public (even anonymously) positions you in a world where everyone spends their time tearing each other to pieces. Face the wrong direction and your support will evaporate and once your support evaporates, you can be utterly destroyed even if you have not done or said anything wrong. This is a dog-eat-dog world but only for those without any real power.
What I know as the Ashmolean Museum is, in Kavenna's Oxford, the Tradescantian Ark, reflecting the fact that the collection Elias Ashmole gave to Oxford University was in part composed of John Tradescant the Younger's collection of artefacts, known as the Ark, which he gave to Ashmole (or, depending on who you listen to, which Ashmole swindled him out of). So, perhaps we are in an Oxford which is less a 'home of lost causes, and forsaken beliefs, and unpopular names, and impossible loyalties', as Matthew Arnold memorably described it, and instead a place where potential wrongs have been righted even before they were committed, and Jeremiah Tradescant's ownership of his family's remarkable collection is justly celebrated. Perhaps, but rather as light is both particle and wave, so wrongs can be righted even as the lost causes and forsaken beliefs persist.
[Thanks to Mark-kitteh, John Hertz, Cat Eldridge, JJ, Chip Hitchcock, John King Tarpinian, and Carl Slaughter for some of these stories. Title credit goes to File 770 contributing editor of the day ULTRAGOTHA.]