(1) DOCTORAL THESES. A roundup of Radio Times' Doctor Who coverage.
The show's official social media accounts posted a snap of the pair on the TARDIS set, holding a clapperboard, with an accompanying message that confirmed they'd "finished filming".

Whittaker's departure from Doctor Who was first announced, along with that of current showrunner Chris Chibnall, back in July.

Though this new post confirms that Gill has also "finished filming" on the next set of episodes, the BBC is yet to officially confirm if she will be departing her role as companion Yaz Khan.

Both stars will return for the show's 13th series, set to air from 31st October on BBC One. This will be followed by two specials which will air in 2022, then one final feature-length adventure for Whittaker's Thirteenth Doctor which will also mark the BBC's centenary.
Speaking to Digital Spy, he explained: "It all depends. The moment you say yes to Doctor Who, even before you've done an episode, you're being asked whether you'd go back after you finish. I don't know if this happens to James Bonds. I don't know if Pierce Brosnan gets asked if he'd go back to James Bond.

"Because there's that element of fantasy, anything is ultimately possible. You should never say never to anything. I think that way madness lies."
Well, that didn't take long – Tennant is voicing the Doctor in a game:
David Tennant returns to the world of Doctor Who today with a special voice appearance in Doctor Who: The Edge of Reality, a video game that sees Tennant's Time Lord sharing a screen with Jodie Whittaker's incumbent version of the famous TV hero. But this return did come with a bit of "weirdness" thanks to the COVID-19 pandemic.
(2) FOLLOWING THE JUMP. Heavy.com revisits several efforts to revisit Star Trek's Guardian of Forever in other iterations of the series: "How Spock Was Supposed to Meet Himself on 'the Next Generation'".
Fans cried during the airing of the "Star Trek" episode, "The City on the Edge of Forever." This particular program would be proclaimed by many as the "greatest episode" in the franchise's history. Written originally by science fiction scribe Harlan Ellison, "City" featured a story that taught the cruel lessons of time travel.

… Kirk, Spock, and McCoy (DeForest Kelley) were able to travel into the past with the help of a living machine known as the Guardian of Forever….  
(3) HITTING THE THEMATIC TARGET. Author and editor Michael A. Ventrella from the Pocono Liars Club chats with authors and editors Keith DeCandido and Randee Dawn on the topic of "Writing for Themed Anthologies" with lots of stories, laughs, and advice for writers and editors both!
(4) OCTOTHORPE. Octothorpe 42 is up now. Listen here: "I'm Up for Running Controlcon".
John Coxon used to have a different face, Alison Scott is going to Smofcon, and Liz Batty is in disguise. We talk about Douglas Adams, the SF Encyclopedia, and upcoming Worldcon bids.
(5) THE BIG TIME. [Item by Christian Brunschen.] I watched the most recent episode of the BBC quiz show Only Connect on BBC 2 – a quiz show where contestants have to find connections between clues, hosted by Victoria Coren Mitchell – and one of the combinations this time featured this combination.
[Note: iPlayer link only works in UK, but YouTube has the episode. This game segment comes after the 20-minute mark.]
(6) GUESS WHO'S A BIG JEAN-LUC FAN. [Item by Martin Morse Wooster.] In the Washington Post, Travis M. Andrews and Roxanne Roberts say Jeff Bezos has been a Trekker since fourth grade, when he's come home from school and watch classic Trek episodes.  Andrews and Roberts note that Bezos's favorite captain is Jean-Luc Picard, and that he nearly named Amazon makeitso.com.  His current favorite sf writers are Alistair Reynolds, Ernest Cline, and Andy Weir and it's not a coincidence that Amazon Studios saved The Expanse after the show was killed by Syfy. "Jeff Bezos and Star Trek: A love affair".
…"For years, I have been begging Paramount, which is owned by Viacom, to let me be in a 'Star Trek' movie," he said that year. "I am very persistent, and you can imagine the poor director who got the call: 'You have to let Jeff Bezos be in your 'Star Trek' movie. "

Bezos said he was willing to be unrecognizable but wanted a speaking part — and one that was central to the plot so it didn't end up on the cutting-room floor.

Bezos appears in the first five minutes of the film as an alien Starfleet officer stationed at Yorktown Starbase in 2263 who scans Kalara as she pleads for help from Commodore Paris and Captain Kirk. "Speak normally," Bezos tells her. The cameo role required such extensive makeup that he could only drink through a straw.

"He was awesome," director Justin Lin told the Associated Press. "It was like a president was visiting, you know? He had a big entourage! But it didn't matter because he was so into it. He had to wait around all day because it was one day we were shooting like three different scenes and, it was also credit to Jeff because … he just nailed it every time."…
(7) YES BUCKS, YES BUCK ROGERS. I'm still catching up, and this seems a timely place to slip in Saturday Night Live's "Billionaire Star Trek" sketch from a week ago.
(8) MEDIA BIRTHDAY.
1926 – Eighty-five years ago, A. A. Milne's Winnie-the-Pooh, was first  published in the United Kingdom. It is a collection of short stories with illustrations by E. H. Shepard. It was the first of two such collections, the second being The House at Pooh Corner. (Yes, it'd later be a song written by Kenny Loggins and performed by their Nitty Gritty Dirt Band on their 1970 Uncle Charlie & His Dog Teddy album but I digress.) The book was well-received at release, and was an extraordinary success, selling some one hundred fifty thousand copies before the end of the year. Winnie-the-Pooh has been adapted in other media, most notably by Disney beginning with Winnie the Pooh and the Honey Tree in the Sixties. Both books are free as part of the Audible Plus program. 
(9) TODAY'S BIRTHDAYS.
[Compiled by Cat Eldridge.]
Born October 14, 1899 — Martin Miller. He played Kublai Khan in the completed erased by the BBC First Doctor story, "Marco Polo". He's in the first Pink Panther film as Pierre Luigi, a photographer, and has roles in Danger Man, Department S, The Avengers and The Prisoner. In the latter, he was number fifty-four in "It's Your Funeral". The Gamma People in which he played Lochner is I think his only true genre film though I'm obviously open to being told I'm wrong. (Died 1969.)
Born October 14, 1927 — Roger Moore. Bond in seven films 1973 to 1985, a long run indeed. And he played Simon Templar in The Saint for most of the Sixties, an amazing one hundred eighteen episodes. Let's not forget that he was in the Curse of the Pink Panther as Chief Insp. Jacques Clouseau!  He even got to play Sherlock Holmes in Sherlock Holmes in New York. (Died 2017.)
Born October 14, 1946 — Katy Manning, 75. She was Jo Grant, companion to the Third Doctor. She also appeared in that role with the Eleventh Doctor on the Sarah Jane Adventures in a two-part story entitled "Death of the Doctor". She appears as herself in the The Five(ish) Doctors Reboot.
Born October 14, 1949 — Crispin Burnham, 72. And then there are those who just disappear.  He was the founder, writer and publisher of Dark Messenger Reader / Eldritch Tales from 1975 to 1995 as the publisher Yith Press. He was also a prolific essayist from 1973 to 1995, his final essay being a reflection on the life and career of Robert Bloch. There's nothing to show him active after 1998 when the final part of his "People of The Monolith" was publishedin Cthulhu Cultus #13. Then he vanishes without a trace. 
Born October 14, 1953 — Richard Christian Matheson, 68. Son of the Richard Matheson that you're thinking of. A very prolific horror writer mostly of short stories, he's also no slouch at script writing as he's written for Amazing Stories, Masters of Horror, The Powers of Matthew Star, Splatter, Tales from the Crypt, Knight Rider (the original series) and The Incredible Hulk. Wiki claims he wrote for Roger Zelazny's The Chronicles of Amber but IMDB shows no such series or show. The usual suspects  have a goodly number of story collections available for him.
Born October 14, 1953 — Greg Evigan, 68. TekWar, one of Shatner's better ideas, starred him as Jake Cardigan. I really liked it. Yes, Shatner was in it. He also shows up in DeepStar Six as Kevin McBride, as Will South in the horror film Spectre aka The House of The Damned, as Marcus Cutter in Cerberus: The Guardian of Hell, and on the Alfred Hitchcock Presents as David Whitmore in "In the Driver's Seat". 
Born October 14, 1963 — Lori Petty, 58. Rebecca Buck – "Tank Girl" in that film. She was also Dr. Lean Carli in Cryptic, and Dr. Sykes in Dead Awake. She had one-offs in The Hunger, Twilight Zone, Star Trek: Voyager, Brimstone, Freddy's Nightmares and Alien Nation, and voiced quite well Livewire in the DCU animated shows.
Born October 14, 1968 — Robert C. Cooper, 53. He was an executive producer of all the Stargate series. He also co-created both Stargate Atlantis and Stargate Universe with Brad Wright. Cooper has written and produced many episodes of Stargate series as well as directed a number of episodes. I'm really impressed!
(10) COMICS SECTION.
2021: Let's not do anything about the climate yet. – That's a crazy bad idea.

2050: That didn't work, I wonder what went wrong. – It was a crazy bad idea. 
(11) IATSE STRIKE IMMINENT. The International Alliance of Theatrical Stage Employees (IATSE) will go on strike Monday, October 18 unless studios and streaming companies meet their demands reports Business Insider: "Hollywood Union President Declares Strike Ultimatum for Monday".
…Earlier this month, IATSE members voted to authorize a strike, with over 98% of members voting in favor for a strike. The union and producers resumed bargaining negotiations on Wednesday, according to Deadline, marking eight days since the strike authorization. The unions have been locked in multiple negotiations since July, but parties have repeatedly failed to reach a consensus on a deal….

The Washington Post sums up the reasons for the stike:

…Members of the IATSE contend that television and film studios have raked in massive profits during the coronavirus pandemic as consumers turn to streaming options to fill more time at home. But those gains have not extended to workers, they say, who now put in significantly longer workweeks…
David Gerrold also discussed what the high (98%) vote portends and urged his readers to support IATSE.
And John Scalzi voiced his support, too.
(12) UNION FORMS. Meanwhile, Dicebreaker reports board game industry employees are organizing: "Workers at Paizo have announced the United Paizo Workers union".
Over 30 Paizo staff members from several departments have signed a letter announcing the formation of the United Paio Workers union, in coordination with the Communication Workers of America. This effort is the first of its kind in both the tabletop RPG and board game industry.

The letter states that Paizo workers have been organizing for some time but were spurred to act by September firing of customer service and community manager Sara Marie and what they call the sudden departure of customer service representative Diego Valdez and several others in the recent past. Many former and current employees, as well as freelancers and contract workers, took the opportunity to share stories of abuse, harassment, mistreatment and hostile management.

"These events, as well as internal conversations among Paizo workers, have uncovered a pattern of inconsistent hiring practices, pay inequity across the company, allegations of verbal abuse from executives and management, and allegations of harassment ignored or covered up by those at the top," the letter said. "These findings have further galvanized the need for clearer policies and stronger employee protections to ensure that Paizo staff can feel secure in their employment."
(13) DUNE MOTHER. [Item by Martin Morse Wooster.] In the Financial Times, behind a paywall, Raphael Abraham interviewed Rebecca Ferguson about her role in Dune.
(Timothee) Chalamet may be the star but Ferguson's character is in many ways the story's catalyst; her role amped up by (director Denis) Villeneuve–she has defied her mysterious religious order to bear a son and possesses supernatural powers that she attempts to impart to him.  And, while other main players are killed off or become separated from the hero, it is Paul's mother who remains by his side, battling on foot across the inhospitable desert planet of the title, evading enemies and giant sandworms.  For Ferguson and Chalamet, this meant shooting under the Abu Dhabi sun in bulky space costumery.

'We had to adapt to mother nature,' the actress says. 'We could only film for an hour and a half at dusk and dawn, and during the day we had to stay inside and not burn ourselves.  It was a struggle running uphill in stillsuits but it was also so lovely doing it in the real environment–no bloody studio!'
(14) MASSIVE ART INSTALLATION HONORS ASTRONAUT. The Smithsonian explains how "A Monumental Portrait of NASA Astronaut Stephanie Wilson Crops Up in Atlanta", as designed by artist Stan Herd.
…Fittingly, for his next creation, which will debut today at Woodruff Park in downtown Atlanta, the 71-year-old crop artist is looking up to the sky for inspiration. Stretching 4,800 square feet in size, the piece coincides with the United Nations' International Day of the Girl Child initiative and is also part of World Space Week, an annual event that celebrates global accomplishments in science and technology. Since this year's theme is Women in Space, Herd has created a portrait of Stephanie Wilson, a veteran NASA astronaut with three space flights under her belt (she's also the second African American woman to go into space), and one of 18 astronauts who are a part of Artemis, NASA's lunar exploration program that is scheduled to send the first woman to the moon in 2024…
(15) DESKTOP SPACE BASE. John King Tarpinian is right when he says the S.T. Dupont Space Odyssey Prestige Collectors Set is "over the top." But it's priced to move! Now marked down to $9,596.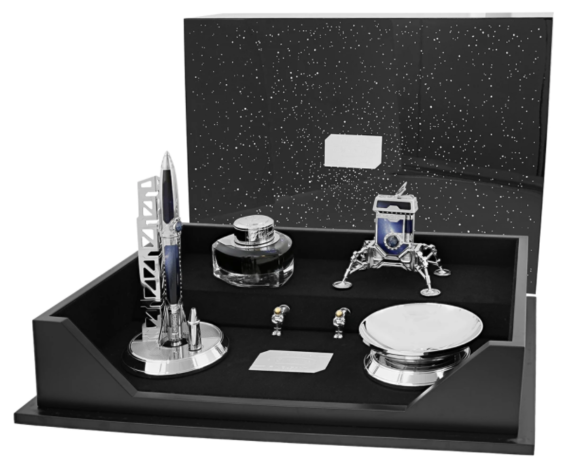 (16) GILLIAN ANDERSON VOICE ROLE. Robin Robin comes to Netflix on November 24.
Robin Robin, a holiday special from Aardman Animation, makers of Shaun the Sheep, Chicken Run and Wallace & Gromit. "Starring Gillian Anderson, Richard E Grant, Bronte Carmichael and Adeel Akhtar." When her egg fortuitously rolls into a rubbish dump, Robin is raised by a loving family of mice. As she grows up, her differences become more apparent. Robin sets off on the heist to end all heists to prove to her family that she can be a really good mouse – but ends up discovering who she really is.
(17) MARTIAN MUD. The journal Science features a Red Planet discovery: "Perseverance rover reveals an ancient delta-lake system and flood deposits at Jezero crater, Mars".
Perseverance rover reveals an ancient delta-lake system and flood deposits at Jezero crater, Mars

Observations from orbital spacecraft have shown that Jezero crater, Mars, contains a prominent fan-shaped body of sedimentary rock deposited at its western margin. The Perseverance rover landed in Jezero crater in February 2021. Researchers have analyzes images taken by the rover in the three months after landing. The fan has outcrop faces that were invisible from orbit, which record the hydrological evolution of Jezero crater. Researchers interpret the presence of inclined strata in these outcrops as evidence of deltas that advanced into a lake.
(18) VIDEO OF THE DAY. In this Saturday Night Live "Cut for Time" sketch, a dinner party (Owen Wilson, Kenan Thompson, Cecily Strong, Heidi Gardner, Alex Moffat, Ego Nwodim) disagrees on splitting a check. But wait! – There's more, and it's genre.
[Thanks to Martin Morse Wooster, JJ, John King Tarpinian, Nancy Sauer, Chris Barkley, SF Concatenation's Jonathan Cowie, Lise Andreasen, John A Arkansawyer, Christian Brunschen, Andrew Porter, Michael Toman, Cat Eldridge, and Mike Kennedy for some of these stories. Title credit belongs to File 770 contributing editor of the day Andrew (not Werdna).]