(1) 2023 SMOFCON NEWS. MCFI president Rick Kovalcik has announced new discount rates for Smofcon40, being held December 1-3, 2023 at the Marriott Downtown, Providence, RI, USA.
There is now a $40 (attending) rate for First Smofcon Attendees, Young Adult (Under 33 Years Old / Born After 1 December 1990), or Unwaged / Retired / Hardship. We expect these rates to be good at least through the end of pre-registration. We trust people not to abuse the Unwaged / Retired / Hardship rate. Unfortunately, we will not be refunding $10 to anyone who already bought at the $50 rate. The $50 full attending rate is good at least through 28 February 2023.

We have been working on our official website at smofcon40.org and expect to have an integrated membership / payment system up shortly. In the meantime, memberships may still be bought by filling out the form at https:tinyurl.com/Smofcon40Membership and paying by PayPal to [email protected] or mailing a check to MCFI at PO Box 1010, Framingham, MA 01701 USA.
Gay Ellen Dennett has been chosen as Smofcon40 Chair and can be reached at [email protected].
The committee has a signed contract with the hotel. They expect to publish a link for room reservations in the late spring. Any additional questions may be sent to [email protected].
(2) BOOK SHOPPING IN MONGOLIA. [Item by Mikael Thompson.] Here are two recent translations I saw in Mongolian bookstores recently. First is Howl's Moving Castle (literally, "Howl's habitually-nomadizing castle"–nüü- meaning 'to move, shift pastures, nomadize' and -deg indicating habitual aspect). Second is the just-released translation of The Man Who Fell to Earth.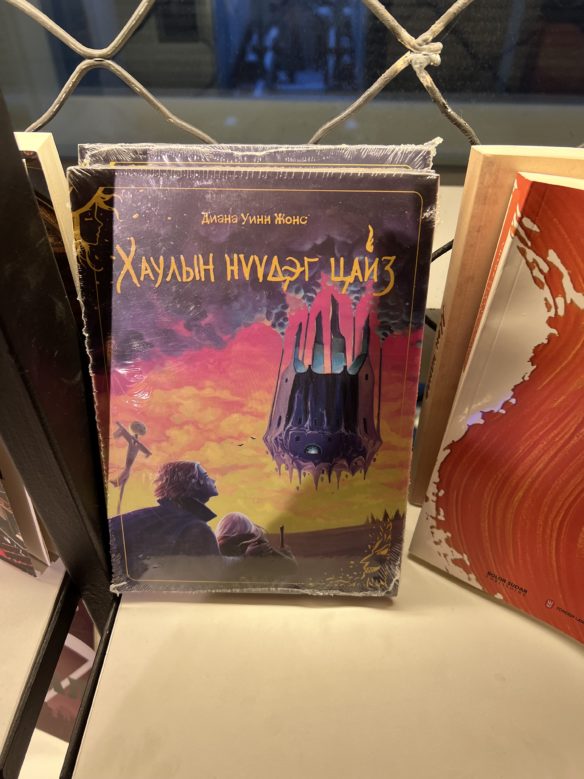 (3) EKPEKI WILL VISIT ASU IN MARCH. Oghenechovwe Donald Ekpeki has been named a 2023 Visiting Fellow of the Future of Being Human initiative, in collaboration with the Arizona State University Center for Science and the Imagination.
Oghenechovwe will be visiting the ASU Tempe campus at the end of March, where he will be engaging with initiative communities, participating in meetups, and talking about his work and it's connection to how we think about being human in a technologically advances future in a number of venues.
(4) AUTHOR WEBSITES. Michael Burton-Murphy has set up his own, but is looking around the field to decide how to use it: "Author Websites: A Survey of Sorts" (Via Cat Rambo.)
… I'm not really a good hand for visuals, so I usually have a hard time figuring out what I want to do with a new website like this. I decided I'd take a survey of the sites put up by some of the authors whose work I've enjoyed over the years, and see what I could infer from them.

Ugly On Purpose

Let's start with a couple of sites that aren't formatted for visual appeal.

Charlie Stross is a writer of deep, complex, even mind-bending fiction. He's also a veteran of multiple tech startups. His author website is spartan….
(5) EATING THE FANTASTIC. Scott Edelman invites listeners to lunch on Laotian food with Cory Doctorow in Episode 190 of the Eating the Fantastic podcast.
Cory is a science fiction writer, journalist and technology activist who in 2020, was inducted into the Canadian Science Fiction and Fantasy Hall of Fame. In the years since I published his first professional fiction sale in Science Fiction Age magazine (though I didn't buy his first professionally sold short story, a distinction we get into during our chat), he's won the Locus, Prometheus, Copper Cylinder, White Pine and Sunburst Awards, and been nominated for the Hugo, Nebula and British Science Fiction Awards.

His novels include Down and Out in the Magic Kingdom (2003), Eastern Standard Tribe (2004), Someone Comes to Town, Someone Leaves Town (2005), Little Brother (2008), his most recent, Walkaway (2017), and others. His most recent short story collection is Radicalized (2019). He's also a special consultant to the Electronic Frontier Foundation, a non-profit civil liberties group that defends freedom in technology law, policy, standards and treaties.

We discussed how different D.C. seems to him now that he's a U.S. citizen, the way his remarkable evening hanging with both David Byrne and Spider Robinson put things in perspective, the lessons we learned (both good and bad) from Harlan Ellison, our differing levels of hope and despair at the current state of the world, the major effect Judith Merril had on the direction of his life, how an ongoing column he wrote for Science Fiction Age magazine predicted the next 20 years of his life, our differing opinions as to what it means when we say stories are didactic, how to continue on in the face of rejection — and then once we do, how not to become parodies of ourselves, the best piece of advice he didn't follow, our differing views on spoilers, what he recently came to understand about the reactionary message of traditional hardboiled fiction — and how he used that in his upcoming trilogy, knowing when to break the rules of writing, and much more.
(6) A STOPPED CLOCK TELLS THE RIGHT TIME. Camestros Felapton initially discusses a point made by Larry Correia that he agrees with – how did that happen? But they soon part company again in "Guns & Nonsense: Part 5, Defence in Depth".
…However, Correia is apparently naïve enough to think that gun control must be perfect before it can be an additional layer of security. The opposite is obviously true. Making it harder for people who wish to hurt others to get access to guns is an additional layer of security. It's not a perfect layer but as demonstrated in multiple wealthy nations, it is a very effective layer.

Of course, if Correia conceded that gun control is an effective layer in a model of "defence in depth" then a rather alarming conclusion would logically follow: gun control is part of self-defence. Ah. The implication of that is both huge but also demonstrable. A right to protect yourself from harm applied equitably i.e. a right that makes it easier for everybody is the opposite of tyranny….
(7) MEMORY LANE.
1968 — [Compiled by Cat Eldridge.] Agatha Christie's At Bertram's Hotel
Food has an important role in Christie's fiction. (And yes, I adore her detectives, all of them. That's why you will see more culinary quotes from her fiction.) Hercule Poirot and his oh so perfect breakfast, or the quote this time from At Bertram's Hotel, a Miss Marple novel (she is taking a two-week holiday in London at this hotel though she doesn't figure into our quote, though she loved breakfast here, "Miss Marple inserted a knife gingerly but with confidence. She was not disappointed. Rich deep yellow yolk oozed out, thick and creamy. Proper eggs! ") The manager is telling one of the guests what an English breakfast once was like, and what he can have there now.
'Eggs and bacon?'
'As you say—but a good deal more than that if you want it. Kippers, kidneys and bacon, cold grouse, York ham, Oxford marmalade.'
'I must remember to get all that… don't get that sort of a thing any more at home.'
Humfries smiled. 'Most gentlemen only ask for eggs and bacon. They've—well, they've got out of the way of thinking about the things there used to be.'
'Yes, yes… I remember when I was a child. … Sideboards groaning with hot dishes. Yes, it was a luxurious way of life.'
(8) TODAY'S BIRTHDAYS.
[Compiled by Cat Eldridge.]
Born January 27, 1940 — James Cromwell, 83. I think we best know him as Doctor Zefram Cochrane In Star Trek: First Contact which was re-used in the Enterprise episode "In a Mirror, Darkly (Part I)". He's been in other genre films including Species II, Deep Impact, The Green Mile, Space Cowboys, I, Robot, Spider-Man 3 and Jurassic World: Fallen Kingdom. He played characters on three Trek series, Prime Minister Nayrok on "The Hunted" episode of Star Trek: The Next Generation and Jaglom Shrek in the two part "Birthright" story, Hanok on the "Starship Down" episode of Deep Space Nine and Zefram Cochrane once as noted before on Enterprise.
Born January 27, 1950 — Michaela Roessner, 73. She won the Astounding Award for Best New Writer after writing Walkabout Woman. Though not genre, her two historical novels, The Stars Dispose and The Stars Compel, about Catherine de Medici are excellent. ISFDB lists another novel of genre status, Vanishing Point. None of her fiction is available digitally, alas.
Born January 27, 1953 — Joe Bob Briggs, 70. Writer, actor, and comic performer. Host of the TNT MonsterVision series, and the ongoing The Last Drive-in with Joe Bob Briggs on Shudder from 2018–present. The author of a number of nonfiction review books including Profoundly Disturbing: Shocking Movies that Changed History! And he's written one genre novel, Iron Joe Bob. My favorite quote by him is that after contracting Covid and keeping private that he had, he said later that "Many people have had COVID-19 and most of them were much worse off than me. I wish everybody thought it was a death sentence, because then everyone would wear the f*cking mask and then we would get rid of it."
Born January 27, 1956 — Mimi Rogers, 67. Her best known SFF role is Professor Maureen Robinson in the Lost in Space film which I did see in a theatre I just realized. She's also Mrs. Marie Kensington in Austin Powers: International Man of Mystery, and she's Orianna Volkes in the Penny Dreadful hitchhiker horror film. She's got one-offs in Tales from The Crypt, The X-Files, Where Are You Scooby Doo? and Ash v. Evil Dead.
Born January 27, 1957 — Frank Miller, 66. He's both an artist and writer so I'm not going to untangle which is which here. What's good by him? Oh, I love The Dark Knight Returns, both the original comic series and the animated film, though the same not no true of Sin City where I prefer the original series much more. Hmmm… What else? His runs on Daredevil and Electra of course. That should do.
Born January 27, 1965 — Alan Cumming, 58. I'm now watching The Good Wife where plays Eli Gold, the ultimate crisis manager. His film roles include performances as Boris Grishenko in GoldenEye, Fegan Floop In the Spy Kids trilogy, Loki, god of Mischief in Son of the Mask, Nightcrawler In X2 and Judas Caretaker in Riverworld (anyone know this got made?).
Born January 27, 1966 — Tamlyn Tomita, 57. I'm fairly sure I first saw her in a genre role on the Babylon 5 film The Gathering as Lt. Cmdr. Laurel Takashima. Or it might have been on The Burning Zone as Dr. Kimberly Shiroma. And she had a recurring late on Eureka in Kate Anderson, and Ishi Nakamura on Heroes? She's been in a number of SFF series in one-off roles including Highlander, Quantum Leap, The Sentinel, Seven Days, FreakyLinks, Stargate SG-1 and a recurring as late as Tamiko Watanabe in The Man in The High Castle.
Born January 27, 1970 — Irene Gallo, 53. Creative Director for Tor.com and Tor Books. She's won an amazing thirteen Chelsey Awards, and two World Fantasy Awards, as art director of Tor.com and for the Worlds Seen in Passing: Ten Years of Tor.com Short Fiction anthology. She also co-wrote Revolution: The Art of Jon Foster with Jon Foster and Cathy & Arnie Fenner.
(9) IF YOU CAN MAKE IT THERE. FANAC.org's next FanHistory Project Zoom Session will be "New York Fandom in the 70s with Moshe Feder, Andy Porter, Steve Rosenstein and Jerry Kaufman". Catch it live on February 11, 2023 at 4:00 p.m. Eastern
The story of New York fandom is fascinating. From the worldcon in the 60s to fragmentation and multiple fannish groups in the 70s, there's a real story to tell. How did NY fandom come to break apart? What were the fannish clubs and how were they different? Who were the movers and shakers? How did the emergence of Star Trek and Star Trek conventions affect NY fandom? Did moving Lunacon out of the city have a big effect? What were the highlights and heartbreaks? Join four of the stalwarts of 70s New York fandom, as they revisit those days.
(10) JEOPARDY! SF QUESTIONS 2023-01-26 [Item by David Goldfarb.] Troy Meyer continues to extend his winning streak. On Thursday's Jeopardy! episode there were two clues with SF content, both in the Double Jeopardy round.
Line in the Sand, $1600: A passage in this novel relays: "Gurney saw Fremen spread out across the sand there in the path of the worm"
Emma Moore responded correctly.
"B" Movies [i.e., movies whose titles began with the letter B], $2000: This Terry Gilliam fantasy features a futuristic bureaucracy
Troy Meyer responded correctly.
(11) FOUNDATIONS OF MIDDLE-EARTH. Austin Gilkeson delves into "The Lore of the Rings" at the New York Review of Books.
One September day in 1914, a young J.R.R. Tolkien, in his final undergraduate year at Oxford, came across an Old English advent poem called "Christ A." Part of it reads, "Éalá Éarendel engla beorhtast/ofer middangeard monnum sended," which he later rendered: "Hail Éarendel, brightest of angels/above the middle-earth sent unto men!" Safe in his aunt's house in Nottinghamshire while battles raged on the continent, Tolkien took inspiration from this ode to the morning and evening star and wrote his own poem in modern English, "Éarendel the Mariner." That poem was not published in his lifetime, but after it came the stories that would become The Silmarillion, The Hobbit, and The Lord of the Rings, which in turn inspired, to varying degrees, Earthsea, Star Wars, Dungeons & Dragons, Harry Potter, The Wheel of Time, The Witcher, Game of Thrones, and so on, an apostolic succession of fantasy.

The latest in the line is The Lord of the Rings: The Rings of Power. Amazon Studios does not have the rights to The Silmarillion, the posthumous collection of Tolkien's mythology that serves as a sort of bible for Middle-earth, nor is it adapting The Lord of the Rings, Tolkien's 1954 novel about the hobbit Frodo's quest to save Middle-earth by destroying the One Ring, which holds the power of the Dark Lord Sauron. Peter Jackson's film trilogy still looms too large. Instead, the showrunners, J.D. Payne and Patrick McKay, have crafted a prequel, set thousands of years before the events of the three-volume novel and drawn from bits of lore in its prologue, "Concerning Hobbits," and extensive appendices on Middle-earth history and culture. It's an undertaking not dissimilar from Tolkien's own reworking of "Christ A," spinning out a narrative from a few textual scraps—the kind of academic exercise an Oxford professor of Old English could appreciate….
(12) SUN DIALS ARE RIGHT OUT. "What time is it on the Moon?" in Nature. "Satellite navigation systems for lunar settlements will require local atomic clocks. Scientists are working out what time they will keep." SF authors and Andy Weir take note…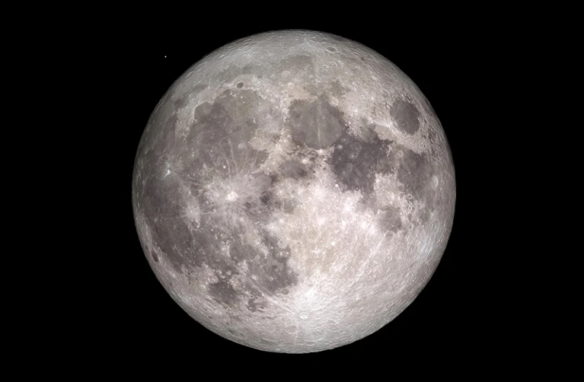 The coming decade will see a resurgence in lunar exploration — including dozens of missions and plans to establish permanent bases on the Moon. The endeavours pose myriad challenges. Among them is a subtle, but fundamental, question that meteorologists worldwide are working to answer: what time is it on the Moon?…

The Moon doesn't currently have an independent time. Each lunar mission uses its own timescale that is linked, through its handlers on Earth, to coordinated universal time, or UTc — the standard against which the planet's clocks are set. But this method is relatively imprecise and spacecraft exploring the Moon don't synchronize the time with each other. The approach works when the Moon hosts a handful of independent missions, but it will be a problem when there are multiple craft working together. Space agencies will also want to track them using satellite navigation, which relies on precise timing signals.

It's not obvious what form a universal lunar time would take. Clocks on Earth and the Moon naturally tick at different speeds, because of the differing gravitational fields of the two bodies. Official lunar time could be based on a clock system designed to synchronize with UTC, or it could be independent of Earth time….
(13) HWA KERFUFFLE. Tom Monteleone, alleging that "gatekeepers" at the Horror Writers Association websites were keeping his post from appearing, took to Facebook to nominate David Schiff for an HWA Lifetime Achievement Award. But before sharing the reasons Schiff should receive the recognition, Monteleone made known his real agenda:
…That said, and despite the last few LAA years looking very much like a very obvious DEI project, I am compelled to nominate a smart, old white guy: Stu Schiff…
Since then people have left over 500 comments, some applauding what he said and adding their own feelings about "virtue signaling" and "wokeness", while others have called for him to apologize. He has made additional comments which others are engaging. The worthiness of some of the 2017 LAA winners has also been denigrated.
Former HWA president John Palisano chimed in:
As the person who was president of the HWA when these LAA awards were selected and given, I stood behind them then, and I stand behind them today. And I also stand behind Kevin Wetmore and the LAA committee who made these selections.

I'm more than disappointed their names have been attacked. I have zero tolerance for the transphobia and hateful comments spewed forth.

For the record? They were chosen on merit, period. Anyone who thinks otherwise is dead wrong. I was there. Their Race, gender, sexuality. Etc. we're not the defining factors.

Also? SCHIFF's validation and consideration will not be based negatively based upon this hurtful thread.

Even though I'm not president now, I know my colleagues in the HWA will not hold this against a candidate. In fact? Proof of such can be seen in the fact that many people who've been very critical against the HWA in the past have been brought in as GOH and in other capacities. There's always room for growth and learning…
Brian Keene finally decided he needed to come off the sidelines and wrote a long comment that includes this quote:
… But now, with this second topic, there *are* people speaking up directly, and telling you [Monteleone] that some of the things you're saying here are hurtful. They're not going through me to do it. They're saying it right here, directly to you. Maybe you're not hearing them, so let me try saying it instead.

You're publishing Mary's collection of Edward Lucas White stories. She turned that in to you two days ago. That night, she said to me, quote: "Back in the day, Tom was the first editor in this business to treat me like a colleague and not like a groupie." End quote. Today she saw your trans comments elsewhere in this thread. As the mother of a trans daughter, she was incredibly hurt by them. She's downstairs right now, trying to reconcile all this. As the soon-to-be step-father to a trans-daughter, and as someone who has known that child since she was 4 years old, and has seen her struggle first hand, I'm hurt by them, too. You have always been kind and generous and supportive of Mary and I both, but what are we supposed to do at the wedding reception? Stick you at a back table like "that one uncle"? Because that's how it's coming across to us both…
[Thanks to Cat Eldridge, Mike Kennedy, John King Tarpinian, Mikael Thompson, David Goldfarb, SF Concatenation's Jonathan Cowie, Chris Barkley, Andrew Porter, and Michael Toman  for some of these stories. Title credit belongs to File 770 contributing editors of the day Jayn and David Goldfarb.]