(1) THE COURSE OF TRUE LOVE. Evil Mad Scientist has released downloadable "Evil Mad Scientist Valentines: 2018".
This year's set features parallel lines, friction, and activation energy:
What could be more romantic than telling someone that the second derivative of your potential energy is at its minimum when you're around them?
Evil Mad Scientist has been doing this for awhile:
You can download the full set here, which includes all 36 designs from all six years (a 1.6 MB PDF document).
(2) WHERE APES HAVE GONE BEFORE. There will be a "50 Years of Planet of the Apes Exhibit and Film Retrospective" at the University of Southern California in LA through May 13.
The USC School of Cinematic Arts has partnered with 20th Century Fox Film to host an exclusive exhibit and retrospective celebrating the 50th anniversary of the Planet of the Apes franchise titled 50 Years of Planet of the Apes.

A vast collection of props, costumes, photos, posters and artwork from across all iterations of the longstanding franchise will be on display in the Hugh Hefner Exhibition Hall at USC this spring. The exhibit will be available to visit as a work-in-progress from January 26th – February 8th and all final displays will be open from February 9th through May 13th, 2018. A series of panels and screenings will complement the exhibit, including all feature films from the Planet of the Apes universe.

The exhibit is in conjunction with the 50th anniversary of the 1968 release of the first Planet of the Apes film, the original installment of the still expanding franchise that now includes four sequels, a TV series, an animated series, comic books, merchandise, and 20th Century Fox Film's highly successful prequel film series Rise of the Planet of the Apes, Dawn of the Planet of the Apes, and War for the Planet of the Apes.
There is a schedule of associated film screenings at the link.
(3) ROOSTING. Watch the two Falcon Heavy boosters come booming back to Earth in this video at digg: "Seriously Cool Amateur Footage Of The Simultaneous Falcon Heavy Booster Landing".
(4) ROASTING. Falcon Heavy's third booster didn't make it home intact: "SpaceX confirms it lost the center core of the Falcon Heavy".
What's more, it landed the two flanking boosters in perfect synchronized formation. But the fate of the core booster was unclear; now it appears that the center booster, which was supposed to land on a drone ship, was lost.

Elon Musk said on a conference call with reporters that the launch "seems to have gone as well as one could have hoped with the exception of center core. The center core obviously didn't land on the drone ship" and he said that "we're looking at the issue." Musk says that the core ran out of propellant, which kept the core from being able to slow down as much as it needed for landing. Because of that, the core apparently hit the water at 300MPH, and it was about 100 meters from the ship. "It was enough to take out two thrusters and shower the deck with shrapnel," Musk said. That should be worth seeing on video: "We have the video," Musk confirmed, "it sounds like some pretty fun footage… if the cameras didn't get blown up as well."
(5) SFWA AUCTION. Steven H Silver tells about a SFWA fundraiser:
Did you miss our charity auctions in December? Good news! SFWA will be auctioning off five new items every month on Ebay. Available items in February include an autographed uncorrected proof copy of Fevre Dream by George RR Martin, uncorrected proof  13th Annual Year's Best Fantasy and Horror (signed by Ellen Datlow), and a rare signed copy of This Island Earth by Raymond F. Jones.

The bidding began on February 5th and will run through February 12: Ebay.com/usr/sfwa65

All auction proceeds will be earmarked for the SFWA Givers Fund which is used to disperse grants to deserving applicants, along with bolstering the existing Emergency Medical (EMF) and Legal Funds.

For more information about our funds and what they support, please visit sfwa.org/donate. If you have items you would like to donate for future SFWA Charity Auction fundraisers, please contact Steven H Silver at steven.silver@sfwa.org for more information.
Use this search to find items.
(6) BOSKONE PROGRAM. Look forward to the panels and participants discussing "Black Science Fiction at Boskone", February 16-18 in Boston.
This year Boskone features a program with a strong selection of panels and discussions dedicated to black science fiction authors, publishers, and fans. Our program includes everything from black publishers and Afrofuturism to works by authors such as Octavia Butler, science panels that include the future of medicine, writing discussions that tackle young adult fiction, and much, much more!

Here's a quick list of some of our program items with an emphasis on black science fiction and the authors who will be joining us from across the country. For the full set of program items, view the Boskone 55 program….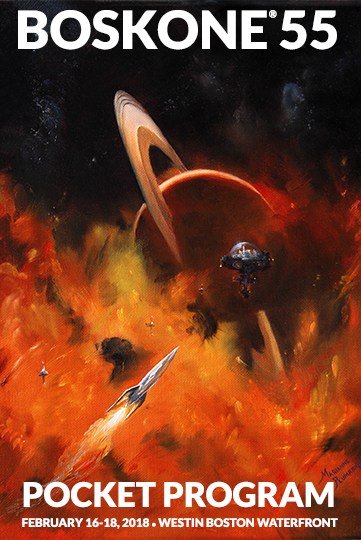 (7) VOLCANO IN TOWSON. Scott Edelman's Eating the Fantastic podcast visits with Norman Prentiss to sample the volcano shrimp at a Chinese restaurant in Towson, MD.
And who is this episode's guest? Why, it's Norman Prentiss, who won the 2010 Bram Stoker Award for Superior Achievement in Long Fiction for Invisible Fences, and the 2009 Stoker for Superior Achievement in Short Fiction for "In the Porches of My Ears." His powerful, personal fiction has been reprinted in both Best Horror of the Year and The Year's Best Dark Fantasy and Horror, and his poetry has appeared in Writer Online, Southern Poetry Review, and A Sea of Alone: Poems for Alfred Hitchcock.
We discussed the day he wowed the other kids on his school playground by reading them Edgar Allan Poe's "The Tell-Tale Heart," the movies a Catholic Church newsletter's warnings made him want to see even more, the supernatural superhero comic that led to a lawsuit against Harlan Ellison, the upside and (surprising) downside of having won a $35,000 college writing prize, how the freebies he got at a Horrorfind convention goosed him to start writing fiction again, why he wrote the last part of his novel Odd Adventures with Your Other Father first, how he's been able to collaborate with other authors without killing them, what can be taught about writing and what can only be learned, why he ended up writing horror instead of science fiction, and much, much more.
(8) WONDER ANNUAL POWERS, ACTIVATE! Rich Horton announced the contents of
The Year's Best Science Fiction and Fantasy, 2018 Edition so Jason went to work at Featured Futures and finished his "Collated Contents of the Big Year's Bests (2017 Stories, with Links!)"
Last year, I collated and linked to the webzine stories picked by Clarke, Dozois, Horton, and Strahan for their annuals. This year, I've collated all the selections. (I've also noted whether I've read them and, if so, whether they got an honorable mention, a recommendation, or were recommendations which made my Web's Best Science Fiction or Web's Best Fantasy.)
(9) TODAY'S BIRTHDAYS
Born February 9, 1960 – Laura Frankos
(10) FRANKOS. Steven H Silver celebrated Frankos at Black Gate with "Birthday Reviews: Laura Frankos's 'A Late Symmer Night's Battle'".
… When a follow-up attack of reremice occur, the fairies must question what they are fighting for and what makes a race worthwhile. While Frankos could have told the story with tremendous amounts of gravitas, the venue for its publication was looking for more lighthearted fare and she managed to deliver, sprinkling her tale with wonderful puns….
(11) TODAY'S BIRTHDAY UNIVERSE. The BBC has the snapshot: "Marvel Cinematic Universe celebrates its 10th birthday with an epic cast photo".
Over the past decade Marvel has brought us 18 films, starting with Iron Man in 2008 and including Thor, The Avengers and Captain America.

The class photo of 76 actors appeared on Twitter on Thursday.

It includes major players in the films like Robert Downey Jr, Vin Diesel, Scarlett Johansson and Letitia Wright.

The picture was shortly followed by a behind the scenes video.

It begins with Thor's Chris Hemsworth saying: "It was sort of like being at the Academy Awards or something, every person had been in one or all of my favourite films."
Marvel Studios kicks off its yearlong 10th anniversary celebration with a behind the scenes look at the class photo featuring 79 actors and filmmakers from across the Marvel Cinematic Universe. pic.twitter.com/YyYTxMnUrc

— Marvel Studios (@MarvelStudios) February 8, 2018
(12) COMICS SECTION.
Mike Kennedy asks, "Is Gumby genre? Perhaps so…" — The Flying McCoys.
And Mike learned from  Basic Instructions, "If you wish to be an evil Emperor, do not waste time taunting your nemesis. Especially in falsetto."
Cath found another cat/book/humor connection in today's Breaking Cat News.
Cath also knows I need proofreading advice —
(13) YOUTH WANTS TO KNOW. Is the work of comic book colorists inherently apolitical?
So about the SJW comic book boycott list—why on Earth are colorists included? Too much

Lemon
Green
Blue
Teal

or what? Are their palettes turning children trans? Is the right-wing mind so easily influenced?

— Nick Ban Nazis Mamatas ????? (@NMamatas) February 9, 2018
(14) MORE ON ACKERMAN. Adam-Troy Castro heard about Forrest J Ackerman's behavior in 1997:
Yes, I knew about Forry Ackerman twenty years ago.

I was part of the committee that gave him the Bram Stoker Lifetime Achievement Award. I need you to know that I was outvoted. We were giving two awards that year and the Ackerman partisans were given what they wanted in order for those who were against the citation to be given what they wanted. Even so, the hell that went on behind the scenes was intense and lasted for months after the official announcement was made. But yes, one of the things that came up during the hellish brouhaha that followed was that he had, quote, "a house full of child pornography."

The months of invective that went on, back and forth, behind the scenes, amounted to the worst period of my writing career….
(15) WET WORK. Beneath the waters of the Gulf: "Long-Buried Ice Age Forest Offers Climate Change Clues".
Scientists say it's a remarkable discovery.

"The underwater forest is like the Garden of Eden underwater," says Christine DeLong, a paleo-climatologist at Louisiana State University. She says tests date the forest to be between 50,000 and 70,000 years old.

"It's a huge deal," DeLong says. "Because here we have this like perfectly preserved time capsule of an ice age forest."
(16) LIGHTEN UP. Thanks to French scientists and a NASA probe, "Secrets of solar flares are unlocked".
Flares can occur on their own, or be accompanied by powerful eruptions of plasma (charged gas) from the Sun.

If charged particles from these eruptions reach Earth, they can create havoc with infrastructure, such as satellite systems and power grids.

Now, researchers in France say the interaction of distinct magnetic structures controls these outbursts from our star.

Generally speaking, solar eruptions are caused by a sudden, violent rearrangement of the Sun's magnetic field.

At a deeper level, the process is controlled by two types of structures that form in the magnetic field of the Sun: ropes and cages.

The rope is confined within the magnetic cage. If the cage is strong, it can contain the rope's contortions, but when the cage is weak, an eruption can take place.
(17) WATER SIGN. Sydney has a unique solution to trucks trying to get into tunnels they're too tall for: a water wall as a screen for a giant projected STOP sign. (Video at the link.) "That will stop them in their tracks! Virtual barrier made from curtain of water halts lorries from driving through too small tunnels".
They had tried flashing signs, neon signs and staggered signs.

But when lorry drivers continued to keep on driving their over-sized trucks though low tunnels, Australian authorities took the extreme measure of warning drivers with water signs.

Drivers are greeted with a curtain of water falling from the entrance of tunnels with a huge 'stop' sign projected on to them….

Laservision said that the Sydney Harbour Tunnel has experienced more than 10,000 incidents of vehicles hitting the structure since it opened.

The damage caused by too large vehicles crashing into the overhead of the tunnel affected up to 12,000 motorists at peak time, the company said.
There's also this TV clip of the sign in action –
And the manufacturer's writeup: "Activated 8 times in 8 weeks, with 100% success!"
(18) BUGEYED. "What Scientists Learned From Putting 3-D Glasses on Praying Mantises": The Atlantic has the story.
One might assume that any animal with two forward-facing eyes would automatically have stereopsis, but that's not true. It's a sophisticated skill that requires a lot of processing power and a complex network of neurons—one that not every animal can afford to build. Indeed, after stereopsis was first confirmed in humans in 1838, it took 132 years for scientists to show that other species had the same ability. Macaque monkeys were the first confirmed member of the stereopsis club, but they were soon joined by cats, horses, sheep, owls, falcons, toads—and praying mantises. In the 1980s, Samuel Rossel placed prisms in front of these insects to show that they do triangulate the images from both eyes to catch their prey.

When Jenny Read, from Newcastle University, first read about this, she was amazed. How could an insect pull off such a complicated trick with a brain that contains just 1 million neurons? (For comparison, our brains have 100,000 times that number.) To find out, she and Nityananda set up their mantis 3-D cinemas….

They presented the insects with screens full of black and white dots, with a slightly different pattern projected to each eye. Against these backgrounds, a small circle of dots—a target—would slowly spiral inward from the outside. "It's meant to be like a little beetle moving against a background," says Read.

By tweaking the dots, the team could change how far away this target would appear to the watching mantises. And they found that the insects would start to attack the target when it seemed to get within striking distance. Clearly, the insects have stereopsis.

But their stereopsis is not our stereopsis. We use brightness as a cue to align and compare the images that are perceived by our two eyes. Scientists can confirm this by presenting one eye with an image that's a negative of the other—that has black dots where the other has white ones, and vice versa. "For us, that's incredibly disruptive. We really can't match up the images anymore, so our stereopsis falls apart," says Read. "But the mantises are completely unfazed." Brightness clearly doesn't matter to them.
(19) THUMBRUNNERS. I'm not sure "parts is parts" when they're human — "Special Report: U.S. body brokers supply world with torsos, limbs and heads".
Demand for body parts from America — torsos, knees and heads — is high in countries where religious traditions or laws prohibit the dissection of the dead. Unlike many developed nations, the United States largely does not regulate the sale of donated body parts, allowing entrepreneurs such as MedCure to expand exports rapidly during the last decade.

No other nation has an industry that can provide as convenient and reliable a supply of body parts.
(Larry Niven once said he preferred Alexei Panshin's "thumbrunners," but having been beaten to the term, he'd come up with his alternative, "organleggers.")
(20) SPACE MOUNTAIN. You get a glimpse inside the illusion created by a popular Disneyland attraction in this Orange County Register piece: "Space Mountain fan gets the roller coaster's 87-year-old designer to ride it one last time at Disneyland"
How fast do you think you're traveling when you're in the rockets on Space Mountain?

Think of the speed of a car on the freeway. Is Space Mountain faster than that? Slower? Is it 100 miles per hour, like Bill Watkins has heard people telling each other?

Watkins contemplated the speed question for years in the early- to mid-1970s. He built his first Space Mountain at Walt Disney World in Florida. But it was bigger – a 300-ft. circle on two tracks. When the Disneyland Space Mountain opened in 1977, Watkins had completed what he always saw as a giant math problem.

Space Mountain is a gravity coaster. Unlike the Matterhorn, which relies on thrusters to help move its vehicles forward, Space Mountain simply starts up and goes down. Technically, it's 75 seconds of free fall.

At its maximum speed (which can vary slightly depending on the combined weight of the riders) the car you're riding in Space Mountain is traveling about 40 feet per second.

That's 27.27 miles per hour.

That seems really slow.

But Watkins somehow made it just right. More than 250 million people have ridden Space Mountain since it opened. And while it's unclear if it's the best – Disneyland's public relations department would only say that Space Mountain is, according to guests, "a top 10 attraction" – how many are better?

It is certainly arguable that Bill Watkins created the most popular roller coaster of all time.

"I seldom meet anyone who hasn't ridden it," he said.
(21) BEST PRO ARTIST RESOURCE. Rocket Stack Rank's  "2018 Professional Artists" page is designed —
To help people make nominations for the 2018 Hugo Award for Best Professional Artist, we have set up a "lightbox" system to let fans quickly flip through the works of over 113 artists listed below and to set aside the ones they particularly liked.
Greg Hullender says —
This is aimed at helping people pick artists to nominate, based on covers for magazines and for books containing original novels or anthologies. We don't have pictures for reprints.

Where possible, we have links to the artists' portfolios, so readers can get a broader idea of any particular artist's work. To simplify that a bit, for eligible artists who had just a few works published in 2017 we've padded their list of pictures with their art from earlier years. (They're marked by date for the benefit of those who only want to see works published in 2017.)
(22) ROBOTECH RETURNS. Titan Comics will publish a new graphic novel based on the classic Robotech saga.
A mysterious ship crashes on a remote island… 10 years later, the ship's 'Robotechnology' has helped humanity advance its own tech. But danger looms from the skies and an epic adventure is set to begin…

The world-famous, fan-favorite animated epic returns to comics with a classic transforming-jetfighters-versus-giant-aliens adventure! Written by Brian Wood (Star Wars, Briggs Land, X-Men), with art from Marco Turini (Assassin's Creed) and colorist Marco Lesko! Return to the fan-favorite Macross Saga that began the classic Robotech franchise, as hotshot Veritech pilot Roy Fokker and skilled rookie Rick Hunter are pulled into an intergalactic war when the Earth is invaded by the insidious Zentraedi! Whether you've seen the classic cartoon to the point you can quote every episode, or whether you've never experienced Robotech before, this graphic novel collection is for you!
[Thanks to JJ, Martin Morse Wooster, Cat Eldridge, John King Tarpinian, Scott Edelman, Mike Kennedy, Chip Hitchcock, Cath, Andrew Porter, Will R., David K.M. Klaus, and Carl Slaughter for some of these stories. Title credit belongs to File 770 contributing editor of the day evilrooster.]