(1) ON THE GROUND AT WORLDCON 76. Raven Oak's trip report about Worldcon 76 includes a fun photo of astronaut Kjell Lindgren posing with fans costumed (so I believe) as the GalaxyQuest alien crew members.
Kjell thanked me and said he was an astronaut because of science fiction authors like me. He read lots of sci-fi books as a kid, which made him dream of going into space. He signed the back of one of my coloring book pages, the one featuring Bay-zar from my sci-fi novella Class-M Exile.
Lots of good photos of hall costumes, too.
(2) RETRO HUGOS OF 1943. Chair Kevin Roche sent along a better photo of the Retro-Hugo award base he designed for Worldcon 76.
The block is solid cherry, in honor of the orchards once common in San Jose (cherries were still one of the top cash crops in the Valley of Heart's Delight in the early 40s).  The backplane is a laser-etched image I created of our SJ Galactic Tower, which is itself an homage to the historic San Jose Electric Tower, erected in 1881 and making San Jose the first electrified downtown west of the Rockies (the historic tower, alas, collapsed in 1915. I have photos from 1910 showing buses driving under the tower where it stood over the intersection of Market and Santa Clara Streets.)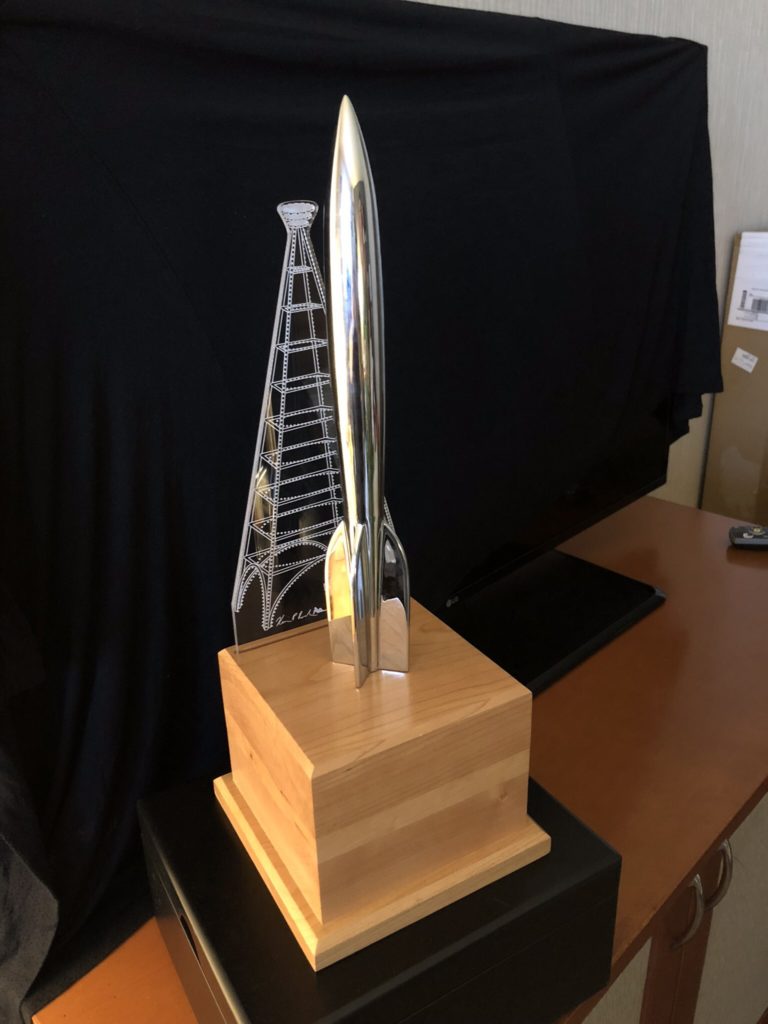 (3) CHILDHOOD'S BEGINNING. James Davis Nicoll gives his opinions about "SF Books That Did Not Belong in the Kids' Section of the Library" at Tor.com. He's talking about his childhood, however, not whatever the current situation may be.
How Norman Spinrad's The Men in the Jungle, which features drugs, violence, and infanticide, made it into the children's section, I don't know. Is there anything by Spinrad that is child-friendly? That was indeed a traumatizing book to encounter when I was prepared for something more along the lines of Blast-off at Woomera. If I think about that Spinrad book now (even though I am older and somewhat hardened) I still feel queasy.
(4) CAMPAIGN TRAIL WOES. Congressional candidate Brianna Wu was quoted in the New York Times campaign coverage: "For Female Candidates, Harassment and Threats Come Every Day".
A different kind of normalization happens at the other end of the spectrum, where the harassment is so vicious and constant that it overwhelms the ability to react.

As an independent video game developer in 2014, Brianna Wu was the subject of abuse during GamerGate, when women involved in gaming were targeted for harassment.

Now a Democrat running for Congress in Massachusetts, Ms. Wu, 41, said death and rape threats came so routinely that she had ceased to feel much in response. Even when people threw objects through her window. Even when they vandalized her husband's car. Even when they emailed paparazzi-like photos of her in her own home.

"I often look at it and I'm like: 'I know I should be feeling something right now. I know I should be feeling scared or angry or stressed.' And it's at a point where I can't feel anything anymore," Ms. Wu said. "It's almost like fear is a muscle that is so overtaxed, it can just do nothing else in my body."

Many said it was a point of principle not to be intimidated into silence. Others said their political ideals were simply more important.

"For good reason, there's never any shortage of telling stories about women being harassed on the campaign trail," Ms. Wu said. "But I cannot communicate to you strongly enough: Over all, this job is fun. This job is exhausting, but this job is amazing."
(5) ANOTHER BORDER ISSUE. Some artists on their way to a Dungeons & Dragons concept push were stopped from entering the US because their Electronic System for Travel Authorization waiver was not accepted as they expected.
This is what happened:
Please don't point fingers. It's a very complicated situation and we are figuring out what exactly went wrong and why. Mostly, we are tired, scared, glad and overwhelmed. A huge thanks to your support and love. pic.twitter.com/c9hadptU8f

— Titus 'Tired AF' Lunter (@TitusLunter) August 27, 2018
Quick update, more when I'm back on my feet. Anna Magali and me were kicked out of the US due to visa issues. We were detained overnight at an ICE facility and on our way home. Please don't spam us with questions. We're fucking exhausted. Well share more when we can. Much love <3

— Titus 'Tired AF' Lunter (@TitusLunter) August 27, 2018
According to the government website about the ESTA program –
ESTA is an automated system that determines the eligibility of visitors to travel to the United States under the Visa Waiver Program (VWP). Authorization via ESTA does not determine whether a traveler is admissible to the United States. U.S. Customs and Border Protection officers determine admissibility upon travelers' arrival. The ESTA application collects biographic information and answers to VWP eligibility questions.
(6) VOTING WISDOM. Brandon Sanderson delivers a brief conreport and some classy advice in "Worldcon Wrap-up and Dragon Awards".
The Hugo Awards ceremony was a delight. We didn't win the Best Series award, but to be honest, at only three books into the Stormlight series it might have been a little preemptive to give it any awards. We'll see how things go as the series progresses. Many congrats to Lois McMaster Bujold (the winner), who is a favorite around the Dragonsteel offices. She's a fantastic writer, well worthy of the award.

Oathbringer still has one shot at an award, the Dragon Award, given out at Dragon Con. This is a newer award, one I'm not as familiar with, but man…the award itself is gorgeous. (Seriously, you guys should go have a look at the thing.)

…As always, however, I strongly urge you to be a thoughtful voter when it comes to awards. Don't vote for Oathbringer just because I wrote it—only do so if you think this book, in specific, deserves the award. And there are some other excellent nominees, so if you enjoyed one of those more, then vote for it!
(7) IT'S NOT LOOKING GOOD. P.N. Elrod hopes people can help, especially those who like Elrod's Patreon and Facebook entertainment.
Crap. Having a blubbing panic meltdown. In a month my rent goes up by 63 bucks. At this point I don't have even half the rent for September. I'm facing the ugly reality of eviction.

The complex offered to get me into a different apartment with slightly lower rent, but that means moving. (Bureaucracy Stuff.) I can't afford that, either, and most of all, I do not have the strength or mobility to move again. I just don't. I am sick. I am tired.

The ONLY thing I can think of at this point to prevent that is to increase subscriptions to my Patreon page. Right now, that income isn't enough to cover my bills, so some go unpaid until and unless I sell books from my library.
(8) VOX FEATURES JEMISIN. N.K. Jemisin guested on the latest episode of Vox's podcast The Ezra Klein Show. You can access it at "N.K. Jemisin recommends stories from fellow groundbreaking sci-fi authors" — which lists two recommendations from her:
While Jemisin finds it hard to recommend books, she does offer up two recommendations from fellow award-winning female science fiction authors.

1) The Murderbot Diaries series by Martha Wells
Jemisin is "a giant fan" of Martha Wells's Murderbot series, an "adorable little set of almost old-school science fiction." The titular Murderbot is a rogue cyborg who works tirelessly to protect humans from themselves, though it would rather be watching soap operas. The latest novella in the series, Exit Strategy, will be released on October 2.

2) Unexpected Stories by Octavia Butler
Groundbreaking science fiction author Octavia Butler died in 2006, but two of her stories were found posthumously and published as an e-book. One of the stories in the volume, "Childfinder," was commissioned by writer Harlan Ellison to be included in a never-published anthology.
The podcast is available direct from Apple iTunes as well as many other sources.
(9) BALL OBIT. K.C. Ball died of a fatal heart attack on August 26 reports the SFWA Blog: "In Memoriam: K.C. Ball".
…Ball attended the Clarion West Writers Workshop in 2010 and Launch Pad in 2011.  She served as the publisher and editor of 10Flash Quarterly, an on-line flash fiction magazine.  She also won the Speculative Literature Foundation Older Writer Award….
Cat Rambo's tribute is here.
And now she's gone, fallen to another heart attack, and she never really got the chance to "break out" the way many writers do, which is through hard work, and soldiering on through rejection, and most of all playing the long game. If you want to read some of her kick-ass work, here's the collection I edited, Snapshots from a Black Hole and Other Oddities.

I'm so sorry not to able to hear your voice any more, K.C. I hope your journey continues on, and that it's as marvelous as you were.
(10) TODAY'S BIRTHDAYS
Born August 27 – Frank Kelly Freas, who won many Best Professional Artist Hugos, and drew Mad Magazine covers once upon a time.
[compiled by Cat Eldridge]
Born August 27, 1929 – Ira Levin. Author of many novels including The Stepford Wives and Rosemary's Baby which of course became films.
Born August 27 – Paul Reubens, 66. Genre work includes Gotham, Batman:The Brave and the Bold, Tron: Uprising Star Wars Rebels and Buffy the Vampire Slayer. Is Pee-wee's Playhouse genre?
Born August 27 – Alex PenaVega 30. Spy Kids film franchise and apparently a Spy Kids tv series as well, also The Tomorrow People, Sin City: A Dame To Live For and The Clockwork Girl, an animated film where love conquers all differences.
(11) COMICS SECTION.
(12) COLSON WHITEHEAD HONORED. "Writers with ties to Brooklyn named NYS author and poet" – the Brooklyn Eagle has the story.
Two renowned writers with Brooklyn ties have been appointed as the state's official author and poet by Gov. Andrew Cuomo.

Colson Whitehead, Brooklyn resident for more than a dozen years, has been named New York's 12th state author.

Alicia Ostriker, born in Brooklyn, has been named New York's 11th state poet. Cuomo said the award recognizes their work "and the impact it has had on the people of New York and beyond."

During their two-year terms the state laureates promote and encourage fiction writing and poetry throughout New York by giving public readings and talks.
(13) GATEKEEPING. I haven't spent much time covering its peregrinations here, but in Camestros Felapton's view, "'Comicsgate' is the crappiest 'gate'".
The main focus of the campaign has actually been crowd-funding for comics by a rightwing creator, not all of whom use the term "Comicsgate" (Vox Day, for example, has been a bit more equivocal about the term because he thinks all these people should be joining his petty empire). So we have a 'campaign' that is just a collaboration of outrage marketing techniques following the standard Scrappy-Doo model: be as loud and as obnoxious as possible and then when people react, claim to be being persecuted.
(14) RAH IN CONTEXT. Charles Stross has a whole rant about what RAH was actually about, versus what his emulators seem to think he was about: "Dread of Heinleinism".
…But here's the thing: as often as not, when you pick up a Heinlein tribute novel by a male boomer author, you're getting a classic example of the second artist effect.

Heinlein, when he wasn't cranking out 50K word short tie-in novels for the Boy Scouts of America, was actually trying to write about topics for which he (as a straight white male Californian who grew up from 1907-1930) had no developed vocabulary because such things simply weren't talked about in Polite Society. Unlike most of his peers, he at least tried to look outside the box he grew up in. (A naturist and member of the Free Love movement in the 1920s, he hung out with Thelemites back when they were beyond the pale, and was considered too politically subversive to be called up for active duty in the US Navy during WW2.) But when he tried to look too far outside his zone of enculturation, Heinlein often got things horribly wrong. Writing before second-wave feminism (never mind third- or fourth-), he ended up producing Podkayne of Mars. Trying to examine the systemic racism of mid-20th century US society without being plugged into the internal dialog of the civil rights movement resulted in the execrable Farnham's Freehold. But at least he was trying to engage, unlike many of his contemporaries (the cohort of authors fostered by John W. Campbell, SF editor extraordinaire and all-around horrible bigot). And sometimes he nailed his targets: "The Moon is a Harsh Mistress" as an attack on colonialism, for example (alas, it has mostly been claimed by the libertarian right), "Starship Troopers" with its slyly embedded messages that racial integration is the future and women are allowed to be starship captains (think how subversive this was in the mid-to-late 1950s when he was writing it).
(15) ROCKET MAN. In the wake of yesterday's report that 10% of Hugo novel winners are named Robert, and someone else's observation that being named Robinson helped, too, Soon Lee composed this filk:
So here's to you Robert Robinson
Hugo loves you more than you will know,
Wo wo wo
Awards you heaps Robert Robinson
Rockets coming out your ears all day
Hey hey hey, hey hey hey
Then Cath could only exorcise the earworm by finishing the verse –
Hide your rockets in the hiding place where no cat ever goes
Put them on your bookcase with your cupcakes
It's a little secret just the Robinsons' affair
Most of all you've got to hide it from the pups

Sitting in the green room on a Sunday afternoon
Feasting from the finalists' cheese plate
Laugh about it, shout about it
When Hugo's got to choose
There's no way that you can lose

Where have you gone, John Picacio
A Worldcon turns its lonely eyes to you
Wu wu wu
What's that you say, Robert Robinson?
Diversity shall never go away
(16) SUBTRACTION. Robert/Rob/Bob may be a statistically lucky name for a Hugo nominee, however, the odds won't soon be improving in the astronaut program. Ars Technica has the info that, "For the first time in 50 years, a NASA astronaut candidate has resigned" — one of a class of 12:
A little more than a year ago, NASA introduced its newest class of 12 astronaut candidates. These talented men and women were chosen from a deep pool of 18,300 applicants, and after two years of training they were to join the space agency's corps for possible assignment on missions to the International Space Station, lunar orbit, or possibly the surface of the Moon.

However, one of those 12 astronauts, Robb Kulin, will not be among them. On Monday, NASA spokeswoman Brandi Dean confirmed to Ars that Kulin had resigned his employment at NASA, effective August 31, "for personal reasons."
(17) NAUGHTY GOOGLE. Fingerpointing: "Google is irresponsible claims Fortnite's chief in bug row". "Bug row" – there's the Queen's English for you.
The leader of the firm behind the hit game Fortnite has accused Google of being "irresponsible" in the way it revealed a flaw affecting the Android version of the title.

On Friday, Google made public that hackers could hijack the game's installation software to load malware.

The installer is needed because Epic Games has bypassed Google's app store to avoid giving it a cut of sales.

Epic's chief executive said Google should have delayed sharing the news.
(18) BAD LUCK AND TROUBLE. Beyond the Sky trailer (2018). The movie is coming to theaters this September.
Chris Norton has been hearing about alien abductions his entire life but, in his gut, he knows they are not real. Setting out to disprove the alien abduction phenomenon once and for all, he attends a UFO convention to meet alleged abductees and reveal the truth behind their experiences. It is only when he meets Emily, who claims to have been abducted every seven years on her birthday, that Chris realizes there may be more to these claims than meets the eye. With Emily's 28th birthday only days away, Chris helps her to uncover the truth as they come face to face with the reality that we are not alone.

CAST: Ryan Carnes, Jordan Hinson, Peter Stormare, Dee Wallace, Martin Sensmeier, Don Stark
(19) AN INTERPLANETARY ROMANCE. The restored 1910 Italian silent film Matrimonio interplanetario ("Marriage on the Moon") is now online. Its antique delights include a very strange space launch facility that looks suspiciously like a samovar or maybe an espresso machine.
[Thanks to Chris Barkley, JJ, John King Tarpinian, Karl-Johan Norén , Cat Eldridge, Martin Morse Wooster, Mike Kennedy, Chip Hitchcock, Carl Slaughter, and Andrew Porter for some of these stories. Title credit goes to File 770 contributing editor of the day Camestros Felapton.]