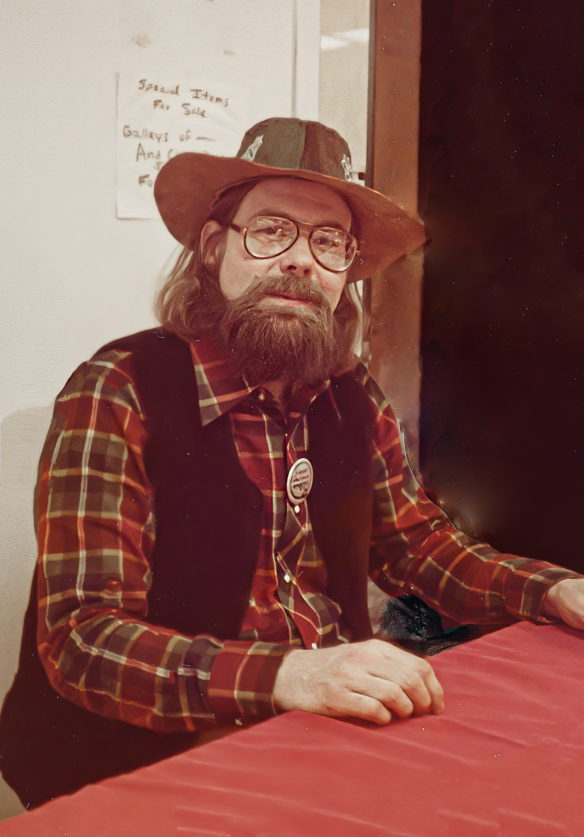 Pioneering sf critic and Nebula-winning novelist Alexei Panshin died August 21 at the age of 82. His son Tobiah Panshin made the announcement on Facebook.
Alexei suffered a sudden cardiac arrest on Wednesday. He passed away today, peacefully.

He had many sayings he liked to quote to me, most of which he made up himself. A common one was, "How can we sink, when we can fly?"

If any part of him persists in the infinite reaches of this universe, I suspect that he is flying now.

Condolences or well-wishes to our family may be sent to [email protected]
Panshin was hooked on science fiction at the age of 10, thanks to the Boys' Life serialization of Robert Heinlein's Farmer in the Sky. After receiving a typewriter as a high school graduation present in 1958 he began teaching himself how write science fiction stories, and from then on thought of himself as a writer and not just another science fiction reader.
Panshin's first fiction sale in the late Fifties would actually be a non-sf story to Seventeen magazine, "A Piece of Pie", written during his time attending the University of Michigan. But in Ann Arbor he also connected with sf author Dean McLaughlin at a college bookstore, and started picking his brains relentlessly for whatever he could tell him about the science fiction writing world. McLaughlin soon introduced him to the leaders of the forthcoming 1959 Worldcon in Detroit. Panshin attended and began to make connections with other pro writers, whose ranks he aspired to join. He even bought an hour of time from the convention's Guest of Honor Poul Anderson at auction for $25, and talked to him about his ambitions. Later in the fall he met Harlan Ellison at a pro party, whose words were less encouraging. Wrote Panshin: "When Harlan and I were introduced, he fingered my blazer on which I had spent no less than $20, and said: 'So you want to be a writer. The first check you get, ditch this and buy yourself a continental cut suit.' He didn't know me very well. I haven't owned a suit to this day, continental cut or otherwise."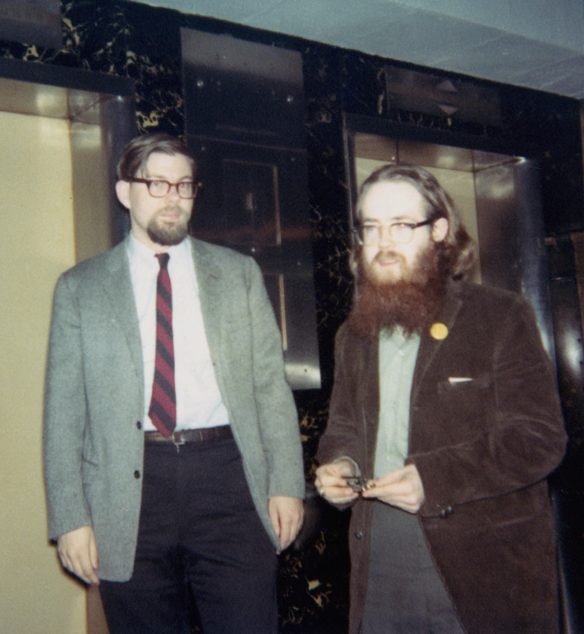 A confirmed fan of Robert A. Heinlein, he wrote him a fan letter in 1948 and was excited to get a postcard in reply.
Later Panshin was inspired to do a deep analysis of Heinlein's work that would make science fiction history in several ways. Having seen Panshin's sercon articles in the Hugo-winning fanzine Yandro, Earl Kemp invited him to write a book about Heinlein for Advent:Publishers.
Robert Heinlein didn't answer the letter Panshin sent him when he was researching the book. Instead, Heinlein wrote to publisher Earl Kemp threatening to sue Advent and Panshin if it came out. Advent immediately withdrew the book from its plans. Panshin turned around and wrote a piece for Yandro entitled "Lese Majesty"—"an offense against the King"—setting forth the situation. As a result, throughout 1966 Heinlein in Dimension would appear in pieces in four different fanzines. (The complete Heinlein in Dimension has been posted by the author at the link.)
The fanzine appearances of Heinlein in Dimension made Panshin eligible for the very first Best Fan Writer Hugo, presented at NYCon 3 in New York in 1967. He won. That year Advent's publishers also changed their minds and signed him to a contract for Heinlein in Dimension which appeared in 1968.
In 1968 Panshin again got enough votes to be a Best Fan Writer finalist but was granted his request to have his name removed from the ballot. "I thought someone else should win the next one, and hoped to set a precedent by saying that one was enough." Besides which, in 1968 Harlan Ellison had also withdrawn as a Best Fan Writer nominee because he wanted to be identified solely as a pro.
And in 1968 Panshin had two new novels published, Star Well, first of the Anthony Villiers books, and Rite of Passage, which would win the 1969 Nebula for Best Novel. (Not that it was as easy as it sounds. Rite of Passage was rejected 13 times before Terry Carr accepted it for his new Ace Specials line.)
That year he also was one of the signers of the famous 1968 Galaxy Vietnam War ad – on the antiwar side, of course.
There would eventually be three published books in the Villiers series — Star Well, The Thurb Revolution, and Masque World. A fourth volume entitled The Universal Pantograph, never appeared, reputedly because of conflicts between the writer and his publisher, joining the list of works in a series that fans await for years and speak of longingly, usually to be disappointed. (A rare exception being the Demon Princes series which Jack Vance eventually finished).
A byproduct of the Villiers series was Larry Niven's admiration for the term "thumbrunner" which Panshin coined for one of the books. Niven wished he had thought of it first, regarding it as far superior to the word he made up for his own stories about "organleggers".
Panshin and Cory Seidman married in 1969. In the Seventies and Eighties, the Panshins would work together both on fiction – Earth Magic (1978) – and two major sf critical books, SF in Dimension (1976) and The World Beyond The Hill: Science Fiction and the Quest for Transcendence (1989), which received a Hugo Award for Best Related Work. As Alexei said in his autobiography, "It may tell you something about us that our initial wedding present to ourselves was the acquisition of the four-volume boxed set of Joseph Campbell's The Masks of God."
Panshin is survived by his wife, Cory, and sons, Adam and Tobiah.
A great many of the author's personal essays and critical articles are collected at his website The Abyss of Wonder.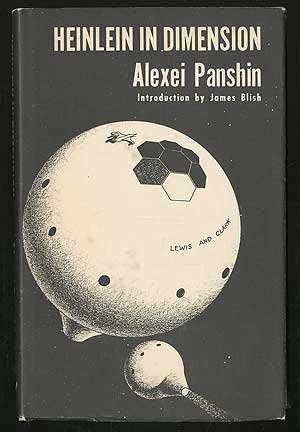 Update 08/22/2022: First two paragraphs substantially revised.