(1) TOWER OF FABLE. Mark Lawrence promoted a new book release by challenging his readers to make towers of their books and send him photos — "The Girl And The Stars – contest!". He has posted the entries — it's an amazing gallery.
(2) ON THE FRONT OF F&SF. The Magazine of Fantasy & Science Fiction's May/June 2020 cover. The art by Maurizio Manzieri is for "Who Carries the World" by Robert Reed.
(3) ASIMOV RESEARCH SPARKS SUSPICION. [Item by Olav Rokne.] Australian SF fan Steven Cooper caught the interest of the security folks at Australia's National Emergency Library due to his unusual borrowing habits. The software engineer had been checking out books ten at a time for several years, which made the organization wonder if something was amiss. In an interesting blog post on Archive.org, Wendy Hanamura (@whanamura) explains how a research project about Isaac Asimov put Cooper in the hot seat for a few minutes. "Suspicious Activity in the National Emergency Library? No, just the best kind of activity…"
This software engineer with an obsession for Asimov never expected his passion project would be seen by the public, let alone a constellation of science fiction devotees. He did it for himself, to explore the many dimensions of Asimov's thinking, where the writer's curiosity would lead him, the clarity with which he would explain the world.

…The fruits of Steven Cooper's labor are now available for anyone to use. His list is 676 pages long, at the moment. Yet, this software engineer with an obsession for Asimov never expected his passion project would be seen by the public, let alone a constellation of science fiction devotees. He did it for himself, to explore the many dimensions of Asimov's thinking, where the writer's curiosity would lead him, the clarity with which he would explain the world. "He is known as possibly the most wide-ranging writer of the 20th Century," Cooper ruminated. "I was just interested to see how wide ranging that was. I don't think anyone has ever read everything he wrote."
Here's the link to Steven Cooper's "An Annotated Asimov Bibliography".
(4) YOUR SPOILER MILEAGE MAY VARY. [Item by Daniel Dern.] As part of research for an article I'm writing, I'm (re)reading Asimov's The Caves Of Steel. I'd gotten a copy through interlibrary loan (via The Robot Novels, also includes The Naked Sun)… and, ~2/3rd of the way through the story, encountered this (see pic) reader annotation. So far, having finished tCoS, and, flipping through the pages (easy to do, since it's paper), I don't see said "solution" scribbled elsewhere.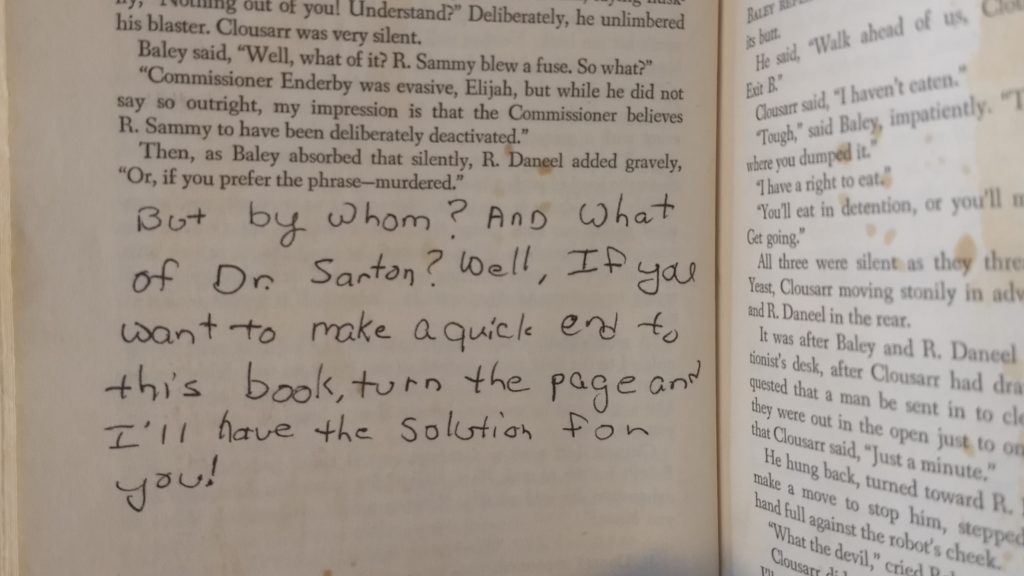 Unless it was on the flip side of the very next page, which has ~1/3″ torn off at the bottom (thankfully, below the book text proper).
So, the spoiler spoiled?
It's a decent re-read… yes, it has its share of oatmeal/porridge info-lumps throughout, many not plot-essential, but back then (early 50's) that's part of what many (of us) were reading sf for, no?
And it's a plays-fair-with-the-reader detective story. The clues are there, all along. (Hardly surprising, given Asimov's interest and writing in that sibling genre.)
(5) CALL FOR SUBMISSIONS. SF2 Concatenation wants to give some folk in lock-down some distraction and also wave the flag for con-going fandom. "SF convention-goers wanted".
…So here's the thing. Given the next few months many of us are going to be largely housebound, how about those of you who regularly go to a particular series of conventions give a shout out to that convention series?

There are a number of articles you could write and we'd be delighted to post.

Possibilities include, but not restricted to, writing an outline history (or recent history) of the series of conventions you wish to share. Alternatively, if you are feeling creative, you could write a convention review of a convention that has been cancelled this year. If you have been to two or three previous conventions in the series you can mine events that took place at those earlier cons paraphrasing them. You can check out the Guests of Honour that would have appeared at this year's event and write a short paragraph on each….
(6) HUBBLE. [Item by Mike Kennedy.] In honor of the Hubble Space Telescope's 30th birthday, NASA would like to show you a great image shot on your birthday… Or any other day of the year that's particularly special to you.
Just follow the link — "What Did Hubble See on Your Birthday?" — select & confirm the date, et voilà, a sure-to be spectacular image will be provided.
(7) ROLL VS. ROLE. At Unusual Things, Max Florschutz unpacks the problems with a trendy solution for creating characters: "Being a Better Writer: Tools VS Actions". An interesting diagnosis.
… There were several discussions I'd seen in the last few weeks across writing sites and discussions about so-called "gamification" of characters. Or, to put it another way, writing characters whose abilities felt like they were out of a video game….

…See, this writer had gone ahead and written out a character sheet, as writers often do. No problems there. But when it came to the section on their characters skills, rather than be general with what their character was good at, they had written—you guessed it—a named list of "actions" they could take.

Like a role-playing game. Or an anime. There was the name of the skill, and how it worked, and what they did with it. All in a neat little list.

But seeing that list made all these complaints I'd been reading "click" in my head and I immediately saw how and why so many were complaining about this type of writing, and how people were getting there.

Because in making lists like this, these authors had restricted themselves. Fallen into a trap of their own making wherein they were becoming too specific and limiting what they (and their characters) could do.

What it came down to, ultimately, was what I immediately made notes of as "Tools VS Actions." Which ended up being the title of this post.

Okay, let me explain a little further by giving you a simple example. Suppose you are writing a character that is a thief. They break into places and steal stuff. Now, you sit down to create a character sheet, but have you ever considered that how you write the character sheet determine how you'll see them in the story?…
(8) ROWE OBIT. The death of D.J. Rowe was announced by Michael Moorcock on Facebook.
Very sorry to hear of the natural death at 83 of D..J. Rowe, who ran my first fan club. He was a sweet, unassuming man and continued to be the hub of the Nomads of the Time Streams. He will be very sadly missed.
(9) DEITCH OBIT. Winner of the Winsor McCay Award (2004) for his lifelong contribution to animation, Gene Deitch has died at the age of 95. The Hollywood Reporter fills in his resume:
…Deitch's movie Munro won the Academy Award for best animated short film in 1960. He also was nominated for the same award twice in 1964 for Here's Nudnik and How to Avoid Friendship.

Earlier, Deitch had created the Tom Terrific series, while the short Sidney's Family Tree, which he co-produced, was nominated for an Academy Award in 1958.

Born on Aug. 8, 1924, in Chicago, Deitch arrived in Prague in 1959, intending to stay for 10 days, but fell in love with his future wife, Zdenka, and stayed in the Czechoslovakian capital.

Working from behind the Iron Curtain, he directed 13 episodes of Tom and Jerry and also some of the Popeye the Sailor series….
(10) MEDIA BIRTHDAY.
April 20, 1950 — Dimension X's "Report On The Barnhouse Effect" first aired on NBC. A mild college professor discovers the secret of telekinesis and becomes a most potent weapon. It was the first short story written and published by Kurt Vonnegut, and would be in the February 11, 1950 issue of Collier's Weekly. In 1952, the story would be in Heinlein's Tomorrow, the Stars anthology. Here the cast was Santos Ortega and William Quinn with direction by Edward King from a script by Charles Ross. Bob Warren was the announcer. You can hear it here.
(11) TODAY'S BIRTHDAYS.
[Compiled by Cat Eldridge.]
Born April 20, 1908 — Donald Wandrei. Writer who had sixteen stories in Astounding Stories and fourteen stories in Weird Tales, plus a smattering elsewhere, all in the Twenties and Thirties. The Web of Easter Island is his only novel. He was the co-founder with August Derleth of Arkham House. He has World Fantasy Award for Lifetime Achievement, and he's a member of First Fandom Hall of Fame. Only his "Raiders of The Universe" short story and his story in Famous Fantastic Mysteries (October 1939 issue) are available at the usual digital suspects. (Died 1987.)
Born April 20, 1937 — George Takei, 83. Hikaru Sulu on the original Trek. And yes, I know that Vonda McIntyre wouldn't coin the first name until a decade later in her Entropy Effect novel. Post-Trek, he would write Mirror Friend, Mirror Foe with Robert Asprin. By the way, his first genre roles were actually dubbing the English voices of Professor Kashiwagi of Rodan! The Flying Monster and the same of the Commander of Landing Craft of Godzilla Raids Again. He also was Kaito Nakamura on Heroes. And later he got to play his character once again on one of those video fanfics, Star Trek New Voyages: Phase II.
Born April 20, 1939 — Peter S. Beagle, 81. I've known him for about fifteen years now, met him but once in that time. He's quite charming. (I had dinner with him here once several years back.) My favorite works? Tamsin, Summerlong and In Calabria. He won the Novelette Hugo at L.A. Con IV for "Two Hearts". And he has World Fantasy Award for Lifetime Achievement.
Born April 20, 1943 — Ian Watson, 77. He's won the BSFA Award twice, first for his novel, The Jonah Kit, and recently for for his short story, "The Beloved Time of Their Lives". He also got a BSFA nomination for the charmingly titled "The World Science Fiction Convention of 2080".
Born April 20, 1949 — John Ostrander, 71. Writer of comic books, including Grimjack, Suicide Squad and Star Wars: Legacy. Well those are the titles he most frequently gets noted for but I'll add in The Spectre, Martian Manhunter and the late Eighties Manhunter as well. His run on the Suicide Squad isavailable on the DC Universe app as his amazing work on The Spectre.
Born April 20, 1949 — Jessica Lange, 71. Her very first role was Dwan in the remake of King Kong. Later genre roles are modest, Sandra Bloom Sr. in Big Fish and Constance Langdon / Elsa Mars / Fiona Goode / Sister Jude Martin in American Horror Story.
Born April 20, 1951 — Louise Jameson, 69. Leela of the Sevateem, companion to the Fourth Doctor. Appeared in nine stories of which my favorite was "The Talons of Weng Chiang" which I reviewed here. She segued from Dr. Who to The Omega Factor where she was the regular cast as Dr. Anne Reynolds. These appear to her only meaningful genre roles. And she like so many Who performers has reprised her tole for Big Finish productions.
Born April 20, 1959 — Clint Howard, 61. So the most interesting connection that he has to the genre is playing Balok, the strange childlike alien, in "The Corbomite Maneuver" which I remember clearly decades after last seeing it. He's also John Dexter in Cocoon, and Mark in The Rocketeer as well as Jason Ritter in the Austin Powers franchise. He's got a minor role in Solo: A Star Wars Story as a character named Ralakili.
Born April 20, 1959 — Carole E. Barrowman, 61. Sister of John Barrowman. John and Carole co-wrote a Torchwood comic strip, featuring Jack Harkness, entitled Captain Jack and the Selkie. They've also written the Torchwood: Exodus Code audiobook. In addition, they've written Hollow Earth, a horror novel. She contributed an essay about her brother to the Chicks Dig Time Lords anthology which is lot of fun to read.
Born April 20, 1964 — Crispin Glover, 56. Actor in such roles as George McFly in Back to the Future, Ilosovic Stayne aka The Knave of Hearts in Alice in Wonderland, Grendel in Beowulf and Mr. World, the god of globalization, in American Gods.
Born April 20, 1964 — Andy Serkis, 56. I will freely admit that the list of characters that he has helped create is amazing: Gollum in The Lord of the Rings films and The Hobbit: An Unexpected Journey, King Kong in that film, Caesar in the Planet of the Apes reboot series. Captain Haddock / Sir Francis Haddock in The Adventures of Tintin (great film that was), and even Supreme Leader Snoke in The Force Awakens and The Last Jedi. Last year, he portrayed the character of Baloo in his self-directed film, Mowgli: Legend of the Jungle.
(12) COMICS SECTION.
(13) PAINTING WITH WORDS. Bizarro's Dan Piraro does a blog accompaniment to his week's cartoons in "Senses".
…The above cartoon, a satire of the ancient Japanese maxim, "see no evil, hear no evil, speak no evil," attempts to illustrate how on the Internet, seeing, hearing, and speaking evil has become the preferred norm. And not just in ways that authoritarian conspiracy nuts use it to mislead people, but in the way we all use it to eavesdrop, spy, gossip, argue, insult, and otherwise exercise our insecure egos in ways that seem delicious and satisfying at the first, but which darken our outlook and mood over time.

This is the primary reason I don't read or respond to comments on the Interwebs. To be clear, I read all comments left on my cartoon posts and occasionally will respond once to an attack (succinctly, in an adult manner, without insult or profanity) but it ends there. I won't argue with people online. I may as well be arguing with the radio in my car.

I find that this approach leads to a more peaceful daily existence. If I read a rant by someone who thinks Donald Trump was sent by God to give Amurica back to white people, it aggravates me for days. As pointless as it is, I can't stop arguing with them in my head. It's like drinking poison and expecting someone else to die. I know the world is full of gullible idiots—there's no need to keep proving it to myself by spending time on Facebook….
(14) NO HARD FEELINGS. [Item by Rob Thornton.] According to IndieWire, a site that covers the world of independent movies, David Lynch is not interested in Denis Villeneuve's upcoming two-part cinematic adaptation of Dune. Lynch is known to be unhappy with his own adaptation of Dune in the mid-80s: "It Should Surprise No One That David Lynch Has 'Zero Interest' in Villeneuve's 'Dune'".
Lynch has been a vocal detractor of his own "Dune" film since its release in 1985, going so far as wanting to remove his name off the final theatrical cut. Some longer cuts of the film that feature an extended introduction with still illustrations even replace Lynch's name in the end credits with that of Alan Smithee, the industry pseudonym used by filmmakers who wish not to be associated with their films. Lynch spent three years making "Dune," only for producers and financiers to get in the way of his creative vision. As cast member Brad Dourif once said, Lynch had to cut some of the "most gorgeous" sequences from his script because producers refused to give Lynch the money to film them. The tightening of the budget also forced Lynch to be complacent with shoddy visual effects and a more cheap-looking production.
(15) SONG FOR THE TIMES. "'Toy Story' composer Randy Newman shares social-distancing song 'Stay Away'" — ABC News has the story.
Some of the lyrics of "Stay Away" include: "Stay away from me. Baby, keep your distance, please. Stay away from me. Words of love in times like these. I'm gonna be with you 24 hours a day. A lot of people couldn't stand that. But you can. You'll be with me 24 hours a day. What a lucky man I am."
(16) REFERENCE DIRECTOR! A bit of Tolkienesque humor. And the man below NZ Prime Minister Jacinda Ardern is Dr Ashley Bloomfield, the Director-general of Health. He often gives the daily COVID-19 press conference.
(17) WHAT'S THAT SMELL? "'Alien comet' visitor has weird composition" – BBC has the story.
The first known comet to visit us from another star system has an unusual make-up, according to new research.

The interstellar comet 2I/Borisov was detected in our Solar System last year.

This mysterious visitor from the depths of space has provided astronomers with an unprecedented opportunity to compare it to comets that formed around the Sun.

New data suggests it contains large amounts of carbon monoxide – a possible clue to where it was "born".

The findings appear in two separate scientific papers published by Nature Astronomy.

…The teams identified two molecules in the gas ejected by the comet: hydrogen cyanide (HCN) and carbon monoxide (CO).

HCN has already been detected in this interstellar vistor, and is present at similar amounts to those found in Solar System comets.

However, they were surprised to see large amounts of CO. The researchers using Alma for their observations estimated that 2I/Borisov's CO concentration was between nine and 26 times higher than that of an average Solar System comet.
(18) SIGN OF THE TIMES. Seen in The Week.
A man wearing a Batman costume and driving a custom-made replica Batmobile has been patrolling the streets of Monterrey, Mexico, earning reisdents to stay indoors and observe government-ordered social-distancing measures. 'Hey, you! Stay home,' urges the recorded message blasting from the faux-Batmobile as the anonymous caped crusader drives through the city. 'Join us superheroes, stay home.'
(19) RETURN TO NATURE. "Australia coronavirus lockdown: Kangaroo hops through empty Adelaide streets" – video.
South Australia Police have captured the moment a kangaroo hopped through the heart of downtown Adelaide during coronavirus lockdown.
(20) APOCALYPSE AHEAD. [Item by Martin Morse Wooster.] This is from "Sydney Diary" by Geraldine Brooks in the January 11 Financial Times.
"When I was in my early teens, I read John Wyndham's post-apocalypse novel The Chrysalids. In it, one of the characters keens for her devastated planet: 'What did they do here? What can they have done to create such a frightful place?…There was the power of gods in the hands of children, we know; but were all of them mad children, all of them quite mad?…

…"I am a novelist, so in my mind I create a character like Wyndham's in the aftermath of the climate apocalypse, looking back at the devastation, trying to fathom the madness that allowed it. The country was burning, but they gave the go-ahead to the vast Adani coal mine. Their rivers were dying, but they flushed their toilets with drinking water. They used the fossil fuels that were poisoning their planet to make plastic things they used just once then threw in the oceans. And yes, because I too am among this moment's mad and guilty, they thought it was OK to fly around the planet, willy-nilly, just because they wanted to."
(21) MUSIC VIDEO OF THE DAY. "Gimme Love" — Genius explains:
The themes of space travel seen in the videos of Nectar's first two singles, "Sanctuary" and "Run," are continued in the video for "Gimme Love." The video features a montage of clips showing Joji's journey in becoming an astronaut, finishing as Joji rebelliously launches to space inside a rocket.
[Thanks to Olav Rokne, JJ, N., Cat Eldridge, Mike Kennedy, Andrew Porter, Gordon Van Gelder, Chip Hitchcock, Martin Morse Wooster, Errolwi, Daniel Dern, Michael Toman, SF Concatenation's Jonathan Cowie, Rob Thornton, and John King Tarpinian for some of these stories. Title credit goes to File 770 contributing editor of the day Olav Rokne.]