(1) THEY CAME FROM SPACE. Christie's "Deep Impact: Martian, Lunar and Other Rare Meteorites" auction will offer rare meteorites for bid between February 9-23. Wonderful photos at the link.
The weight of every known meteorite is less than the world's annual output of gold, and this sale offers spectacular examples for every collector, available at estimates ranging from hundreds to hundreds of thousands of dollars. The sale will offer 72 of the 75 lots at no reserve, with estimates starting at $250….

There are a dozen offerings of the Moon and the planet Mars and another dozen from some of the most famous museums in the world — as well as meteorites containing gems from outer space.
(2) WHAT WE SHOULD EXPECT. In the first issue of the Space Force Journal, a professional journal for the new branch of DoD, Wendy Whitman Cobb tries to separate sf from the SF. "'It's a Trap!' The Pros and Mostly 'Khans' of Science Fiction's Influence on the United States Space Force".
As the United States Space Force has been debated and ultimately stood up, it has often been linked with various science fiction undertakings, most prominently, Star Trek. For the most part, the science fiction connections are not new in the history of space and can be beneficial. Yet being compared to science fiction also presents challenges for the Space Force. This article begins by analyzing both qualitative and quantitative evidence of a science fiction-Space Force link, and finds that this link has been prevalent over the past several years. The space domain is susceptible to science fiction-based influences because of the unknowns that remain with space-based operations. This is even more true with respect to the public's view of the Space Force. Thus, the leaders of the Space Force are forced to address the cognitive dissonance between what the public expects and what the Space Force can actually achieve in the near- to mid-term. Space Force leaders should therefore focus on "de-science fictionalizing" to draw a distinction between imagined futures and strategic challenges of today….
(3) A COMPLEX STEW OF FEELS. Jeannette Ng shares a whole chain of thoughts set off by watching Wandavision. Thread starts here.
(4) WHY SPECULATIVE POETRY? SPECPO asks SFPA Grand Master – Linda D. Addison.
CA What inspires you to write poetry and why speculative poetry? (What themes do you explore or do they always change?)

LDA: I am a big daydreamer from when I was a young child and those daydreams were always speculative, things like cats with wings. I was totally into the early fables with animals that talked and walked. I've always wondered What if? in the realm of Speculative-ness. Although I write fiction too, poetry is my first voice. I hear poetry inside all the time.

Everything inspires me to write, my reactions to the world around me and inside me. I'm not sure I can look at my work and say what themes they explore, since I write organically, without a lot of planning, unless I'm writing to a theme for a project. I would say the themes change, depending on what touches my heart and soul. Perhaps this is a question better answered by my readers.
(5) HOW CAN YOU RESIST? Ann Leckie has something to share:
(6) A FANNISH CENTENNIAL. First Fandom Experience celebrates the hundredth anniversary tomorrow of the birth of John V. Baltadonis (1921-1998) in "JVB 100". Lots of his early fanzine art, and work he did when he got really good later on. A leading Philadelphia fan who attended the claimed First Convention held in his hometown in 1936, and traveled to New York for the first Worldcon in 1939, Baltadonis was elected to the First Fandom Hall of Fame in 1998.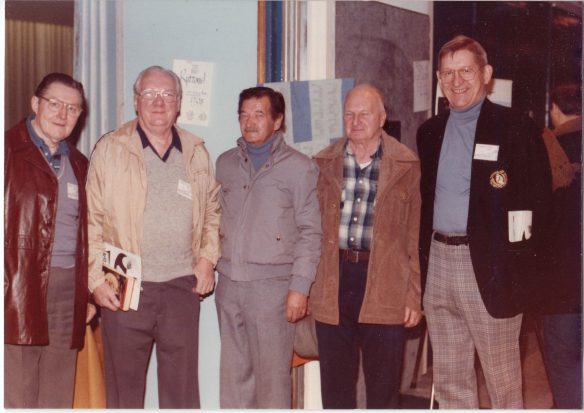 (7) SPIDER-MAN COLLECTOR HAS TO LET GO. Long article about the "Ultimate Spider-Man Collection to Be Sold Under Heart-Wrenching Circumstances" – profiling the rarities and the collector, who is dying from cancer and is selling to set up his wife and daughter after he's gone.
…If you talk to Levine long enough, soon you realize it's not necessarily the comics he treasures the most. Anyone with money can buy comics, he notes. It's the weird stuff that he covets, like a collection of 1990s-era Fruit Roll-Ups boxes that he's only seen go up for auction once or twice and finally snagged. There's still one, featuring the villain the Rhino, that he doesn't own, and it eats him up inside because he's seen an advertisement for it and knows it exists. ("I'd pay $10,000 for it, because in 35 years I've never seen it [at auction]," says Levine.)

These are his holy grails.

Among the other rarities: storyboards for James Cameron's aborted Spider-Man movie; a never-sold, Spider-Man themed Camel Cigarette pack; and a letter Ditko wrote a fan in which the notoriously grumpy artist tells the recipient what he really thinks.
(8) HENRY OBIT. Actor Mike Henry died January 8 at the age of 84.
…He was cast as Tarzan, Lord of the Jungle, in three films: Tarzan and the Valley of Gold (1966), Tarzan and the Great River (1967), and Tarzan and the Jungle Boy (1968).

His run as the jungle lord ended after being bitten by a chimpanzee while filming.

Henry segued into another franchise in 1977, playing Junior, the son of Jackie Gleason's Sheriff Buford T. Justice, in Smokey and the Bandit. He reprised the role in the film's 1981 and 1983 sequels.

Among Henry's other film roles were appearances in Skyjacked (1972), Soylent Green (1973) and The Longest Yard (1974). His TV credits included roles on M*A*S*H, General Hospital and Fantasy Island….
(9) MEMORY LANE.
1981 — Thirty years ago at Denventon Two, Gordon R. Dickson had the ever so rare accomplishment of winning two Hugos at a single Con, first for the Best Novella for "Lost Dorsai" which been published in Destinies v2 #1 Feb/Mar 1980, second for Best Novelette for "The Cloak and the Staff" which had been published in Analog in August of 1980. Other than an earlier short story Hugo for " Soldier, Ask Not", these are the only Hugos that he won.
(10) TODAY'S BIRTHDAYS.
[Compiled by Cat Eldridge and John Hertz.]
Born February 6, 1850 – Elizabeth Champney.  Three novels for us; a hundred all told, also shorter stories, essays, poems, travel.  A Vassar woman; see here. From In the Sky-Garden, here is her husband James Champney's title page; here is "A Ride on the Rocket-Star".  (Died 1922) [JH]
Born February 6, 1922 — Patrick Macnee. He was best known as the secret agent John Steed in The Avengers, a role he reprised in the New Avengers. Avoid the putrid Avengers film which he is not in at peril of your soul. He made his genre debut as Young Jacob Marley in Scrooge. He then starred as Derek Longbow in Incense for the Damned (also released as Bloodsuckers, Freedom Seeker Incense for the Damned and Bloodsuckers, Freedom Seeker and Doctors Wear Scarlet). Next up is an uncredited role voicing Imperious Leader on the original Battlestar Galactica.  He played Captain John Good R.N. in King Solomon's Treasure based rather loosely on the H. Rider Haggard source material. What else? Let's see… he shows up in The Howling as Dr. George Waggner, as Dr. stark in a film as alternative title is, I kid you not, Naked Space and Spaceship. It's a parody apparently of Alien. Next up for him is another toff named Sir Wilfred in Waxwork and its sequel. Yes, he wears a suit rather nicely. At least being Professor Plocostomos in Lobster Man from Mars is an open farce.  Yes, let me note that he had a voice only role in the absolutely awful remake of The Avengers as Invisible Jones, a Ministry Agent. I do hope they paid him well. His last film work was genre as well, The Low Budget Time Machine, in which he started as Dr. Bernard. (Died 2015.) (CE) 
Born February 6, 1924 — Sonya Dorman. Her best-known work of SF is "When I Was Miss Dow" which received an Otherwise retrospective award nomination.  She also appeared in Dangerous Visions with the "Go, Go, Go, Said the Bird" story. Poem "Corruption of Metals" won a Rhysling Award. (Died 2005.) (CE) 
Born February 6, 1932 — Rip Torn. First genre work that comes to mind is of course RoboCop 3 and his Men in Black films. His first dip into our world comes as Dr. Nathan Bryce In The Man Who Fell to Earth. Yeah that film. Actually if you count Alfred Hitchcock Presents, he's been a member of our community since his Twenties. He also shows up on The Man from U.N.C.L.E. as well. (Died 2019.) (CE) 
Born February 6, 1947 – Eric Flint, age 74.  Auto, oil, and steel worker, glassblower, longshoreman, machinist, meatpacker, truck driver, and trade-union activist, with a master's degree in History from Univ. Cal. Los Angeles, he's the publisher of Ring of Fire Press (first virtual RoFcon, 8-11 Oct 20) and the Grantville Gazette; fourscore novels, threescore shorter stories, many with co-authors; anthologies.  He edited the 2002 editions of Garrett's Lord Darcy stories and Laumer's Retief stories; wrote an appreciation of Tom Kidd for the 2018 World Fantasy Convention.  [JH]
Born February 6, 1948 — Larry Todd, 73. Writer and cartoonist, best known for the decidedly adult  Dr. Atomic strips that originally appeared in the underground newspaper The Sunday Paper and his other work in underground comics, often with a SF bent. In our circles, Galaxy Science Fiction, Amazing Science Fiction and Imagination were three of his venues. He also did some writing for If. He also did, and it's really weird art, the cover art and interior illustrations for Harlan Ellison's Chocolate Alphabet. (CE)
Born February 6, 1950 – Michele Lundgren, age 71.  Known to us as the wife of Detroit graphic artist Carl Lundgren (four Chesleys including Artistic Achievement), she has been doing artwork of her own as a photographer; two books, The Photographic Eye and Side Streets.  [JH]
Born February 6, 1958 – Marc Schirmeister, age 63.  To borrow a line from Robert Silverberg about someone else, we're all unique here but some of us are more unique than others.  Schirm has quietly – no – unobtrusively – no – well, idiosyncratically drawn Schirmish creatures for Alexiad, Amra, Asimov's, Banana Wings, Chunga, Fantasy Book, File 770, Flag, New Toy, the Noreascon 4 Program Book (62nd Worldcon), Riverside Quarterly, Vanamonde.  Artist Guest of Honor at Westercon 63.  Rotsler Award.  Did the Five of Wands for Bruce Pelz' Fantasy Showcase Tarot Deck – all the images and BP's introduction here (PDF).  [JH]
Born February 6, 1959 – Curt Phillips, age 62.  Corflu 50 Fan Fund delegate to Corflu 26 (fanziners' convention; corflu = mimeograph correction fluid).  TAFF (Trans-Atlantic Fan Fund) delegate to Loncon 3 the 72nd Worldcon; report here.  Interviewed Alexis Gilliland for SF Review.  Co-ordinated celebrations of Bob Madle's 100th birthday.  Often seen in Banana Wings, Chunga, File 770, Flag, Raucous Caucus – the usual suspects.  [JH]
Born February 6, 1974 — Rajan Khanna, 47. To quote his website, he's "an author, reviewer, podcaster, musician, and narrator."  His three novels are from Pyr Books, all set in a fantastic universe of airships and steampunk, are Falling Sky, Rising Tide and Raining Fire. The audiobooks are first rate. (CE) 
Born February 6, 1977 — Karin Tidbeck, 44. Their first work in English, Jagannath, a short story collection, made the shortlist for the Otherwise Award and was nominated for the World Fantasy Award. The short story "Augusta Prima", originally written by her in Swedish, was translated into English by them which won them a Science Fiction & Fantasy Translation Award in the Short Form category. Their next novel The Memory Theater is forthcoming this month. (CE) 
Born February 6, 1990 – Isamu Fukui, age 31.  (Personal name first, U.S. style.)  Three novels, the first written when he was 15, much made of it and him; the others a prequel and a sequel.  See here.  [JH]
(11) COMICS SECTION.
What do we call this, a Bayeaux Tapestry for Star Trek?
(12) A VALENTINE MINE BE. GeekTyrant points out the availability of Star Wars-themed pop-up Valentines. Yoda and Darth are options.
(13) SUPPORT LITERACY. The International Association of Media Tie-In Writers' fundraising anthology Turning the Tied goes on sale March 13. All proceeds go to the World Literacy Foundation.
Like so many others, we at the IAMTW watched—horrified, heartbroken, and furious—as the tumultuous events transpired in the Spring and Summer of 2020 in the U.S.. The IAMTW added its voice of support to those fighting for better conditions, for justice, and for more equal opportunities for everyone. We didn't want to just speak up, however. We wanted to actually do something, no matter how small, to contribute to a solution. To that end…writers write. What could be more perfect than doing what we love to do, to help others and give readers something they'll enjoy? While the social upheaval in the U.S. provided the impetus for this anthology, we realize that marginalization and prejudice are a worldwide problem. One of the best means of combating the disparities is education. Therefore all the proceeds from this book will go to the World Literacy Foundation (https://worldliteracyfoundation.org/) which promotes literacy worldwide with a focus on helping those who are underprivileged.

… This dazzling collection of uplifting and curious tales will take you through the centuries and from the depths of the ocean to the stars. You'll discover well-known, beloved characters in new settings and circumstances.
Penned by some of the finest writers working in tie-in fiction today.

Sherlock Holmes, John Carter of Mars, Hopalong Cassidy, Mulan, Dracula, Mina Harker, the Three Musketeers, Cyrano de Bergerac, Baron Munchausen, and Frankenstein's Creature are a scattering of the literary souls that populate these pages. And cats. There are more than a few cats.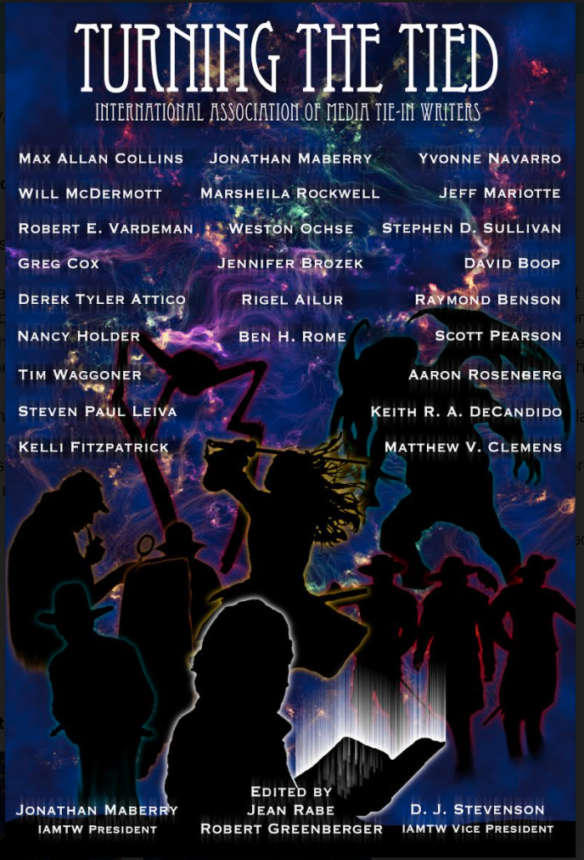 (14) BRADBURY'S SOMETHING WICKED. A 2019 ScreenRant listicle claims these are "10 Hidden Details You Didn't Know About Something Wicked This Way Comes". Maybe 7 of them were, like this one:
4. Mr. Dark Appears In Another Bradbury Work

Mr. Dark is not only the ringmaster of the carnival but a member of the freakshow as well. His oddity? He is the Illustrated Man, The tattoos over his body shift, change, and alter. This is an impressive visual effect, but it's also familiar to anyone exposed to Bradbury's books.

Ray Bradbury's short story collection, The Illustrated Man, is connected through an encounter with the titular Illustrated Man, whose ever-changing tattoos tell the stories in the book. The character is an aimless wanderer who tells the protagonist he was once a member of a carnival freakshow. Sounding familiar? Perhaps this was the true fate of Mr. Dark after the carnivals destruction? Who knows…
(15) WHAT'S YOUR TAKE? Futurism.com collates reports that "Scientists Are Weaving Human Brain Cells Into Microchips". Dann sent the link with a note, "I'm not sure if I'm supposed to be inspired or terrified by these kinds of stories."
Brain Jack

It's not unusual for artificial intelligence developers to take inspiration from the human brain when designing their algorithms or the circuitry they run on, but now a project is taking that biological inspiration a step further.

Scientists from England's Aston University are physically integrating human brain stem cells into AI microchips, according to a university press release. The goal, the scientists say, is to push the boundaries of what AI can do by borrowing some of the human brain's processing capabilities.

Neural Boost

The project, dubbed Neu-ChiP, sounds like the beginning of a sci-fi B movie where all-powerful AI runs amok. Typically, projects like this in the field of neuromorphic or brain-inspired computing focus on making AI algorithms more efficient, but Neu-ChiP aims to make them more powerful, too.

"Our aim is to harness the unrivaled computing power of the human brain to dramatically increase the ability of computers to help us solve complex problems," Aston University mathematician David Saad said in the release. "We believe this project has the potential to break through current limitations of processing power and energy consumption to bring about a paradigm shift in machine learning technology."
(16) QUICKEST TURNAROUND. "SpaceX launches 60 Starlink satellites on record-setting used rocket, nails landing".
SpaceX launched 60 more Starlink internet satellites to orbit this morning (Feb. 4) on a mission that notched a booster-reusability milestone for the company.

A two-stage Falcon 9 rocket topped with the 60 broadband spacecraft lifted off from Space Launch Complex 40 here at Cape Canaveral Space Force Station today at 1:19 a.m. EST (0619 GMT).

Approximately nine minutes later, the rocket's first stage returned to Earth, landing smoothly on one of SpaceX's drone ships in the Atlantic Ocean. The massive ship, "Of Course I Still Love You," is one of two SpaceX vessels that catch falling boosters and return them to port.

It was the fifth launch for this Falcon 9 first stage, which last flew just 27 days ago — the quickest turnaround between missions for any SpaceX booster….
(17) WORLD OF TOMORROW. Next week's Kickstarter might be a way to get a copy into your hands.
(18) VIDEO OF THE DAY. [Item by Martin Morse Wooster.] "Superman Returns/The Science of Superman" on YouTube is a documentary that I believe was originally a bonus feature on the Superman Returns DVD that looks at whether Superman's powers are scientifically plausible. For example: if Superman has heat vision, what's the heat source? Does his X-ray vision deal in any way with how X-rays actually act in the real world? And, a question that entertained our parents when they were kids: if he's invulnerable, how does he get a haircut?
Scientists including University of California (Irvine) physicist Michael Dennin and Chapman University biologist Frank Frisch explain the scientifc howlers. For example, remember in Superman: The Movie when Lois Lane falls off a skyscraper and Superman flies up to catch her? Dennin notes that Lois is falling at terminal velocity and if caught by a super-fast Superman Lois's body would have 1000 times the impact than if Superman had stayed on the ground and caught her. Even more implausible is the scene where Superman turns back time because, unfortunately, no one has found a way to reverse time.
I thought this was worth an hour.
[Thanks to Cat Eldridge, JJ, Bill, Mike Kennedy, N., Dann, Andrew Porter, John King Tarpinian, John Hertz, Martin Morse Wooster, and Michael Toman for some of these stories. Title credit goes to File 770 contributing editor of the day Paul Weimer.]