(1) A NOT-SO-LITTLE LIST. BookRiot concocted a way of assessing an interesting question: "How Do Readers Rate The New York Times Best-Selling Books?"
…For their research, the organization pooled all titles on the NYT List from June 22, 2008 to March 29, 2020. They then determined the top 100 titles from the NYT list based on the number of times it appeared on the lists in that time frame, and each of those titles was subtracted from its average ranking on the list. This made for a total of 716 unique titles.

Once those titles were identified, the top 100 reviews on Goodreads—the reader's view of books—were pulled. The researchers looked at how many times those titles appeared on the NYT List, then subtracted this from the average list ranking. A book's total score was calculated using this number, as well as the average Goodreads starred rating for the title….

READERS RANK THE BEST BESTSELLERS

Using the methodology laid out above, which books that landed on the NYT List were among the most well-reviewed by readers on Goodreads? The researchers calculated 20 titles among the top.

… The top ranking best seller for readers was Diary of a Wimpy Kid by Jeff Kinney. The book appeared on the bestseller list over 600 times, ranking at an average of #3, and readers gave it an average rating of 4.1 stars on Goodreads.

Interestingly, 11 of the titles on this list are children's, middle grade, or YA books, and of the remaining titles, six are self-help/productivity books. Given that the NYT List has primarily featured white authors until more recently—and it's still primarily white in some categories—it's not a surprise to see that only a small number of the top 20 books are by authors of color…
(2) HOW HUMANS RELATE TO PROGRAMS. Future Tense ran a piece by Torie Bosch about "Shouting at Alexa".
… For years now, commentators have reminded us that the gendered dynamics of digital assistants are troubling. In September, Future Tense ran an excerpt from The Smart Wife: Why Siri, Alexa, and Other Smart Home Devices Need a Feminist Reboot by Yolande Strengers and Jenny Kennedy . "Friendly and helpful feminized devices often take a great deal of abuse when their owners swear or yell at them. They are also commonly glitchy, leading to their characterization as ditzy feminized devices by owners and technology commentators—traits that reinforce outdated (and unfounded) gendered stereotypes about essentialized female inferior intellectual ability," they write.

That's me, swearing and yelling at my feminized device even though it only wants to be friendly and helpful.

What I tell myself, though, is that I'm really trying to avoid anthropomorphizing the Echo and the rest of the tech in my life. It's a tendency I've had ever since I got to know ELIZA, the chatbot created by an MIT researcher in the 1960s. ELIZA was designed to mimic Rogerian therapy—which basically means that this simple program turns everything you say into a question. For some reason, it was installed on some of the computers in my middle-school library in the '90s. Most of the time, I tried to get her—I mean it!— to swear, but I also spilled my tweenage heart out occasionally. And I'm not the only one. As a Radiolab episode from 2013 detailed: "At first, ELIZA's creator Joseph Weizenbaum thought the idea of a computer therapist was funny. But when his students and secretary started talking to it for hours, what had seemed to him to be an amusing idea suddenly felt like an appalling reality."…
(3) THE WRITER'S CRAFT. Delilah S. Dawson on how to write a synopsis. Thread starts here. (H/t to Cat Rambo.)
(4) IT'S A NOPE. The Mary Sue checked the social media response from two people whose opinions we'd like to hear: "Rhianna Pratchett and Neil Gaiman React To the First Trailer for The Watch".
…Terry Pratchett's daughter, Rhianna Pratchett, responded to the clips on Twitter, writing "Look, I think it's fairly obvious that
@TheWatch shares no DNA with my father's Watch. This is neither criticism nor support. It is what it is."

… Beloved author Neil Gaiman also weighed in on Twitter in response to fan questions on the faithfulness of adaptions. Gaiman, who collaborated with Terry Pratchett on Good Omens, personally oversaw the novel's adaptation into a miniseries on Amazon Prime, serving as writer and showrunner for the series. Gaiman defended the creator's original vision of their work, stating "If you do something else, you risk alienating the fans on a monumental scale. It's not Batman if he's now a news reporter in a yellow trenchcoat with a pet bat."
(5) VINTAGE DARKNESS. "25 years of His Dark Materials: Philip Pullman on the journey of a lifetime" as told by the author in The Guardian.
It was 1993 when I thought of Lyra and began writing His Dark Materials. John Major was prime minister, the UK was still in the EU, there was no Facebook or Twitter or Google, and although I had a computer and could word-process on it, I didn't have email. No one I knew had email, so I wouldn't have been able to use it anyway. If I wanted to look something up I went to the library; if I wanted to buy a book I went to a bookshop. There were only four terrestrial TV channels, and if you forgot to record a programme you'd wanted to watch, tough luck. Smart phones and iPads and text messaging had never been heard of. The announcers on Radio 3 had not yet started trying to be our warm and chatty friends. The BBC and the National Health Service were as much part of our identity, of our idea of ourselves as a nation, as Stonehenge.

Twenty-seven years later I'm still writing about Lyra, and meanwhile the world has been utterly transformed.

To some extent, my story was protected from awkward change because I set it in a world that was not ours. It was like ours, but different, so I could take account of the real-world changes that helped my story, and ignore those that didn't.
(6) SATISFIED CUSTOMER. "One Good Thing: The wonderful sci-fi novel A Memory Called Empire makes diplomacy enthralling" – a review at Vox.
Arkady Martine's A Memory Called Empire, which recently won the Best Novel award at science fiction's prestigious Hugo Awards, reads like its author was simultaneously influenced by Game of Thrones, histories of the Cold War, various anti-colonialism writings, and the Star Wars prequels. It's a grand, galaxy-spanning space opera that is mostly about diplomacy. Or, if you prefer, it's an impressively wonky novel about galactic geopolitics that just happens to feature spaceships and aliens. I love it.

It's difficult to talk about A Memory Called Empire without spoiling some of its best surprises because the core of the book sounds impossibly dry. But let me give it a shot anyway, because the best way to read this book is to know almost nothing about what happens after its first few chapters….
(7) AFTERGLOW. The Guardian's Matt Kamen asks — "Cancel culture: is Netflix killing off series too soon?"
Another day, another cancellation – or at least, that's how it's starting to feel when it comes to Netflix. Having culled the likes of Sense8, The OA, Santa Clarita Diet and Altered Carbon in recent years, all after two or three seasons and often leaving viewers on major cliffhangers, the streaming service has turned its bloodlust on to Glow, which had already started filming its fourth season before the pandemic hit, and The Dark Crystal: Age of Resistance.

The latter, a prequel to the cult-favourite 1983 Jim Henson movie, produced and performed entirely with staggeringly intricate puppets and animatronics, and featuring an all-star cast, premiered on Netflix in August 2019. It garnered near-universal acclaim from critics, and a slate of awards nominations – including, crucially, picking up a 2020 Emmy for outstanding children's program. Yet even awards success hasn't spared it the axe, with the executive producer, Lisa Henson, confirming it won't be returning….
(8) MEDIA ANNIVERSARY.
1993 – Twenty-seven years ago, The Flash Girls released their first album, The Return of Pansy Smith and Violet Jones. The Minneapolis based band consisted of Emma Bull and Lorraine Garland, also known as The Fabulous Lorraine. Garland is notable as being Neil Gaiman's personal assistant. Among the songwriters were Jane Yolen, Alan Moore, and Neil Gaiman. Bull and Garland adopted the names Pansy Smith and Violet Jones as their alternate personas and would become characters in the DC Sovereign Seven series where they run a coffee shop. They would release two more albums, Maurice and I and Play Each Morning Wild Queen. Bull and Shetterly moved to California which broke up the band and Garland formed Folk Underground which also had songs written by Neil Gaiman and Jane Yolen.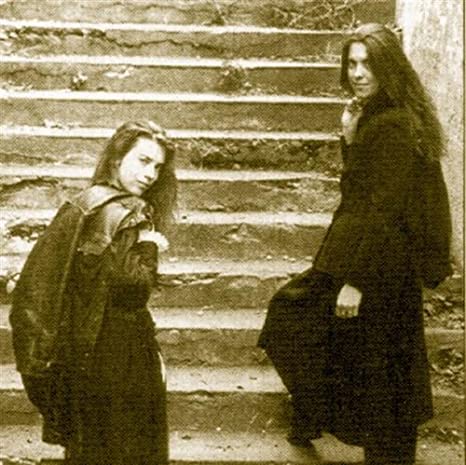 (9) TODAY'S BIRTHDAYS.
[Compiled by Cat Eldridge and John Hertz.]
Born October 10, 1895 – Lin Yutang, Ph.D. Author, editor, translator, gifted popularizer (yes, it's possible). One SF novel. Built a working Chinese typewriter (yes, it's –) never developed commercially but pivotal in machine-translation research. My Country, My People a best-seller. (Died 1976) [JH]
Born October 10, 1929 — Robin Hardy. Wicker Man is the film he's known for though he followed that up with The Wicker Tree, an adaptation of his Cowboys for Christ novel. Anyone seen it? The Bulldance is at least genre adjacent. (Died 2016.) (CE)
Born October 10, 1931 — Victor Pemberton. Writer of the script for the "Fury from the Deep", a Second Doctor story in which he created the Doctor's sonic screwdriver. He had appeared as an actor in the series, in a non-speaking role as a scientist in "The Moonbase", a Second Doctor story. In the Seventies, he wrote the BBC Doctor Who and the Pescatons audio drama which I remember hearing. It was quite excellent. (Died 2007.) (CE)
Born October 10, 1931 – Jack Jardine. Writing under another name, four Agent of T.E.R.R.A. novels, three others. Indeed many other names. Radio disc jockey, humorist. See Bill Mills' appreciation here. (Died 2009) [JH]
Born October 10, 1942 – Wojtek Siudmak, 78. More than seven hundred covers, seventy interiors. Six artbooks (in French). Two Chesleys. Here is Double Star. Here is a volume of Norman Spinrad. Here is Dune. Here is The Return of the King. Here is Expansion. [JH]
Born October 10, 1957 – Rumiko Takahashi, 63. (Names would be reversed in Japanese style.) Manga artist with 200 million copies of her work in circulation. Two Shogakukan Awards, two Seiun Awards. Inkpot. Science Fiction & Fantasy Hall of Fame, Eisner Hall of Fame. Grand Prix de la ville d'Angoulême, second woman and second Japanese to win. Scottish rock band named for Urusei Yatsura, her first to be animated. This cover reprinting vols. 1&2 of Ranma 1/2 shows Ranma's dad changed into a panda and Ranma into a girl. [JH]
Born October 10, 1959 — Kerrie Hughes, 61. Anthologist, some of which impressively have had several printings. Favorite titles for me for me include Chicks Kick Butt (co-edited with Rachael Caine), Zombie Raccoons & Killer Bunnies (with Martin H. Greenberg) and Shadowed Souls (with Jim Butcher). She's written short fiction and essays as well. It looks like almost all of her anthologies are available from the usual digital suspects. (CE)
Born October 10, 1968 — Mark Bould, 52. British academic whose done a number of interesting genre-related works including Red Planets: Marxism and Science Fiction, co-edited with China Miéville, Parietal Games: Critical Writings by and on M. John Harrison with M. John Harrison and Michelle Reid, and Fifty Key Figures in Science Fiction written with Andrew M. Butler and Adam Roberts and Sherryl Vint. (CE)
Born October 10, 1976 — Marjan Neshat, 44. Best remembered for her recurring role as Samar Hashmi on Quantico which is at least genre related. She's also had roles in the Robocop reboot, Fringe, Elementary, New Amsterdam and Person of Interest. (CE)
Born October 10, 1971 – Jeff Miracola, 49. Magic, the Gathering (over a hundred cards) and Shadowrun; children's books e.g. The Book of Impossible Objects; Electronic Arts video game Mini-Golf. In eight issues of Spectrum so far (2-5, 15-16, 19-20); Advanced Photoshop magazine; 30 Years of Adventure (Dungeons & Dragons). Here is a cover for Tower of Babel. "Continue to work on your craft. Draw, paint, and create always. Consider getting together with other artists…. actually creating and feeding off each other's energy." [JH]
Born October 10, 1984 — Jenna Lê, 36. Minnesota-born daughter of Vietnam War refugees, her genre poetry is collected in A History of the Cetacean American Diaspora along with other poems. That collection placed second for an Elgin Award. You can find an excellent interview with her here. (CE)
(10) COMICS SECTION.
(11) SMILE FOR THE CAMERA. This weekend, the New York Comic Con managed to run a cosplay competition despite being a virtual event: "Sew And Tell! Virtual Championships Of Cosplay Winners Announced At NYCC 2020" at SYFY Wire.
… The Beginners victor was Commander Poptart, a U.S. entrant who dressed as Ahsoka Tano from Star Wars: The Clone Wars. "This was an incredible build for a beginner. Well, done, Commander Poptart," said JediManda, who was dressed as Baby Yoda from The Mandalorian.

No runner-up was announced.

The runner-up in Needlework was Demorafairy from the U.K., who dressed as Little Red Ashe from Overwatch. "We loved this costume, the letterwork is so impressive on it. All her engineering, like the vest, was done in three different layers, so every piece would lay correctly," said Yaya Han. "I thought that was just really genius and it just has such a great balance of different techniques used. All her sewing was very clean and the skirt was the right length and everything was finished."

Sewcialist Revolution from the U.S. nabbed the top honor for the Needlework category with her Claire Fraser costume inspired by Outlander. She spent five years learning how to make 18th-century clothing and then hunkered down for an extra six months putting the dress together. "This is needlework in its best representation," Han added. "She used period-accurate methods, so much of it was hand-done … We really appreciated all of the efforts that she went into."…

And more.
(12) LOVECRAFT COUNTRY EFFECTS. "Making the Monsters of 'Lovecraft Country'" is discussed in the New York Times.
…Consider the monstrous, man-eating Shoggoths of HBO's "Lovecraft Country," last seen decimating a squad of racist police officers on Sunday night. They may not be the mind-bending series's most terrifying menace — that title goes to vintage, 1950s white supremacy — but it isn't for lack of trying.

Shoggoths are hideous to look at — pale, bulbous, covered in scabby, asymmetric eyes — and deadly to encounter, with concentric rows of gnarled teeth that turn trespassers into tartare. H.P. Lovecraft first wrote about blob-like creatures called Shoggoths in the late '20s in a series of sonnets, and they appeared in his 1936 novella "At the Mountains of Madness."

But the original Shoggoths, described by Lovecraft as "normally shapeless entities composed of a viscous jelly which looked like an agglutination of bubbles," bear little resemblance to the fast-moving, gorilla-like beasts that first terrorized Tic, Leti and co. in the series premiere.
(13) IN SPACE THEY CAN HEAR YOU SING. Earlier this year NPR's "Science-Fiction Music: Monsters, Aliens In 'Filk'" covered all pop music, including work by fans.
As science fiction spread within music, fans began to share songs with one another, and the movement became known as Filk. It took its name from a 1950s article about these unusual songs, which misspelled "Folk" as "Filk." Bill Sutton is the president of Interfilk, an organization that helps fans and musicians attend Filk conventions. Sutton says otherworldly ideas in popular music, combined with excitement about the space program, made people believe that technology could save everything.
(14) 007, MUNSTER, AND RIPLEY, OH MY! Want to buy the Green Hornet's car? At Profiles in History's "The Icons & Legends of Hollywood Auction" on November 12-13, many extraordinary costumes, props and relics are going under the hammer.
Following is just a glimpse of the items awaiting you in these pages that left indelible marks in Hollywood history:
John Travolta "Tony Manero" screen worn signature leather jacket from Saturday Night Fever.
Leonardo DiCaprio "Jack Dawson" poker game/boarding costume from Titanic.
Roger Moore "James Bond" Royal Navy uniform jacket from The Spy Who Loved Me.
Jane Seymour "Solitaire" psychic medium cape and headdress from Live and Let Die.
Orson Welles "Charles Foster Kane" coat from Citizen Kane.
Marilyn Monroe "The Girl" fantasy tiger gown from The Seven Year Itch.
Gene Kelly "Don Lockwood" legendary rain suit from the Singin' in the Rain.
Gary Cooper "Lou Gehrig" Yankee uniform from The Pride of the Yankees.
James Dean "Jett Rink" tuxedo from Giant.
Elizabeth Taylor "Leslie Benedict" arrival to Reata ensemble from Giant.
Vivien Leigh "Scarlett O'Hara" traveling dress from Gone With the Wind.
Fred Gwynne "Herman Munster" signature costume from The Munsters.
Tina Louise "Ginger" signature glamor dress from Gilligan's Island.
Sir Richard Attenborough "John Hammond" signature cane from Jurassic Park.
Sigourney Weaver "Ripley" signature Nostromo jumpsuit from Alien.
Hero "ramming" Chestburster with articulating jaw and "whiplash" tail from Alien.
Hero "Ra" Cheops class Pyramid Warship filming miniature from Stargate.
Hero X-71 Shuttle "Independence" filming miniature from Armageddon.
Zed's "Grace" Harley chopper ridden by Bruce Willis "Butch Coolidge" in Pulp Fiction.
[Thanks to John King Tarpinian, John Hertz, JJ, Andrew Porter, Mike Kennedy, Martin Morse Wooster, Michael Toman, and Cat Eldridge for some of these stories. Title credit goes to File 770 contributing editor of the day Niall McAuley.]