Bob Bolling and Don Rico have been selected to receive the 2022 Bill Finger Award for Excellence in Comic Book Writing. The selection, made by a blue-ribbon committee chaired by writer/historian Mark Evanier, was announced June 16.
"We're excited to be back presenting awards in our original format," Evanier noted. "And we couldn't have better recipients than these two men, whose work in comics never received the recognition it deserved. Too often, they worked in utter anonymity, creating work that is fondly remembered even if those who enjoyed it were unaware of its authors' names."
The Bill Finger Award was created in 2005 thanks to the late comic book legend Jerry Robinson, who proposed it to honor the memory of his friend, Bill Finger. According to Evanier, "At the time, though everyone knew Batman and his supporting cast, not nearly enough knew Mr. Finger and his vital contributions to the creation of that beloved hero. Finger's name now appears on Batman movies and comic books, and we want to keep it on this award, as he's still the industry poster boy for writers not receiving proper reward or attention."
---
Bob Bolling was born on June 9, 1928, in Brockton, MA. His parents were scientists, but all Bob wanted to do was write and draw. He drew for his high school newspaper, then did a four-year stint in the U.S. Navy, after which he studied at the Vesper George School of Art in Boston and finally at the School of Visual Arts in New York, where he studied under master illustrator Burne Hogarth. Bolling worked briefly on a short-lived newspaper strip called Marlin Keel before a friend recommended him to Archie editor Harry Shorten. Shorten liked the young man's work, and in 1954 Bolling began a 50-year association with the publisher, interrupted only briefly in 1985 when he drew Wally the Wizard for Marvel's Star line of comics for younger readers.
Otherwise. Bolling worked for Archie—at first, mainly on a "Dennis the Menace"–like character named Pat the Brat. His skills at handling kids of that age led to his most esteemed work in 1956, when he inaugurated the Little Archie series, writing and drawing some of the most memorable comics to ever come from that company. It was also one of its bestselling and was quickly promoted from standard to giant-size, with additional spinoffs as well. Later, he also did many stories for the better-known teen version of Archie with work in Life With Archie, Betty, Betty and Me, Sabrina, and others, along with more tales of Little Archie that are avidly collected and treasured. Bolling began painting in the 1980s and turned to that full time after retiring in the early 2000s. He is unable to attend the awards ceremony, but he will be receiving his award plaque before then.
---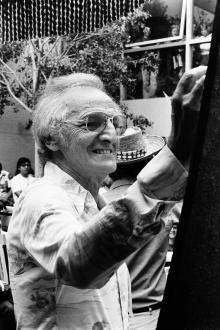 Donato "Don" Rico (1912–1985) was one of the first writer/artists in comic books, starting with a story in Fantastic Comics #1 (Dec. 1939) from Victor Fox's outfit, where so many began their careers. His work soon appeared in publications from Fiction House and from Lev Gleason Publications, where he worked on Silver Streak and on the first comics character to bear the name Daredevil. Many of the stories he wrote and drew there were signed with the name of Charles Biro. Rico joined Timely (now Marvel) in late 1941, in time to work on a back-up story in Captain America #13 and to later contribute many stories of Captain America, The Human Torch, the Whizzer, Sub-Mariner, the Blonde Phantom, Venus, and the Young Allies.
Beginning as a fine artist whose work is still in the collection of the Metropolitan Museum of Art and other museums, he also wrote novels and screenplays, leaving and rejoining Timely/Atlas many times. He eventually worked there mainly as a writer and editor, contributing to their horror and western comics and specializing in jungle girl comics such as Jann of the Jungle and Leopard Girl, both of which he co-created. In the 1960s, he specialized in paperback novels but wrote three stories for Marvel under the name "N. Korok." In one, an Iron Man tale, he co-created The Black Widow, who would become one of Marvel's most popular characters. His later work was mainly for film and television, but he was a featured guest at many of the early years of Comic-Con, and he co-founded C.A.P.S., the Comic Art Professional Society, with Sergio Aragonés and Mark Evanier. His Finger Award will be accepted by his widow, actress Michele Hart, and his son, Buz Rico.
---
The Bill Finger Award selection committee consists of Mark Evanier, Charles Kochman (executive editor at Harry N. Abrams, book publisher), comic book writer Kurt Busiek, artist/historian Jim Amash, cartoonist Scott Shaw!, and writer/editor Marv Wolfman.
The awards will be presented during the Eisner Awards ceremony at this summer's Comic-Con on Friday, July 22.
[Based on a press release.]