(1) HUGO VOTING AND PACKET UPDATE. DisCon III addressed Facebook readers' questions about when online Hugo voting will be available.
Some of you have been asking about the Hugo voting links so, here's what's happening: Hugo voting links won't appear on your DC3 membership page until voting opens. We'll let our members and the public know when that happens via email, social media, website, press releases, etc. We're also working hard to get the Hugo packet of nominated works Worldcon members have come to expect out later this spring.
(2) BEYOND AFROFUTURISM. Clarion West and the Seattle Public Library have two more Beyond Afrofuturism virtual panels happening in May. Register here.
Come talk publishers on Sunday, May 16th, 1 p.m. Pacific with Bill Campbell (Rosarium), Milton Davis (MVmedia), Zelda Knight (AURELIA LEO), and Nicole Givens Kurtz (Mocha Memoirs) for Power in Publishing: Publishers Roundtable.

With major publishers stuck in a cycle of selling the same mainstream stories or tightening their belts when it comes to the work of marginalized communities, how are Black publishers shaping opportunities for BIPOC writers to have their voices heard?

Featuring: Bill Campbell (Rosarium), Zelda Knight (AURELIA LEO), Milton Davis (MVmedia), and Nicole Givens Kurtz (Mocha Memoirs)

Moderated by Clinton R. Fluker, Ph.D. Curator of African American collections at Emory University's Stuart A. Rose Library

The event is presented in partnership with the Seattle Public Library and is supported by The Seattle Public Library Foundation.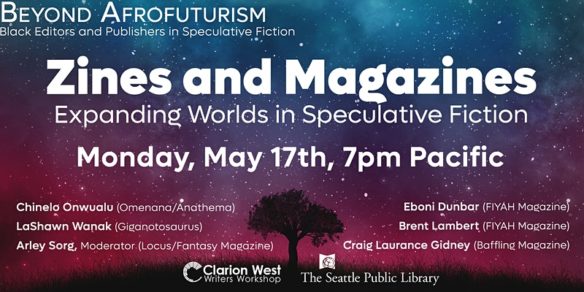 And on Monday, May 17th, 7 p.m. Pacific, join editors Eboni Dunbar and Brent Lambert of FIYAH Magazine, Craig Laurance Gidney of Baffling Magazine, Chinelo Onwualu of Omenana and Anathema, and LaShawn Wanak of Giganotosaurus for Zines and Magazines: Expanding Worlds in Speculative Fiction.
(3) U.S. BOOK SHOW. The U.S. Book Show is a new book fair created by Publishers Weekly. The three-day show debuts virtually May 25 – 27. Publishers Weekly says they are focusing "on crafting a meeting place for publishing professionals and book buyers, with an emphasis on serving the interests of librarians and booksellers."It's a successor to BookExpo America/
…While at its height ABA and BookExpo America attendance never reached the draw of European book shows such as the Frankfurt Book Fair (286,000 attendees in 2017, according to Wikipedia), BookExpo saw global acceptance from the publishing community. In its 2002 iteration at the Javits Center in New York, BEA saw more than 30,000 attendees, including approximately 7,000 booksellers and librarians. By 2018, BookExpo in the same venue saw 7,800 total attendees.

The demise of the show provided an opening for Publishers Weekly to step in. The U.S. Book Show will be held virtually in 2021 and assessed after the fact for future possibilities.
(4) WHO'S FIRST. Radio Times interviews actor "David Bradley on returning as First Doctor for Time Fracture".
David Bradley has praised original Doctor Who star William Hartnell as he returns to the role of the First Doctor in much anticipated live event Time Fracture.

The renowned actor first played the role in 2013's An Adventure in Space and Time, which explored the creation of the long-running series, in which he portrayed both Hartnell and the late actor's incarnation of the Doctor.

Bradley made such a strong impression on fans that he was invited back by writer Steven Moffat to play the First Doctor in two episodes of Doctor Who, both of which aired as part of Peter Capaldi's stint on the show.

As he prepares to return to the role once again for Time Fracture, Bradley has hailed Hartnell's "total dedication" to Doctor Who in an interview on the show's official YouTube channel.

"He laid the template," Bradley said. "All of the other subsequent doctors, they all owe a lot to William Hartnell. As it was, it started this phenomenon."

…Bradley will co-star opposite John Barrowman in upcoming live event Time Fracture, billed as an "immersive experience", which he believes could convert even non-believers.
(5) CHALLENGING ASSUMPTIONS. Clarion West tells what they're doing about an "Evolving Workshop Culture to Inspire Equity, Empowerment, and Innovation in Writing Workshops".
…For over 35 years, Clarion West has held strictly to the Milford peer workshop model, assuming it to be the superior workshop method for all writers.

This belief was shaken a year ago, when we had to postpone the Summer Workshop for the first time in our history. In discussions with our instructors, we heard something new. A quiet criticism of the unchanging. A gentle push to consider that not every writer has been involved in the conversations around — and represented in — the design of our workshops.

Over the course of the last year, Clarion West has begun the process of exploring where our assumptions about key components of the workshop, including critiquing methods and social interactions, have limited the experiences of writers from a broad range of underrepresented communities. Communities whose voices are still emerging in prominent speculative fiction outlets.

And as we started looking for answers, we have found that a serious examination of traditional peer critique methods has been happening in the broader writing and workshopping field. See below for a recommended reading list.

As a result of this self reflection, Clarion West recognizes that changes need to be made within the workshop model. Our staff, alumni, faculty, and participants will help evolve our workshop culture and create protocols towards equity, empowerment, and innovation.

Clarion West seeks to make the structural changes needed to ensure that our workshops and classes are places where all participants will feel welcome and safe….
(6) HARRYHAUSEN EXHIBITION. The Ray Harryhausen, Titan of Cinema Exhibition just opened at National Galleries Scotland in Edinburgh and continues through February 2022. Quite a bit of material at the link — video, images, articles.
An online counterpart is also available: Ray Harryhausen: Titan of Cinema Virtual Exhibition Experience, "a carefully curated package which includes a series of films, never-seen-before interviews, exhibition footage, film clips and specially created animation sequences which demonstrate Harryhausen's innovative processes. Book now."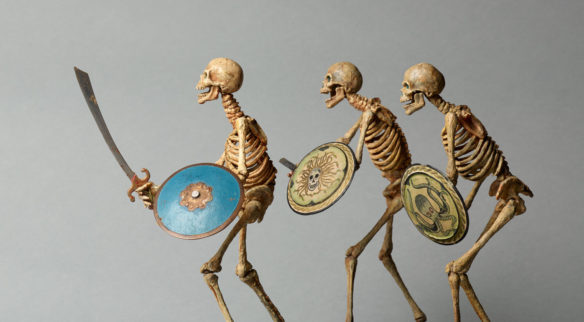 Film special effects superstar Ray Harryhausen helped elevate stop motion animation to an art. His innovative and inspiring films, from the 1950s onwards, changed the face of modern movie making forever.?This is the largest and widest-ranging exhibition of Ray Harryhausen's work ever seen, with newly restored and previously unseen material from his incredible archive.

Ray Harryhausen's work included the films Jason and the Argonauts, the Sinbad films of the 1950s and 1970s, One Million Years B.C. and Mighty Joe Young. He inspired a generation of filmmakers such as Peter Jackson, Aardman Animations, Tim Burton, George Lucas, and Steven Spielberg, and his influence on blockbuster cinema can be felt to this day.

Titan of Cinema traces Harryhausen's career as a special effects guru, whose only limits was his boundless imagination. Titan of Cinema shows his creative processes: from embryonic preparatory sketches, through to model making and bringing characters to life who went onto terrorise and delight audiences in equal measure on the cinema screen.
(7) ALIENS AND EXPLOSIONS. This might look familiar. FirstShowing introduces a "Fresh US Trailer for Australian Sci-Fi Spectacle 'Occupation: Rainfall'".
Two years after aliens land on Earth, survivors from Sydney, Aus., fight in a desperate war as the number of casualties continue to grow. It's described as "Avatar meets Star Wars meets Independence Day,"
(8) DUKAKIS OBIT. Actress Olympia Dukakis died May 1 reports NPR. She was 89. An Oscar-winner, she was famous for non-genre roles in Moonstruck and Steel Magnolias. Her claims to genre fame are a role in the TV movie The Librarian: Return to King Solomon's Mines and, if movies with talking dogs count as genre, Look Who's Talking and its sequels Look Who's Talking Too and Look Who's Talking Now.
(9) MEDIA BIRTHDAY.
May 1, 1981 –On this day in 1981 in Canada, Outland premiered. Directed by Peter Hyams and produced by Richard A. Roth and Stanley O'Toole, it starred Sean Connery, Peter Boyle, Frances Sternhagen, James B. Sikking and Kika Markham. It made the final list of nominees for a Hugo at Chicon IV the next year. Most critics liked its high noon in space plot but the audience reviewers at Rotten Tomatoes gave it a mediocre fifty percent rating. The box office barely beat out the cost of making the film.
(10) TODAY'S BIRTHDAYS.
[Compiled by Cat Eldridge and John Hertz.]
Born May 1, 1905 – E. Mayne Hull. One novel, a dozen shorter stories. Some when re-issued also bore the name of her husband A.E. Van Vogt; for attempts to give credit where due, see here. (Died 1975) [JH]
Born May 1, 1924 — Terry Southern. Screenwriter and author of greatest interest for the screenplay from Peter George's original novel, Two Hours to Doom (as by Peter Bryant) of Dr. Strangelove Or: How I Learned to Stop Worrying and Love the Bomb directed (and in part written) by Stanley Kubrick. He was also involved in scripting Barbarella. Though uncredited, he did work on the script of Casino Royale as well. (Died 1995.) (CE)
Born May 1, 1937 – Suzanne Vick. Two fanzines credited to both her and her husband Shelby Vick, one of our greats; much activity names him, careful fanhistory may discover her part more explicitly. Three daughters, of whom I have learned little. (Died 2002) [JH]
Born May 1, 1946 — Joanna Lumley, 75. No, she was no Emma Peel, but she was definitely more than a bit appealing (pun fully intended) in the New Avengers as Purdey. All twenty-six episodes are out on DVD. Her next genre outing was In Sapphire & Steel which starred David McCallum as Steel and her as Sapphire. If you skip forward nearly near twenty years, you'll find her playing The Thirteenth Doctor in The Curse of Fatal Death in a Comic Relief special. Yes, she played the first version of a female Thirteenth Doctor.
Born May 1, 1952 — Andy Sawyer, 69. Member of fandom who managed the Science Fiction Foundation library in Liverpool for 25 years up to last year. For his work and commitment to the SF community, the Science Fiction Research Association awarded him their Thomas D. Clareson Award for Distinguished Service. The paper he wrote that I want to get and read is "The Shadows out of Time: H. P. Lovecraftian Echoes in Babylon 5" as I've always thought The Shadows were Lovecraftian! And his fanpublication list is impressive, editing some or all issues of &, Another Earth Matrix, Paperback Inferno and Acnestis. (CE)
Born May 1, 1954 – Joel Rosenberg. A score of novels, as many shorter stories. Correspondent of Asimov's, the Patchin Review, SF Chronicle, SF Review. Interviewed in Thrust. Early author of gamers-transported-into-the-gameworld-which-may-not-be-what-they-thought fiction. (Died 2011) [JH]
Born May 1, 1956 – Phil Foglio, age 65. Colorful, comical graphic artist. Illustrated R. Asprin's MythAdventures, drew comic books from them, worked for DC, Marvel. Magic: the Gathering cards. Some of this, and more particularly Buck Godot and Agatha Heterodyne, Girl Genius, with wife Kaja Foglio (who coined gaslamp fantasy: "we have no punk, and we have more than just steam"). Two Hugos for P as Best Fanartist; three for K & P with Girl Genius as Best Graphic Story. Website. [JH]
Born May 1, 1955 — J. R. Pournelle, 66. Some years ago, I got an email from a J. R. Pournelle about some SF novel they wanted Green Man to review. I of course thought it was that Pournelle. No, it was his daughter, Jennifer. And that's how I came to find out there was a third Motie novel called Outies. It's much better than The Gripping Hand. (CE)
Born May 1, 1957 — Steve Meretzky, 64. He co-designed the early Eighties version of The Hitchhiker's Guide to the Galaxy video game with the full participation of Douglas Adams. ESF also says that he did also a space opera themed game, Planetfall and its sequel A Mind Forever Voyaging in the Eighties as well. He also did the definitely more erotic Leather Goddesses of Phobos as well. CE)
Born May 1, 1984 – Lindsay Smith, age 37. Six novels, a dozen shorter stories; also comics, serials. She & Max Gladstone created, and she is showrunner & lead writer for, The Witch Who Came in From the Cold. [JH]
Born May 1, 1985 – Catherine Cheek, age 36. Three novels, as many shorter stories. Interviewed in Fantasy. Clarion San Diego graduate. Brown belts in two martial arts. Taught English two years in Japan. Throws pots, binds books, plays with molten glass. Has read Moby-Dick, Lolita, The Grand Sophy, Watership Down. [JH]
(11) NEW ZEALAND AWARD NEWS. Interested parties can get the Sir Julius Vogel Awards Voter Packet and vote on the Awards (through May 31) for a $10 NZD (~$7.15 USD) annual membership in SFFANZ. See "Voting is open for the SJV awards (plus Voters Pack)". Click here for the list of Sir Julius Vogel award finalists.
(12) INGENUITY BACK IN THE AIR. [Item by Mike Kennedy.] Ingenuity aces flight 4 after a day delay; gets overall program extended from 5 flights to 7. Yahoo! has the story: "Mars helicopter aces 4th flight, gets extra month of flying".
…Officials announced the flight extension Friday, following three short flights in under two weeks for the $85 million tech demo. Soon afterward, there was more good news: Ingenuity — the first powered aircraft to soar at another planet — had aced its fourth flight at Mars.

For Friday's trip, Ingenuity traveled 872 feet (266 meters) at a height of 16 feet (5 meters) for two minutes — considerably farther and longer than before. An attempt Thursday had failed because of a known software error.

On its fifth flight in another week or so, the 4-pound (1.8-kilogram) chopper will move to a new airfield on Mars, allowing the rover to finally start focusing on its own rock-sampling mission. The rover is seeking signs of ancient life at Jezero Crater, home to a lush lakebed and river delta billions of years ago….
(13) NORTHERN EXPOSURE. Barry Hertz, in "With new dystopian thriller Hummingbird Salamander, Jeff VanderMeer is set to become a household, or weird household, name" at The Globe and Mail, interviews VanderMeer about the Canadian edition of Hummingbird Salamander.
What are your thoughts about current art that directly addresses the pandemic? Is it too soon?

It's a balancing act that has to do with the individual person's talents. I happened to have this already in place, and have the right layering to find something useful. Other writers are different in finding their way in. I'm always trying to write something that hopefully applies to the current moment, but if you read it down the line, it has something that's meaningful, too.

In the press notes, you said this novel was the result of realizing that "we were living in a dystopia for some time." Are you a pessimist? Are we getting out of this dystopia any time soon?

The pessimism/optimism thing boils down to me being pessimistic when we're not dealing with the full issue and full facts in front of us. When we try to deflect. In Florida, we have these solar farms coming in, but which are destroying natural habitats. Green tech is being delinked from environmental issues in distressing ways. That's the kind of thing that worries me more than, say, a climate-change denier, who isn't going to help in the first place.
(14) YOU DON'T SAY. Jason Sanford, in "Genre Grapevine for 4/30/2021" (a free Patreon article), starts his comments about a post here with these words:
He later continues, "The Worldcon code of conduct should not be used to shut down a legitimate critique of a genre issue," leaving untouched the issue actually raised here of whether the Worldcon should adhere to its own Code of Conduct and not broadcast the insulting title. A title Sanford himself is strangely reluctant to repeat, changing the "u" in "Fuck" to an asterisk.
(15) VIVO. Netflix dropped a trailer for Vivo, an animated musical with Lin-Manuel Miranda.
An animated musical adventure that follows VIVO, a one-of-kind kinkajou (aka a rainforest "honey bear," voiced by Miranda), who must find his way from Havana to Miami in order to deliver a song on behalf of his beloved owner and mentor Andres (Buena Vista Social Club's Juan de Marcos Gonzáles). The film features original songs by Miranda, a score by Alex Lacamoire, and a screenplay by Quiara Alegría Hudes and director Kirk DeMicco (The Croods)….

Voice talent includes three-time Grammy-winning Latin pop legend Gloria Estefan as Marta, the love of Andres' life, newcomer Ynairaly Simo as Gabi, Andres' grand-niece, Zoe Saldana as Rosa, Gabi's mother, Michael Rooker as Lutador, a villainous Everglades python, Brian Tyree Henry and Nicole Byer as a pair of star-crossed spoonbills, Leslie David Baker as a Florida bus driver, and Katie Lowes, Olivia Trujillo, and Lidya Jewett as a trio of well-meaning but overzealous scout troopers. VIVO is an exhilarating story about gathering your courage, finding family in unlikely friends, and the belief that music can open you to new worlds.
(16) VIDEO OF THE DAY. [Item by Martin Morse Wooster.] In "The Bizarre World of Fan Edits and Restorations" on YouTube, the Royal Ocean Film Society begins with fan edits we've all heard about (the mostly Jar Jar Binks-free version of The Phantom Menace) goes on to very strange edits (Planet Of The Apes reduced to a Twilight Zone episode, or Star Wars turned into silent films) and the historically important, such as a fan edit that presents a version of Richard Williams's unfinished masterpiece The Thief And The Cobbler. As a bonus, you can find out which fan edit of a Brian De Palma film was so good that De Palma turned it into the director's cut!
[Thanks to Martin Morse Wooster, Andrew Porter, Cat Eldridge, John Hertz, Michael Toman, John King Tarpinian, Mike Kennedy, and JJ for some of these stories. Title credit goes to File 770 contributing editor of the day Paul Weimer.]