(1) HOTEL STRIKE BEGINS DURING ANIME EXPO. A strike began Sunday in Los Angeles: "Thousands of hotel workers across Southern California walk off the job" reports the LA Times.
…The strike affects roughly 15,000 cooks, room attendants, dishwashers, servers, bellmen and front-desk agents at hotels in Los Angeles and Orange counties, including the JW Marriott in the L.A. Live entertainment district and luxury destinations like the Fairmont Miramar in Santa Monica….
Anime Expo is held at the LA Convention Center, however, many attendees stay in nearby hotels.
…Attendees of Anime Expo — the largest anime convention in North America, which kicked off Saturday — passed the striking workers on the way to the Los Angeles Convention Center. Some waved in support…
(2) BISHOP MEDICAL UPDATE. Michael Bishop told Facebook readers his medical battle is nearing the end.
…Earlier this week I consigned myself to hospice care, with the advice and consent of my family. I did so to escape the maddening anxiety-producing roller-coaster of contemporary medical care.

This doesn't mean that I am at death's door, only that I recognize the inevitability of its opening for me in the (relatively) near future. I hope, for example, to last at least as long as our hospice-pent (albeit at home) former president Jimmy Carter. But there are no guarantees.

I wish you all well and hope to create at least one more Fairwood Press title, with the help of my nearly lifelong friend, Michael Hutchins, something like "Stolen Faces and Other, Briefer Science Fiction Tales." Blessings on you all.
(3) FLYNN MEDICAL UPDATE. Author Michael Flynn is in a hospital ICU with a bad infection his daughter, Sara, told Facebook readers.
(4) INDY'S BAD B.O. [Item by Mike Kennedy.] Movie box office numbers for the three-day weekend have been underwhelming, including for the final Indiana Jones movie. Everything will have a little extra room to move upward, given the five day domestic total will include Independence Day, but that's not expected to put that many more bucks on the books. "Box Office: 'Indiana Jones and the Dial of Destiny' Stumbles With $60 Million Debut, 'Ruby Gillman, Teenage Kraken' Flops" in Variety.
… "Indiana Jones and the Dial of Destiny," the final adventure to star Harrison Ford as the swashbuckling explorer, added $70 million at the international box office for a global start of $130 million. That's worse than "The Flash," which misfired with $75 million internationally and $139 million globally and cost $100 million less to make.

In terms of its domestic debut, the latest "Indiana Jones" didn't come close to matching its predecessor, 2008's "Kingdom of the Crystal Skull," which opened 15 years ago to $100 million. Audiences and critics were lukewarm on "Dial of Destiny," which earned a "B+" CinemaScore and holds a 68% on Rotten Tomatoes….
(5) ONE CRITIC'S VERDICT. Leonard Maltin's Movie Crazy drops the hammer on "Indiana Jones and the Dial Of Destiny".
There's an old, old show-business maxim that encourages performers to leave their audiences wanting more. Apparently that concept is unknown to many of today's movers and shakers.

Indiana Jones and the Dial of Destiny has everything money can buy and then some. If one hair-raising, high-speed chase through narrow city streets is good, two should be better. How about three? The motto seems to be "more is more" as the film piles on set-piece after set-piece in a full-throttle attempt to exhaust us in the audience.

What began as an homage to the Saturday matinee serials that George Lucas grew up watching on TV (a generation after they were made in the 1940s) has wound up as a bloated vehicle for the still-charismatic Harrison Ford….
(6) CLARION WORKSHOP FUNDRAISER. The Clarion Workshop 2023 Fundraiser is live today. "Clarion SF & Fantasy Writers Workshop '23 Campaign".  They want to raise at least $20,000 in order to bridge the gap in funding for operational costs and for student scholarships.
(7) MEMORY LANE.
2022 – [Written by Cat Eldridge from a choice by Mike Glyer.]
We all know who T. Kingfisher is, the author of our Beginning this Scroll, so let's just wish her a speedy and successful recovery from her illness.
I'd pick something that I particularly liked by her but I've really, really liked everything I've read by her. She's brilliant, really she is. Having said that, may I say that A Wizard's Guide to Defensive Baking was particularly stellar? Five Awards ? Nice.
Our Beginning this time is that of What Moves The Dead, the first book of the two novel Sworn Soldier series. It was published by Tor Nightfire by 2022 with the cover illustrated by Christina Mrozik. It won a Locus Award for Best Horror Novel, and picked up a Goodreads nomination.
So now we come to our Beginning this time…
The mushroom's gills were the deep-red color of severed muscle, the almost-violet shade that contrasts so dreadfully with the pale pink of viscera. I had seen it any number of times in dead deer and dying soldiers, but it startled me to see it here.
Perhaps it would not have been so unsettling if the mushrooms had not looked so much like flesh. The caps were clammy, swollen beige, puffed up against the dark-red gills. They grew out of the gaps in the stones of the tarn like tumors growing from diseased skin. I had a strong urge to step back from them, and an even stronger urge to poke them with a stick.
I felt vaguely guilty about pausing in my trip to dismount and look at mushrooms, but I was tired. More importantly, my horse was tired. Madeline's letter had taken over a week to reach me, and no matter how urgently worded it had been, five minutes more or less would not matter.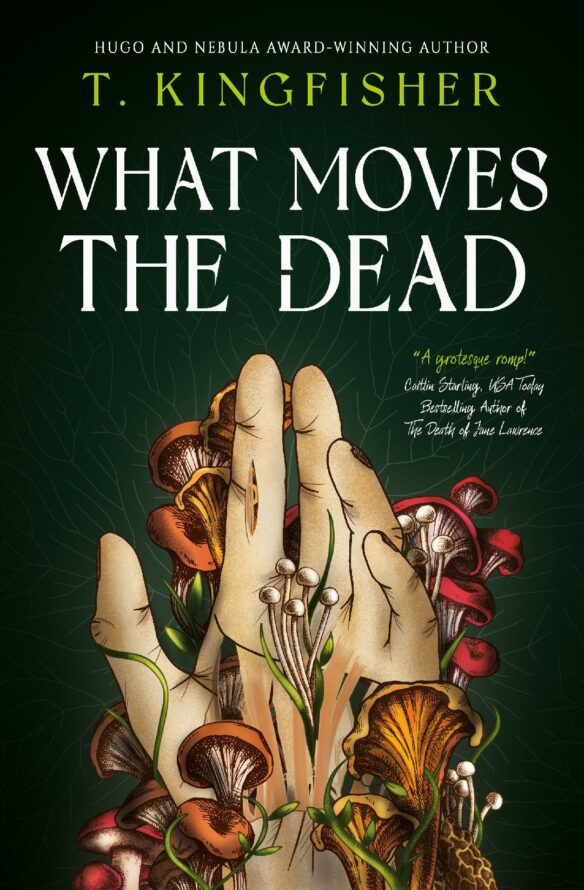 (8) TODAY'S BIRTHDAYS.
[Compiled by Cat Eldridge.]
Born July 2, 1908 — Rip Van Ronkel. Screenwriter who won a Retro Hugo for Best Dramatic Presentation at Millennium Philcon for Destination Moon. He also produced the earlier Destination Space movie for television, and wrote the screenplay for The Bamboo Saucer. I've not seen the latter but I'll admit it sounds, errr, odd. Audience reviewers at Rotten really don't like it giving an eighteen percent rating. (Died 1965.)
Born July 2, 1914 — Hannes Bok. He's a writer, artist and illustrator who created nearly one hundred and fifty covers for various detective, fantasy and sf fiction magazines. He shared one of the inaugural 1953 Hugo Awards for science fiction achievement for Best Cover Artist with Ed Emshwiller. He also wrote a handful of novels, the best known being The Sorcerer's Ship, The Blue Flamingo and Beyond the Golden Stair. (Died 1964.)
Born July 2, 1931 — Robert Ito, 92. Though you'll best remember him as being in The Adventures of Buckaroo Banzai Across the 8th Dimension as Professor Hikita, his first genre role was actually an uncredited role in Get Smart!, the first of a lot of genre roles including, but not limited to, Women of the Prehistoric Planet, Soylent Green, Roller Ball, The Terminal Man, Star Trek: The Next Generation, Star Trek: The Next Generation and more voice work than I can possibly list here though he had a long recurring role as The Mandarin on Iron Man.
Born July 2, 1949 — Craig Shaw Gardner, 74. Comic fantasy author whose work is, depending on your viewpoint, very good or very bad. For me, he's always great. I adore his Ballad of Wuntvor sequence and highly recommend all three novels, A Difficulty with Dwarves, An Excess of Enchantments and A Disagreement with Death. Likewise, his pun filled Arabian Nights sequence will either be to your liking or really not. I think it's worth it just for Scheherazade's Night Out.
Born July 2, 1948 — Saul Rubinek, 75. Primarily of interest for being on Warehouse 13 as Artie Nielsen, but he does show rather often else on genre series and films including going on Eureka, Masters of Horror, Person of Interest, Beauty & the Beast, Stargate SG-1, The Outer Limits and Star Trek: The Next Generation. Memory Run and Death Ship are seeming to be his only only genre films.
Born July 2, 1950 — Stephen R. Lawhead, 73. I personally think that The Pendragon Cycle is by far his best work though the King Raven Trilogy with its revisionist take on Robin Hood is intriguing. And I read the first two of the Bright Empires series which very much worth reading.
Born July 2, 1956 — Kay Kenyon, 67. Writer of the truly awesome The Entire and the Rose series which I enjoyed immensely as a listening experience a few years back. I've not read her Dark Talents series, so opinions please. And she was nominated for three Endeavour Awards which is very impressive.
Born July 2, 1970 — Yancy Butler, 53. Detective Sara Pezzini on the Witchblade series which would've been awesome with current CGI, but sucked then. She was later Avedon Hammond in Ravager, Captain Kate Roebuck in Doomsday Man, Angie D'Amico in Kick-Ass and Kick-Ass 2, Reba in Lake Placid 3 and Lake Placid: The Final Chapter, Officer Hart in Hansel & Gretel Get Baked (also known as Black Forest: Hansel and Gretel and the 420 Witch) (given the latter, a career low for her) and Alexis Hamilton in Death Race 2050. Series work other than Witchblade was a recurring role as Sgt. Eve Edison in Mann & Machine inher first genre role.
(9) GLOW IN THE DARK. "'Ruby Gillman, Teenage Kraken': Getting Down to the Bones of a Boneless Character" at Animaton World Network.
…From dragons and ogres to yetis, sharks, and even aliens, DreamWorks Animation continues to connect with global audiences by turning monsters to heroes that viewers young, old, and even real-life heroes themselves can look up to. And while many studios are looking for ways to do things differently in animation, the team behind the new 3DCG DreamWorks feature Ruby Gillman, Teenage Kraken, which releases in U.S. theaters today, June 30, continues to live by the age-old saying, "If it isn't broken, don't fix it."

"I love to think that when people think of Krakens, they'll think of Ruby," says Ruby Gillman producer Kelly Cooney Cilella, also known for serving as a production supervisor on Shrek The Third, as well as a production manager on Puss in Boots and Trolls. "Finding Ruby's design specifically as a giant Kraken was probably one of the biggest challenges of the movie because she's a sea monster and yet we wanted her to feel aspirational. We wanted her to feel feminine. We wanted her to be something that a little girl could look at, and go, 'I want to be that.' It took some iteration."

The heartfelt action comedy follows sweet, shy, and awkward 16-year-old Ruby Gillman (Lana Condor, To All the Boys I've Loved Before) who is just trying to fit in at her high school and keep her crush on the school skater boy (Jaboukie Young-White, Ralph Breaks the Internet) a secret. Suddenly, she discovers that she's part of a legendary royal lineage of mythical sea Krakens and that her destiny, in the depths of the oceans, is bigger than she ever dreamed.

While growing 300 feet tall with glowing in bioluminescence and laser eye powers goes entirely against Ruby's mission of staying ordinary and out of the limelight, she realizes she'll need her powers to stand up to the school's beautiful, popular new girl, Chelsea (Annie Murphy, Schitt's Creek) who also happens to be a mean-girl mermaid….
[Thanks to Michael Toman, Cat Eldridge, SF Concatenation's Jonathan Cowie, Mike Kennedy, Andrew Porter, John King Tarpinian, and Chris Barkley for some of these stories. Title credit belongs to File 770 contributing editor of the day OGH. It's entirely likely to have been used before, but I'm telling you after today's Hugo debacle I'm ready for it.]