(1) GETTING PAID. On Twitter today, under the #PublishingPaidMe hashtag, writers disclosed the amounts of their book advances in order to generate data that will show if there are systematic biases against writers of color and other marginalized groups.
N. K. Jemisin responded — complete thread here. Comments include:
Jemisin also took questions:
Alyssa Cole, whose comments on RWA have been quoted here before, said it this way:
Martha Wells was one of several other sff authors who participated. Her tweets, which weren't threaded, are here, here and here.
John Scalzi gave figures and analyzed the context in which they were paid for a post at Whatever.
Irene Gallo, Associate Publisher of Tor.com and Creative Director of Tor Books, linked the discussion to artists, as well.
(2) RWA STATEMENT ON SYSTEMIC RACISM. "A Statement and Action Plan from Romance Writers of America" parallels the strategy SFWA announced earlier this week:
…As an organization that just went through a massive crisis for many of the same reasons that underscore these protests for George Floyd, Breonna Taylor, Ahmaud Arbery, Tony McDade, and so many more —injustice, racism, and unfairness—we acknowledge that we have turned aside from confronting difficult truths for far too long. That our authors from marginalized communities, especially our Black authors, have been treated as somehow less deserving of a seat at the table of publishing. We must admit and learn from this shameful past, while standing up for our goal and commitment to make the future better. We stand together in the fight against systemic racism….

RWA is taking the following steps in addition to our continuing work on diversity issues and continuing efforts to make our organization a safe place for Black writers:
We invite all Black authors in RWA to attend our first online conference, to be held August 28-30, at no charge. This admission will include the recordings of the conference
We will make 100 scholarships to our online conference available to non-member Black writers
We are making it a priority to find new resources to add to our Diversity and Inclusion Resources page on our website
We will direct our Academic Grants Committee to seek out Black academics studying romance to consider for RWA grants
This is a time when so many of us are terrified, alone, and feeling helpless. We offer the following links, for those who wish to learn more or find a way to contribute.
(3) UNCLE HUGO'S UPDATE: If you're someone who wants to contribute by sending a check or money order (rather than donate online through the "Official Help Save Uncle Hugo's Fund" GoFundMe), Don Blyly gave me an address for that purpose. Contact me at [email protected].
The GoFundMe has raised $113,269 as of today.
(4) RECOVERING. David Dyer-Bennett's photo gallery, "Signs Over Windows", documents the messages and art on the boarding over vandalized windows in downtown Minneapolis. Also includes images of the scorched bits of books in the rubble around Uncle Hugo's.
In the aftermath of the Minneapolis Police killing George Floyd, Minneapolis has experienced much distress. We're being forced to confront issues we've let slide for too long (or that our work has not usefully improved). There is a huge amount of anger of course, both immediate and accumulated over decades and centuries. There is despair. There are even some tendrils of hope.

I'm not a suitable person to deal with the big issues here. I'll keep listening, and I'll keep voting and pressuring my representatives to do what seems right, but I'm not a leader in any of this.

But the visual changes to the city around me have been striking. In some areas, most businesses have put plywood (or OSB) over all their windows and other glass. That by itself is a big change, but not visually very interesting. However, much of the plywood has been painted with slogans and war cries, straight-forwardly or artistically, or even graphic art. Both the text, and the appearance, have been catching my attention, so I started photographing these decorated sheets of plywood….
(5) TECH IMAGINED. "Ken Liu: 'We get to define the stories we want to be told about us.'" Mary Wang interviews the author for Guernica. Tagline: "Using photos of his text editors, mapmaking software, and 3D-printed prototypes, the writer talks about technology, myth, and telling stories during a pandemic."
… Wang: If you were a different type of writer, I might ask you how you conceive of characters and build plot. But since you talk about engineering as a language, it would make more sense for me to ask how you conceive of technologies. How do they come about, how do you then refine them, and finally, how do you incorporate them into the story?

Liu: I love talking about this stuff. My other former careers consisted of being a litigation consultant and a corporate lawyer, so I did a lot of research into the history of patents and the history of technology. That turns out to be a great way to find inspiration for fictional machines. If you go into patent databases, you'll see tons and tons of interesting inventions that never went anywhere. But that doesn't mean that, in an alternate universe, they couldn't have become successful and become the progenitor of new lineages of machines.

I also get a lot of inspiration from reading about archaeological discoveries of ancient machinery. The Chinese had invented these amazing compound looms that could be programmed to create complex textile patterns, and we didn't know how they worked because they didn't survive. But the latest archaeological discoveries actually found some of these looms, or models of them made out of ceramic as grave goods, so archaeologists have been able to recreate them and figure them out. They were amazing, like mechanical computers that could be programmed to weave specific patterns. Similarly, archaeologists realized that Heron of Alexandria, a great Greek inventor of antiquity, had devised all sorts of machines for temple magic as part of religious rituals. That turned out to anticipate many of our modern ideas about cybernetics and autonomous control.

These lines of technology didn't go very far, but in the fictional world I was creating, I could take it as far as I wanted to. …
(6) HIS NEXT RODEO. Congratulations to Ziv Wities (Standback) for making the grade at Podcastle.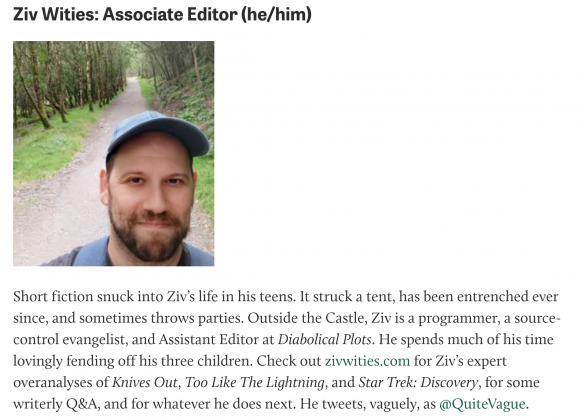 (7) TODAY IN HISTORY.
June 7, 1997 — Perversions of Science premiered on HBO. It was a spin-off of HBO's Tales from the Crypt. Its episodes were based off of work from EC Comics's Incredible Science Fiction, Weird Fantasy and Weird Science titles. It would last but for one season of ten episodes. Writers adapting those stories included David S. Goyer (the Blade trilogy screenplays), David Schow (The Crow with John Shirley) and Andrew Kevin Walker (Sleepy Hollow screenplay).
(8) TODAY'S BIRTHDAYS.
[Compiled by Cat Eldridge and John Hertz.]
Born June 7, 1844 – Robert Milne. Rediscovered by Sam Moskowitz, who helped collect RM's stories for Into the Sun. Eleven there; fifty more not yet reprinted, e.g. "The Great Electric Diaphragm", "A Dip into the Doings of the Four-Dimensional World", "What the Great Instrument in the Lick Observatory Observed". Even I found the Into the Sun stories and four more here. (Died 1899) [JH]
Born June 7, 1915 — Graham J. Ingels. Illustrator best remembered for his work in EC Comics during the Fifties, most notably on The Haunt of Fear, Tales from the Crypt and The Vault of Horror. He illustrated one genre magazine, Planet Stories cover as you can see here. Thought didn't do any other covers, he was a regular interior artist for both Planet Stories and Planet Comics. (Died 1991.)(CE)
Born June 7, 1924 — Jon Ewban White. Writer who was the script doctor for The Day of the Triffids. He was the writer for Witch Hunt, a dark fantasy series that ran BBC for six episodes. He even wrote an Avengers episode, "Propellent 23". His one film screenplay was "Crack in the World" which was straight SF Sixties style story about of the end brought on by the follies of man. You can watch it here. (Died 2013.) (CE)
Born June 7, 1932 – Kit Reed. Sixteen novels in our field; a hundred forty shorter stories, three dozen in The Story Until Now; fourteen more novels. First published in The Magazine of Fantasy & Science Fiction under Boucher. Translated into Croatian, Dutch, French, German, Italian. Guggenheim Fellow. Called herself a trans-genred writer. (Died 2017) [JH]
Born June 7, 1946 – Jon White. Fanziner and bookseller. Revived Inside in 1962, brought in Leland Sapiro who renamed it Riverside Quarterly (after a famous dwelling in New York). Here is the front cover by Arthur Thomson ("Atom") for vol. 1 no. 2. (Died 2004) [JH]
Born June 7, 1949 – Real Musgrave. Graphic artist who has maintained a fannish connection. Artist Guest of Honor at Westercon XLI (here is the cover of its Program Book); exhibited at Magicon, the 50th Worldcon. Here is a cover for Fantasy Review. Pocket Dragons, done as drawings, figurines, animated television series. Brother of astronaut Story Musgrave. [JH]
Born June 7, 1954 – Louise Erdrich. In the first class of women admitted to Dartmouth (A.B., English; later, honorary Litt. D. and Commencement speaker). Member of Turtle Mountain Band of Chippewa Indians; her grandfather was tribal chief. National Book Award for Fiction, Lib. Cong. Prize for Amer. Fiction, Amer. Acad. Poets Prize, Pushcart Prize. Love Medicine, only début novel to win the Nat'l Book Critics Circle Award for Fiction. Children's books; Scott O'Dell Award for The Game of Silence. World Fantasy Award for The Antelope Wife; three more novels in our field. Interview in December 2017 Lightspeed. [JH]
Born June 7, 1967 — Dayton Ward, 53. Writer best known for his Trek fiction which began with publication in the Strange New Worlds anthology series. To say he's written a lot of that media tie-in fiction is an understatement as he's written forty novels so far with the Mirror Universe and the Starfleet Corps of Engineers being but two of the subjects he tackles. He already written one novel for one of the latest series, Star Trek: Discovery: Drastic Measures. (CE)
Born June 7, 1968 — Sarah Parish, 52. In "The Runaway Bride", a Tenth Doctor story, she got to play, with the assistance of extensive CGI, one of the nastiest Who villains to date, The Empress of the Racnoss, an oversized vicious spider with a human face. Great episode. It's our introduction to Donna Noble, his Companion for quite some time to come. In a much lighter role, she played Pasiphaë on BBC's Atlantis series. (CE)
Born June 7, 1974 — David Filoni, 46. Creator and an executive producer on Star Wars Rebels, a most awesome series, for all four seasons, and was supervising director and a writer on another excellent series, Star Wars: The Clone Wars. (I like the animated series far better than the live action films.) He makes his live acting debut in The Mandalorian playing Trapper Wolf, an X-Wing pilot, in "The Prisoner" episode. It's also worth noting that he his first job was directing episodes during the first season of animated series Avatar: The Last Airbender (CE)
Born June 7, 1978 – Jesse Ball. Novelist and poet; spare, surrealistic, and strange. Went to Vassar, which would have saddened my grandmother who never wanted it to go co-ed. Guggenheim Fellowship; Illinois Author of the Year, 2015; Berlin Prize; Plimpton Prize. Gordon Burn Prize for Census; two more novels and a book of shorter stories in our field; five more novels, drawings, non-fiction. Faculty, School of the Art Institute of Chicago, where he got Wikipedia to believe he teaches lying, ambiguity, dreaming, walking; and maybe he does. [JH]
(9) OUT OF SORTS. Meanwhile, back at the Tingleverse:
(10) SHOWING THE WAY. "Ronald McNair's Civil Disobedience: The Illustrated Story of How a Little Boy Who Grew Up to Be a Trailblazing Astronaut Fought Segregation at the Public Library" by Maria Popova at Brain Pickings.
"Knowledge sets us free… A great library is freedom," Ursula K. Le Guin wrote in contemplating the sacredness of public libraries. "Freedom is not something that anybody can be given; freedom is something people take and people are as free as they want to be," her contemporary James Baldwin — who had read his way from the Harlem public library to the literary pantheon — insisted in his courageous and countercultural perspective on freedom.

Ronald McNair (October 21, 1950–January 28, 1986) was nine when he took his freedom into his own small hands.

Unlike Maya Angelou, who credited a library with saving her life, McNair's triumphant and tragic life could not have been saved even by a library — he was the age I am now when he perished aboard the Space Shuttle Challenger before the eyes of a disbelieving nation. But his life was largely made by a library — a life equal parts inspiring and improbable against the cultural constrictions of his time and place; a life of determination that rendered him the second black person to launch into space, a decade and a half after a visionary children's book first dared imagine the possibility….
(11) PLATFORM MATURES. "TikTok Pivots From Dance Moves To A Racial Justice Movement" – NPR has the story.
When Raisha Doumbia, a 20-year-old swimming instructor in Roswell, Ga., first downloaded the video-sharing app TikTok, she made lighthearted posts, like her lip-syncing and dancing to a song by the British girl group Little Mix.

But Doumbia paused the playful routines after George Floyd was killed by police in Minneapolis. Now she is using her TikTok feed to urge followers to march for racial justice.

…All of a sudden, TikTok has become the go-to forum for burgeoning youth activism.

"Anger, dismay, disgust and unhappiness are all feelings that can be easily transmitted on a video on Tik Tok," Aho Williamson said.

Black creators accuse TikTok of suppression

Activism arrived on TikTok just as scrutiny of its parent company, the Chinese-owned ByteDance, intensified.

As protests began to sweep the nation, black creators noticed that videos tagged #GeorgeFloyd or #BlackLivesMatter were hard to find, or looked as though no one had watched them despite a torrent of views.

To some users, it was a suspicious development, considering that ByteDance has censored videos of anti-Beijing protests in Hong Kong, in addition to having been exposed for previously suppressing posts from users deemed too unattractive or undesirable for the platform.

TikTok insists that is not what happened in posts related to Black Lives Matter. In an about-face, the company apologized and blamed the problem on a "technical glitch."

"Nevertheless, we understand that many assumed this bug to be an intentional act to suppress the experiences and invalidate the emotions felt by the black community. And we know we have work to do to regain and repair that trust," said Vanessa Pappas, TikTok's general manager for the U.S.
(12) TROMPE L'OEIL. Those who got to L.A.con III may remember the debut of Omar Rayyan with some stunning fool-the-eye work. Now somebody's doing it in public: "David Zinn: Street art that washes away in the rain" – video.
David Zinn is a professional chalk artist who's on a mission to show that you don't need fancy equipment to draw.

His work has appeared on subway platforms in Manhattan, village squares in Sweden and street corners in Taiwan.
(13) HIGH PRAISE."A Master of Hidden Things" is John Banville's tribute to a fine writer in The New York Review of Books.
…Revisiting Elizabeth Bowen's Collected Stories, one realizes that there are certain literary works that, once read, make one burn with envy of those readers who have still to come to them for the first time.* There is not a story in this substantial volume, from the first to the last, that is not brought off beautifully. While it is no doubt foolhardy and certainly vulgar to choose favorites, one must mention instances in which Bowen outdid herself. These include the elusive but vividly immediate "Summer Night"; the haunting "Mysterious Kôr" and the haunted "The Demon Lover"; the trance-like wartime set pieces "Ivy Gripped the Steps" and "The Happy Autumn Fields"; the forlorn "Joining Charles"; and the merely—merely!—marvelous early tales "Daffodils" and "The Parrot." In these and many other of the stories, Bowen reached, as Glendinning puts it, "a perfection and a unity that the sustained narrative and shifting emphases of a novel do not attempt."
(14) WORK WITH WHAT YOU'VE GOT. "How map hacks and buttocks helped Taiwan fight Covid-19".
With direct flights to Wuhan and a population of 24 million people living in densely packed cities, Taiwan's coronavirus outlook seemed grave.

But, to date, the disease has claimed just seven lives on the island, and it never went into full lockdown.

Its leaders credit masks as playing a key role, but not for the reasons you might suppose.

"Masks are something that, first, reminds you to wash your hands properly and, second, protects you from touching your mouth – that is the main benefit to the person who wears it," explains Audrey Tang, Taiwan's digital minister.

Taiwan's citizens have worn face masks for health and other reasons since the 1950s, but the spread of coronavirus prompted a spate of panic-buying.

To even out demand, the masks had to be rationed while production was ramped up, from two million to 20 million items a day.

Long queues snaked back from pharmacies and other outlets – which posed a risk of contagion in themselves. So, the government decided data about each location's stock levels should be made publicly available.

To do so, Ms Tang's ministry launched a platform which each vendor could keep updated with their stock numbers.

Then, Taiwan's hacking community, with whom the government had been building a strong relationship for years, stepped in.

It began drawing on the data, which had been made public, to build a series of real-time 'mask maps'.

…Earlier this week, Chien-Jen Chen – the island's former vice-president and a renowned epidemiologist – told British MPs that a well-designed contact tracing system and the application of strict quarantine rules to inbound visitors had also played a major role

But he too said the nature of the island's "hyper-democracy" – and the efforts its health chiefs had made to gain the public's trust – were the key factors in it success.

Those in power aren't just responsive to the voices of citizens, but also the memes and other messages they share.

It helped the government counter false claims that the material used to make masks was the same as that found in toilet paper. In response Taiwan's Premier posted a self-mocking cartoon, which showed his bottom wiggling, alongside an explanation of the different sources that toilet paper and mask paper come from.

"It went absolutely viral" says Ms Tang, of the government strategy referred to as "humour over rumour".
[Thanks to John Hertz, Chip Hitchcock, BravoLimaPoppa, Cat Eldridge, Mike Kennedy, Martin Morse Wooster, Andrew Porter, JJ, Michael Toman, and John King Tarpinian for some of these stories. Title credit goes to File 770 contributing editor of the day Steve Davidson.]