On September 28, Marvel's Voices: Comunidades returns on September 28 with a new collection of uplifting and action-packed tales highlighting Latin and Latinx creators and characters. To celebrate Hispanic Latinx Heritage Month, the giant-sized one-shot is the latest installment in the groundbreaking Marvel's Voices series, continuing the tradition of highlighting the cultural richness of the Marvel Universe, celebrating established comic talent, and uplifting new voices in the comic book industry. Packed with five thrilling adventures, Marvel's Voices: Comunidades will embrace various cultural heritages and explore how they impact the journeys of some of your favorite super heroes.
Here are the stories that await in this year's issue:
Legendary creator Fabian Nicieza and superstar artist Paco Medina take to the stars in an action-packed Nova adventure!
Miles Morales faces the music in an incredible showdown by acclaimed writer Edgar Delgado and artist Luis Morocho in his Marvel Comics debut!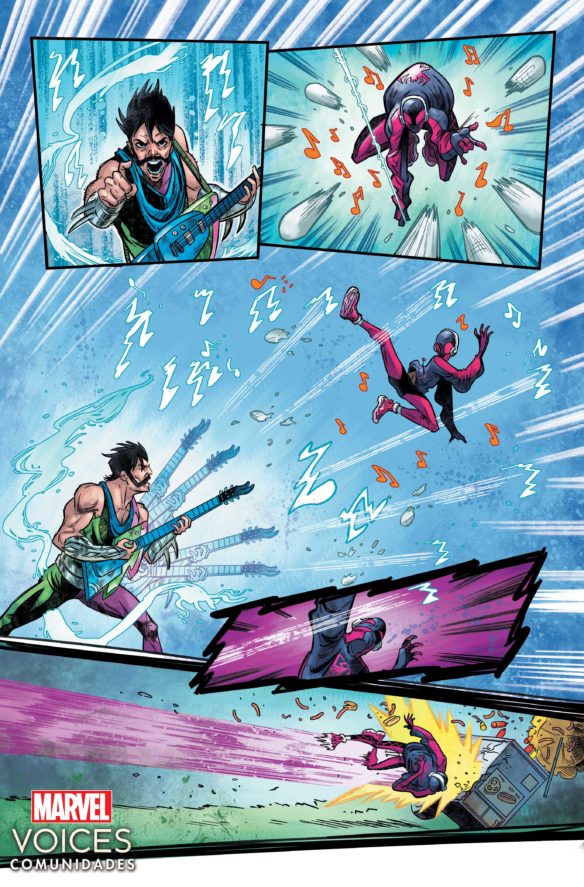 Award-winning author Alex Segura and extraordinary artist Rogê Antônio blaze a new trail for White Tiger – and introduce a brand new character to the Marvel Mythos—CHIMERA! Find out if she's friend or foe in this exciting first appearance. In the meantime, check out Paco Medina's design for the character in a special variant cover!
Novelist Zoraida Córdova and artist Yasmín Flores Montañez dive deep into the heart of Shark-Girl as she finds herself facing off with Namor!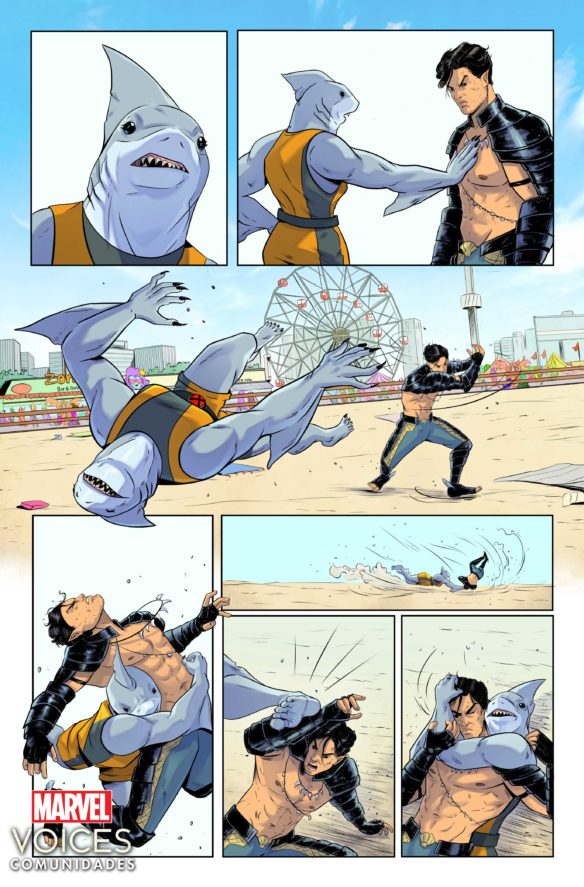 Author Carlos Hernandez brings his incredible sci-fi/fantasy storytelling to Marvel Comics for the first time alongside rising star Marcelo Costa. The pair will bring America Chavez home to defend her community against a strange threat!
Plus an introduction by Hector Navarro and a heartfelt interview about the history of inclusion at Marvel Comics with Fabian Nicieza.
Following the jump, check out all four stunning covers and interior artwork from each story now and pick up Marvel's Voices: Comunidades #1 on September 28. For more information including a word from this year's creators, visit Marvel.com.
Continue reading