(1) HARPERCOLLINS UNION EMPLOYEES STRIKE. "HarperCollins Workers Strike for Better Pay and Benefits" – the New York Times has the story.
Unionized employees at HarperCollins went on strike Thursday, saying they planned to stop working until they reached an agreement on a new contract.

The HarperCollins union represents about 250 employees in editorial, publicity, sales, marketing, legal and design. In a statement, the union said its members, who have been working without a contract since April, wanted better family leave benefits and higher pay.

Olga Brudastova, the president of Local 2110 of the U.A.W., which represents unionized HarperCollins employees, said that the union had decided to go on an indefinite strike after negotiations with the company stalled. The union is proposing that HarperCollins raise the minimum starting salary to $50,000, from $45,000. It has also demanded that the company address the lack of diversity in its work force.

Publishing has long been a low paying industry with long hours for its entry and midlevel employees, and it is based in New York, a very expensive city. It is also an overwhelmingly white industry, and many in the industry feel the low pay is part of what makes diversifying the industry difficult.

A recent report from PEN America, a free speech organization, said that according to company data, 74 percent of employees at Penguin Random House were white last of year, as were more than 70 percent of employees at Macmillan and about 65 percent of employees at Hachette. Those concentrations were even higher among senior managers.

Some employees joining the strike said that they hoped their collective action would also drive changes across the industry.
(2) THE COSPLAY CANDIDATE. Looked at from a certain viewpoint – as Vice is doing — the Georgia Senate election has been forced into a runoff because Libertarian Party candidate Chase Oliver pulled votes away from one of the other candidates (your choice of which one). "This Guy Just Threw the Senate Election Into Chaos From His Basement".
… Asked whether he just upended the entire Senate election from his basement for less than the price of a used car, Oliver casually agreed.

"Yeah, you could say that," he said. "And, good on me, I guess. You, too, can do this."

Oliver racked up over 81,000 votes, according to the official tally. That's more than twice the gap between the two main candidates. Warnock led on Wednesday afternoon with about 1,941,000 votes, compared to roughly 1,906,000 for Walker.

That wafer-thin margin means Oliver's supporters could swing the runoff, too, if they all get behind one candidate. Their choice will be Warnock, a pastor at the church where Martin Luther King Jr. preached; or Walker, a football star with a stormy personal life, endorsed by former President Donald Trump….
And Oliver has some fan credentials, according to the Atlanta Journal-Constitution profile published in September: "Chase Oliver could send Georgia's Senate race to a runoff – he's OK with that".
Chase Oliver loves to dress up for Dragon Con, the fantasy and science-fiction convention held over Labor Day weekend in Atlanta. He prefers villains. One year he came as the Riddler; another as the Norse god Loki.

But this year, Oliver, 37, is playing a different role altogether on a much different stage. As the Libertarian candidate for the U.S. Senate in Georgia, he may be the spoiler.

In the neck-and-neck contest between Democrat Raphael Warnock and Republican Herschel Walker, Oliver might peel off enough votes to send the nationally watched race into a runoff. That would translate into four more weeks of campaigning and millions more dollars in spending for a contest already expected to be among the costliest and most consequential in the nation.

Oliver is OK with that.

"The voters send this to a runoff. I don't," he said in an interview. "If one of the candidates can't get 50% plus one of the vote, they don't deserve to win."
(3) DEPARTURE LOUNGE. There are probably many such announcements being made, I just happened to see this one.
(4) EKPEKI'S WFC ACCEPTANCE SPEECH. Oghenechovwe Donald Ekpeki has posted on Facebook and his YouTube channel two videos of his World Fantasy Award, Best Anthology, acceptance speech. The first from the WFC has audience reactions muted. A second one taken from the audience is slightly less clear but has audible audience reactions.
(5) PLAY LONG AND PROSPER. The idea of it may be more entertaining than the actual account, still, you may enjoy reading about "When Jimi Hendrix met Spock: the incredible story of the guitar legend's encounter with a sci-fi icon" at Guitar World.
…And then there is the "Mind-Meld Experience," the day that Jimi, a renowned traveler through space, time and dimension, encountered Nimoy, another astral musical voyager.

Here, then, is WKYC Radio disc jockey Chuck Dunaway's fascinating account of a wild night with Jimi and Leonard Nimoy in Cleveland on March 25, 1968. It is Chuck D.'s story of that day, illustrated with a few rare artifacts, some of which I published in the March 1988 Guitar World [Special Collectors' Edition: Hendrix Lives! Tribute to a Genius] and others from Chuck's personal archives….
(6) DAW'S TAD WILLIAMS ACQUISITIONS. Betsy Wollheim, Publisher at DAW Books, has acquired North American rights to two fantasy books by Tad Williams, represented by Matt Bialer at Sanford J. Greenburger Associates.
The first of the two books, scheduled for Fall 2024, is The Splintered Sun. Set in Williams' beloved and well-known fantasy world of Osten Ard, The Splintered Sun follows the adventures of Robin Hood-esque figure Flann Alderwood and his band of misfit rebels in one of Osten Ard's oldest and strangest cities, Crannhyr.

The Splintered Sun is a fast-moving adventure that will thrill newcomers diving into the world of Osten Ard for the first time, while weaving together many parts of previously unrevealed Osten Ard history for all the readers who are eager to delve into the pre-Dragonbone Chair history of Hernystir and Erkynland.
The Splintered Sun will be published by DAW Books in Fall 2024.
(7) THEY'RE FASH, AND I'M FURIOUS. [Item by Olav Rokne.] A few of us at the Hugo Book Club Blog have been musing about what the depiction of fascist empires in space-based science fiction tells us about the popular conception of what it means to be "nazi." There's often a lack of engagement in pop culture with the question of what "fascism" actually means, which unfortunately probably makes it easier for real-world fascists to peddle their wretched ideology. (The blog post title is a reference to a classic 1987 Trauma movie about neo-nazis on surfboards.) "Space Nazis Must Die".
Nazis should be opposed wherever they exist: on the battlefield, at the ballot box, in the streets, and across the tenebrous depths of interstellar space. As such, depicting villains as Nazis — and therefore Nazism as villainous — has value. But depiction without engaging with the premises of motivation is lacking.
(8) GILLER PRIZE. The 2022 Scotiabank Giller Prize winner was announced November 7. The Prize is a celebration of Canadian literary talent. It went to the non-genre novel The Sleeping Car Porter by Suzette Mayr.
There had been two works of genre interest on the shortlist, Kim Fu's story collection Lesser Known Monsters of the 21st Century, and Sheila Heti's Pure Colour.
(9) GOODREADS CHOICE. The opening round for the 2022 Goodreads Choice Awards begins November 15.
(10) MEMORY LANE.
1932 — [By Cat Eldridge.] One of the earlier Sherlock Holmes films is Conan Doyle's Master Detective Sherlock Holmes which it's ninetieth anniversary this year. It came sixteen years after the first such film, Sherlock Holmes, was released.
It was an American pre-Code film starring Clive Brook as the eponymous London detective. It was not based directly off the writings of Doyle but on the very successful Sherlock Holmes stage play by William Gillette.
Gillette was a manager of actors, a playwright, and stage-manager in that era. He is best remembered for portraying Sherlock Holmes on stage and in a 1916 silent film thought to be lost until it was rediscovered in 2014 which I essayed about here.
The 1932 film was directed by William K. Howard for the Fox Film Corporation. Brook had played Holmes previously in The Return of Sherlock Holmes and the "Murder Will Out" segment of Paramount on Parade.
The story here in brief is that Holmes is pulled away from retirement with his fiancée when the condemned Moriarty escapes from prison and swears vengeance.
Interestingly Reginald Owen plays Dr. Watson, and Ernest Torrence is Holmes's arch-rival, Professor Moriarty. Reginald Owen played Sherlock Holmes the following year in A Study in Scarlet.
Owen is but a very one of a small number of performers ever that have performed the roles of Holmes and Watson.
It includes Jeremy Brett, who played Watson on stage in the United States and, of course, Holmes later on, Carleton Hobbs, who did both roles in British radio adaptations, and Patrick Macnee, who did both roles in US television movies.
(11) TODAY'S BIRTHDAYS.
[Compiled by Cat Eldridge.]
Born November 10, 1889 — Claude Rains. Actor whose first genre role was as Dr. Jack Griffin in the 1933 film The Invisible Man. He would go on to play Jacob Marley in Scrooge, Prince John in The Adventures of Robin Hood, Sir John Talbot in The Wolf Man, and Erique in The Phantom of the Opera. (Died 1967.)
Born November 10, 1924 — Russell Johnson. Best known in what is surely genre for being Professor Roy Hinkley in Gilligan's Island. His genre career started off with four Fifties films, It Came from Outer Space, This Island Earth, Attack of the Crab Monsters and The Space Children. He would later appear in both the Twilight Zone and Outer Limits. On ALF, he would appear as Professor Roy Hinkley in "Somewhere Over the Rerun". (Died 2014)
Born November 10, 1943 — Milt Stevens. Today is indeed his Birthday. On the day File 770 announced his unexpected passing OGH did a wonderful post and y'all did splendid commentary about him, so I'll just send you over there. (Died 2017.)
Born November 10, 1946 — Jack Ketchum. Writer who was mentored by Robert Bloch, horror writer par excellence. Winner of four Bram Stoker Awards, he was given a World Horror Convention Grand Master Award for outstanding contribution to the horror genre. I'll admit I'm not sure that I've read him, so I'll leave it up to the rest of you to say which works by him are particularly, errr, horrifying. Oh, and he wrote the screenplays for a number of his novels, in all of which he quite naturally performed. (Died 2018.)
Born November 10, 1950 — Wesley Dean Smith, 72. Editor of Pulphouse magazine, about which fortunately Black Gate has provided us with a fascinating history which you can read here. Pulphouse I first encountered when I collected the works of Charles de Lint who was in issue number eight way back in the summer issue of 1990. As a writer, he is known for his use of licensed properties such as StarTrek, Smallville, Aliens, Men in Black, and Quantum Leap. He is also known for a number of his original novels, such as the Tenth Planet series written in collaboration with his wife, Kristine Kathryn Rusch.
Born November 10, 1960 — Neil Gaiman, 62. Where to start? By far, Neverwhere is my favorite work by him followed by the Sandman series and Stardust. And I sort maybe possibly kind of liked American Gods. Coraline is just creepy. By far, I think his best script is Babylon 5's "Day of The Dead" though his Doctor Who episodes, "The Doctor's Wife" and "Nightmare in Silver" are interesting, particularly the former.
Born November 10, 1971 — Holly Black, 51. Best known for her Spiderwick Chronicles, which were created with fellow writer and illustrator Tony DiTerlizzi, and for the Modern Faerie Tales YA trilogy. Her first novel was Tithe: A Modern Faerie Tale. (It's very, very good.) There have been two sequels set in the same universe. The first, Valiant, won the first Andre Norton Award for Young Adult Science Fiction and Fantasy. Doll Bones which is really, really creepy was awarded a Newbery Honor and a Mythopoeic Fantasy Award. Suffice it to say if you like horror, you'll love her.
Born November 10, 1989 — Aliette de Bodard, 33. Author of the oh-so-excellent Xuya Universe series. Her Xuya Universe novella "The Tea Master and the Detective" won a Nebula Award and a British Fantasy Award, and was nominated for the Hugo and World Fantasy Award. "The Shipmaker", also set herein, won a BSFA Award for Best Short Fiction. Her other major series is The Dominion of the Fallen which is equally lauded. More Hugos noms?  Oh yes indeed. LoneStarCon3 saw her nominated both for her oh so amazing "On a Red Station, Drifting" novella and her "Immersion" short story; Loncon 3 for her "The Waiting Stars" novelette (a Nebula winner); "Children of Thorns, Children of Water" novelette nominated at Worldcon 76; at Dublin2019, In a Vanishers' Palace was nominated as was the ever so stellar The Tea Master and The Detective novella (a Nebula winner), a favorite of mine ever more; DisCon III saw another novelette, "The Inaccessibility of Heaven", nominated . And this year, her most excellent Fireheart Tiger novella was up for a Hugo.
(12) MARVEL REVEALS ITS 2023 FREE COMIC BOOK DAY TITLES. In 2023, Free Comic Book Day will lure customers to their local comic shops on May 6. Here are Marvel's four giveaway titles. For more information, visit Marvel.com.
FREE COMIC BOOK DAY 2023: AVENGERS/X-MEN #1 features a pair of all-new stories that set the stage for the next evolution in mutant adventures, FALL OF X, and introduces an uncanny new lineup for a new team book launching next year. Plus a preview of Jonathan Hickman and Valerio Schiti's upcoming mystery project.

FREE COMIC BOOK DAY 2023: SPIDER-MAN/VENOM #1 will web-sling readers into the exciting developments currently taking place in Zeb Wells and John Romita Jr.'s hit run of Amazing Spider-Man and lay the groundwork for the SUMMER OF SYMBIOTES. Plus a preview of new Marvel epic just on the horizon.

FREE COMIC BOOK DAY 2023: MARVEL'S VOICES #1 invites readers to the groundbreaking and critically acclaimed Marvel's Voices series, which spotlights creators and characters across Marvel's diverse and ever-evolving universe. The book will include a range of stories from previous Marvel's Voices issues as well a brand-new one!

And last but certainly not least, FREE COMIC BOOK DAY 2023: SPIDEY & FRIENDS #1 is back! Swing into adventure with Spidey, Ghost-Spider, and Miles as they face off against Green Goblin, Doc Ock and more in this spectacular special. Filled with easy-to-read comic stories based on the hit Disney Junior show, this book is perfect for the youngest readers aged 5-7. Young fans will even be able to test their wall-crawling skills with thrilling interactive activity pages! Kids will love this not-to-be-missed comic: the perfect primer for the newest generation of Spider-Fans!
(13) OCTOTHORPE. John Coxon, Alison Scott, and Liz Batty are back with episode 70 of the Octothorpe podcast — "Oh".
We read your lovely letters before talking about a bunch of news, including the Clarke Awards, Pemmi-Con, the Chengdu Worldcon, World Fantasy Con 2025, and Novacon.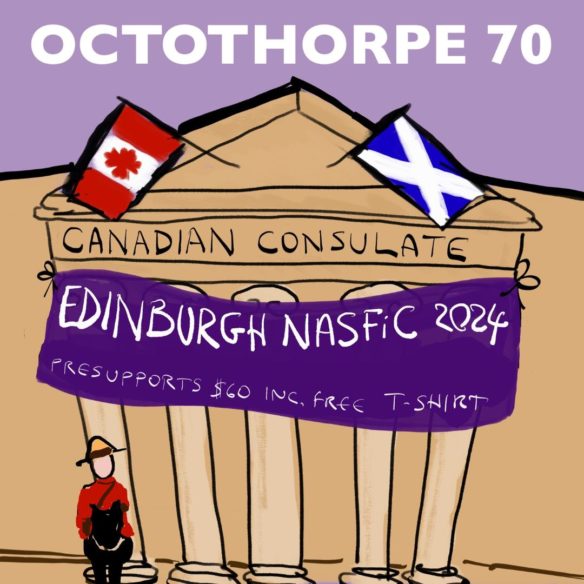 (14) A QUESTION. [Item by Daniel Dern.] Question: Do authors get paid (reasonably) for special-press/signed editions of their books?
(In some Facebook Groups I'm following) I'm seeing special collector/collectible editions of books with a mix of additional content (essays, art, etc.), print quality (nicer paper, leather-bound, bound-by-hand, etc), and limited-edition indicia (numbered, signed-by-author)… priced often in the hundreds of dollars.
I have no doubt that the price reflects the work and materials… my question is, are authors getting a reasonable piece of the action? (Particularly when they'd put in the time to sign.)
(15) GRINCHWORMS. It's understandable you wouldn't be looking for Easter Eggs in a Grinch movie, but they're there: "15 details you probably missed in 'How the Grinch Stole Christmas'" at Yahoo! For example —
…There are lots of fun architectural features in Whoville, including an elephant statue that seems to be a reference Dr. Seuss' "Horton Hears a Who."

In his story, the titular elephant saves the city of Whoville (which exists on a tiny speck of dust), so it makes sense that they'd have a statue for him in the town.

Jim Carrey also voiced both the Grinch and Horton in film adaptations of the stories….
(16) CHANGE IS COMING. Deadline heralds plan by "Universal Orlando To Shut Down Five Attractions To Make Room For New Family Entertainment Based On 'Beloved Animated Characters'" – whatever they may be.
Universal Orlando Resort today announced the closing of at least five attractions to make way for what it termed "new family entertainment." Fievel's Playland, Woody Woodpecker's Nuthouse Coaster, Curious George Goes to Town, DreamWorks Destination and Shrek and Donkey's Meet & Greet will permanently close at end of day on January 15 203, according to an announcement posted to the resort's Twitter page.

… Universal confirmed in March that its Orlando Resort will be getting a Super Nintendo World sometime after a same-named area opens at the L.A. park,. That is scheduled for early next year. But, according to permit filings reportedly obtained by the Park Stop blog, the Florida Super Nintendo World appears to be a part of the vast new Epic Universe park being built in Orlando.

Some educated guesses about what will fill the space include a possible Pokémon attraction, or concepts based on DreamWorks or Illumination IP such as Trolls or The Secret Life of Pets — Illumination's Minions already have their own zone coming next year. Universal promised more details "in the months ahead."
(17) UNDERWATER DISCOVERY. "Section of destroyed shuttle Challenger found on ocean floor" reports Yahoo!
A large section of the destroyed space shuttle Challenger has been found buried in sand at the bottom of the Atlantic, more than three decades after the tragedy that killed a schoolteacher and six others.

NASA's Kennedy Space Center announced the discovery Thursday.

"Of course, the emotions come back, right?" said Michael Ciannilli, a NASA manager who confirmed the remnant's authenticity. When he saw the underwater video footage, "My heart skipped a beat, I must say, and it brought me right back to 1986 … and what we all went through as a nation."

It's one of the biggest pieces of Challenger found in the decades since the accident, according to Ciannilli, and the first remnant to be discovered since two fragments from the left wing washed ashore in 1996.

Divers for a TV documentary first spotted the piece in March while looking for wreckage of a World War II plane. NASA verified through video a few months ago that the piece was part of the shuttle that broke apart shortly after liftoff on Jan. 28, 1986. All seven on board were killed, including the first schoolteacher bound for space, Christa McAuliffe….
(18) ASTROCLICKBAIT. [Item by SF Concatenation's Jonathan Cowie.] Physicist and professor of particle physics Brian Cox explains whether the big bang theory is wrong. Despite major scientific discoveries that provide strong support for the Big Bang theory, there´s been a viral paper spreading over the Internet lately which says that the James Webb Space Telescope has refuted the theory. This has led many to think that our understanding of the Big Bang may be wrong. Could this really be the case? Is the James Webb telescope rewriting fundamental theories of the cosmos?
[Thanks to Andrew Porter, Michael Toman, Cat Eldridge, Anne Marble, Olav Rokne, Daniel Dern, SF Concatenation's Jonathan Cowie, Mike Kennedy, Martin Morse Wooster, JJ, John King Tarpinian, and Chris Barkley for some of these stories. Title credit belongs to File 770 contributing editor of the day Rob Thornton.]