(1) BONDS OF EUROCON. The editors of SF2 Concatenation are mindful of the fans affected by the Russian invasion:
(2) REALITY CHECK OR CHECK ON REALITY? [Item by Cora Buhlert.] Pulp scholar Jason Ray Carney talks about the value of escapist reading and sword and sorcery at the LA Review of Books: "Reading Sword-and-Sorcery to Make the Present Less Real". (For some reason, the LA Review of Books felt the need to illustrate the essay with a Weird Tales cover that's not for a sword and sorcery story.)
 …Whether we read to engage or to escape reality, we continue to read fiction because it provides us with an experience that cannot be satisfied by other means. Additionally, as a cultural practice, reading fiction has taken on a quasi-spiritual aura; it has become a secular ritual, not unlike mindfulness meditation, that is robustly encouraged by its proponents. One recalls the Orwellian "READ" posters that have been published by the American Library Association since 1985, the most recent a rendering of Channing Tatum, holding a copy of Peter Pan, standing in front of a glittering star field. Evoking the imperious command of alien billboards in John Carpenter's They Live — obey, marry, reproduce, consume — these posters celebrate reading as an activity of unquestionable social value and say nothing about what is real. Why not read fiction to escape the real?…
(3) LIVING BY THE SWORD. Oliver Brackenbury interviews Dariel Quiogue, a Filipino author of Asian based sword and sorcery or sword and silk, in episode 34 of the So I'm Writing a Novel podcast: "Interview with Dariel Quiogue – So I'm Writing a Novel…"
…Their discussion covers portrayal of war elephants in history and stories, Alexander the Great being a war criminal to some, Carter & De Camp (and Nyburg) Conan tales, Howard Lamb's Khlit the Cossack stories (a huge influence on Robert E Howard), drawing from Asian history for his stories – including an intriguing alternate path for Genghis Khan, wanting to write more fiction based in where you're from, being anxious about a lack of experience to the world limiting your fiction, how late in history Dariel feels you can set a story and still have it feel like sword & sorcery, the "Sword & Sorcery attitude"…
(4) APPENDIX N(ORTON). [Item by Cora Buhlert.] The good people of Goodman Games continue their series of profiles of classic SFF authors. Jim Wampler profiles Andre Norton: "Adventures in Fiction: Andre Norton".
… Norton's influence on adventure gaming and its creators was not accidental. She often employed a recurring motif in her books in which the protagonist begins as an outsider or "other", and through dedicating themselves to a perilous journey in the wilderness, eventually becomes a fully-realized heroic figure. The parallels to the level advancement and experience point systems of early role-playing games is obvious….
And Michael Curtis profiles Margaret St. Clair — "Adventures in Fiction: Margaret St. Clair" – focusing almost exclusively on those two novels by her which are listed in the Appendix N of the original D&D Dungeon Master's guide, even though St. Clair wrote so much more. But Goodman Games is an RPG company, so I guess that's fair.
…Margaret St. Clair is an interesting figure, one whose work is largely overlooked in the present age. St. Clair was one of only three women authors who appeared on Gygax's list of influential writers and their works. During both the Golden and Silver Ages of fantasy fiction, the field was dominated by white males, so much so that the now-often derided pronouncement on the back cover of the Bantam Books 1963 printing of The Sign of the Labrys ("Women are Writing Science Fiction!") was actually somewhat shocking. The fact that Appendix N includes three women authors is a testimony to the breadth of Gary's reading….
(5) HOW WORLDCON GOHS ARE CHOSEN. Esther MacCallum-Stewart of the Glasgow in 2024 Worldcon Bid has written a thoughtful post about the committee's process for picking their prospective GoHs: "From the Chair: Selecting Our Guests of Honour".
5. The selection team and the chair's team then met to decide a Short List, based on the recommendations of the committee, but also considering several other criteria which allowed flexibility in looking at the list:
Who will represent Glasgow in 2024's vision of Inclusion, Caring and Imagination best?
Who could present an indicative picture of science fiction and fantasy in 2024?
Who might make an interesting Guest of Honour, able to participate to the best of their ability and help create a fun, exciting contribution to a Worldcon in Glasgow 2024?
What other elements, like involving local voices, varied perspectives and contemporary discussions, should these Guests represent?
How might the Guests of Honour look as a group? (more on this later)
6. Phew! This seems like a lot, but at last there is a short list, and since this process is still happening, I'm expecting it to be about 30 names. We're ready to start making the decision.
(6) ATWOOD ON BBC RADIO 4. [Item by SF Concatenation's Jonathan Cowie.] Margret Atwood was on an episode of BBC Radio 4's Women's Hour this week with a 15 minute interview. Topics included when did women's status fall and how
the right purloins left tools.

The programme is downloadable from here for a month after which it will be available on BBC Sounds.
Margaret Atwood's latest collection of essays, Burning Questions, gathers together her essays and other occasional non-fiction pieces from 2004 to 2021. She is the author of more than fifty books of fiction, poetry and critical essays. Her novels include Cat's Eye, The Robber Bride, Alias Grace, and The Blind Assassin which won the Booker prize in 2000. Her 1985 classic, The Handmaid's Tale, was followed in 2019 by a sequel, The Testaments, which was also a Booker Prize winner (with Bernadine Evaristo's Girl, Woman, Other). Margaret joins Emma to talk about culture wars, free speech, feminism, grief and being in your 80's.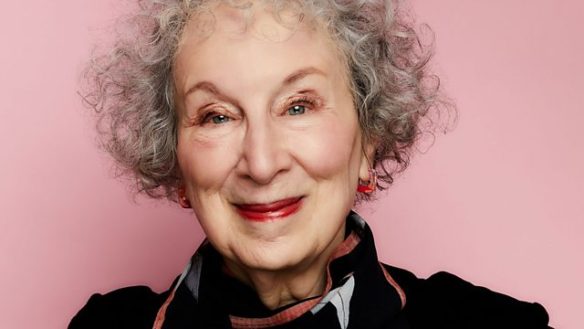 (7) CLONE ARRANGERS. Edward Ashton names books by Tiptree, Simak, and Mur Lafferty while recommending books about clones and replicants at CrimeReads: "Eight Books About What It Means to be Human".
Six Wakes, by Mur Lafferty

It's probably a lucky thing that I didn't read this book until after I'd finished writing Mickey7, because Six Wakes begins in a very similar place—clones, mind-mapping, immortality, an interstellar colonization mission—but then takes off in a wildly different direction….
(8) CLOTHES FOR THE OCCASION. Hypebeast shares a fashion display as "Disney Launches Official 'Star Wars' Galactic Starcruiser Merchandise".
…Offered by the boutique located just off the Atrium of the Halcyon, "The Chandrila Collection" will allow you and your family and friends to fully embrace the world of science-fiction and fantasy with futuristic garments inspired by some of the most iconic characters and factions from the epic franchise. From hooded black dresses and saber-training tunics to mechanics' jumpsuits and starship captains' jackets, the collection carries something for every fan. You'll also find the classic white Princess Leia dress as well as a cloak inspired by Padmé Amidala's royal wardrobe….
There's a video here of The Chandrila Collection – some philistines would call it a commercial, I'm sure.
(9) JEOPARDY! As usual, the wrong Jeopardy! questions are the most entertaining. Andrew Porter saw this one tonight.
Final Jeopardy: Fictional Families

Answer: Introduced in the 1930s in The New Yorker, they've appeared on TV & Broadway & in live action & animated films.

Wrong question: Who are the Von Trapps?

Correct question: Who is The Addams Family?
(10) KELLERMAN OBIT. Actress Sally Kellerman, whose many roles included a Star Trek appearance, has died at the age of 84. The New York Post profiled her career.
…Kellerman is also rooted in "Star Trek" history. Fans of the original series will remember her role as a psychologist in the third episode, "Where No Man Has Gone Before" — which actually was originally filmed as one of two pilots for the sci-fi series….
(11) MEMORY LANE.
2010 — [Item by Cat Eldridge] Jack Vance who I think I can say without fear of contradiction is beloved by all here won three Hugos. The first was at the first DisCon for "The Dragon Masters" which was originally published in the August 1962 issue of Galaxy, the second was at NyCon 3 for "The Last Castle" published in Galaxy in the April 1966 issue, and the third, and this one surprised me, was Best Related Work at Aussiecon 4 (2010) for This is Me, Jack Vance! (Or, More Properly, This is "I").
His first Hugo nomination that didn't result in a win was at Detention for "The Miracle-Workers", published in Astounding in July 1958, his other nomination was a Retro Hugo at Millennium Philcon for The Dying Earth novel.
His I-C-a-BeM novelette was longlisted at Seacon. His Ecce and Old Earth novel was likewise at MagiCon. If we're being completists… Queen of Air and Darkness, I love databases!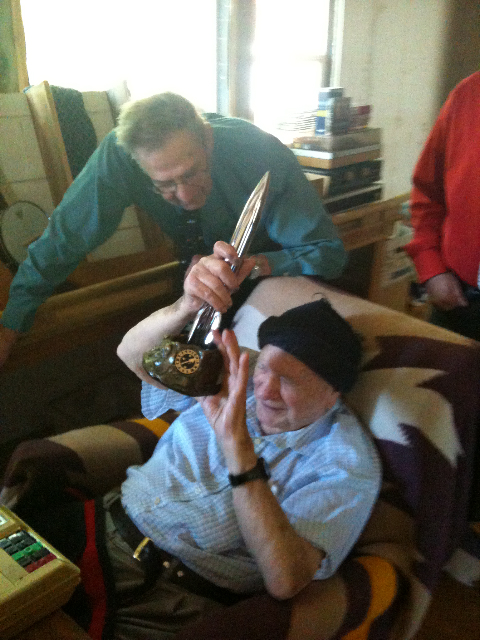 (12) TODAY'S BIRTHDAYS.
[Compiled by Cat Eldridge.]
Born February 24, 1909 — August Derleth. He's best known as the first book publisher of H. P. Lovecraft, and for his own fictional contributions to the Cthulhu Mythos (a term that S. T. Joshi does not at all like). Let's not overlook him being the founder of Arkham House which alas is now defunct. I'm rather fond of his detective fiction with Solar Pons of Praed Street being a rather inspired riff off the Great Detective. (Died 1971.)
Born February 24, 1933 — Verlyn Flieger, 89. Well-known Tolkien specialist. Her best-known books are Splintered Light: Logos and Language in Tolkien's World, A Question of Time: J. R. R. Tolkien's Road to Faerie, which won a Mythopoeic Award, Tolkien's Legendarium: Essays on The History of Middle-earth (her second Mythopoeic Award) and Green Suns and Faërie: Essays on J.R.R. Tolkien (her third Mythopoeic Award). She has written a YA fantasy, Pig Tale, and some short stories.
Born February 24, 1945 — Barry Bostwick, 77. Best remembered for being Brad Majors in The Rocky Horror Picture Show. His first genre undertaking was the English language narration of Fantastic Planet. He voices the Mayor in The Incredibles 2. He also won a Tony Award for his role in The Robber Bridegroom, a play based off the Eudora Welty novella.
Born February 24, 1947 — Edward James Olmos, 75. Reasonably sure the first thing I saw him in was Blade Runner as Detective Gaff, but I see he was Eddie Holt in Wolfen a year earlier which was his genre debut. Though I didn't realize it as I skipped watching the nearly entire film, he was in The Green Hornet as Michael Axford. He has a cameo as Gaff in the new Blade Runner film. And he's William Adama on the rebooted Battlestar Galactica. He has made appearances on Agents of S.H.I.E.L.D. and Eureka.
Born February 24, 1951 — Helen Shaver, 71. Her SFF debut was as Betsy Duncan in Starship Invasions aka Project Genocide in the U.K. Though you've likely not heard of her there, you might have seen her as Carolyn in The Amityville Horror.  She's Littlefoot's mother in The Land Before Time, and Kate 'White' Reilly in the second Tremors film. She's got one-offs in The Outer Limits, Amazing Stories, Ray Bradbury Theater and Outer Limits to name but a few. And she was Dr. Rachel Corrigan in Poltergeist: The Legacy, a excellent series indeed. 
Born February 24, 1966 — Billy Zane, 56. His genre roles include Match in Back to the Future and Back to the Future Part II, Hughie Warriner in Dead Calm, John Justice Wheeler in Twin Peaks, The Collector in Tales from the Crypt presents Demon Knight and the title role in The Phantom. 
Born February 24, 1968 — Martin Day, 54. I don't usually deal with writers of licensed works but he's a good reminder that shows such as Doctor Who spawn vast secondary fiction universes. He's been writing such novels first for Virgin Books and now for BBC Books for over twenty years. The Hollow Men, a Seventh Doctor novel he co-wrote wrote with Keith Topping, is quite excellent. In addition, he's doing Doctor Who audiobooks for Big Finish Productions and other companies as well. He's also written several unofficial books to television series such as the X Files, the Next Generation and the Avengers. 
(13) ARTHURIANA. [Item by Martin Morse Wooster.] In the Washington Post, Molly Roberts says very few people were asking for the PBS animated series Arthur to end after 25 years with their characters aging two decades and the beloved cartoon aardvark turning into "a fledgling graphic novelist with an even less fledged goatee." "Arthur grew up in the finale of his PBS show. It's a betrayal."
… PBS's sendoff of his namesake show after a quarter-century of seasons unexpectedly age-accelerates its characters two decades or so. It's a move undoubtedly designed to offer closure to fans from preschooler to professional. But maybe closure is exactly what we didn't need.

To recap, for those too busy living adult life to dip back into the old days for the finale of the longest-running animated children's series in history: The (non-)boy the New York Times dubbed "the world's most popular student aardvark" has apparently become a fledgling graphic novelist with an even less fledged goatee. His sister, the perennial pest D.W., has become … a cop? Buster the bunny is a drably dressed teacher; self-proclaimed tough guy and secret softie Binky Barnes the bulldog is a journalist….
(14) MALTIN ON MOVIES. [Item by Martin Morse Wooster.] I heard this podcast Leonard and Jessie Maltin did with director Ken Kwapis, which is worth listening to for one very good anecdote about Jim Henson. Kwapis directed Henson as a puppeteer in Sesame Street Presents: Follow That Bird (which Leonard Maltin thinks is an underrated musical). Jim Henson only had one request. Before the shoot began, Henson asked everyone–cast and crew–to hold one arm high in the air for a minute. The reason: to give everyone a sense of what puppeteers had to do during a movie.
This is an entertaining hour, but most of what Kwapis directed is not genre. Even though he directed all seven episodes of the second season of Space Force, he doesn't have much to say about the show. "Maltin on Movies: Ken Kwapis".
(15) THE WINTER OF THEIR DISCONTENT. "Patton Oswalt Slams Comixology Changes as Fans Call Out Amazon" reports Screen Rant.
…As Oswalt makes clear, with the changes, ComiXology has gone from being a dedicated hub for comics to just another tab for digital content in Amazon's Kindle storefront. Whereas before the change, in addition to being a place where subscribers could "collect" and "curate" their digital collections, ComiXolgy provided a way for fans to explore the wonderful world of comics, manga, graphic novels in efficient and enjoyable manner.

Oswalt wasn't the only one to find fault with the changes. Indeed, from hardcore fans to casual readers, from writers to gamers, the change seems to have struck a chord everywhere….
(16) JEFFERSONIAN STARSHIP. Politico tells "Why Musk's biggest space gamble is freaking out his competitors". "Starship is threatening NASA's moon contractors, which are watching its progress with a mix of awe and horror."
Elon Musk is planning yet again to rocket beyond the status quo. And if he succeeds, the aerospace giants that won the first space race may never catch him in this one.

Standing in front of the towering Starship rocket at Space X's southwest Texas "Starbase" on Thursday night, Musk pledged that his most ambitious spaceship yet will make its first journey in the coming months….

Starship is designed to be the first all-purpose space vehicle: a reusable and refuelable spacecraft that can take scores of people and millions of tons of cargo from Earth directly to the moon and eventually Mars — and do it over and over again.

If he can pull it off, Musk's previous breakthroughs — electric cars, reusable rockets for launching satellites, the first commercial space capsule to dock with the International Space Station — might seem, by comparison, to be modest achievements….
(17) DUSTING OFF HISTORY. Pollen leads to a picture of "The Uneven Sweep Of Black Death's Assault On Europe" in a Nature article.
The historical pandemic known as the Black Death might not have been as devastating as was previously thought, an analysis of ancient pollen suggests.
Historians estimate that a wave of bubonic plague in the mid-1300s killed about half of the people in Europe, at a time when most lived in rural areas. To investigate the Black Death's true toll, Alessia Masi at the Sapienza University of Rome and her colleagues analysed ancient pollen from 261 lakes and wetlands across Europe (pictured, a sampled bog in Poland). By assessing the varieties of pollen, the team determined whether fields and pastures had been abandoned after the plague and eventually replaced by forests.
Levels of pollen from species common in agricultural lands were much lower in many places, including France and central Italy, between 1350 and 1450 than during the previous 100 years. This suggests high mortality rates. But in other regions, including Ireland and much of eastern Europe, agricultural activities were stable and even expanded, suggesting that populations there were growing.
Factors such as weather and local economies might have caused the pandemic's course to vary, the authors say.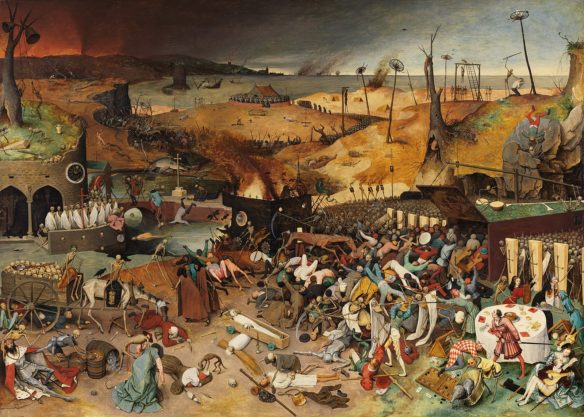 (18) FELL WEAPON. Nature discusses a "Gift From Above: The Meteorite Origins Of King Tut's Dagger".
Chemical analysis of an iron dagger found in King Tutankhamen's tomb has identified the type of meteorite from which the metal was derived — and suggests the knife might have been a gift from another ruler.

Tut reigned in the fourteenth century bc, before iron working was common in Egypt. Previous research identified an iron– nickel meteorite as the probable
source of the blade's metal, but little was known about how the dagger was manufactured.

Tomoko Arai at the Chiba Institute of Technology in Narashino, Japan, and her colleagues mapped the metal's elements by shining X-rays along the blade and analyzing the resulting fluorescence. They found that the nickel was distributed in a crosshatched pattern typical of a group of meteorites called octahedrites. The blade must have been forged at a relatively low temperature to retain the pattern and other meteorite specific features, they say….
(19) GALAXY CHEX QUEST. [Item by Ben Bird Person.] Artist/illustrator Will Quinn did this piece based on the 1996 computer game Chex Quest. According to Wikipedia, Chex Quest was included as a cereal prize in boxes of Corn Chex, Rice Chex, and Wheat Chex. "Daily bunny no.1676 is fighting for a balanced breakfast (A Patreon reward for @DrWho42!)".
[Thanks to Michael Toman, Cat Eldridge, Mike Kennedy, Ben Bird Person, SF Concatenation's Jonathan Cowie, Martin Morse Wooster, JJ, John King Tarpinian, and Andrew Porter for some of these stories. Title credit belongs to File 770 contributing editor of the day Jim Janney.]