(1) CATS TRIUMPHANT. Naomi Kritzer has had a big week. Her YA novel Catfishing on Catnet won an Edgar Award today, and won a Minnesota Book Award on Tuesday. Here's an excerpt of the Q&A she did for the St. Paul Library:
How does it feel to be a Minnesota Book Award finalist?

It is a huge honor and feels amazing!

Tell us something about your finalist book that you want readers to know?

It is loosely based on my (Hugo Award-winning) short story Cat Pictures Please, which you can still find online:

Share something about your writing process and preferences. For instance, where is your favorite place to write?

When I'm outlining or brainstorming, I use a notebook of unlined paper, like a sketch diary. I like to write in my sunny living room but discovered at some point that the ergonomics of a couch, hassock, and lap desk will lead quickly to back problems, so I usually write at a desk in my home office.
(2) BOOKSTORE LOVE. LitHub tells the world "Now you can use your favorite indie bookstore as your Zoom background." Like this shot of Vroman's – where John King Tarpinian and I got John Scalzi to sign our copies of The Collapsing Empire a few years ago. The complete list of bookstores with notes on each one can be found on the Lookout + Ecotone blog.
(3) INGENIOUS. The Science Fiction and Fantasy Association of New Zealand blog gives a good rundown of Alison Scott's plans for "The Virtual GUFF Tour", since she can't travel there in person this year. It's an effort completely worthy of a former editor of the fanzine Plokta, "The journal of superfluous technology."
Alison Scott is the recently elected European GUFF delegate. The plan was for the winning delegate to travel down under to meet local fans and addend the 2020 Worldcon – CoNZealand. Of course because of you-know-what the borders are closed and CoNZealand has gone virtual. But Alison appears undaunted – she now plans to take a virtual tour of Australasia visiting Australian and New Zealand places and fans before attending the virtual worldcon. There will be a proper itinerary mimicking a physical journey and Alison even plans to adhere to the local timezones (yay jetlag!). You can read more about her plans and follow her progress over on the facebook group dedicated to the trip.
(4) RAMPING UP TO THE APOCALYPSE. The Baltimore Science Fiction Society has completed the ADA compliant ramp in front of their building. The January 20 Pixel Scroll ran details about the permits coming through. Club President Dale S. Arnold said today –
Although the COVID-19 emergency and related closures caused some delays, eventually the weather and logistics worked to allow completion. Many years ago when the plan for renovations to the BSFS Building was announced the author Jack Chalker commented that if a bunch of SF Fans were able to pull off that complex of a plan it would be a sign of the coming apocalypse. With the completion of this ramp (except final painting the door which was altered in the ramp design) we have now realized the dream from 1991 having completed everything planned when we bought the building.
And BSFS didn't finish a moment too soon, because the apocalypse appears to be just around the corner.
(5) NOT GENTEEL. Errolwi points out how well today's Merriam-Webster tweet complements James Davis Nicoll's famous quote about the English language:
(6) AIMLESS, IF NOT LOST, IN SPACE. And by no coincidence whatsoever, the next item is about James Davis Nicoll's latest Tor.com post, "Far From Any Star: Five Stories About Rogue Worlds".
It's been weeks since you last socialized (in the flesh) with anyone outside your household…or with anyone, if you live alone. Loneliness is tough. But things could be worse: you could be a rogue world, ejected from your home system billions of years ago. You could be a pitiful world formed far from any star. Such worlds are commonplace in our galaxy. They are not quite so common in science fiction. Still, a few of them feature in books that you may have read…
(7) JEMISIN AND GAIMAN. The Fisher Center will present "UPSTREAMING: Neil Gaiman in Conversation with N. K. Jemisin" on May 2 at 7:30 p.m. EST. However, the website says, "Tickets are not currently on sale. Call the box office for more information, 845-758-7900." So if you're interested, call.
Join Professor in the Arts Neil Gaiman for a remote, live streamed conversation with Hugo Award-winning author N. K. Jemisin (Broken Earth trilogy), whose new work The City We Became was released in March to great acclaim. The conversation is part of an ongoing Fisher Center series in which Gaiman discusses the creative process with another artist.
(8) LE GUIN IN '75. Fanac.org has posted a video recording of an Aussiecon (1975) Worldcon panel with Ursula K. Le Guin, Susan Wood and others, "Worlds I Have Discovered."
AussieCon, the 33rd Worldcon, was held in Melbourne, Australia in 1975. This panel centers on questions to Guest of Honor Ursula Le Guin's on her writing for young adults (or at least classified as for young adults). The panelists, moderated by Fan Guest of Honor Susan Wood, are Ursula herself, Stella Leeds, Peter Nicholls, Anna Shepherd, and Ann Sydhom. The video quality leaves a lot to be desired, but the discussion on Le Guin's process of writing, the panel's views on children's literature, and children's literature as a literary ghetto remain interesting and very pertinent. Remember, this was decades before the phenomena of Harry Potter.
Andrew Porter sent the link with this reminder that the same year his Algol Press published Dreams Must Explain Themselves, a 36-page chapbook whose title essay is about how Le Guin got ideas for books.
(9) TODAY IN HISTORY.
April 30, 1955 — Science Fiction Theatre's Y.O.R.D. episode first aired. Directed by Leon Benson from a screenplay by him and George Van Marter as based on a story written by Marter and Ivan Tors. Truman Bradley Was The Host and the cast included Walter Kingsford, Edna Miner Louis, Jean Heydt and DeForest Kelley. The latter would be playing Captain Hall, M.D. You can watch it here.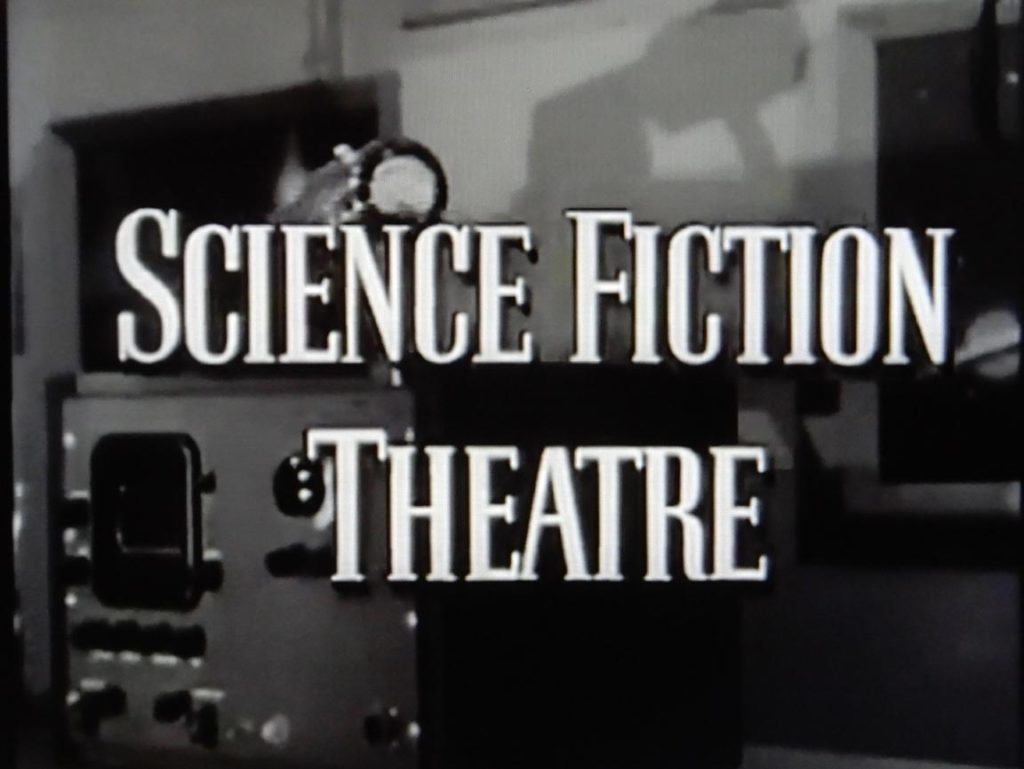 (10) TODAY'S BIRTHDAYS.
[Compiled by Cat Eldridge. Bonus typos provided by OGH.]
Born April 30, 1913 — Jane Rice. Her first story "The Dream" was published in the July 1940 issue of Unknown. Amazingly, she'd publish ten stories there during the War. Her only novel Lucy remains lost due to somewhat mysterious circumstances. Much of her short stories are collected in The Idol of the Flies and Other Stories which is not available in digital form. (Died 2003.)
Born April 30, 1920 — E. F. Bleiler. An editor, bibliographer and scholar of both sff and detective fiction. He's responsible in the Forties for co-editing the Best SF Stories with T.E. Dikty. They later edited Best Science-Fiction Stories. He also did such valuable reference guides like The Checklist of Fantastic Literature and The Guide to Supernatural Fiction. (Died 2010.)
Born April 30, 1926 — Edmund Cooper. Pulpish writer of space opera not for the easily offended. His The Uncertain Midnight has an interesting take on androids but most of his work is frankly misogynistic. And he was quite prolific with over twenty-four novels and a dozen story collections. A lot of his work is available at the usual digital suspects. (Died 1982.)
Born April 30, 1934 — William Baird Searles. Author and critic. He's best remembered for his long running review work for Asimov's where he reviewed books, and Amazing Stories and F&SF where he did film and tv reviews. I'm not familiar with his writings but I'd be interested to know who here has read Reader's Guide to Science Fiction and Reader's Guide to Fantasy which he did, as they might be useful to own. (Died 1993.)
Born April 30, 1938 — Larry Niven, 82. One of my favorite authors to read, be it Ringworld, The Mote in God's Eye with Jerry Pournelle, or the Rainbow Mars stories which I love in the audiobook version. What's your favorite Niven story? And yes, I did look up his Hugos. "Neutron Star" was his first at NyCon 3 followed by Ringworld at Noreascon 1 followed by "Inconstant Moon" (lovely story) the following year at L.A. Con I, "The Hole Man" (which I don't remember reading) at Aussiecon 1 and finally "The Borderland of Sol" novelette at MidAmericaCon. He's not won a Hugo since 1976.
Born April 30, 1973 — Naomi Novik, 47. She wrote the Temeraire series which runs to nine novels so far. Her first book, His Majesty's Dragon, won the Astounding Award. She most deservedly won the Nebula Award for Best Novel for Uprooted which is a most excellent read. I've not yet her Spinning Silver, so opinions are welcome.
Born April 30, — Gal Gadot, 34. Wonder Woman of course in the DC film universe. Other genre work, well, other than voicing Shank on Ralph Breaks the Internet, there really isn't any. She did play Linnet Ridgeway Doyle in the Kenneth Branagh production of Murder on the Orient Express which is quite lovely but hardly genre or even genre adjacent.
(11) SOUNDTRACK. Steve Vertlieb would like to introduce the world to French film composer, Thibaut Vuillermet.
(12) REVENGE OF THE GRINDHOUSE. SYFY Wire reports "Trolls World Tour Rocks $100 Million On Vod".
The decision to skip a theatrical release in the age of coronavirus was a wise move that led to big returns for DreamWorks' Trolls World Tour.

According to The Wall Street Journal, the animated movie has racked up nearly $100 million in the three short weeks since it arrived on VOD and digital platforms Friday, April 10. With approximately 5 million rentals at $19.99 a pop, Universal has generated over $77 million from a digital release model that allows studios to keep an estimated 80 percent of profits. Since the traditional theatrical model relies on a 50-50 kind of split, a film playing in a physical venue has to make a lot more money in order for a studio to turn a profit.

The real point here is that Trolls Would Tour has brought in more tangible revenue during its first 19 days on demand than the first movie did during five months in theaters.
However, one theater chain intends to punish Universal for their plans to reproduce the success by simultaneously releasing movies in theaters and through video-on-demand, presumably trimming their revenue. The Hollywood Reporter covered the announcement: "AMC Theatres Refuses to Play Universal Films in Wake of 'Trolls: World Tour'".
AMC Theatres on Tuesday delivered a blistering message to Universal Pictures, saying the world's largest cinema chain will no longer play any of the studio's films in the wake of comments made by NBCUniversal CEO Jeff Shell regarding the on-demand success of Trolls World Tour and what it means for the future of moviegoing post-coronavirus pandemic….

"The results for Trolls World Tour have exceeded our expectations and demonstrated the viability of PVOD," Shell told The Wall Street Journal, which first reported the numbers. "As soon as theaters reopen, we expect to release movies on both formats."

In a strongly worded letter to Universal Filmed Entertainment Group chairman Donna Langley, AMC Theatres chairman and-CEO Adam Aron said Shell's comments were unacceptable. AMC is the largest circuit in the world.

"It is disappointing to us, but Jeff's comments as to Universal's unilateral actions and intentions have left us with no choice. Therefore, effectively immediately AMC will no longer play any Universal movies in any of our theaters in the United States, Europe or the Middle East," Aron wrote.

"This policy affects any and all Universal movies per se, goes into effect today and as our theaters reopen, and is not some hollow or ill-considered threat," he continued. "Incidentally, this policy is not aimed solely at Universal out of pique or to be punitive in any way, it also extends to any movie maker who unilaterally abandons current windowing practices absent good faith negotiations between us, so that they as distributor and we as exhibitor both benefit and neither are hurt from such changes…."
(13) CHICKEN EATER OF THE SEA. [Item by Chip Hitchcock.] From the Harvard Gazette: "Water Beast: New paper argues the Spinosaurus was aquatic, and powered by predatory tail".
New paper argues the Spinosaurus was aquatic, and powered by predatory tail

Back in the Cretaceous period, 145 to 66 million years ago, dinosaurs dominated the land and sky. They also, a new paper argues, terrorized the aquatic realm. Recent fossil evidence has revealed that Spinosaurus aegyptiacus, among the largest of all known carnivorous dinosaurs, was a creature of the water, with a center of gravity and a giant tail fin perfect for swimming. The same paper shares robotic modeling by two Harvard scientists that shows how that large, flexible tail fin — unique among dinosaurs — would have given the giant predator a deadly propulsive thrust in the water, similar to a salamander or crocodile tail.

The paper, "Tail-Propelled Aquatic Propulsion in a Theropod Dinosaur," in the April 29 issue of Nature, uses new fossil evidence and robotically controlled models created by Harvard co-authors Stephanie E. Pierce and George V. Lauder, professors of organismic and evolutionary biology, to show its power.

Pierce said the new fossils were necessary to make their argument, as much of the fossil evidence of Spinosaurus, unearthed by German paleontologist Ernst Stromer, had been destroyed in World War II. University of Detroit paleontologist Nizar Ibrahim, the Nature paper's lead author, had located more traces of the dinosaur in Morocco in 2014, and in 2018 he went back, successfully excavating extensive Spinosaurus remains. The fossils included tail vertebrae with meter-long spines that seemed to form an expanded paddle, raising questions as to what the tail was used for.

"The working hypothesis was that Spinosaurus used its tail to swim through water," said Pierce, Thomas D. Cabot Associate Professor of Organismic and Evolutionary Biology. Ibrahim and his team reached out to Pierce, curator of vertebrate paleontology at the Museum of Comparative Zoology, to test their idea. She was immediately intrigued by the 5-plus-meter-long tail.
Yes, Dave, "Predatory Tail" would be a great name for a band.
(14) YOUR MISSION… "Nasa names companies to develop Moon landers for human missions"
Nasa has chosen the companies that will develop landers to send astronauts to the Moon's surface in the 2020s.

The White House wants to send the next man and the first woman to the Moon in 2024, to be followed by other missions.

Jeff Bezos' Blue Origin, Elon Musk's SpaceX and Alabama-based Dynetics were selected to work on landers under the space agency's Artemis programme.

The 2024 mission will see astronauts walk on the Moon's surface for the first time since 1972.

Combined, the contracts are worth $967m (£763m; €877m) and will run for a "base period" of 10 months.

"With these contract awards, America is moving forward with the final step needed to land astronauts on the Moon by 2024, including the incredible moment when we will see the first woman set foot on the lunar surface," said Nasa's administrator Jim Bridenstine.

"This is the first time since the Apollo era that Nasa has direct funding for a human landing system, and now we have companies on contract to do the work for the Artemis programme."
(15) RECIPES WITH CHARACTERS. "Need new recipes for quarantine? Pixar's YouTube channel is here to help". Entertainment Weekly shares some examples.
As Pixar taught us, anyone can cook… and now the animation studio is giving you something to cook.

The Pixar YouTube channel features a series called "Cooking With Pixar," a collection of recipes inspired by the studio's films. At the moment, the series only has three videos, but they should provide some inspiration if you're in need of something new to cook — which, it's fair to say, most of us probably are at this point.
(16) YOU'RE MELTING! "Nasa space lasers track melting of Earth's ice sheets" – BBC has the story.
Scientists have released a new analysis of how the Greenland and Antarctic ice sheets have changed, from 2003 to 2019.

The study shows that ice losses from melting have outpaced increases in snowfall, resulting in a 14mm rise in global sea-levels over the period.

We've had a number of very similar reports to this recently.

What makes this one of interest is that it uses data from the highest-resolution satellite system dedicated to studying the poles – IceSat.

This system flies space lasers over glaciers and other ice fields to track their constantly shifting shape.

The US space agency (Nasa) has now launched two of these altimeter instruments.

The first, IceSat, operated between 2003 and 2009; the second, IceSat-2, was put up in 2018.

Thursday's report is a first attempt to tie both satellites' observations together.
(17) BROTHER GUY'S AIR. "Antarctic meteorites yield global bombardment rate"
A team of UK scientists has provided a new estimate for the amount of space rock falling to Earth each year.

It's in excess of 16,000kg. This is for meteorite material above 50g in mass.

It doesn't take account of the dust that's continuously settling on the planet, and of course just occasionally we'll be hit by a real whopper of an asteroid that will skew the numbers.

But the estimate is said to give a good sense of the general quantity of rocky debris raining down from space.
(18) VIDEO OF THE DAY. Horizon on Vimeo is a short film by Armond Dijcks based on images taken by the International Space Station.
[Thanks to Joyce Scrivner, Mike Kennedy, Andrew Porter, Cat Eldridge, Chip Hitchcock, JJ, Martin Morse Wooster, Michael Toman, Errolwi, and John King Tarpinian for some of these stories. Title credit goes to File 770 contributing editor of the day Matthew Johnson.]