(1) BRADBURY SCULPTURE. The Waukegan (IL) Public Library says the triumphant moment is at hand — "Ray Bradbury Sculpture: We're Under Construction!"
…For the past four years, active community arts leaders have campaigned and fundraised to install a new piece of public art in downtown Waukegan: Zachary Oxman's Fantastical Traveler. The sculpture features an elder Bradbury astride a rocket ship, waving a book as he journeys forth.

…As part of the sculpture installation, Oxman also designed a small plaza around the statue, so you'll be seeing hard hats and fencing at the Library's front entrance very soon. Construction will not impact the Library's operating hours, and our main entrance should remain easily accessible throughout the process.

…And mark your calendars – our sculpture is set to be unveiled to the public at a special dedication ceremony on Thursday, August 22. That's Ray's 99th birthday! We'll celebrate with family-friendly activities right outside the Library at the corner of County & Clayton Sts. The fun will begin at 6:30pm, and all ages are welcome!

…We are very grateful to the local contractors who are donating their services as part of the construction effort, as well as all those whose donations have made the sculpture's arrival in Waukegan a reality!
Check out this post on the library's Facebook page for a peek inside the sculptor's studio.
(2) INTERNET HIGHWAY ROBBERY. In an LA Times op-ed, Douglas Preston tells how "Online book-selling scams steal a living from writers".
…Author doppelganging, for example, occurs when someone starts publishing books just like yours, using your name, in order to game Amazon's search algorithms. I write a series of thrillers with a partner named Lincoln Child, and our nom de plume is "Preston & Child." Half a dozen years ago, an entity named "Preston Child" started publishing thrillers amazingly like ours, with strikingly similar covers and titles.

For years, Amazon's algorithms mingled the books of "Preston Child" along with our books, as if they were by the same author. Our publisher investigated and was unable to confirm the existence of Preston Child. (It's next to impossible to prove someone doesn't exist.) It took Amazon several years before it adjusted its algorithms to distinguish "Preston Child" from "Preston & Child."

Title cloning, like author doppelganging, is legal, since you typically cannot copyright a title. Duplicate book titles are an old problem, now exacerbated by Amazon's search algorithms. Seven months after my nonfiction book "The Lost City of the Monkey God," about an expedition that discovered a lost city in the Honduran jungle, was published in 2017, a novel appeared, titled "Lost City of the Monkey God," published using Amazon's CreateSpace platform. It was also about an "expedition to discover a lost city in the Honduran jungle." The last time I searched for my bestselling book on Amazon, the other one popped up in the number 3 position — above some editions of my book.

The cheats get weirder. Nora Roberts, the author of romance novels, discovered that books were being sold on Amazon containing extensive passages lifted from her books. She found a person in Brazil who appeared to be running a plagiarism factory, in which she took Roberts' books and those of other romance authors, cut, pasted, rearranged and rewrote them to make new books to be sold on Amazon….
(3) LET US SAY IT AGAIN. Arwen Curry's Worlds of Ursula K. Le Guin documentary is being broadcast on PBS at 9 p.m.on Friday, August 2 as part of its American Masters series.
The film dives into Le Guin's childhood, steeped in the myths and stories of Native Americans she heard growing up in Berkeley, California, as the daughter of prominent 19th century anthropologist Alfred Kroeber and writer Theodora Kroeber, author of the influential book "Ishi in Two Worlds." This deep childhood understanding of cultural relativism infused her work with a unique perspective; her otherworldly societies are all in some way reflections of our own.

At the heart of the film is Le Guin's intimate journey of self-discovery as she comes into her own as a major feminist author. "What I was doing was being a woman pretending to think like a man," she says, reflecting on why her early novels put men at the center of the action. But as second-wave feminism crashed into the science fiction world in the 1970s, Le Guin recognized her own internalized notions about heroism and power. Initially defensive, she found truth in the criticisms of her work. When revisiting the realm of "Earthsea," she turned her gaze to its women, instead of powerful male wizards. The result was a transformation that echoed throughout the rest of her oeuvre. By embracing her own identity and learning to write as a woman, she eventually rose to the height of her literary power. Working across many genres, Le Guin received numerous honors, including the National Book Award, Hugo Award, Nebula Award, PEN-Malamud, and she was voted into the American Academy of Arts and Letters.
Worlds of Ursula K. Le Guin had its world premiere at the Sheffield Documentary Festival and has shown internationally at dozens of festivals, garnering numerous awards.
(4) THUNDER WITHOUT A LIZARD. Camestros Felapton does a fine analysis of a story which lacks any literal dinosaurs, anyway: "Hugosauriad 3.3: Dinosaurs by Walter Jon Williams".
…Dinosaurs has a distinctly not dinosaur-like alien species being visited by a human diplomat. The aliens are justly outraged by human attempts to terraform their worlds. They have assumed this was a pre-meditated attack by humanity against them. The diplomat has been despatched to broker a peace agreement….
(5) TAKING A READING. The Brooklyn Book Festival blog has posted "The BKBF Interview: Marlon James".
The BKBF Interview with literary giant Marlon James, author of Black Leopard, Red Wolf.

Where is your favorite place to read?

On the G train.

What is your favorite book to give an adult or a child?

An Adult: Dogeaters, by Jessica Hagedorn. Child: Anything by Walter Moers.

Tell us your best book-receiving experience.

My friends are way too intimidated to buy me books. So I just tell them what to get me….
(6) DUVERNAY'S DC PROJECT. The Hollywood Reporter eavesdropped on this Twitter Q&A: "Ava DuVernay Confirms Villains for DC's 'New Gods' Movie".
Ava DuVernay's big-screen version of DC's New Gods is years away from release, but the writer-director teased the project — and offered small updates — Tuesday afternoon during a Twitter Q&A.

In response to fans' questions, DuVernay confirmed that both Darkseid and the Female Furies will appear in the movie. The former is no surprise, as Darkseid is the main antagonist of the Jack Kirby-created comic book mythology DuVernay and co-writer Tom King will be drawing from. The latter, DuVernay suggested, is the result of her fandom of the character Big Barda, the leader of the all-woman fighting force. "I'm looking forward to [the Furies] so much," she said.
(7) NOT SO FAST. NPR's Chris Klimek summarizes Fast & Furious Presents: Hobbs & Shaw as "Better Stunts & Actors, Just As Derivative". (Classified as genresque due to cyborg badguy.)
While we were all arguing whether Idris Elba should be the new 007, he opted to become the next T-800 instead.

In Fast & Furious Presents: Hobbs & Shaw, the most agreeable of the innumerable Fast & Furious presentations, The Wire's Stringer Bell plays a straight-up Terminator, with stainless steel innards, glowing orange eyeballs, and a Google-glass-like POV datastream that gives him helpful notifications such as ATTACK IMMINENT whenever bickering-buddy good guys Dwayne Johnson (aka Hobbs) or Jason Statham (aka Shaw) cock a fist in his direction.

But he has also got more than a little Darth Vader in him, in that he's shown to be doing the bidding of a unseen superior with a digitally scrambled voice who scolds Brixton for his failures while his more-machine-now-than-man-body is welded back together, post-battle. The disembodied voice of Supreme Leader Snoke or whatever even orders Brixton to attempt to turn Hobbs & Shaw to the Dark Side instead of simply rubbing them out! There's petty larceny, there's grand theft auto.
(8) AUTHOR READINGS ON THE AIR. The New Jersey freeform radio station WFMU started a new show, Radiovert with Nicole, in June (Weds. 7-8 p.m.) which features readings from science fiction writers such as Tobias S. Buckell , Maureen F. McHugh, etc. ("Far out stories from fantastic authors ") Here's a link to the archive page: Radiovert with Nicole: Playlists and Archives. Jack Adkins promises, "It's a great show!" And here is their masthead art – tell me, Filers, can there be any doubt this show is for you?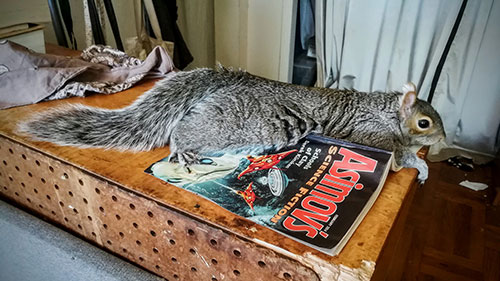 (9) TODAY'S BIRTHDAYS.
[Compiled by Cat Eldridge.]
Born August 1, 1862 — M.R. James. Writer of some of the best ghost stories ever done. A Pleasing Terror: The Complete Supernatural Writings, released in 2001 from Ash-Tree Press has forty stories which includes the thirty stories from Collected Ghost Stories plus the 3 tales published after that, and the seven from The Fenstanton Witch and Others. It's apparently the most complete collection of his stories to date. (Died 1936.)
Born August 1, 1904 — Russell R. Winterbotham. Writer of both Western and SF novels under various names. His SF novels were all written between the late Fifties and mid Sixties and had such pulpish titles as The Space Egg and The Puppet Planet.  He wrote a lot of short fiction but almost none of it nor his novels is available digitally. (Died 1971.)
Born August 1, 1910 — Raymond A. Palmer. Editor of Amazing Stories from 1938 through 1949. He's credited, along with Walter Dennis, with editing the first fanzine, The Comet, in May 1930. The secret identity of DC character the Atom as created by genre writer Gardner Fox is named after Palmer. Very little of his fiction is available in digital form. (Died 1977.)
Born August 1, 1914 — Edd Cartier. Illustrator who in 1992 received the World Fantasy Award for lifetime achievement, being the first artist to receive that honor. His artwork was first published in Street and Smith publications, including The Shadow, to which he provided many interior illustrations, and Astounding Science Fiction, Doc Savage Magazine and Unknown as well. (Died 2008.)
Born August 1, 1930 — Geoffrey Holder. Best remembered for his performance as Baron Samedi in Live and Let Die but he's also the narrator in Tim Burton's Charlie and The Chocolate Factory. He was Willie Shakespeare in Doctor Doolittle but it's been so long since I saw the film that I can't picture his character. And he was The Cheshire Cat in an Alice in Wonderland that had Richard Burton as The White Knight. (Died 2014.)
Born August 1, 1954 — James Gleick, 65. Author of, among many other books, Genius: The Life and Science of Richard Feynman and What Just Happened: A Chronicle from the Electronic Frontier, and he is one of us, which is that he writes genre reviews — collected in Time Travel: A History. Among the works he's reviewed are Le Guin's "Another Story or A Fisherman of the Inland Sea" and Heinlein 's "By His Bootstraps".
Born August 1, 1955 — Annabel Jankel, 64. Film and TV director who  was first  a music video director and then the co-creator and director of Max Headroom. She and her partner Rocky Morton first created and directed The Max Talking Headroom Show, a mix of interviews and music vids which aired on Channel 4 and HBO. Jankel and Morton would go on to direct Super Mario Bros. And they're both responsible for the Max Headroom movie and series.
Born August 1, 1979 — Jason Momoa, 40. I knew it seen before he showed up as Aquaman in the DC film universe and I was right as he was Ronon Dex on Stargate Atlantis for five seasons. He was also Khal Drogo in the first season of A Game of Thrones. And not surprisingly, he was the title character in Conan the Barbarian. 
(10) ANCIENT LIBRARY. In Mauretania is a largely forgotten ancient desert library — the thread starts here.
(11) WILL YOU DARE TO WEAR A SHIRT OF RED? "Sandbox VR to Launch "Star Trek" Location-Based Reality Experience" – Variety has the story.
San Francisco-based virtual reality startup Sandbox VR has teamed up with CBS Interactive to launch a new "Star Trek" virtual reality (VR) experience this fall. "Star Trek: Discovery Away Mission" will allow up to 6 friends to enter the world of the series, complete with phasers and tricoders, and a holodeck to boot.

The new location will first be available at existing Sandbox VR locations in Hong Kong, the San Francisco Bay Area and Los Angeles, and come to new locations in New York, Austin, San Diego and Chicago soon after.
(12) SOURCE OF CRAZY IDEAS. Behind a paywall in the July 27 Financial Times, famous people were asked how they were spending their summers. Guillermo Del Toro said he was scouting locations and working on a script for his remake of Pinocchio.
FINANCIAL TIMES:  "What's your best memory of childhood summer holidays?"

DEL TORO:  "Reading Ray Bradbury in a hammock, by an avocado tree in Lake Chapala, Mexico."
(13) SIGNED BRADBURY PRINTS. Gauntlet Press is running a Bradbury Oil Painting Special:
To celebrate the Ray Bradbury's birthday (August 22) when he would be 99-years old, we are offering a special on Bradbury prints.

Besides being an acclaimed author he was also well-known for his oil paintings, a number of which we used for the covers of his signed limited editions. We have two we're making available to commemorate his birthday, both SIGNED by Bradbury.

His oil painting from IT CAME FROM OUTER SPACE & His oil painting from SOMEWHERE A BAND IS PLAYING.
(14) DARK VIEWING. For your information, there's a Netflix Official Site for The Dark Crystal: Age of Resistance with the latest trailer and other videos.
In this prequel to the fantasy classic, three young Gelfling inspire a rebellion against the cruel Emperor when they discover a horrifying secret.
(15) HUNTING THE 99 PERCENT. Slate's Matthew Dessem introduces a film's trailer — "Capturing the Zeitgeist: The Hunt Is About Rich People Hunting Poor People for Sport".
It's a truism that horror, science fiction, and exploitation films often wrestle with a society's ills earlier and more frankly than other genres, even if they dress the problem up in a Godzilla suit. We're facing our fair share of brand new, atom-bomb-class impending catastrophes today, but one of America's biggest problems was already ancient when Paul sat down to drop Timothy a line, and, judging from the trailer, The Hunt is aiming to shoot it in the lungs with an arrow. The rest of cinema hasn't exactly ignored greed or money as a subject: from President Business all the way back to Eisenstein's smoke-filled rooms, cinema's got no shortage of greedy capitalist villains. But there have been far fewer films that have played around with the unpleasant fact that, as a general rule, the wealthiest people in the world don't see, think about, or treat the rest of us like human beings. Boots Riley's Sorry to Bother You recently literalized this for a science-fiction take in which capitalists develop an alarming solution to building the workforce of tomorrow, and now director Craig Zobel and screenwriters Nick Cuse and Damon Lindelof are chiming in from the horror section, as the trailer for The Hunt makes clear:
(16) DON'T BOGART THAT CREDIT. BBC reports claims that "AI system 'should be recognised as inventor'".
An artificial intelligence system should be recognised as the inventor of two ideas in patents filed on its behalf, a team of UK academics says.

The AI has designed interlocking food containers that are easy for robots to grasp and a warning light that flashes in a rhythm that is hard to ignore.

Patents offices insist innovations are attributed to humans – to avoid legal complications that would arise if corporate inventorship were recognised.

The academics say this is "outdated".

And it could see patent offices refusing to assign any intellectual property rights for AI-generated creations.
As a result, two professors from the University of Surrey have teamed up with the Missouri-based inventor of Dabus AI to file patents in the system's name with the relevant authorities in the UK, Europe and US.
(17) PRESS ENTER. NPR's profile "Our Language Is Evolving, 'Because Internet'" should be good for a few arguments…
The Internet has become a place where we cultivate relationships. Through quick messages that we type with our thumbs on our phones, we keep in touch with friends and family; we flirt and fall in love.

And the potential for miscommunication abounds. Who among us hasn't wondered whether a message in ALL CAPS meant it was especially urgent? Furious? Or just enthusiastic?

The linguist Gretchen McCulloch aims to clear some things up with her new book, Because Internet: Understanding the New Rules of Language. The "new" rules, she says in an interview, are "emergent."

"So the old rules are these top-down, 'here's how you use an apostrophe,' 'here's how you use a semicolon' type of thing," McCulloch says. "The new rules are about: How are other people going to interpret your tone of voice? … The old rules are about using language to demonstrate intellectual superiority, and the new rules are about using language to create connection between people."

McCulloch says a lot of the confusion stems from the fact that people read Internet writing differently, depending on when they first went online. She gives NPR a few examples.
The author also features at Whatever today in "The Big Idea: Gretchen McCulloch".
In 2014, I started writing a book about internet language. Every so often, while I was working on it, I would look at myself and think, surely this is a fool's errand. How could I possibly sum up the entirety of the living, breathing language of the internet within a couple hundred static pages? 
[Thanks to Cat Eldridge, John King Tarpinian, Martin More Wooster, Jack Adkins, Chip Hitchcock, Mike Kennedy, StephenfromOttawa, Rob Thornton, Carl Slaughter, and Andrew Porter for some of these stories. Title credit goes to File 770 contributing editor of the day Soon Lee and Greg Hullender in magnificent collaboration.]