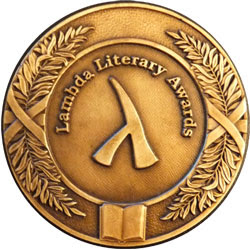 The finalsts for the 32nd Annual Lambda Literary Awards were announced March 10. The finalists were selected by a panel of over 60 literary professionals from more than 1,000 book submissions from over 300 publishers.
The winners will be announced June 8 in New York City
See the finalists in all 24 categories at the link.
LGBTQ Science Fiction/Fantasy/Horror
Black Leopard, Red Wolf, Marlon James, Riverhead Books
The Deep, Rivers Solomon, Daveed Diggs, William Hutson, and Jonathan Snipes, Gallery / Saga Press
False Bingo, Jac Jemc, Farrar, Straus and Giroux
The Priory of the Orange Tree, Samantha Shannon, Bloomsbury Publishing
The Rampant, Julie C. Day, Aqueduct Press
A Spectral Hue, Craig Laurance Gidney, Word Horde
Stories to Sing in the Dark, Matthew Bright, Lethe Press
Wake, Siren, Nina MacLaughlin, Farrar, Straus and Giroux
Other categories with many works of genre interest, plus individual nominees of interest, include —
Transgender Fiction
The Beatrix Gates, Rachel Pollack, PM Press
Honey Walls, Bones McKay, McKay & Gray Publications
Little Blue Encyclopedia (for Vivian), Hazel Jane Plante, Metonymy Press
Poet, Prophet, Fox: The Tale of Sinnach the Seer, M.Z. McDonnell, Self-published
The Trans Space Octopus Congregation, Bogi Takács, Lethe Press
LGBTQ Comics
Are You Listening?, Tillie Walden, First Second
Cannonball, Kelsey Wroten, Uncivilized Books
Death Threat, Vivek Shraya, illustrated by Ness Lee, Arsenal Pulp Press
Is This How You See Me?, Jaime Hernandez, Fantagraphics Books
Laura Dean Keeps Breaking Up With Me, Mariko Tamaki, illustrated by Rosemary Valero O'Connell, First Second
LGBTQ Nonfiction
In the Dream House, Carmen Maria Machado, Graywolf Press
LGBTQ Studies
Queer Times, Black Futures, Kara Keeling, New York University Press
Lesbian Mystery
The Hound of Justice, Claire O'Dell, Harper Voyager