(1) MORE ABOUT LAST DANGEROUS VISIONS. Ellison estate executor J. Michael Straczynski announced yesterday that Last Dangerous Visions will be submitted to publishers in 2021. Some of the comments here prompted me to ask him will there be author/story introductions written by Harlan Ellison in the book? Straczynski answered, "More information about specific content will come later."
(2) FUTURE SHARKS. Andrew Liptak contends "Tech CEOs should stop using Science Fiction as a blueprint for humanity's future in space".
… Musk isn't alone in his love of science fiction. Amazon and Blue Origin founder Jeff Bezos has noted that he's a particular fan of Kim Stanley Robinson's Red Mars and Star Trek. In Rocket Billionaires: Elon Musk, Jeff Bezos, and the New Space Race, Tim Fernholz notes that Bezos had long been interested in space exploration, saying in his high school valedictorian speech that we could save humanity "by creating permanent human colonies in orbiting space stations while turning the planet into an enormous nature preserve."

… While science fiction makes for fine inspirational material, it needs to be treated with some level of skepticism. Countless writers and artists have imagined what life in space might look like, but the genre they built got its start at a time when rocketry and space travel were in their earliest stages. They took technological leaps beyond our capabilities to imagine interstellar ships, space stations, intelligent robots, and more, which made for fine storytelling material, but which were also several steps away from reality. That was their job: to imagine fantastical, entertaining adventures, rather than write about what they were seeing around them.

While it's steeped in a form of realism (depending on how "hard" you want your science fiction), the arts are only a simulacrum for the world around us. Based on what we know now, interstellar empires, travel between star systems, and colonizing other planets are improbable ventures.

In 2015, author Kim Stanley Robinson sought to tackle the long-standing trope of the Generation Ships — a spaceship designed to take hundreds or thousands of years to reach its destination, the descendants of the original crew carrying on the flag of humanity — with his novel Aurora. The result was a bleak outlook for his crew members: riding a starship that had begun to break down because of unforeseen problems and shortages, and a destination that proved to be habitable, but extremely inhospitable for human habitation. Other authors have drawn on recent scholarship to imagine a more plausible universe in which we might end up. Adrian Tchaikovsky's Children of Time and its sequel Children of Ruin each take the enormous interstellar distances into account and imagine various survivors of humanity's ambitions as they seek to terraform the universe to better suit them.
(3) LAT BOOK CLUB FEATURES BUTLER GIVEAWAY. The Los Angeles Times Book Club will host Lynell George, author of A Handful of Dirt, A Handful of Sky: The World of Octavia E. Butler on November 18 to discuss Butler's work and her enduring legacy. The event will be livestreamed on the Times' Facebook page, YouTube and Twitter. Sign up at Eventbrite — this event is free. And when you register for this event, you can receive a free copy of one of 10 books written by Butler or another sci-fi great — thanks to a generous donation from the author's estate.
After working as a telemarketer, potato chip inspector and dishwasher, Butler went on to a groundbreaking writing career, publishing 12 novels and several short-story collections. She earned two Nebula and two Hugo awards and became the first science fiction writer to win a MacArthur "genius" grant….

Butler's 1993 "Parable of the Sower" envisioned a Los Angeles ravaged by climate change and economic injustice where people are scraping by just to survive. The author died in 2006 but her novel has surged in popularity in recent months. "Parable of the Sower" landedon both the Los Angeles Times and New York Times bestseller lists this fall.
(4) TAKING THE PAIN OUT OF PAINT. North Hollywood's Iliad Bookshop had its famous murals vandalized and tagged. They've started a GoFundMe — Restore The Iliad Bookshop's Mural – to raise $4,000 and have it redone. See photos of all the authors on the original murals here.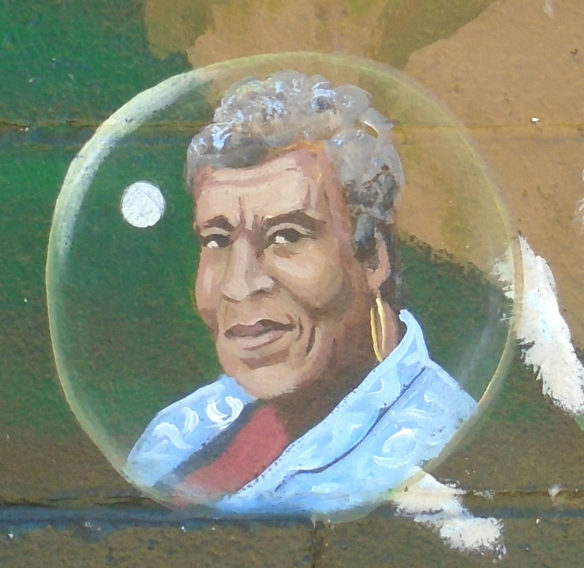 The Iliad Bookshop was founded by Dan Weinstein in 1987, and moved to its current location at the corner of Chandler and Cahuenga Blvds. in North Hollywood in 2006. Besides its vast inventory of used books and its adorable cats, the Iliad has always been known for its beautiful murals. When we moved to our current location, we hired British artist Paul Dilworth to decorate our walls with murals that depicted dozens of famous authors, musicians, mythological characters, and others. Paul has expanded the mural over the years, and we added custom-made giant books as well.

Our mural was more than a source of pride for the Iliad; we believe it was a valuable part of the local community. Travelers from all over the world admired the art; we've had visitors, authors, and even newlyweds pose in front of the mural.

If you'd like to see the mural in its entirety, complete with a list of all the authors who appeared on it, please click here .

On October 23, 2020, we arrived to find that much of the Chandler wall had been vandalized by taggers who painted over a number of author portraits, including Shirley Jackson, Philip K. Dick, and Octavia Butler. There is a protective coating on the mural, but when the tag is rendered in thick enamel layers there's no way to remove it. All you can do is paint over it.

Of course it broke our hearts (as if 2020 wasn't already hard enough on a small independent bookstore), but more importantly, it left many of our customers and neighbors heartbroken and angry. We painted over the graffiti…

…and were tagged again two days later. Once more we painted over the tag.

It's now been two weeks and we haven't been tagged again, so we're ready to think about fixing the mural. Since the original artist, Paul Dilworth, is on lockdown in the U.K. we can't hire him, but he has recommended a local artist to restore the mural.
(5) $¢REW REALITY. [Item by Mike Kennedy.] When it came time for a wrap party, the cast and crew of Matrix 4 decided to abandon reality — the reality of COVID-19 restrictions, that is.TMZ has the story: "'Matrix 4' Cast and Crew Throw Secret Wrap Party in Germany".
The wrap party went down Wednesday in Babelsberg, Germany on a film studio stage, and they reportedly had a cover story — filming a party scene for the movie — and a code name … "Ice Cream Team Event."

The party included around 200 guests who took rapid COVID tests, and were handed masks. But, as you can see from the pics and vid … most took off their masks once inside. It's unclear if any of the big stars — Keanu Reeves, Jada Pinkett Smith or Priyanka Chopra — attended the party.

…"Matrix 4″ production moved to Germany back in March when the pandemic hit and was temporarily forced to pause production there as the global health crisis worsened. The release date was also pushed back from May 2021 to April 2022.

Germany implemented a 4-week partial nationwide lockdown that went into effect November 2 … with bars, clubs, restaurants and theaters closing. Germany's Chancellor, Angela Merkel, had urged people to stay home to flatten the curve of a recent COVID spike.
(6) TRIVIAL TRIVIA.
Who received Martian Driver License #1?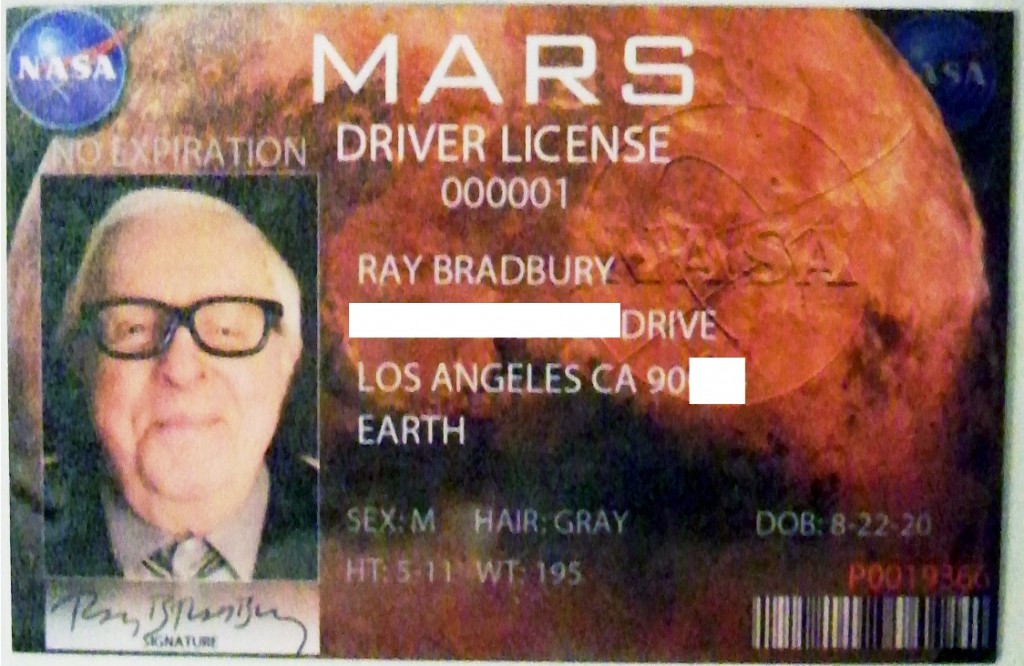 (7) WALKER OBIT. Colorado conrunner John S. Walker died November 8 reports Anime News Network.
The Colorado Anime Fest event revealed on Wednesday that staff member of the Nan Desu Kan (NDK) convention and former president of Denver Anime International John S. Walker passed away on November 8. He was 45.

Colorado Anime Fest also noted that Walker was a frequent panelist of the event, and that he also worked for the Starfest Convention, MileHiCon, and Denver Pop Culture Con. Colorado Anime Fest added, "His legacy will live on through all of Colorado's conventions and the countless people he helped. But we will greatly miss him."
(8) MEDIA ANNIVERSARY.
1980 — Forty years ago, the British Fantasy Society gave the August Derleth Fantasy Award for Best Novel to Tanith Lee's Death's Master. It's the second of her Tales of the Flat Earth series which led off with Night's Master. It was published the previous year as Daws Books' Daw Collectors #324. Cover art by by David Schleinkofer, interior art is by Jack Gaughan.
(9) TODAY'S BIRTHDAYS.
[Compiled by Cat Eldridge and John Hertz.]
Born November 14, 1907 — Astrid Lindgren. Creator of the Pippi Longstocking series and, at least in the States, lesser known Emil i Lönneberga, Karlsson-on-the-Roof, and the Six Bullerby Children series as well. In January 2017, she was calculated to be the world's 18th most translated author, and the fourth most translated children's writer after Enid Blyton, H. C. Andersen and the Brothers Grimm.  There have been at least forty video adaptations of her works over the decades mostly in Swedish but Ronja, the Robber's Daughter was an animated series in Japan recently. The Astrid Lindgren Memorial Award, world's largest award for children's and young adult literature, is named for her. (Died 2002.) (CE) 
Born November 14, 1932 – Alex Ebel.  Thirty covers, forty interiors for us; other illustration including World Book.  Known for The Left Hand of Darkness.  Did The Dispossessed too.  Here is the Winter 54 Fantastic Story.  Here is an interior from the Mar 53 Fantasy (Sheckley, "The Demons").  Here is When the Star Kings Die.  (Died 2013) [JH]
Born November 14, 1949 – Carol Matas, 71.  A dozen novels for us, half again as many with Perry Nodelman.  Outside our field a dozen more, and another half dozen contributions to Dear Canada and I Am Canada.  Bilson Award, Sydney Taylor Award, Silver Birch.  [JH]
Born November 14, 1951 – Moshe Feder, 69.  Fan and pro.  Co-created the FAAn (Fan Activity Achievement) Awards.  Co-author of The Mimeo Man.  Chaired Corflu 7 (corflu = mimeo correction fluid; fanziners' con), Guest of Honor at Corflu 19 (there's something I'm not telling you about Corflu Guests of Honor); also Ozymandias 2, Minicon 45, Loscon 46.  Skylark Award.  Consulting editor at Tor.  Likes Komodo Dragons, railroads, Coca-Cola, and New York.  [JH]
Born November 14, 1951 — Beth Meacham, 69. In 1984, she became an editor for Tor Books, where she rose to the position of editor-in-chief. After her 1989 move to the west coast, she continued working for Tor as an executive editor which she just retired from.  She does have one novel, co-written with Tappan King, entitled Nightshade Book One: Terror, Inc. and a handful of short fiction. (CE)
Born November 14, 1959 — Paul McGann, 61. Yes, he only did one film as the eighth incarnation of the Doctor in the 1996 Doctor Who television film, but that role he has reprised in more than eighty audio dramas and the 2013 short film entitled "The Night of the Doctor". Other genre appearances include The Pit and the Pendulum: A Study in Torture, Alien 3, the excellent FairyTale: A True Story, Queen of the Damned and Lesbian Vampire Killers. (CE)
Born November 14, 1959 – Wolf von Witting, 61.  Born in Finland, lives in Italy, has published fanzines in English, German, and Swedish, currently CounterClock (European SF Award for Best Fanzine), about which Teddy Harva asks: Appeltofft Award.  [JH]
Born November 14, 1963 – Gail Anderson-Dagatz, 57.  Her first novel The Cure for Death by Lightning unfolds partly through narrative and partly through a collection of recipes and household tips belonging to the narrator's mother; a Canadian best-seller; Ethel Wilson Prize, Betty Trask Award.  One more for us; three others and a collection of shorter stories.  [JH]
Born November 14, 1963 — Cat Rambo, 57. All-around great person. Really. Recently finished up a term as SWFA President.  She was editor of Fantasy Magazine for four years which earned her a 2012 World Fantasy Special Award: Non-Professional nomination. Her story "Five Ways to Fall in Love on Planet Porcelain", was a Nebula Award finalist.  Her first novel, Beasts of Tabat, is the beginning of what I suspect will be an impressive fantasy quartet. Hearts Of Tabat came this year.  She also writes amazing short fiction as well.  The Rambo Academy for Wayward Writers is her long-standing school for writers that provides her excellent assistance in learning proper writing skills both live and on demand as well. You can get details  here. (CE) 
Born November 14, 1969 — Daniel Abraham, 51. Co-author with Ty Franck of The Expanse series which I really must get back get to having only read the first four volumes. Under the pseudonym M. L. N. Hanover, he is the author of the Black Sun's Daughter urban fantasy series.  He collaborated with George R. R. Martin and Gardner Dozois to write the Hunter's Run. A frequent collaborator of Martin, Abraham adapted several of Martin's works into comic books and graphic novels, such as A Game of Thrones: The Graphic Novel, and has contributed to several Wild Cards anthologies . (CE) 
Born November 14, 1976 — Christopher Demetral, 44. He also played the title character on the oh so excellent The Secret Adventures of Jules Verne series which still isn't on DVD or streaming services, damn it. He shows up in the "Future Imperfect" episode of Next Gen, and had the recurring role of Jack on Lois & Clark: The New Adventures of Superman. (CE) 
Born November 14, 1995 – Elizabeth Anne McKinney, 25.  Two novels for us so far.  A Texan (born in Dripping Springs) studying in Virginia who dreams of living in Scotland.  [JH]
(10) COMICS SECTION.
(11) FLORIDA MAN. SYFY Wire interviews him: "A Year After A Heartbreaking Theft, Florida Man Says Goodbye To $2m Batman Collection".
It took losing his collection of Batman comics to make one collector realize, it was time to say goodbye.

Randy Lawrence has spent the better part of his 60 years putting together a legendary collection of high-grade, ultra-rare Batman comics. The CGC-certified "Alfred Pennyworth" collection is known in collecting circles as being the gold standard for Batman comic book collections. "This collection is so beautiful and it's such a cool high grade," Lawrence says. "It's the number one Batman collection on the [CGC] registry."

The 1,000+ issues are going up for auction in two separate events by Heritage Auctions, the first one of which will take place on Nov. 19-22….

The collection includes gems such as Batman #2, a book that's sought-after in any condition. But Lawrence's is a CGC-graded 9.0, an absurdly high-grade copy of a Golden Age book….

Of course, a lot of people learned about the existence of Lawrence's astonishing collection when it made headlines in January of 2019. Thieves broke into the storage facility in Boca Raton, Florida, where he had kept his collection and stolen nearly 500 of his valuable comics. Being a very careful and organized collector, Lawrence recalls that it was one box that was slightly out of place that made him think something was wrong. "I had only gone there to put some stuff away and inventory some new books that I had gotten. And I didn't remember touching that box," he says. "So I pulled the top off the first CGC box and it was empty. And then I ripped off the next one and it was empty and so on. And I remember I let out like, it was a primal scream, like a wounded animal. It was like my whole life had just disappeared."

…It would take more than a year, but he would recover every single comic that was stolen from the storage facility, except one (and Lawrence says it wasn't a key book). But after the ordeal, and the fight to get them all back, it made him realize that perhaps it was time to move on from comics. And then, a deal he thought he had to fill one hole in his collection, a high-grade copy of Batman #26, fell through in such a way that soured him on the current state of high-grade collecting. "I said, you know what, between the stress that I went through to get my comics back and now what happened trying to get that Batman issue, I said, 'it's time.'"
(12) ON ANY GIVEN SUNDAY. "SpaceX, NASA delay Crew-1 astronaut launch to Sunday due to rocket recovery weather" reports Space.com.
SpaceX's first four-astronaut launch for NASA is going to have to wait at least an extra day to get off the ground.

A SpaceX Falcon 9 rocket and Crew Dragon capsule were slated to launch the astronauts to the International Space Station on Saturday (Nov. 14) from NASA's Kennedy Space Center in Florida. That mission, called Crew-1, will now launch no earlier than Sunday at 7:27 p.m. EST (0027 Nov. 16 GMT) due to weather delays from Tropical Storm Eta that affected SpaceX's drone ship rocket recovery operations. The launch itself had a promising 70% chance of good weather.

"Fundamentally, this was an issue of getting the drone ship there in time," Benji Reed, SpaceX's senior director for human spaceflight programs, told reporters in a Friday press conference. "The weather was such because of this tropical storm, that we couldn't get the drone ship to leave in time and get there."
(13) BITES OF HISTORY. The Washington Post tells how "London's mudlarks find castoff history along the Thames".
… Beneath our feet are what at first appear to be just tide-washed sand and stone. Maiklem reaches down and picks up a piece of red clay with a thick lip. It's a bit of Roman roof.

"They were the first to mass-produce this," she says, following the invasion of A.D. 43, led by Roman Emperor Claudius, whose legions founded the city Londinium along the shores of the Thames.

There's so much roofing material that the mudlarks rarely keep a piece, but what Maiklem covets are fragments of tile with a story. She's found pieces with the impression of a child's fingers, with cat paw prints, left by those long gone who strayed across the drying clay.

Across the river is the Tate Modern museum and London City Hall and the replica of Shakespeare's Globe Theatre. On our side are the ruins of Walbrook Wharf, where a trash barge nests on a pebbly beach.

To Maiklem's practiced eyes, the foreshore is a midden, filled with Elizabethan pennies from Shakespeare's day, beads used in Africa as part of the slave trade, and scores of clay pipes. While the pipe bowls are rare, the stems are plentiful, ranging in date from 1580 through the early 1900s. Once Maiklem points out what to look for — short lengths of bone-white stem — I see them all over.

"I love the ones where you can see someone's teeth marks," she says….
(14) MAGIC MOUNTAIN'S COVID-PROOF CHRISTMAS. In Santa Clarita, CA —"Six Flags Magic Mountain To Host Drive-Thru Holiday In The Park" beginning at 6 p.m. on select evenings from November 20 to January 3.
…Magic Mountain is set to have guests experience eight distinctly different areas throughout the park with millions of twinkling lights choreographed to festive music, characters "decked out" for the holidays, iconic Holiday in the Park decorations, and a drive-by featuring Santa and his elves.

As one of the largest holiday drive-through events in Southern California and the only one inside a theme park, the Holiday in the Park Drive-Thru Experience will include eight immersive, distinctly different areas throughout the 125-acre theme park which will be filled with an exquisite palette of colorful twinkling lights, choreographed to festive music….
Rockin' Universe in DC Universe features "dancing" lights customized to contemporary holiday music favorites in one of the largest light displays of its kind in Southern California;
Merry Lane, located in Metropolis includes magnificent, larger-than-life 30-foot brilliantly lit ornaments with thousands of twinkling lights synchronized to holiday music;
The Underground, a newly added section of the park this year, will feature several rarely-seen show cars from world-famous West Coast Customs' vast collection, in a unique setting decked out for the season (car enthusiasts—get your cameras ready!);
Winter Wonderland is the site of beautifully adorned pine trees with red and white lights at Katy's Kettle, continuing with fanciful "ice" sculptures and tree-filled white lights simulating winter-like conditions along the hilly path toward Viper;
Holiday Square is a kaleidoscope of breath-taking color, featuring falling "snow" and hundreds of thousands of lights on trees and buildings throughout the main gate area;
Snowy Nights will delight guests with its high energy vibe and contemporary tunes while marveling at the magnificent silver and blue décor of the area;
North Pole Plaza located in front of Golden Bear Theatre, is where Mrs. Claus and her merry, mischievous, and bumbling elves will entertain guests from afar; and
Gleampunk District is the largest area of the event and is a journey back in time to the sights and sounds of the 19th century's industrial revolution, featuring thousands of lights illuminating the tree-lined streets and the steampunk-inspired mechanical sculptures amid the light-blanketed planters. Santa will bid guests a joyous holiday farewell from the safety of his magnificent over-sized sleigh at the conclusion of the Holiday in the Park Drive-Thru Experience.
(15) WELCOME TO KAIJULAND. "New Japanese theme park attraction lets guests zipline into Godzilla's mouth" – and CNN has photos.
In what could be viewed as a fitting metaphor for 2020, a new theme park ride in Japan lets guests zipline into the gaping mouth of a massive Godzilla statue.

Part of a new attraction called Godzilla Interception Operation Awaji, it officially opened in October at Nijigen no Mori, a theme park located on Awaji Island, southwest of Kobe and Osaka.

The star of the new attraction is the "life-size" Godzilla, which measures 20 meters (65 feet) high, 25 meters (82 feet) wide and 55 meters (180 feet) long and sits in the heart of the park.
Here's a video taking you through the whole experience:
[Thanks to Cat Eldridge, John King Tarpinian, John Hertz, Mike Kennedy, Andrew Porter, Michael Toman, JJ, and Martin Morse Wooster for some of these stories. Title credit goes to File 770 contributing editor of the day Meredith.]