(1) I'M WALKIN' HERE. "Facebook: Star Wars' Mark Hamill deletes account over political ads" – BBC has the story.
Star Wars actor Mark Hamill has deleted his Facebook account, lambasting the company's political ads policy.

In a tweet, the celebrity accused the firm's chief Mark Zuckerberg of having valued profit over truthfulness.

It followed its decision to let politicians run adverts that contain lies on the social network.

The firm has said that it does not believe decisions about which political ads run should be left to private companies.
(2) MEAT SUIT. It's only the second week in January and Nerd & Tie's Trae Dorn has already written the headline of the year: "Meat Loaf Suing Horror Convention Texas Frightmare Weekend". Oh, I suppose you want the story, too….
Michael Lee Aday, better known by his stage name "Meat Loaf," is currently suing horror convention Texas Frightmare Weekend and its venue the Hyatt Regency DFW in Tarrant County, Texas. According to NBC 10:
(3) READ ALL ABOUT IT. SF2 Concatenation's spring edition is now up. Principal contents include:
Interesting to compare this last with this season's news page's SF publishing news.
Plus there are many standalone SF/FH book and non-fiction SF & science book reviews.
Full details at SF2 Concatenation's What's New page.
(4) YOU GO, JOHN. A Whatever pop quiz: "Hey, Guess Who Will Be Going to Dragon Con This Year?"
Answer:
Next quiz question: What Dragon Awards category will he be presenting?
(5) TWEETS OF FLAME. "Stephen King slammed for 'ignorant' tweet about not considering 'diversity' when voting for the Oscars" – Yahoo! Entertainment has a roundup of King's tweet and the reactions.
Famed writer Stephen King has stirred up controversy after admitting he "would never consider diversity in matters of art," a remark made in reference to his status as a member of the Academy of Motion Picture Arts and Sciences (AMPAS) voting on Oscar contenders. His remarks come a day after the 2020 Oscar nominations were announced, prompting complaints that women and people of color were largely overlooked. Many critics bemoaned the exclusion of women like Greta Gerwig from the Best Director category, while Harriet's Cynthia Erivo spoke out about being the only person of color to be nominated across four acting categories.
(6) SIX-PACK. Nerds of a Feather's Paul Weimer discusses "6 Books with Gareth Hanrahan".
4. How about a book you've changed your mind about – either positively or negatively?

Jeff Vandermeer's Shriek: An Afterword. I loved the first Ambergris book, City of Saints and Madmen. I picked up Shriek next, and found it utterly incomprehensible and dull. Years later, I got the third book in the sequence, Finch, and loved it. I then gave Shriek another try, and it felt like a completely different book. I was astounded at myself for hating it the first time, and I've no idea why I bounced off it so hard. 
(7) CAROL SERLING OBIT. Carol Serling, widow of Twilight Zone's Rod Serling and mother of author Anne Serling died January 9 reports the Binghamton (NY) Press & Sun-Bulletin.
After the death of her husband, due to complications after heart surgery, Carol worked to keep Rod's legacy alive.

In 1981, she launched the monthly "The Twilight Zone Magazine" and served as the publication's editor from 1981 through 1989. She held the legal rights to Serling's name and likeness. CBS owns the rights to the television series.

In 1994, two new episodes of the sci-fi television series were aired on CBS based on material found by Carol after Rod's death and then sold to CBS. They aired in a two-hour special titled "Twilight Zone: Rod Serling's Lost Classics."

That same year, the Twilight Zone Tower of Terror theme park ride opened at Walt Disney World's Hollywood Studios (then MGM Studio Theme Park) in Orlando, Florida, and Binghamton High School dedicated its arts program as the Rod Serling School of Fine Arts.
(8) TODAY IN HISTORY.
January 14, 1954 — Riders To The Stars premiered. It was directed by Richard Carlson (who also stars) and Herbert L. Strock (who is uncredited for unknown reasons) and has the additional cast of  William Lundigan, Martha Hyer, and Herbert Marshall. Riders to the Stars is the second film in Ivan Tors' Office of Scientific Investigation trilogy, which was preceded by The Magnetic Monster and followed by Gog. All in all, reviewers considered it a quite unremarkable film. It has no rating at Rotten Tomatoes though Amazon reviewers were kind to it. Fortunately you can judge for yourself as the film is here to watch.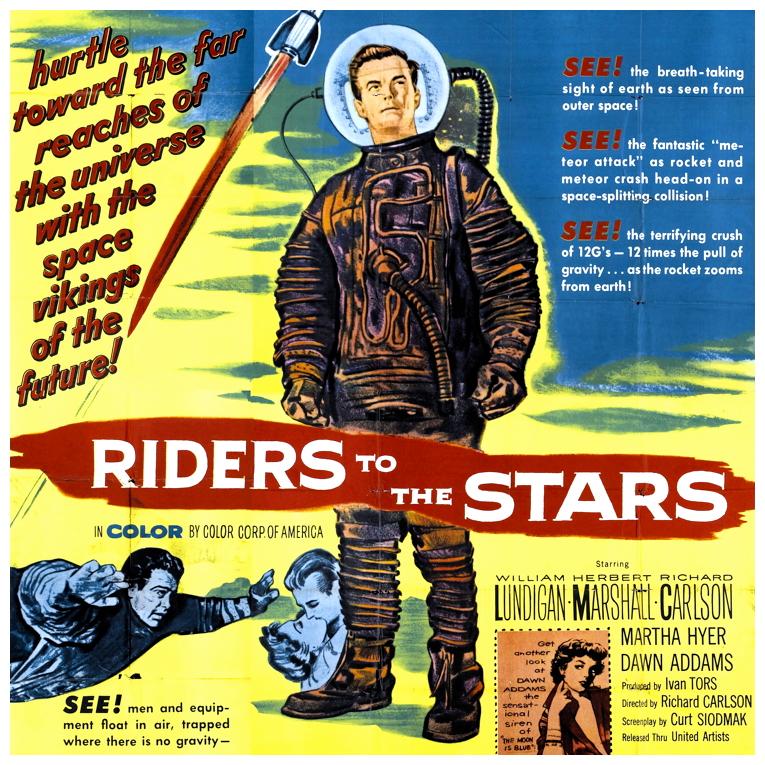 January 14, 1959 — Journey to the Center of the Earth premiered.
January 14, 1976 — The Bionic Woman aired its first episode. A spin-off from The Six Million Dollar Man, it starred Lindsay Wagner, Richard Anderson and Martin E. Brooks. It run just three seasons, half of what the parent show ran. It on ABC, NBC and finally on CBS. 
January 14, 1981 — Scanners premiered. Directed by David Cronenberg and produced by Claude Héroux, it starred Jennifer O'Neill, Stephen Lack, Patrick McGoohan, Lawrence Dane and Michael Ironside. Reviewers, with the exception of Ebert, generally liked it, and reviewers at Rotten Tomatoes currently give it a healthy 64% rating.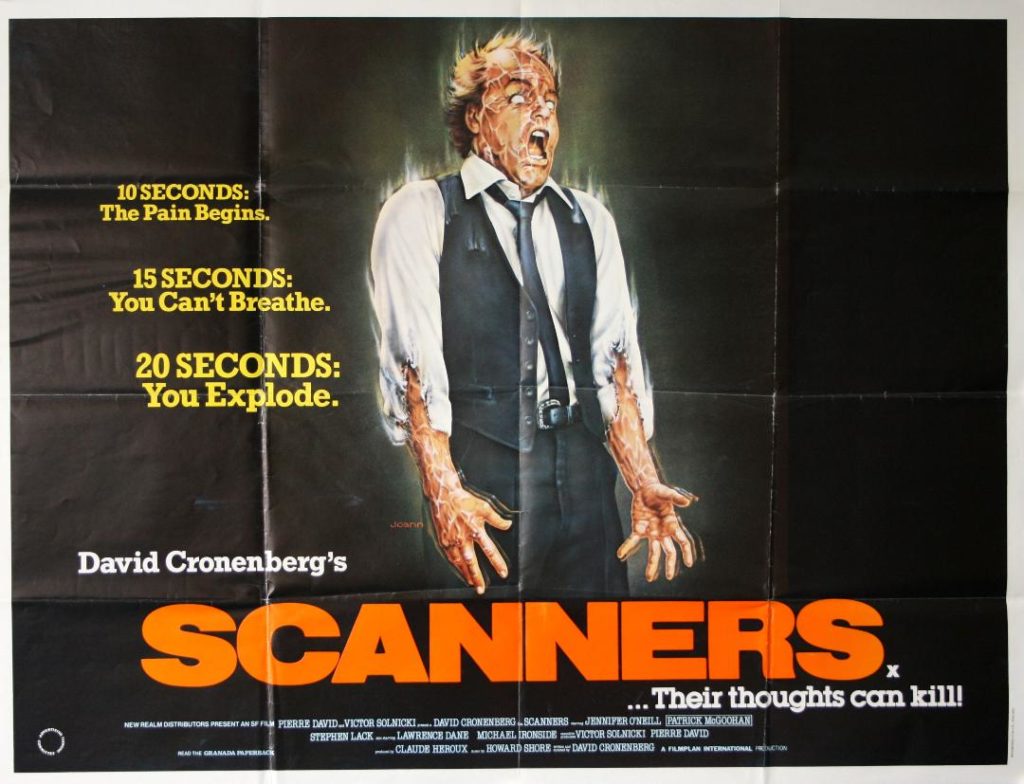 (9) TODAY'S BIRTHDAYS.
[Compiled by Cat Eldridge.]
Born January 14, 1924 — Guy Williams. Most remembered as Professor John Robinson on Lost in Space though some of you may remember him as Don Diego de la Vega and his masked alter ego Zorro in the earlier Zorro series.  (Is it genre? You decide.) He filmed two European genre films, Il tiranno di Siracusa (Damon and Pythias) and Captain Sinbad as well. (Died 1989.)
Born January 14, 1943 — Beverly Zuk. Ardent fan of Trek: TOS who wrote three Trek fanfics, two of them on specific characters: The Honorable Sacrifice (McCoy) and The Third Verdict (Scotty). Let's just say that based on her artwork that I found I'd not say these are anything less than R rated in places. She was a founding member of the Trek Mafia though I'm not sure what that was. (Died 2009.)
Born January 14, 1948 — Carl Weathers, 72. Most likely best remembered among genre fans as Al Dillon in Predator, but he has some other SFF creds as well. He was a MP officer in Close Encounters of the Third Kind, General Skyler in Alien Siege, Dr. Artimus Snodgrass in the very silly comedy The Sasquatch Gang and he voiced Combat Carl in Toy Story 4. And no, I'm not forgetting he's currently playing Greef Karga on The Mandalorian series. I still think his best role ever was Adam Beaudreaux on Street Justice but that's very not SFF.
Born January 14, 1949 — Lawrence Kasdan, 71. Director, screenwriter, and producer. He's best known early on as co-writer of The Empire Strikes Back, Raiders of the Lost Ark and Return of the Jedi. He also wrote The Art of Return of the Jedi with George Lucas. He's also one of the writers lately of Star Wars: The Force Awakens and Solo: A Star Wars Story. 
Born January 14, 1957 — Suzanne Danielle, 63. A Whovian as she showed up as Agella in "The Destiny if The Daleks," a Fourth Doctor story. She was on the Hammer House of Horror series in the Carpathian Eagle" episode, and she's also in Roald Dahl's Tales of the Unexpected multiple times in different roles. To my knowledge, her only other SFF appearance was on the Eighties Flash Gordon film.
Born January 14, 1962 — Jemma Redgrave, 58. Her first genre role was as Violette Charbonneau in the "A Time to Die" episode of Tales of the Unexpected which was also her first acting role. Later genre roles are scant but include a memorable turn as Kate Lethbridge-Stewart, daughter of Brigadier Lethbridge-Stewart on Doctor Who. 
Born January 14, 1963 — Steven Soderbergh,  57. Though largely not a SFF person, he's ventured into our 'verse on occasion by directing such films as Solaris (which he also wrote), Nightwatch which he was the writer of,  Contagion which he directed and The Hunger Games for which he was Second Unit Director. I'm tempted to call Kafka for which he was Director at least genre adjacent…
Born January 14, 1964 — Mark Addy, 56. He got a long history in genre films showing up first as Mac MacArthur in Jack Frost  followed by by the lead in The Flintstones in Viva Rock Vegas (why did anyone make this?), Roland in A Knight's Tale (now that's a film), Friar Tuck In Ridley Scott's Robin Hood (has anyone seen this?) and voicing Clyde the Horse in the just released Mary Poppins Returns. Television work includes Robert Baratheon on Games of Thornes, Paltraki on a episode on Doctor Who, "The Battle of Ranskoor Av Kolos", and he was Hercules on a UK series called Atlantis. 
Born January 14, 1990 — Grant Gustin, 30. The actor, known as Barry Allen aka the Flash in the Arrowverse. I've got him as a boyfriend on an episode on A Haunting, one of those ghost hunter shows early in his career. Later on, well the Arrowverse has kept him rather busy.
(10) COMICS SECTION.
Bliss knows what makes zombies laugh.
These folks at Close to Home sound like true introverts to me.
(11) RARE BOOK THIEVES PLEAD. "Men plead guilty in thefts of rare books from Carnegie Library" reports Pittsburgh's TribLIVE.
The two men accused of stealing and reselling more than $500,000 worth of rare books, maps and other artifacts from the Carnegie Library of Pittsburgh reached a plea deal Monday with prosecutors who agreed to drop most of the charges they faced.

…Gregory Priore, 63, of Pittsburgh's Shadyside neighborhood, was the archivist and manager of the library's William R. Oliver Special Collections Room from 1992 until April 2017.

The room held a collection of rare books, maps and other items worth millions. Priore was accused of stealing the items from the library and selling them to John Schulman, 56, of Squirrel Hill, who owns the Caliban Bookshop in Oakland.

Among the items that were stolen was a 400-year-old Bible printed in London. It was recovered in April 2019 in the Netherlands as part of the criminal investigation.
(12) ATTENTION, FLORIDA MAN. Destiny is calling.
(13) ALIEN DISCOVERY CENTER. [Item by Cliff Ramshaw.] This is giving me a bad case of the VanderMeers…. "Scientists use stem cells from frogs to build first living robots" in The Guardian.
Researchers in the US have created the first living machines by assembling cells from African clawed frogs into tiny robots that move around under their own steam.

One of the most successful creations has two stumpy legs that propel it along on its "chest". Another has a hole in the middle that researchers turned into a pouch so it could shimmy around with miniature payloads.

"These are entirely new lifeforms. They have never before existed on Earth," said Michael Levin, the director of the Allen Discovery Center at Tufts University in Medford, Massachusetts. "They are living, programmable organisms."
(14) ELECTION RESULTS. Cosplayer Lai Pin-yu has been elected to the Legislative Yuan of Taiwan. "Taiwanese cosplay candidate, Sunflower Movement activist wins legislative seat".
When Lai was certain of her win on Saturday, she took to Facebook at 8 p.m. to write: " Hello friends, I am Lai Pinyu, lawmaker of New Taipei City's 12th District. Please give me your feedback over the next four years." In her post, Lai included a photo of herself dressed as Sailor Mars from the "Sailor Moon" Japanese manga series, gaining her 30,000 likes, 2,800 comments, and 2,200 shares within 12 hours.
(15) BACKSTORY. If you think you've heard of this book before, there's a reason why. But now it's in print and Adri Joy reviews it for Nerds of a Feather: "Microreview [Book]: Blood Heir by Amélie Wen Zhao".
I don't want to talk about Blood Heir without acknowledging the route this book took to publication. Originally scheduled for release the beginning of 2019, the book was delayed after numerous ARC readers identified significant sensitivity issues with an aspect of the plot and characters. Blood Heir deals in some depth with the concept of indenture, with marginalised characters in the place where the book is set at high risk of being forced to sign work contracts which leave them effectively in slavery. In original ARCs, the story's depictions of race provoked strong concerns about how the story came across in the context of historic Black slavery in the USA. In response, author Amélie Wen Zhao delayed the book, revisited in the context of her original intent – to explore concepts of indenture with real-world parallels in Asian countries – and has now released the book, as of late November, satisfied that it did so. Having never read the original ARC, I don't know how much changed before publication, and I should be clear that I'm white and, as a non-American, less likely to pick up cues that would read "chattel slavery" to US audiences – so I'm not going make claims about whether Blood Heir is now "fixed", other than to note I didn't pick up anything other than the author's intended parallels in my own reading. However, from where I stand it feels like Blood Heir's delayed, revised publication is an example of sensitivity reading going right, albeit late in the process and therefore more loudly and messily than might have occurred if concerns had been raised earlier. People were right to raise concerns. Zhao was right to listen and use those concerns to revisit her intended, ownvoices, message. I hope and suspect the book is stronger for it.
(16) YOUTH MOVEMENT. Victoria Silverwolf shares a discovery with Galactic Journey readers: "[January 14, 1965] The Big Picture (March 1965 Worlds of Tomorrow]".
Science fiction writers often have to deal with things on a very large scale. Whether they take readers across vast reaches of space, or into unimaginably far futures, they frequently look at time and the universe through giant telescopes of imagination, enhancing their vision beyond ordinary concerns of here and now.

(This is not to say anything against more intimate kinds of imaginative fiction, in which the everyday world reveals something extraordinary. A microscope can be a useful tool for examining dreams as well.)

A fine example of the kind of tale that paints a portrait of an enormous universe, with a chronology reaching back for eons, appears in the latest issue of Worlds of Tomorrow, from the pen of a new, young writer.
Can you remember when Larry Niven was a "new, young writer"?
(17) OVER THE COUNTER. "The New York Public Library Has Calculated Its Most Checked-Out Books Of All Time" – there are assorted genre items on the list.
The New York Public Library has been loaning books for a long time — the institution turns 125 this year.

To celebrate, the library dug into its records and calculated a list of the 10 books that have been checked out the most in its history.

The most-wanted book? The Snowy Day by Ezra Jack Keats.

The Caldecott Medal-winning tale of a young boy's encounter with snow has been checked out 485,583 times from the NYPL since it was published in 1962.

It shares qualities with many of the other most-borrowed titles: The beautifully illustrated book has been around a long time, it's well-known and well-loved, and it's available in numerous languages.
(18) HELLO BOOMER. BBC says "Oldest material on Earth discovered".
Scientists analysing a meteorite have discovered the oldest material known to exist on Earth.

They found dust grains within the space rock – which fell to Earth in the 1960s – that are as much as 7.5 billion years old.

The oldest of the dust grains were formed in stars that roared to life long before our Solar System was born.

A team of researchers has described the result in the journal Proceedings of the National Academy of Sciences.

When stars die, particles formed within them are flung out into space. These "pre-solar grains" then get incorporated into new stars, planets, moons and meteorites.

"They're solid samples of stars, real stardust," said lead author Philipp Heck, a curator at Chicago's Field Museum and associate professor at the University of Chicago.
(19) VIDEO OF THE DAY. In "I Have A Secret: Another Bite" on Vimeo, Michael Sime introduces us to a guy who DOES have room for dessert in a restaurant.
[Thanks to JJ, John King Tarpinian, Cat Eldridge, Martin Morse Wooster, Cliff Ramshaw, Mike Kennedy, Alan Baumler, Chip Hitchcock, and Andrew Porter for some of these stories. Title credit goes to File 770 contributing editor of the day BGrandrath.]