(1) HELL OF A STORY. Jennifer McMahon discusses nine books where "The Devil Made Me Do It" at CrimeReads.
…I was a child of the late seventies. I grew up watching The Exorcist, The Omen and Rosemary's Baby. Movies that taught me the nature of true evil and terror. While movies were the gateway to this terrifying genre, books go to deeper and darker places still. So light a candle, get out your crucifix, cast a ring of salt around your favorite reading chair and settle in….
One of McMahon's selections is:
A Head Full of Ghosts by Paul Tremblay

This is a multi-layered literary horror novel that pays homage to the exorcism story genre and explores big questions about possession, mental illness and reality TV. The story follows Merry, at 23, sharing her recollections about her childhood with an author. When she was 8 and her sister Marjorie was 14, Marjorie… changed. Their parents were split on whether this was a mental health crisis, or the work of the devil. A local priest became involved, and soon, their family became the center of a reality show called The Possession. Was Marjorie actually possessed? Get sucked into this spellbinding story and see what you believe.
(2) THIS MAKES ME THINK OF SNL'S DAVID L. PUMPKINS SKETCH. "Madame Tussauds and the InterContinental New York Times Square host spooky overnight stays in NYC" – TimeOut says it will cost a mere $4K!
This might be the scariest Halloween-themed experience out there at the moment: Madame Tussauds and the InterContinetal in Times Square are offerings folks with a flair for the spooky the chance to stay in a room reminiscent of some of the most petrifying movies in history on the nights of Friday, October 13 and Tuesday, October 31.

The chilling experience for two will cost around $4,000 plus taxes—a hefty price for what will likely be a sleepless night but, alas, some of us just can't enough of the whole sinister vibe.

Guests will start off enjoying a three-course dinner and drinks menu delivered by the hotel's room service staff and inspired by four popular movies: The Exorcist, The Nun, Annabelle and IT. …

…The room you'll actually sleep in will be an eerie one, decorated like a subway station, yet complete with a fully stocked mini bar (clearly, you'll need to drink to get through this all)….
(3) SURVIVORS. "'Scavengers Reign' Official Trailer Released" — GlobalGrind is on top of the story.
This week (October 11), Max released the official trailer for its new adult animated series Scavengers Reign. Click inside to check it out!

In Scavengers Reign, the brainchild of visionary creators Joe Bennett and Charles Huettner, the remaining crew of a damaged interstellar freighter ship find themselves stranded on a beautiful yet unforgiving alien planet – where they must survive long enough to escape or be rescued. But as the survivors struggle to locate their downed ship and missing crew mates, their new home reveals a hostile world allowed to thrive without human interference. Featuring lush, visually stunning animation, Scavengers Reign presents a wholly unique view of the consequences of unchecked hubris and humanity's eternal desire to conquer the unknown….
(4) CHENGDU WORLDCON ROUNDUP. [Item by Ersatz Culture.]
Students from nearby school post English language video about the event
This is a nice two minute video where some students from the Hua'ai school just across the lake from the Science Museum talk in English about the event, and some of the related activities they are taking part in.
(I've attached 4 PNG screengrabs, filenames prefixed school)
8 Light Minutes Culture: book launches, ribbons, Aldiss and Lukyanenko stamps, and more
An incomplete summary of this mp.weixin.com post:
CG render of their booth
Launch of volumes 2 and 3 of Chinese SF: An Oral History
Limited edition of the Sawyer/Lukyanenko/Liu anthology
"The Songs of Space Engineers" hard SF anthology edited by Cixin Liu
Pick up a luminous bracelet from their booth
Get your books stamped by Brian Aldiss and Sergey Lukyanenko stamps
18-different ribbons; different ones to be available each day from (I think) two different booths. NB: 8LM has the Chinese licence for Doctor Who books, so the DW ribbons are presumably official merch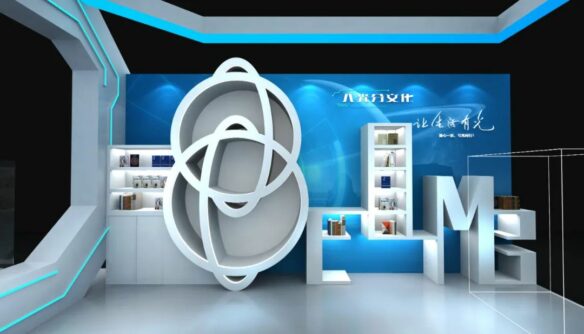 Video of official "Kormo" figure
I think this toy was covered along with other merchandise in a previous Scroll; there's now an unboxing video of what looks like the finished item.
Kaiju Preservation Society, Ray Bradbury and The Culture ribbons and merchandise
Xinxing Publishing House are launching three limited edition sets of merchandise at the con, this Xiaohongshu post says that information about buying them online will come later, although whether that includes international purchases remains to be seen.
Kaiju Preservation Society canvas bags
Culture "Gravitas" bags (Google Translate calls these "laser bags"; they seem to have some sort of foil/metallic effect?)
There are also ribbons for KPS, The Culture and Ray Bradbury
Secondary market tickets being advertised
I've no idea how widespread or successful these are, but here's a Xiaohongshu user posting a screengrab from some other app/site showing a Chengdu resident advertising a single day "youth" (age 13-25) ticket for Saturday 21st for 500 yuan. For reference: the sale price for the 5-day youth tickets was 200 yuan, and the individual youth day tickets that were sold more recently were 78 yuan.
Per Google Translate (with minor manual edits) the original ad states:
Youth tickets for the Chengdu Science Fiction Convention on the 21st are available at a premium price. If you are interested in tickets click [the button] and chat with me privately.
The footer text notes:
There are risks in concert products, please follow the transaction process and do not trade outside the site.
(5) OCTOTHORPE PODCAST. Octothorpe 94 "Satisfying Meat" is now up. Listen here.
John Coxon is eating cinnamon rolls, Alison Scott doesn't think it's funny, and Liz Batty has two lists. We discuss the Best Novel finalists for the Hugo Awards. Art by the very lovely Sue Mason.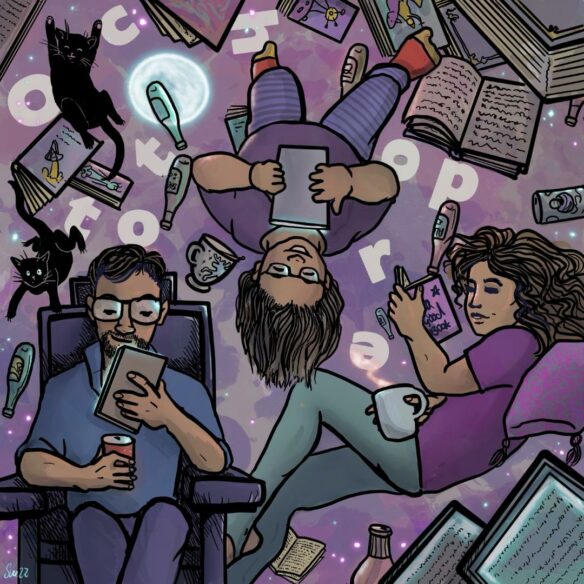 (6) ROYAL ARTIST. The New York Times tells "How the Queen of Denmark Shaped the Look of Netflix's 'Ehrengard: The Art of Seduction'".
…Around the time the princess turned 30 — and after she had earned a diploma in prehistoric archaeology at the University of Cambridge, and had studied at Aarhus University in Denmark, the Sorbonne and the London School of Economics — she read J.R.R. Tolkien's "The Lord of the Rings." It inspired her to start drawing again.

Not long after, upon her father's death in 1972, the princess was crowned as queen: Queen Margrethe II of Denmark, to be specific.

Margrethe, now 83, celebrated 50 years on the throne in 2022. But in assuming the role of queen, she did not abandon her artistic passions. As a monarch she has taken lessons in certain media, has taught herself others and has been asked to bring her eye to projects produced by the Royal Danish Ballet and Tivoli, the world's oldest amusement park, in Copenhagen.

Her paintings have been shown at museums, including in a recent exhibition at the Musée Henri-Martin in Cahors, France. And her illustrations have been adapted into artwork for a Danish translation of "The Lord of the Rings." (They were published under the pseudonym Ingahild Grathmer, and the book's publisher approached her about using them after she sent copies to Tolkien as fan mail in 1970.)

Margrethe recently notched another creative accomplishment: serving as the costume and production designer for "Ehrengard: The Art of Seduction," a feature film that debuted on Netflix in September and has wardrobes and sets based on her drawings and other artworks.

The film is an adaptation of the fairy tale "Ehrengard" by Karen Blixen, a Danish baroness who published under the pen name Isak Dinesen. Set in a fictional kingdom, the story is loosely about a woman named Ehrengard who becomes a lady-in-waiting and foils a royal court painter's plot to woo her.
(7) IT'S ALL GREEK TO THEM. "Of Snakes and Men: 'Krapopolis' Monstrous Transformations": Animation World Network takes a look (and doesn't turn to stone.)
While most people find solace in reading fiction novels, Pete Michels gets his kicks from history and archeology books. So, when Dan Harmon, who Michels had worked with previously on Rick and Morty, reached out with a proposal for a parody series on Greek mythology, Michels jumped at the opportunity…

…In the series, Ayoade voices Tyrannis, the mortal son of a goddess and benevolent King of Krapopolis, who tries to make do in a city that lives up to its name. Waddingham plays Deliria, Tyrannis' mother, goddess of self-destruction and questionable choices. Deliria is as petty as she is powerful, and only seems interested in defending civilization if it means she'll get more worshipers out of it than her frenemies up on Mt. Olympus. Berry is Shlub, Tyrannis' father, a mantitaur (half centaur [horse + human], half manticore [lion + human + scorpion]). He's the self-described "life of the orgy," and a true pleasure seeker. Murphy voices Stupendous, Tyrannis' half-sister, daughter of Deliria and a cyclops. Trussell plays Hippocampus, Tyrannis' half-brother, offspring of Shlub and a mermaid, and a hot mess, biologically speaking….
(8) PULPFEST. "2023 PulpFest Convention Report, by Martin Walker" at Mystery File.
…This year, though, Walker [Martin] did attend but managed to catch Covid while there, and while he's doing much better now, it took him a while to recover, and he never did manage to write up a report. As you may have surmised, "Martin Walker," whose report follows, is a pseudonym, but I can guarantee the facts he relates are 100% accurate. Bill Lampkin, whose photos I used is real, however, and I thank both him and our anonymous reporter for this year's annual PulpFest report, at last!
Here's a snippet from the report:
…There was more buying and selling on Friday, August 4. Competing for attendees' attention were a couple of afternoon presentations. Chris Carey and Win Scott Eckert discussed "Doc Savage — The Man and Myth of Bronze." Part of PulpFest's celebration of the 90th anniversary of "The Man of Bronze," it was also this year's FarmerCon presentation. Since 2011, PulpFest has hosted FarmerCon, a convention that began in Peoria, Illinois, the hometown of Philip José Farmer….
(9) AUDIO ALARM. "Spotify's new audiobook streaming could have 'devastating effect', says Society of Authors" – the Guardian has the story.
The Society of Authors (SoA) has said it is "deeply concerned" about Spotify's new audiobook provision. The industry body cited "the devastating effect that music streaming has had on artists' incomes", and expressed its fear that authors may suffer in a similar way.

"The streaming of audiobooks competes directly with sales and is even more damaging than music streaming because books are typically only read once, while music is often streamed many times," a statement from the SoA read.

At the beginning of October, the Bookseller reported that "all of the major book publishers" had agreed limited streaming deals with Spotify. Since 4 October, Spotify Premium subscribers in the UK and Australia have been able to access to up to 15 hours of audiobook content per month, from a catalogue of more than 150,000 titles.

"As far as we are aware, no authors or agents have been approached for permission for such licences, and authors have not been consulted on licence or payment terms," the SoA said. "Publishing contracts differ but in our view most licences given to publishers for licensing of audio do not include streaming. In fact, it is likely that streaming was not a use that had been invented when many such contracts were entered into."…
(10) KEITH GIFFEN (1952-2023). Keith Giffen, whose 47 years in the comics business were heavily SF-themed, died October 9 at the age of 70. The veteran writer and artist's work included DC's Lobo and the Jamie Reyes version of the Blue Beetle and Marvel's Rocket Raccoon. The full details of his career are in his Wikipedia entry.
(11) PHYLLIS COATES (1927-2023) Phyllis Coates, known as TV's first Lois Lane, died October 11 reports Deadline.
Phyllis Coates, who became television's first Lois Lane when she was cast in the classic Adventures of Superman series starring George Reeves, died yesterday of natural causes at the Motion Picture & Television Country House and Hospital in Woodland Hills. She was 96.

In 1951, Coates was invited to audition for the role of Lois Lane in the low-budget feature film Superman and the Mole Men. Starring Reeves as Superman, the film was a de facto TV pilot, and by the end of the year both Reeves and Coates were asked to join the upcoming TV series.

Coates stayed with the series for only one season – 1952-53… Until her death, Coates was the last surviving regular cast member of the classic superhero series.

Though best remembered for Superman, Coates would build an extensive roster of TV and film credits in a career that lasted well into the 1990s. She appeared in the now-classic monster movie I Was A Teenage Frankenstein and … later, one 1994 episode of Lois & Clark: The New Adventures of Superman, in which she played the mother of Teri Hatcher's Lois Lane.
(12) TODAY'S BIRTHDAYS.
[Compiled by Cat Eldridge.]
Born October 12, 1875 — Aleister Crowley. Mystic. Charlatan possibly. Genre writer? You decide. But I've no doubt that he had a great influence upon the genre as I'm betting many of you can note works in which he figures. One of the earliest such cases is Land of Mist, by Sir Arthur Conan Doyle which was published in 1926. (Died 1947.)
Born October 12, 1903 — Josephine Hutchinson. She was Elsa von Frankenstein with Basil Rathbone and Boris Karloff in Son of Frankenstein. She was in "I Sing the Body Electric", The Twilight Zone episode written by Bradbury that he later turned into a short story. (Died 1998.)
Born October 12, 1904 — Lester Dent. Pulp-fiction author who was best known as the creator and main author of the series of novels chronicling Doc Savage. Of the one hundred and eighty-one Doc Savage novels published by Street and Smith, one hundred and seventy-nine were credited to Kenneth Robeson; and all but twenty were written by Dent. (Died 1959.)
Born October 12, 1956 — Storm Constantine. Writer with her longest-running series being the Wraeththu Universe which has at least four separate series within all of which are known for their themes of alternative sexuality and gender. She has also written a number of non-fiction (I think they are) works such as Sekhem Heka: A Natural Healing and Self Development System and The Grimoire of Deharan Magick: Kaimana. (Died 2021.)
Born October 12, 1965 — Dan Abnett, 58. His earlier work was actually on Doctor Who Magazine, but I'll single out his co-writing Guardians of the Galaxy #1–6 with Andy Lanning, The Authority: Rule Britannia and his Border Princes novel he did in the Torchwood universe as great looks at him as a writer.
Born October 12, 1966 — Sandra McDonald, 57. Author of some sixty genre short stories, some of which are collected in Diana Comet and Other Improbable Stories (which won a Lambda Award for LGBT SF, Fantasy and Horror Works) and Lovely Little Planet: Stories of the Apocalypse. Outback Stars is her space opera-ish trilogy.
(13) KGB. Ellen Datlow has posted her photos of last night's Fantastic Fiction at KGB reading with David D. Levin and Matthew Kressel.
(14) EATING THE FANTASTIC. Scott Edelman invites listeners to dine on oxtail stew with Lauren Beukes in Episode 209 of the Eating the Fantastic podcast.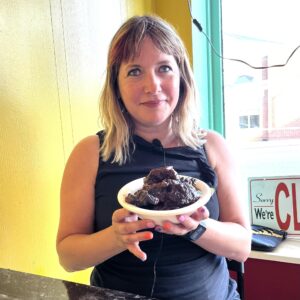 At this year's Readercon, my first guest of the weekend was Lauren Beukes, who I first met at the very start of her novel publishing career — at the 2009 Worldcon in Montreal, where Angry Robot Books held a launch party which included Moxyland. That party also debuted the first novel of previous guest of the podcast Kaaron Warren, who was launching her own book Slights.

In addition to Moxyland, Beukes is also the author of the novels Zoo City (winner of the 2011 Arthur C Clarke Award), The Shining Girls, Broken Monsters, Afterland, and her newest novel, Bridge. The Shining Girls, about a time-travelling serial killer and the survivor who turns the hunt around is currently an Apple TV+ series with Elisabeth Moss. She's also the author of the short story collection, Slipping, plus a pop-history, Maverick: Extraordinary Women From South Africa's Past.

Beukes has worked also in worked in film and TV, as the director of Glitterboys & Ganglands, a documentary which won Best LGBTI Film at the Atlanta Black Film Festival, and as showrunner and head writer on South Africa's first half hour animated TV show, Pax Afrika, which ran for 104 episodes on SABC. Her comics work includes the original horror series, Survivors' Club with Dale Halvorsen and Ryan Kelly, and the New York Times best-selling Fairest: The Hidden Kingdom, a Japanese horror remix of Rapunzel with artist Inaki, as well as "The Trouble With Cats," a Wonder Woman short set in Soweto with Mike Maihack.

We discussed why the genre community is like a giant amoeba, how her choice of D&D character is in perfect sync with the way she writes, the reason she only recently realized she has ADHD (and why her new novel Bridge is definitely an ADHD book), why AI can never replace writers, the ways in which the protagonist of her new novel is different from all her other protagonists, the importance of authenticity readers, why acquiring editors at publishing companies are like restaurant critics, the importance of art in helping us find our way through the darkness, the reason you shouldn't be so hard on your younger self, how she uses the Tarot to get unstuck, and much, much more.
(15) PLANT EXTINCTION RISK. [Item by SF Concatenation's Jonathan Cowie.] 45% of all flowering species of plant are at risk of extinction, is just one of the sobering statistics in the Royal Botanic Gardens latest State of the World's Plants and Fungi 2023 report. The fifth edition of State of the World's Plants and Fungi, from the Royal Botanic Gardens, Kew (RBG Kew), focuses on the latest knowledge on the diversity and geographical distribution of plants and fungi.
Now, for the first time, scientists have used models to predict the extinction risk of every flowering plant species and identify the uncertainty level of each prediction. The report looks back at all the plant species known to us and there threat of extinction classification. Further, it looked at when each species was discovered and its extinction threat. The researchers found that the earlier a species had been discovered, the lower its extinction threat: recently discovered species were more at risk. Extrapolating this into yet-to-be-discovered species, the conclusion is that these would be even more prone to extinction. The report says that there are 77% undescribed plant species are likely threatened with extinction. And there are many species yet to be discovered. Taking flowering plants alone, the report estimates that potentially tens of thousands of flowering plant species have yet to be scientifically named.
Since 2015, a project to have all tree species assessed for the IUCN (the UN's International Union for the Conservation of Nature) Red List, has so far found that 31% of tree species are at risk of extinction. And this does not include tree species yet to be discovered for whom the extinction risk is higher.
But there are notable black holes in the data. Given the history of fungal species discovery, it is estimated that 92% and 95% of fungi have yet to be scientifically described. Since the beginning of 2020, more than 10,200 fungal species have been described as new to science. (See Antonelli, A. et al (2023) State of the World's Plants and Fungi 2023. Royal Botanic Gardens: Kew, Middlesex, Great Britain.)
(16) VIDEO OF THE DAY. "Orphan Black: Echoes Teaser Trailer".
#OrphanBlackEchoes, starring Krysten Ritter and Keeley Hawes, premieres in 2024 on AMC, BBC America, and AMC+.
[Thanks to John King Tarpinian, Chris Barkley, Cat Eldridge Scott Edelman, John Coxon, Danny Sichel, Ellen Datlow, SF Concatenation's Jonathan Cowie, Mike Kennedy, Andrew Porter, and Ersatz Culture for some of these stories. Title credit belongs to File 770 contributing editor of the day Jon Meltzer.]