(1) FRONT AND CENTER. Octavia Butler is on the cover of Huntington Frontiers, published by the Huntington Library in Pasadena. Read the cover article here: "A Handful of Earth, A Handful of Sky" by Lynell George.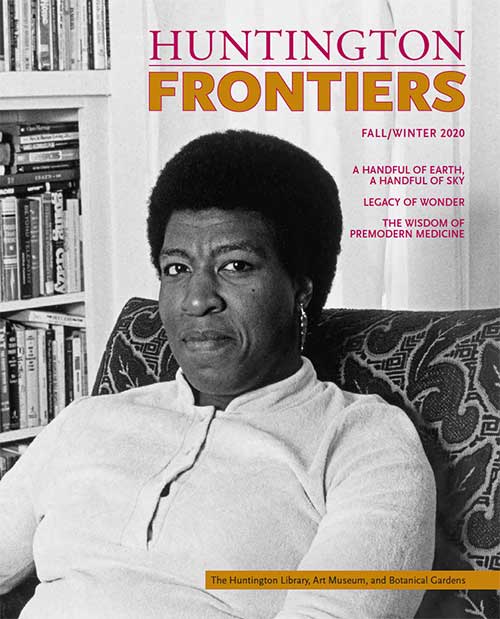 When I last encountered Octavia E. Butler, it was 2004 and she was slated to deliver the keynote at the Black to the Future Festival in Seattle, Washington. Time has flattened or obscured some of the details of days spent reporting on panels, lectures, and post-event gatherings. I don't remember the precise order of events of that opening evening, but I do recall some of Butler's heartfelt words about finding and making community in this brief but special moment when we were assembled together. I sat, scribbling notes in my reporter's notebook, making shapes of letters in the darkness of the auditorium. Her voice didn't seem to need amplification—it was warm and deep and burnished with authority, as if she was not just leading things off, but leading a country….
(2) NOT OUT OF LEFT FIELD. First Fandom Experience solves three eofannish mysteries in "V is for Vincent, Vernon, Vytautas". Learn more about a famous photo taken over the weekend of the First Worldcon in —
V is for Vincent

Below is one of early fandom's most iconic images. On Independence Day, 1939, this carload of irascible youth from states far and wide ventured forth from the World Science Fiction Convention in New York to Coney Island. It's a who's-who of prominent First Fans: Madle and Agnew from Philadelphia, Korshak and Reinsberg from Chicago, Rocklynne from Ohio, and one very tanned Ray Bradbury from Los Angeles.

But among the who's-who, there's a "who's that?" V. Kidwell. …
(3) JAPANESE BOFFO BOX OFFICE. [Item by N.] "'Demon Slayer' Overtakes 'Spirited Away' to Become Japan's Biggest Box-Office Hit Ever" – The Hollywood Reporter has the story. (Also it's the fifth highest grossing film of the entire year, surpassing Sonic the Hedgehog, which is a coherent sentence I have just typed.)
…Demon Slayer is based on a popular 2016 manga by Japanese artist Koyoharu Gotoge. But the property didn't become a pop cultural phenomenon until it was adapted into an anime series for television. Produced by Tokyo-based studio Ufotable, the 26-episode series aired on Tokyo MX and other channels in 2019, but later became a sleeper smash hit when it re-aired on Netflix and Fuji TV. The popularity of the series reignited interest in the manga, making it a runaway bestseller. As of December, the Demon Slayer manga series has sold nearly 120 million copies.

When Ufotable's big-screen adaptation of the series hit Japanese cinemas this fall, conditions were ripe for a box-office bonanza. Japanese cinemas nationwide had fully reopened nationwide after a brief period of COVID-19 shutdown in the spring. Since the Hollywood studios had postponed most of their releases until 2021, Demon Slayer had limited foreign competition and Japanese cinemas were highly motivated to wring as much earnings potential as possible for the local blockbuster.
(4) WILL POWER. "Brain-controlled gaming exists, though ethical questions loom over the tech" reports the Washington Post.
As the University of Pittsburgh Medical Center shut its laboratories following the covid-19 outbreak, Nathan Copeland, a 33-year-old volunteer, collected the equipment that would grant him transformative abilities during lockdown. Paralyzed from the chest down with only limited arm movement, Copeland took home an advanced brain-computer interface, a device that allows him to control on-screen actions using only his mind.Copeland is part of cutting-edge research into brain-computer interfaces at the University of Pittsburgh, recently awarded over $8 million by the National Institutes of Health. The team's experiments are a peek into a potential transhumanist future more commonly associated with cyberpunk movies "The Matrix" and "Ghost in the Shell." Since 2015, Copeland has lived with a transistor-like chip, known as a multi-electrode array, surgically implanted directly into his brain. Copeland's chip records the rapid-firing of cellular neurons — an almost inscrutably complex neurological signal — which is ferried over to a computer for what's referred to as "decoding." This signal is subsequently "translated" into the desired, seemingly telekinetic actions of its user.
To date, one of the team's biggest successes has been decoding the complicated neural signals to allow Copeland to control a nimble robotic arm….
(5) JEDI CONSERVATION MOVEMENT. Musings on Mouse analyzes "Star Wars 'nostalgia fatigue,' and Marvel's bankruptcy lesson". BEWARE SPOILERS. I don't think I included any below, however, definitely some in the linked article.
…Quality, some may argue, isn't just representative of one episode or one movie, but the franchise as a whole. Case in point: The Mandalorian finale….

That, many critics argued in the days after the episode aired, is precisely the problem. As Matt Zoller Seitz wrote on Vulture, "the series succumbs to the dark side of parent company Disney's quarterly earnings statements, which keeps dragging Star Wars back toward nostalgia-sploitation and knee-jerk intellectual-property maintenance." Other fans rolled their eyes at the criticism, pointing out that Star Wars has always returned to the franchise's most popular characters, most noticeably in the Expanded Universe's novels, comics, and video games.

Sound familiar? It should — it's the exact same debate that popped up in 2017 after Rian Johnson's The Last Jedi hit theaters. What is Star Wars? It's an argument we've come back to with The Mandalorian's second season finale. I'm not a critic, and this newsletter doesn't exist to critique art. What I'm more acutely interested in is determining Star Wars' future business. Let's be clear: Star Wars is more than fine, but as Star Wars expands under Disney, there's always room to figure out how to ensure it grows at a healthy rate instead of risking alienating parts of its consumer base every year.
(6) PUTTING THEIR STAMP ON THINGS. JSTOR Daily's Livia Gershon points to the introduction of a new academic work that overviews "James Tiptree Jr. and Joanna Russ: Sci-Fi Pen Pals".
At first glance, the classic science-fiction authors James Tiptree Jr. and Joanna Russ might not seem to have much in common. Behavioral psychologist Alice Bradley Sheldon began writing under "James Tiptree Jr." in 1968, when she was in her fifties. She used the fictional male name and real knowledge of science and the military to infiltrate male-dominated science-fiction magazines. Russ, two decades younger, was an outspoken radical feminist, English professor, and critic. And yet, as Nicole Nyhan writes, the two writers exchanged hundreds of letters over fifteen years. Nyhan provides the introduction to a selection of writing from Tiptree's side of the correspondence.
(7) MEDIA ANNIVERSARY.
1970 — Fifty years ago at Heicon '70 in Heidelberg, Germany, "Ship of Shadows" by Fritz Leiber wins the Hugo for Best Novella. (It would also be nominated for a Nebula.) It was published in F&SF in July, 1969 which as you can see was billed as a Special Fritz Leiber Issue. This was a bizarre story of Spar, a blind, half-deaf barman at the Bat Rack. We'll say no more. The other finalists were "A Boy and His Dog" by Harlan Ellison, "We All Die Naked" by James Blish, "Dramatic Mission" by Anne McCaffrey and "To Jorslem" by Robert Silverberg.
(8) TODAY'S BIRTHDAYS.
[Compiled by Cat Eldridge and John Hertz.]
Born December 28, 1913 — Charles Maxwell. He makes the Birthday List for being Virgil Earp in the "Spectre of the Gun", a not terribly good Trek story.  He also appeared in My Favorite Martian in "An Old Friend of the Family" as the character Jakobar. His longest running genre role was as the Radio Announcer on Gilligan's Island for which he was largely uncredited. Interestingly he had six appearances playing six different characters on the Fifties series Science Fiction Theatre. (Died 1993.) (CE) 
Born December 28, 1922 — Stan Lee. Summarizing his career is quite beyond my abilities. He created and popularized Marvel Comics in such a way that the company is thought to be the creation of Stan Lee in way that DC isn't thought if of having of having a single creator.  He co-created the Fantastic Four, Spider-Man, the X-Men, Iron Man, Thor, the Hulk,  Daredevil, Doctor Strange, Black Panther, Scarlet Witch and Ant-Man, an impressive list by any measure. And it's hardly the full list.  I see he's won Eisner and Kirby Awards but no sign of a Hugo. Is that correct? (Died 2018.) (CE) 
Born December 28, 1929 – Janet Lunn.  Three novels, two shorter stories, one anthology for us; much else.  Metcalf Award, Matt Cohen Award, Order of Ontario, Governor General's Award, Order of Canada.  Quill & Quire obituary here.  (Died 2017) [JH]
Born December 28, 1932 — Nichelle Nichols, 88. Uhura on Trek. She reprised her character in Star Trek: The Motion Picture, Star Trek II: The Wrath of Khan, Star Trek III: The Search for Spock, Star Trek IV: The Voyage Home, Star Trek V: The Final Frontier and Star Trek VI: The Undiscovered Country. Other film SF roles included Ruana in Tarzan's Deadly Silence with Ron Ely as Tarzan, High Priestess of Pangea in The Adventures of Captain Zoom in Outer Space, Oman in Surge of Power: The Stuff of Heroes and Mystic Woman in American Nightmares.  Other series appearances have been as Lieutenant Uhura and additional voices in the animated Trek, archive footage of herself in the "Trials and Tribble-ations" DS9 episode and as Captain Nyota Uhura In Star Trek: Of Gods and Men which may or may not be canon. (CE)
Born December 28, 1934 — Maggie Smith, 86. First genre role was as Theis in Clash of the Titans though she's better known as Minerva McGonagall In the Harry Potter film franchise. She also played Linnet Oldknow in From Time to Time  and voiced Miss Shepherd, I kid you not, in two animated Gnomes films. (CE) 
Born December 28, 1942 — Eleanor Arnason, 78. She won the Otherwise Award and the Mythopoeic Award for A Woman of the Iron People and also won the Gaylactic Spectrum Award for Best Short Fiction for "Dapple".  She's a Wiscon Guest of Honor. I wholeheartedly recommend her Mammoths of the Great Plains story collection, which like almost all of her fiction, is available at the usual digital suspects. 
Born December 28, 1945 – George Zebrowski, age 75.  A score of novels (Macrolife particularly applauded), a hundred shorter stories, several with co-authors.  Clarion alumnus.  Edited Nebula Awards 20-22; four Synergy anthologies, half a dozen more e.g. Sentinels with Greg Benford in honor of Sir Arthur Clarke.  Three years editing the SFWA Bulletin (Science Fiction & Fantasy Writers of America) with Pamela Sargent and Ian Watson.  Nonfiction anthologies Beneath the Red Star (studies on international SF), Skylife (with Benford; space habitats), Talks with the Masters (Asimov, Bradbury, Clarke, Gunn).  Book reviews in The Magazine of Fantasy & Science Fiction.  Campbell Memorial Award.  "Never Forget the Writers Who Helped Build Yesterday's Tomorrows" in SF Age.  [JH]
Born December 28, 1946 – Sheryl Birkhead, age 74.  Long-time fanartist and (it serves us right) veterinarian.  Here is a cover for Tightbeam.  Here is one for It Goes on the Shelf.  Here is one for Purrsonal Mewsings.  Here is one for The Reluctant Famulus.  Kaymar Award.  [JH]
Born December 28, 1952 – Ramona Wheeler, age 68.  Two novels, a score of shorter stories.  Essay "The Sailor of No Specific Ocean" in the Hal Clement memorial anthology Hal's Worlds.  Here is her cover for her collection Have Starship, Will Travel.  Here is her cover for her collection Starship for Hire.  [JH]
Born December 28, 1963 – Robert Pasternak, age 57.  A dozen covers, two dozen interiors for us.  Interviewed in On Spec.  Aurora Award.  Here is Leslie Fiedler's biography of Stapledon. Here is the May 93 Amazing.  Here is the Dec 00 Challenging Destiny.  Here is the Summer 13 On Spec.  Here is a review of a Jun – Jul 07 exhibition.  Here is an image from a Winnipeg Free Press interview.  Here is an ink-drawn face; see here.  [JH]
Born December 28, 1979 – D. Renée Bagby, age 41.  Eight novels for us, five dozen others (some under another name).  Air Force brat, now wife; born in the Netherlands, has also lived in Japan, six of the United States.  Has read The Cat in the Hat, Persuasion, The Iliad and The Odyssey, The Adventures of Huckleberry Finn.  "The voices start talking and I type what they say." [JH]
Born December 28, 1981 — Sienna Miller, 39. The Baroness in G.I. Joe: The Rise of Cobra. More interestingly, she's Victoria in the flawed but still worth seeing Stardust. (Go listen to Gaiman reading it for the best take on it — brilliant that is!) And she's Darcy in Kis Vuk, A Fox's Tale, a Hungarian-British animated tale that sounds quite charming.  (CE) 
(9) COMICS SECTION.
(10) A DISH BEST SERVED LOLD. [Item by Martin Morse Wooster.] In the Washington Post, Zachary Pincus-Roth discusses how a bunch of Millennial Disney musical fans came up with "Ratatouille: The Musical," created songs, cosplayed characters from the imaginary musical (including enlisting their parents to play older characters) and even creating a fake cover of Playbill for the imaginary musical. Disney Theatrical Productions stated "although we do not have development plans for this title, we love when our fans engage with Disney stories." — "How TikTok and social media are changing Broadway fandom".
(11) OBI BUT NO OBI-WAN. This happened last year, but it's news to me… "Japanese theatre to stage kabuki version of Star Wars" in The Guardian.
The Star Wars franchise is about to breach the artistic final frontier with a one-off performance of a kabuki adaptation starring one of Japan's most revered stage actors.

The classical Japanese theatre, which combines highly stylised movement and unusual vocalisation, will swap samurai swords for lightsabers and replace feudal warriors with the forces of light and darkness.

Star Wars Kabuki-Rennosuke and the Three Light Sabers, which are being staged in Tokyo, will combine plots from each of the franchise's latest trilogy, substituting plots drawn from the days of feudal clan rivalry with drama from a galaxy far, far away.

Ichikawa Ebizo XI, Japan's pre-eminent kabuki actor, will take to the stage as Kylo Ren, the conflicted son of Han Solo and Princess Leia, in front of 50 winners of an online lottery….
(12) UNFINISHED TOLKIEN. John M. Bowers asks "Did Tolkien Write The Lord of the Rings Because He Was Avoiding His Academic Work?" at Literary Hub. The trouble with this headline is that it's not as if Tolkien didn't procrastinate about working on his fiction, too.
…Already by 1932 he admitted to Chapman the weight of the Chaucerian incubus upon his conscience. His Gawain edition, "Chaucer as a Philologist," and "The Monsters and the Critics" had all appeared before the Second World War. Set against this relatively slender résumé were undelivered assignments such as his Pearl edition, the book-length "Beowulf" and the Critics, and his EETS edition of Ancrene Wisse. If his own harsh remarks about George Gordon holding up their Chaucer edition did not quite qualify him as a "slanderer," these complaints did de?ect blame from his role as an "idler" who failed to reduce his annotations to a publishable length. He would confess during a newspaper interview in 1968, "I have always been incapable of doing the job at hand."
(13) AROUND AND AROUND. "Animation reveals invisible center of solar system that's not the sun" – Business Insider knows where it is. In a minute, you will too.
It's common knowledge that the sun is the center of the solar system. Around it, the planets orbit — along with a thick belt of asteroids, some meteor fields, and a handful of far-traveling comets.

But that's not the whole story.

"Instead, everything orbits the solar system center of mass," James O'Donoghue, a planetary scientist at the Japanese space agency, JAXA, recently explained on Twitter. "Even the sun."

That center of mass, called the barycenter, is the point of an object at which it can be balanced perfectly, with all its mass distributed evenly on all sides. In our solar system, that point rarely lines up with the center of the sun…
(14) THOUGHT OF THE DAY. From Mike Kennedy: "I just realized that the various dings, buzzes, and clicks our phones/watches play to get our attention are clearly intended to train us to understand R2-D2."
(15) EMERGENCY HOLOGRAPHIC IP LAWYERS. CinemaBlend will explain "Why James Bond's Studio Once Sent A 'Very Stern Letter' To Star Trek: Deep Space Nine's Crew".
Star Trek is a franchise that primarily deals in the world of sci-fi, but it's not unheard of for the franchise to attempt parody other genres every so often. Such was the case in the Deep Space Nine episode "Our Man Bashir," in which an accident in the Holosuite traps the crew in Bashir's spy fantasy program. The episode is a fun nod to the genre of '60s spy films but apparently was not well-received by James Bond studio MGM.
(16) VIDEO OF THE DAY. Mind Matters sets the frame for a DUST short in "Sci-Fi Saturday Film: The Robot Tries To Learn About Grief".
An elderly woman, Sheila, whose daughter has been in a high-conflict zone in a military environment, learns to manage with a robot—ordered apparently off the internet, with a manual—that can learn to do homework and hang Christmas decorations.

It's an agreeable story and good Christmas fare!
[Thanks to Mike Kennedy, JJ, Martin Morse Wooster, N., Cat Eldridge, John Hertz, Michael Toman, John King Tarpinian, Contrarius, and Andrew Porter for some of these stories. Title credit goes to File 770 contributing editor of the day Andrew (not Werdna).]