**BEWARE SPOILERS**
Star Wars: The Rise of Skywalker – A Review
By Chris M. Barkley:
Star Wars – Episode Nine: The Rise of Skywalker (2019, 142 minutes, ****) with Daisy Ridley, John Boyega, Oscar Isaac, Adam Driver, Mark Hamill, Anthony Daniels, Kelly Marie Tran, Domhnall Gleeson, Naomi Ackie, Richard E. Grant, Billy Dee Williams, Keri Russell, Ian McDermid AND Carrie Fisher. Screenplay by Chris Terrio and J. J. Abrams, Story by Derek Connelly, Colin Trevorrow, Directed by J. J. Abrams.
"NEVER underestimate a droid."
General Leia Organa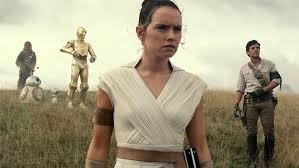 Last month, I had the privilege of meeting actor Anthony Daniels when his book tour in support of his memoir, I Am C-3PO, stopped at my old place of employment, Joseph Beth Booksellers in Cincinnati, Ohio.
As Mr. Daniels personalized my book, I gave him a brief re-telling of my first viewing Star Wars in May of 1977:
While attending Disclave in Washington D.C., I fairly stumbled into discovering that a new movie, Star Wars, was showing at the Uptown Theater on Connecticut Avenue, just a half a mile from the Sheraton Park Hotel. On that Saturday evening, it was one of only 30 places in the entire United States showing the movie. (It rolled out to several hundred more after that weekend.)
I was lucky enough to get a ticket to Saturday's midnight showing. And when I emerged, dazed and deliriously happy two hours and a minute later, I ran into one of my new fannish friends, future Worldcon chair Michael Walsh. When we spotted each other, we simultaneously and spontaneously started dancing on the sidewalk outside the theater making a spectacle of ourselves.
When I finished my story, Mr. Daniels had a look of utter surprise on his face. After reading the first chapter of his book (which I HIGHLY recommend, by the way), he has stated that he is always surprised and amazed by how many people have been touched in some way by this series of films.
When I first saw what eventually became Episode IV: A New Hope, I was almost twenty-one years old. And amazingly, here I am now, forty-two years later, writing a review of the final film in what is now known as the Skywalker Saga. And what a wild ride it has been over nine feature films, spin off films, several television series and hundreds of novels and comics.
There has been been an immense wave of backlash from detractors of J.J. Abrams and haters of the previous two Star Wars films in advance of the premiere of The Rise of Skywalker. As for myself, I try to stay away from both the hype and the churn of internet spite, least anything disrupt or bias my enjoyment of this film.
Does anyone out there remember the good old days, when personal beefs and flame wars were either settled within the confines of printed, mimeographed fanzines or in person at sf conventions on panels (or, in some cases, the hallways or the consuite)? Nowadays, all it takes is just a smartphone and two minutes of idle brain farts.
But alas, I have digressed a bit too much. On with the show…
[The main review follows the jump]
Continue reading