(1) NOT MY FAULT. The designer of the coin that shows H.G. Wells' Martian tripods with four legs, Chris Costello, is passing the buck to the unknown artist of an old paperback cover which he displays as part of the following statement:
It appears that I have once again drawn ire from the sci-fi community. First it was the Papyrus/AVATAR thing, and now this. No disrespect to H.G. Wells or any of you. To give more context, I will share about this specific coin design challenge and my creative process on a permanent page next month, but for now…

The characters in War of the Worlds have been depicted many times, and I wanted to create something original and contemporary. My design takes inspiration from a variety of machines featured in the book—including tripods and the handling machines which have five jointed legs and multiple appendages.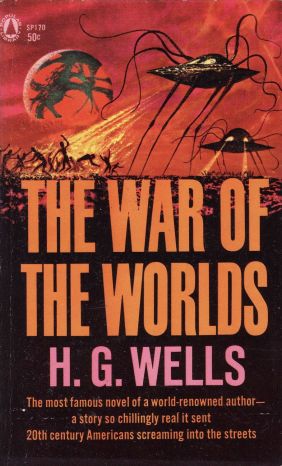 (2) WHAT YOU'D EXPECT AT BAEN. Tom Kratman is coaching the next stage of the insurrection in the storefront window. Here's an excerpt from a comment made in his Baen's Bar author forum.
So where do Trump and the nation go from here?

He needs to do three things; start his own news channel, start his own party, and start his own well-armed militia as part of the party.

The militia – again, a _well_armed_ militia – is necessary to present a threat in being to the powers that be such that, should they use extra-, pseudo-, and quasi-legal means to try to suppress the party, the price presented will be far too high. The militia will be heavily infiltrated; this is a given. No matter; it will not be there for any purpose but to present a serious threat of major combat, and the shame of defeat, and the reality of death, to the tactical elements, police and military, that may be used against the party.

It ought to be made clear that, "I can start the civil war with a stamp of my foot. I've refrained, so far, but you cannot count on that restraint under all circumstances. And if I am infiltrated, you are even more so."

The militia should probably be neatly but simply uniformed, nothing flashy. Solid colors, no camo. Haircuts and facial hair trimmed. A simple shirt and bluejeans for non-firearms related activities / head busting….
(3) WHEN AUTHORS DON'T GET PAID. Sff critic Paul Kincaid shares an email he has written to the publisher that has announced a book containing his essay which they didn't buy the rights to. It begins —
Following my ongoing posts relating to the unexpected appearance of my essay in Science Fiction published by Routledge, I have just sent the following email to Taylor & Francis. Let us see what sort of response this brings….
(4) TA-NEHISI COATES' BLACK PANTHER FINALE. The Intergalactic Empire of Wakanda Saga continues next month in Black Panther #23, which hits the stands on February 24. Featuring art by Daniel Acuña and Ryan Bodenheim, the issue marks the beginning of the epic conclusion of Ta-Nehisi Coates' redefining work on Black Panther that began in 2016.
Deep in space, T'Challa has discovered an alternate Wakandan society. Known as the Intergalactic Empire of Wakanda, these ruthless warriors present a dark reflection of T'Challa's kingdom. Having abandoned their peaceful ways, this powerful empire looks to conquer the cosmos… and Earth's Wakanda is their next target. This daring, thought-provoking take on the Black Panther mythology also features surprising developments for supporting characters such as Shuri, Storm, and Black Panther's greatest foe, Erik Killmonger.
(5) JEWISH SF. Jewish Museum of Maryland will host a panel discussion "People of the (Futuristic) Book" on March 4 at 7:00 Eastern about Jewish science fiction with Steven H Silver, Valerie Estelle Frankel and Michael A. Burstein.
What makes a science fiction story Jewish? Jewish writers have worked in the science fiction genre since the very beginning, thought you might not always know it from reading their work. But some stories are clearly Jewish, whether through tone and theme or explicitly based on Jewish ideas and culture. Join us for an exploration of Jewish sci-fi and fantasy – and a discussion of what makes them Jewish stories.
This Zoom event is presented by the museum in relation to the special exhibit Jews in Space: Members of the Tribe in Orbit, on view through April 11, 2021.
(6) COMING ATTRACTIONS. Leah Schnelbach lines up "The Most Anticipated Sci-Fi and Fantasy Books of 2021" at Book Marks, including Andy Weir's next novel.
Project Hail Mary by Andy Weir
(Ballantine Books, May 4)

The author of The Martian and Artemis is back with another interstellar thriller! When Ryland Grace wakes up in a small makeshift spacecraft, he can't remember his own name—but that's not even his biggest problem. Why is he on this ship? And should he know the two corpses who are on the ship with him?

As his memories return, he realizes that he's been asleep for a very, very long time. His ship was thrown together by dozens of different governments. And, unfortunately, his mission is to stop a terrifying threat which, if it reaches Earth, will mean the destruction of the human race. If only he had any idea how to do that.
(7) REDISCOVERING THE WRITER IN AMERICA. On Todd Mason's Sweet Freedom blog he collects links to the 1963 KQED documentary Take This Hammer with James Baldwin, and Toni Morrison, Janet Flanner and "Ross Macdonald" and others on The Writer In America, and producer/director/editor/interviewer Richard O. Moore. Mason says, "With luck, I might find some more of these. I'd hope this would be the kind of thing World Channel would be dusting off, along with Take This Hammer." About the link to the Toni Morrison episode of The Writer In America he says, "These old film or video source copies certainly mangle their fine musical soundtracks, but Morrison's voice particularly manages to retain its musicality."
KQED's mobile film unit follows author and activist James Baldwin in the spring of 1963, as he's driven around San Francisco to meet with members of the local African-American community. He is escorted by Youth For Service's Executive Director Orville Luster and intent on discovering: "The real situation of Negroes in the city, as opposed to the image San Francisco would like to present." He declares: "There is no moral distance … between the facts of life in San Francisco and the facts of life in Birmingham. There is no moral distance … between President Kennedy and Bull Connor because the same machine put them both in power. Someone's got to tell it like it is. And that's where it's at." Includes frank exchanges with local people on the street, meetings with community leaders and extended point-of-view sequences shot from a moving vehicle, featuring the Bayview Hunters Point and Western Addition neighborhoods. Baldwin reflects on the racial inequality that African-Americans are forced to confront and at one point tries to lift the morale of a young man by expressing his conviction that: "There will be a Negro president of this country but it will not be the country that we are sitting in now."
(8) INSIDE HOLLYWOOD. Interesting discussion about making Terry Gilliam's classic film. "The oral history of 12 Monkeys, Terry Gilliam's time travel masterpiece" at Inverse.
Charles Roven (producer): I was given the short film La Jetée by Chris Marker by a gentleman by the name of Robert Kosberg. I then gave that to Dave and Jan [Peoples].

David Peoples (screenwriter): We had missed seeing La Jetée in the '60s when we should have seen it. They sent us a terrible video of it, but in spite of the fact that it was an awful video, it really was such a wonderful movie. We said, "We'll spend a weekend on it and see if there's anything we can come up with that would be interesting." It did come to us that people hadn't been doing a lot of stuff with the threat of germs – man-made germs or germs from nature. We had an image of a city with no people and just animals roaming around, totally out of place. Chris [Marker] hadn't said it was OK to make a movie out of his movie. He hated all Hollywood movies except Vertigo.

Janet Peoples (screenwriter): We bumped into a friend of ours from Berkeley: Tom Luddy. Tom laughed and said, "Oh, I know Chris. You know, Chris loves Francis Coppola. And Francis is in town." So we all met at a Chinese restaurant – writers and a couple of directors; no producers, no suits – and Chris Marker at one end of the table and Francis at the other. Francis looks up and says, "Chris!?" and Chris says, "Yes, Francis?" and Francis says, "Jan and Dave want to make this movie. They're good people; I think you oughta let them do it." And Chris says, "Oh, OK, Francis."…
(9) MEMORY LANE.
1991 — Thirty years ago, Ellen Kushner's Thomas the Rhymer wins both the Mythopoeic Fantasy Award and the World Fantasy Award. (It was the last single Award given out before it was split into into Adult and Children's Awards.) Based off Thomas the Rhymer myth who was carried off by the Queen of Elfland and returned having gained the gift of prophecy.  
(10) TODAY'S BIRTHDAYS.
[Compiled by Cat Eldridge and John Hertz.]
Born January 9, 1886 – Walter Brooks. Two hundred stories; ours are two dozen about Mister Ed, a talking horse (these got onto television), and two dozen novels about Freddy the Pig and more talking animals on the upstate New York farm of a man named Bean. The Freddy books have some science fiction; Uncle Ben, Mr. Bean's brother, is an inventor, and beside that some Martians show up (Freddy and the Baseball Team from Mars). As with much good art, what matters is less the so-called contents than the manner of telling, at which Freddy is deft and enough fun to please both The NY Times and The Imaginative Conservative. (Died 1958) [JH]
Born January 9, 1890 – Karel Capek. (The software won't allow a caron over the C, a diacritical mark like a v showing the C has the sound of ch in English chat.) Three novels for us, as many others; thirty shorter stories for us, as many others; timeless for the play R.U.R. (Rossum's Universal Robots) introducing the word robot (although, being chemical not mechanical, they're what we'd later call androids) and portraying the fundamental unease about them. (Died 1938) [JH]
Born January 9, 1906 – Barbara Sleigh. Five novels, four anthologies for us; two other novels, shorter stories, radio scripts, film criticism, picture books, memoirs. Best known for books about Carbonel the King of Cats. (Died 1982) [JH]
Born January 9, 1925 — Lee Van Cleef. The Warden of the Prison in Escape from New York but he was best known for acting in Spaghetti Westerns. Genre wise, he was also Col. Stone in The Beast from 20,000 Fathoms, and Dr. Tom Anderson in Corman's It Conquered the World. (Died 1989.) (CE)
Born January 9, 1931 — Algis Budrys. I am trying to remember what I read by him and I think it was Some Will Not Die which I remember because of the 1979 Starblaze edition cover. I've also read and enjoyed his Rogue Moon. Setting aside his work as a writer which was exemplary, he was considered one of our best genre reviewers ever reviewing for Galaxy, Magazine of Fantasy and Science Fiction, and wrote genre reviews even in the more mainstream Playboy. He edited a number of the L. Ron Hubbard Presents Writers of the Future anthologies which I'll admit I've not read any. I should note his Tomorrow Speculative Fiction prozine was quite excellent.(Died 2008.) (CE)
Born January 9, 1950 — David Johansen, 71. He's the wisecracking Ghost of Christmas Past in the oh-so-perfect Scrooged, he played Halston in Tales from the Darkside: The Movie in "The Cat from Hell" episode, and he appeared as a character named Brad in Freejack. I think the brief Ghost of Christmas Past riff in the aforementioned Scrooged is enough to earn him as Birthday Honors here. (CE)
Born January 9, 1955 — J. K. Simmons, 66. You may know him as J. Jonah Jameson in the various Spider-Man films but I find his more interesting genre role to be as Howard Silk in the Counterpart series where he plays two versions of himself in two versions of parallel Berlins in a spy service that may or may not exist. He also portrayed Commissioner James Gordon in Justice League. (CE)
Born January 9, 1957 — Greg Ketter, 64. Leading Minneapolis fan and bookseller; chaired Minicon 40-41 and the 1993 & 2003 World Fantasy Conventions; Guest of Honor at DucKon 16; has written for Rune and Minneapa; published the DreamHaven Fortieth Anniversary Scrapbook having earned his way there with a press so named and a shop, which last year suffered but is thankfully recovering from a disaster. [JH]
Born January 9, 1954 – Philippa Gregory, Ph.D., age 67. Half a dozen novels for us; thirty others (half about Plantagenets and Tudors), also picture books. Outside our field The Other Boleyn Girl won the Romantic Novel of the Year Award; it and successors are also bemoaned as failing the historical accuracy they're promoted for. PG's charity Gardens for the Gambia has dug two hundred low-budget wells, teaches bee-keeping, and funds batik and pottery workshops. [JH]
Born January 9, 1975 – Gunnhild Øyehaug, age 46. Two dozen of her short stories for us available in English, see the collection Knots. Also poetry, teaching, criticism. Co-edits literary journal Kraftsentrum (in Norwegian). Dobloug Prize. [JH]
Born January 9, 1976 — Jenna Felice. Tor Books Editor. She suffered what the doctors are called a massive allergic reaction compounded by asthma. She died having never emerged from her coma. There's a memorial page for her here. (Died 2001.) (CE)
Born January 9, 1981 — Julia Dietze, 41. She's Renate Richter in Iron Sky: The Coming Race, a Finnish-German film in which the Nazis are occupying the moon after a nuclear war. (It garnered a 31% rating by reviewers at Rotten Tomatoes. And yes critics were really, really hostile.) It wasn't her first bad film as she was Princess Herzelinde in 2 Knights: In Search of the Ravishing Princess Herzelinde (1+ 1 / 2 Ritter – Auf der Suche nach der hinreißenden Herzelinde) which it won't surprise you didn't exactly make the German reviewers gush over it. (CE)
(11) COMICS SECTION.
(12) TAKING TO THE LIFEPODS. Alexandra Petri provides some much-needed comic relief in "I see no choice but to resign from this Death Star as it begins to explode" at the Washington Post.
It is with a heavy heart and a deep sense of responsibility that I must submit my resignation, effective immediately, from my post on this Death Star. However, I see no other choice.

Now is the time for all of us to stand up from our posts and do what is right.It's been an honor to work on this Death Star. I love the aesthetic. I love how I've been able to pursue my greatest passion: destroying planets and pressing buttons. I love my little hat that is a sunshade for no reason!
(13) GOTHAM'S SISTER CITY, ISTANBUL. Take a look at "Turkey's legacy with sci-fi and superheroes in film" at Daily Sabah.
Last week marked the start of Turkey's first-ever science fiction television series, "Ak?nc?," which tells the story of an Ottoman superhero tasked with guarding over the Istanbul of Sultan Mehmed II, also known as Mehmed the Conqueror, in contemporary times.

A teacher by day and a superhero by night, the handsome Ak?nc?, whose name refers to the advanced troops of the Ottoman Empire, is tasked with stopping terrorism while being followed by an equally attractive female journalist who has been on his trail for the past three years. An enthralling and entertaining watch, the highly anticipated Ak?nc? premiered on Jan. 1 and will continue to air on Friday evenings at 8 p.m. on ATV.

In light of this exciting addition to Turkish primetime television, which is also the first of its kind within the genre of science fiction and superhero television series, it might be an opportune time to reflect back on Turkey's famous legacy of its films in these genres….
(14) SF2 CONCATENATION HERALDS SPRING WITH NEW ISSUE. [Item by Jonathan Cowie.] The latest edition of SF2 Concatenation is now up. The spring season sees the return of a full news-page and the return of its forthcoming SF and fantasy books listings.
SF2 Concatenation is about the only place on the net with a forthcoming books listing from several genre imprints and major UK publishers.
As done every January, SF2 Concatenation has its choices as to the Best SF books and Best SF films of the previous year. Just a bit of fun, yes, but over the years every year, one of either their choices of books or films, often both, subsequently go on to be short-listed for a major award (Hugo, Nebula, BSFA, Locus etc.) some even win. See their track record (scroll down).
Also in the mix are half a dozen articles covering conrunning, publishing, fanzines, convention reviews and an SF diary, as well as another in the series of articles by SF author scientists on their science heroes. Plus there's over 30 standalone fiction reviews. Hopefully something for everyone.
v31(1) 2021.1.15 — New Columns & Articles for the Spring 2021
v31(1) 2021.1.15 — Science Fiction & Fantasy Book Reviews
v31(1) 2021.1.15 — Non-Fiction SF & Science Fact Book Reviews
(15) VIDEO OF THE DAY. What will NASA be doing this year?
Sending the first Artemis mission to the Moon in preparation for human missions, landing a new rover on Mars, and launching the James Webb Space Telescope into space, expanding our ability to see deep into the universe, are just a few of the things NASA has planned for 2021.
[Thanks to Andrew Porter, Steven H Silver, Mike Kennedy, Martin Morse Wooster, Cat Eldridge, John King Tarpinian, John Hertz, JJ, Mlex, Todd Mason, Jonathan Cowie, Michael Toman for some of these stories. Title credit goes to File 770 contributing editor of the day Daniel Dern.]